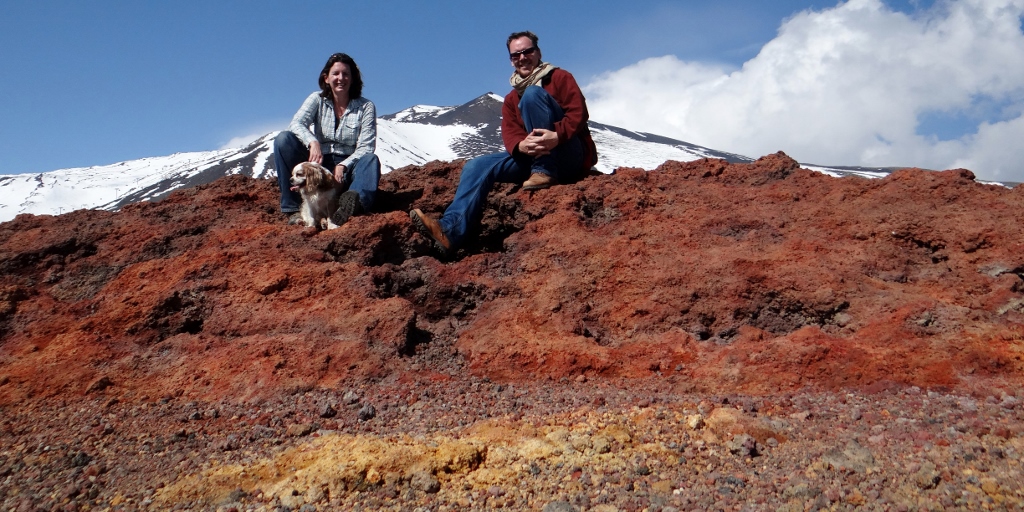 Dave the motorhome has a strong feeling of Deja Vu! He's parked in exactly the same spot as he was on 27 December, at Rifugio Sapienza on the south side of Mount Etna (N37.69926 E15.00042). It's not often he returns to the same place!
Last night I really didn't sleep too well. I'd checked the Mount Etna websites before we went to bed, so I knew she wasn't going to blow her top any time soon (they have webcams and seismic data on them so you get a few hours notice of any fireworks), but as we huddled up in bed the wind picked up. The roaring noise of the wind, in my mind, sounded just like lava heading our way. Somehow we'd managed to be in the middle of an open car park, but not every gust of wind would hit Dave, so the noise without Dave rocking had me seriously questioning if it was the wind. At one point my poor sleep-deprived brain was working out what items to pack if we had to leave Dave and walk to safety if the lava cut off the road. Needless to say nothing happened, in fact Etna is even calmer today than she was yesterday.

This morning, somewhat bleary eyed, we set off for Rifugio Cirelli, the refuge/restaurant we had originally planned to visit yesterday, but somehow ended up at a ski lift! Driving through enormous black ripples of lava we could see small signs of life starting to grow again. The lava took over this part of the mountain in 2003, so it's taken around 10 years to show sign of recovery.
Arriving at the refuge a guy was standing in front of the restaurant, with a glass of spirits in his hand – it looked like brandy, but it was only 11.30am! He was running the restaurant, the empty car park told us why he was outside. He pointed to the view behind us of the mountain and the 'New' South East Crater which has been spewing out lava in regular eruptions over the last few weeks. It looked so close, and was the one that was spewing lava a kilometre into the air a couple of nights ago. Brandy man was at the restaurant that night, and confessed that he was worried, perhaps he hasn't actually stopped drinking since that night, I wouldn't blame him. He said it would go again soon, but we said probably not today based on the stuff we'd seen on the internet – he looked puzzled, he didn't know that they published all the monitoring data on the internet. At first it seemed so strange, if I lived and worked there I would want a constant feed of information. But Etna is always billowing about something, here it's part of every day life and one that isn't seen as a threat, so no need to keep up to date.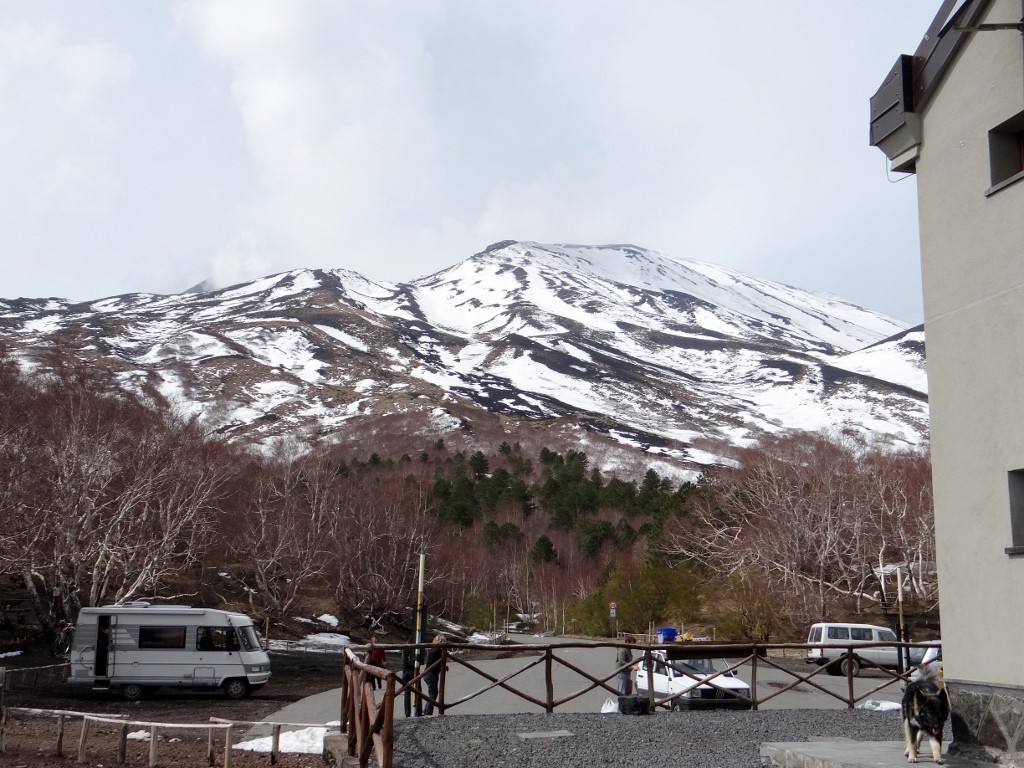 A couple of American ladies arrived who have a house in Abruzzo which was affected by the earthquake in 2009 which pretty much ruined nearby L'Aquila. She told us how several countries pledged to repair damaged churches in her town, but only Germany actually turned up and did it – sometimes that German efficiency is a great thing! After the Americans left a German couple turned up and we got talking to them, their son studied at Nottingham University (our home town) and is now at Warwick University – close to where we used to work; it is a small world!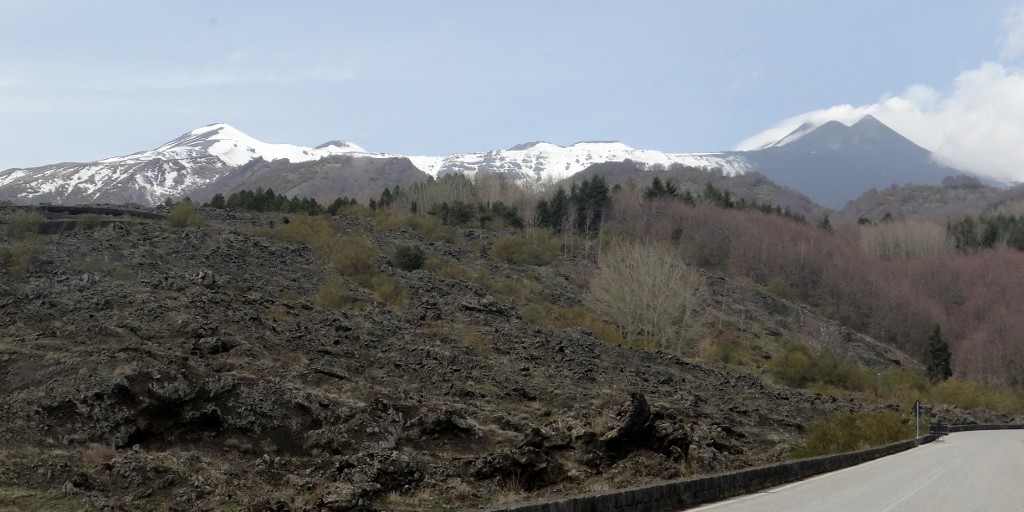 After a quick brew we typed in the co-ordinates for the Refuge we'd stopped at before Christmas and made our way through more lava. This time it was from the 1993 eruption and we could clearly see grasses and small shrubs forming on it. The road took us down to the town of Zafferana which had been covered in ash in the eruption a few days ago. As we drove through I could see people out clearing up. One man was sweeping it off his roof, other roofs had bin bags full of it sitting on them ready to be lowered to the ground. The roads of the main road were still covered in a couple of inches of ash, residents were out shovelling and sweeping it off their drives.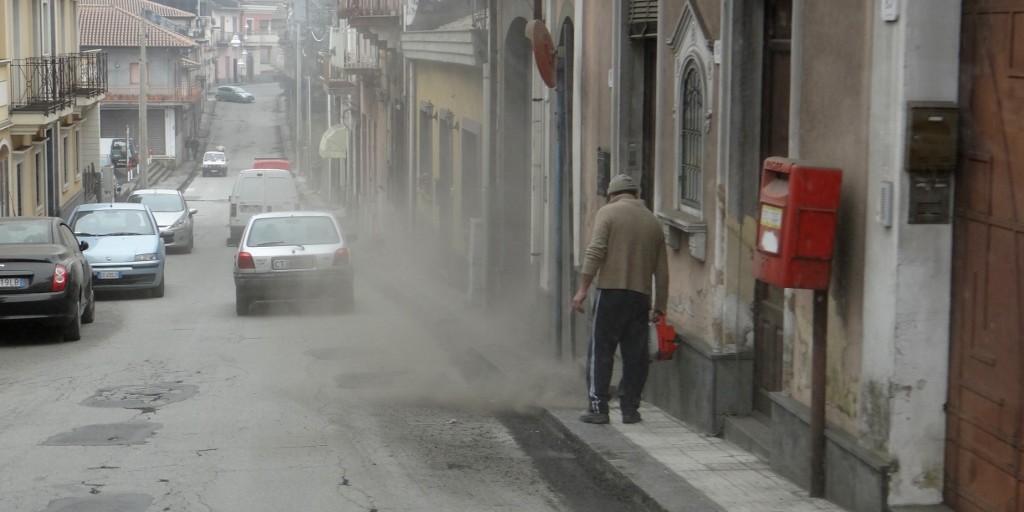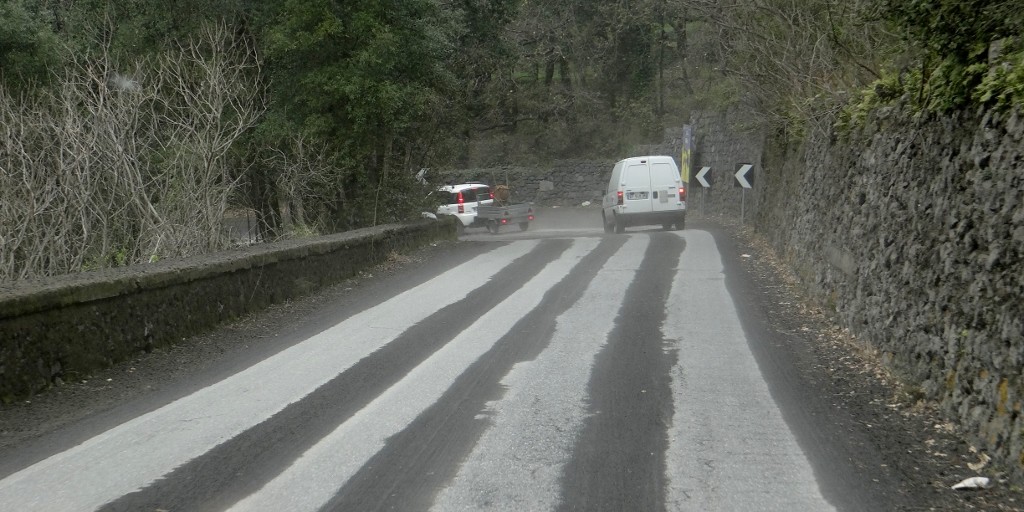 Jay got his first experience of driving on ash as we made our way back up the side of Etna, the road weaving its way through yet more lava – no wonder they make roads and buildings from it! We reached the refuge, parked Dave in the vast empty car park and set off to climb one of the craters. Underfoot the ground was ash and small lumps of lava which made it tricky and slow going, but it was worth it for the views at the top. We looked down towards the sea, to our left the cable car took people further up the slope, and alongside it some crazy ones skied back down. Behind us we could only see the plumes of smoke from the crater we'd hope to see erupt as other craters blocked our view.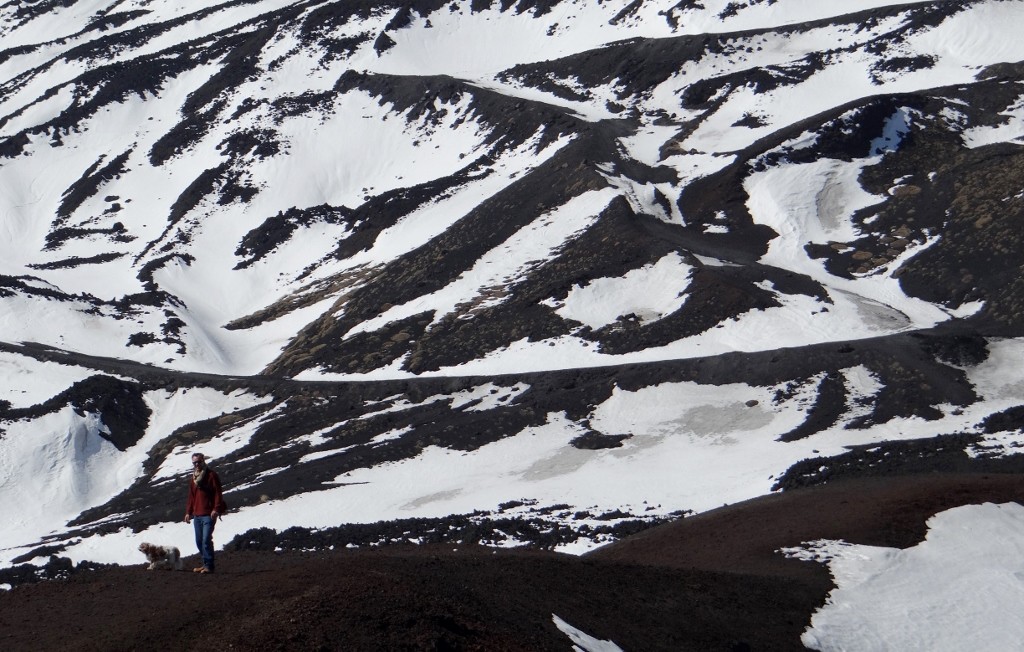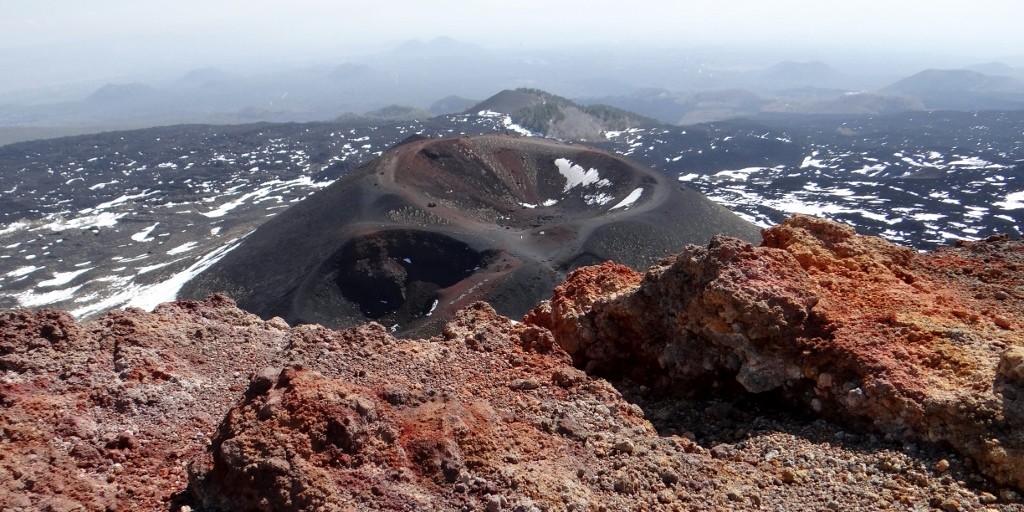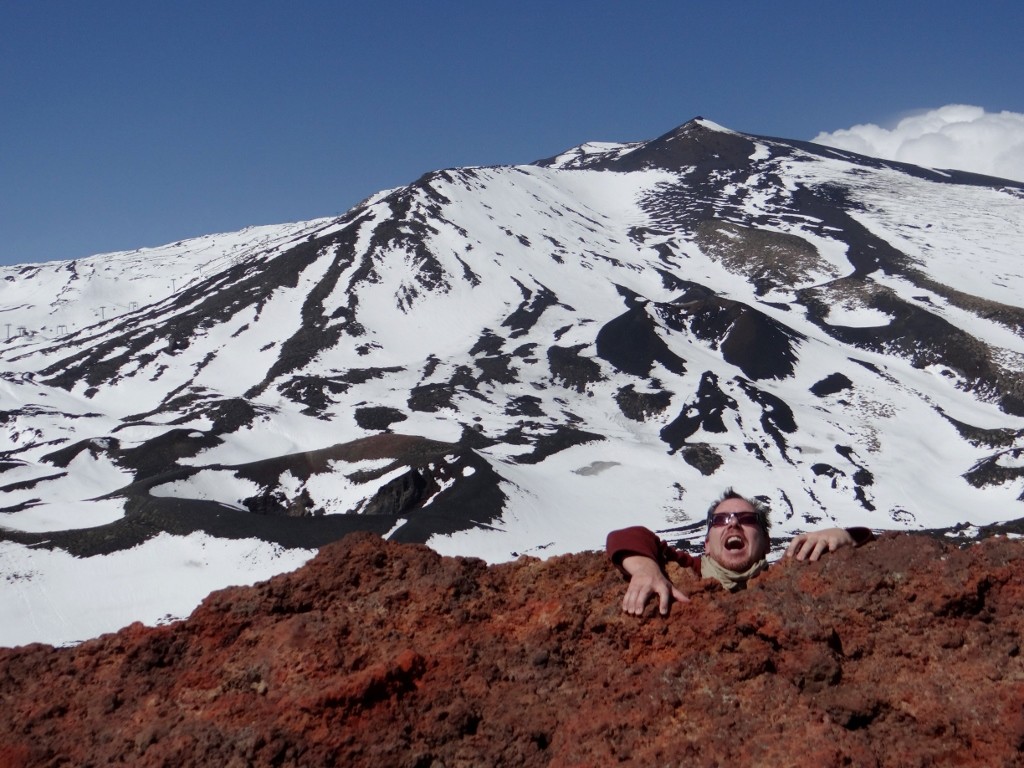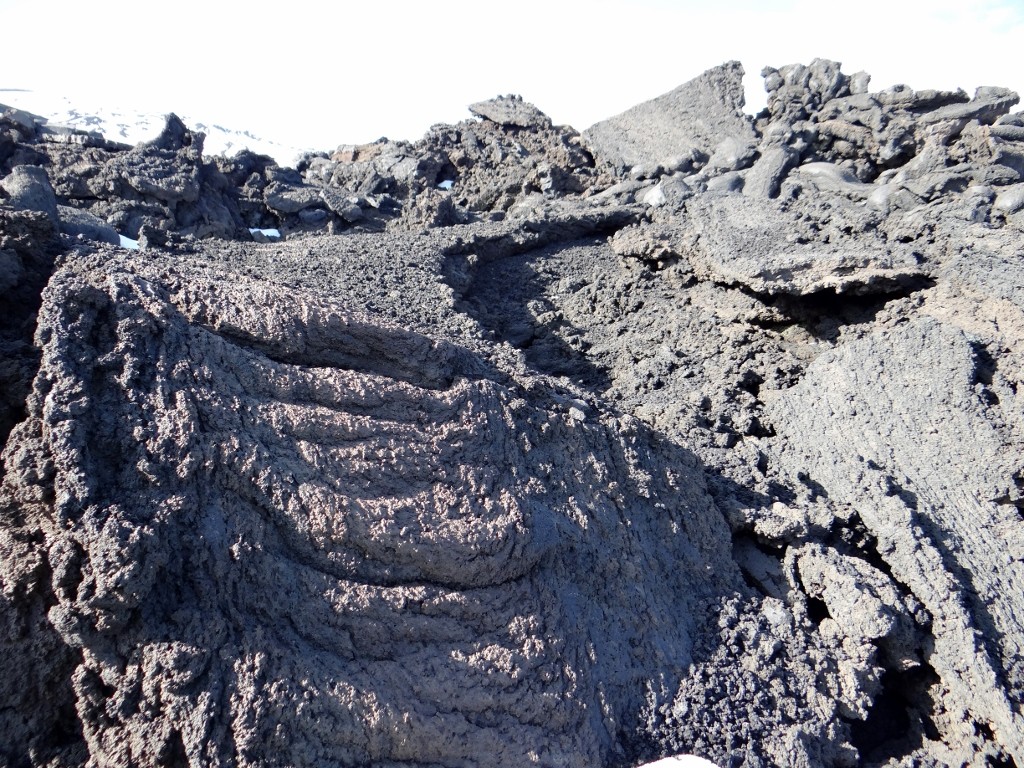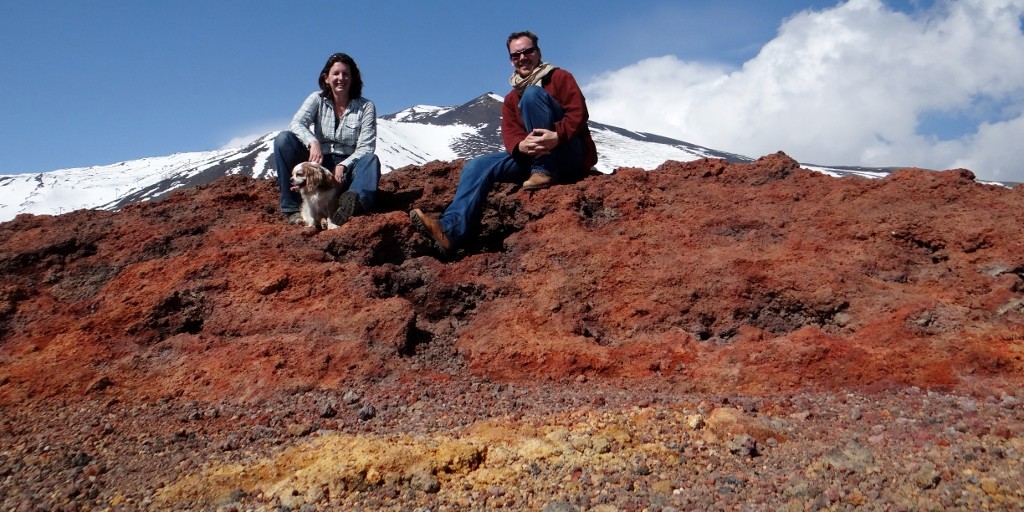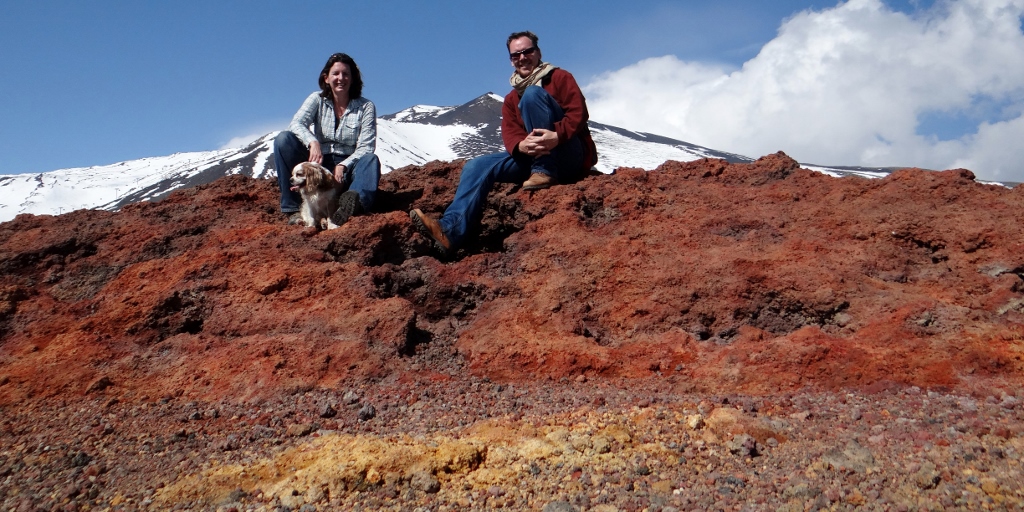 Dave's silver screens are now on as the sun has set and it's chilly up here. Jay is cooking us up some lamb and mash and Charlie is snoring softly and feeling fine. We can see the twinkling lights of Catania below us and up on the slopes the piste-bashers are busy preparing the run for another day of skiing. Tomorrow we'll finally leave Sicily, we've decided not to hang around for the next eruption as it could be weeks away. But I really do hope we get to return here one day, I like this place.
Ju x