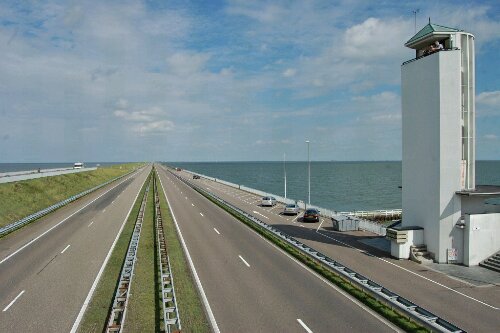 Dave the motorhome is surrounded by like minded European compatriots and maritime paraphernalia in Den Helder (N52.96250 E4.77058).
The realisation that it's the first of September hit me quite early this morning, which isn't bad considering I don't usually know what day it is, let alone date! It feels like we're on a countdown now with one eye on the calendar to ensure we don't miss our ferry. Don't get me wrong, I'm really looking forward to getting back and seeing everyone, but deep down I know how hard it will be to say goodbye, again. Still we do have the luxury of another two weeks on the road, which in our past lives would have been an eagerly anticipated long holiday. My list of dreamed about food stuff that I can stock up on when we're back grows by the day. Seriously, it's amazing how good a strong Cheddar cheese and onion sandwich tastes after six months of thinking about it – I succumbed to some extortionatly priced Cathedral City in Hamburg.
This morning as we ate our breakfast looking over the canal next to us a huge crow walked along the bank opposite us, as his feet reached out to the next patch of grass tiny frogs leapt from it and took refuge in the water, seemingly Mr Crow was a tad too slow.
We set off to the village of Makkum, our guidebook promising a pretty little place to explore. We were soon stuck in another roadwork induced traffic jam, perhaps Germany and The Netherlands are helping us to acclimatise to UK roads? Behind us a Convoi Exceptional took the opportunity to dish out coffee among the drivers, we used it as an excuse to rip into the Rum and Raisen chocolate which smells convincingly alcoholic.
Eventually released, we find that the roadworks are simply a man and a van collecting in the cones. Arriving in Makkum we walked around the town in about 10 minutes, which included stopping off to look at the fishing boats. A small speed boat made its way through the lock and caused one of the bridges across one of the many canals to lift. This caused us to stop and watch, and delayed a solitary cyclist for about three minutes.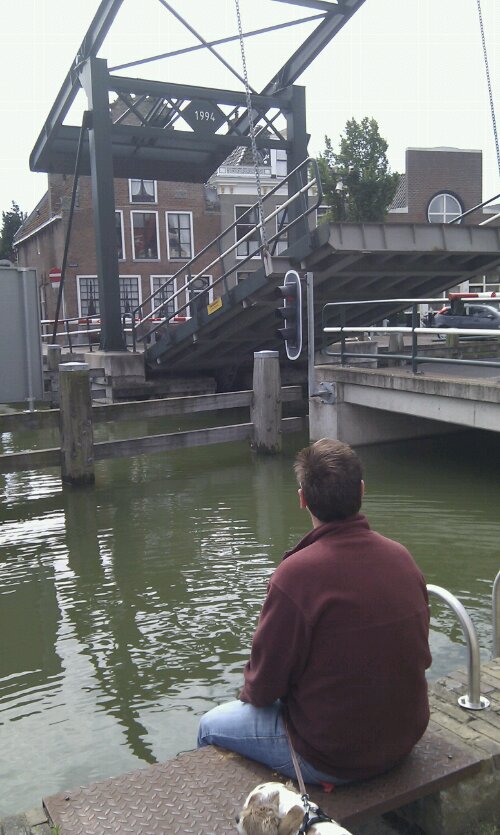 We didn't feel the need to explore any more of the little villages along this stretch of shore, and back in Dave over a cake each from the bakery we studied the map and guidebooks.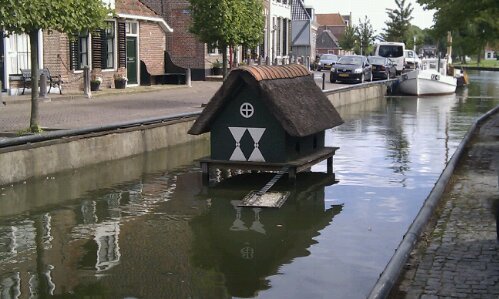 Decision reached, cross the 30km long Afsluitdijk viaduct and see what is on the other side of Ijsselmeer lake. We thought it might be exciting to cross, but in reality it was a dull road. A straight road ahead as far as I could see, a grassy dyke on our right obstructing any view of the nearby islands, and on our left the vast expanse of freshwater, which was once filled with sea, looked like any other lake. Fortunately the builders thought to add somewhere to stop, a tower to climb and some information on the feat of engineering we were crossing.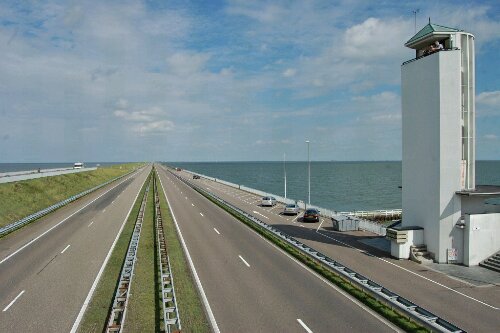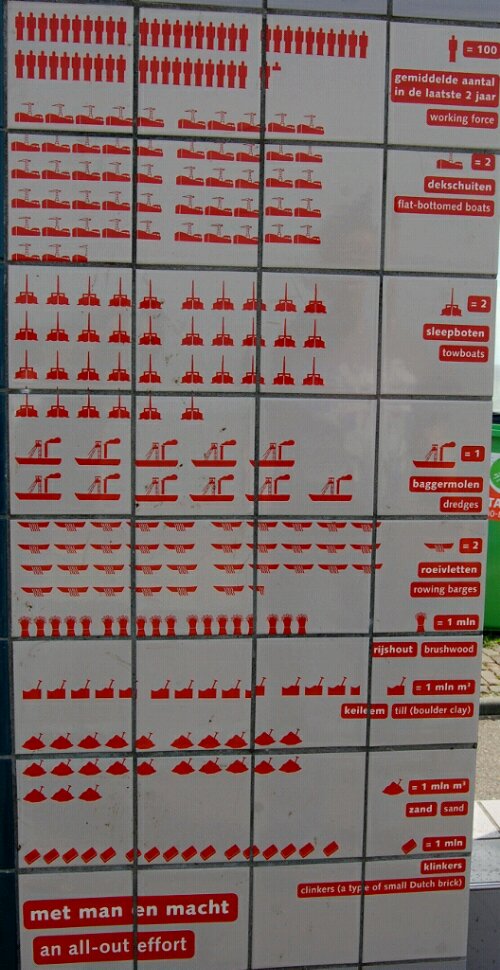 As we reached the West Bank we pulled over into a car park which had a motorhome service point, and charged €11 a night to sleep there. We made use of the service point, then walked back onto the viaduct to get a closer view of a wind turbine, lighthouse, a WWII bunker and the sluice gates which held the fresh water in the lake.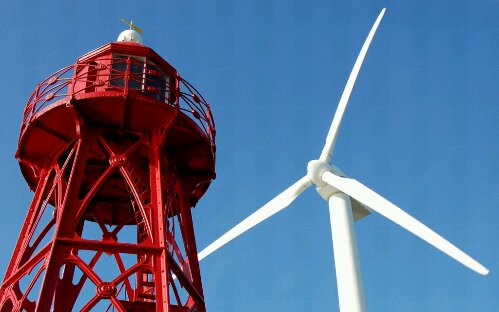 Crossing the bridge at one end of the viaduct which swung round to let large ships pass, we were just in time to see the sluice gates open. Releasing the equivalent of two Olympic sized swimming pools a second, the gates were opened at low tide to keep the lake at a reasonable level.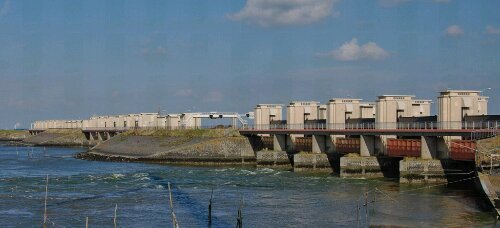 It's crazy to think all this land we're roaming on is below sea level and most of it reclaimed, the reminder comes when the road dips under a canal, above us boats drifting quietly along.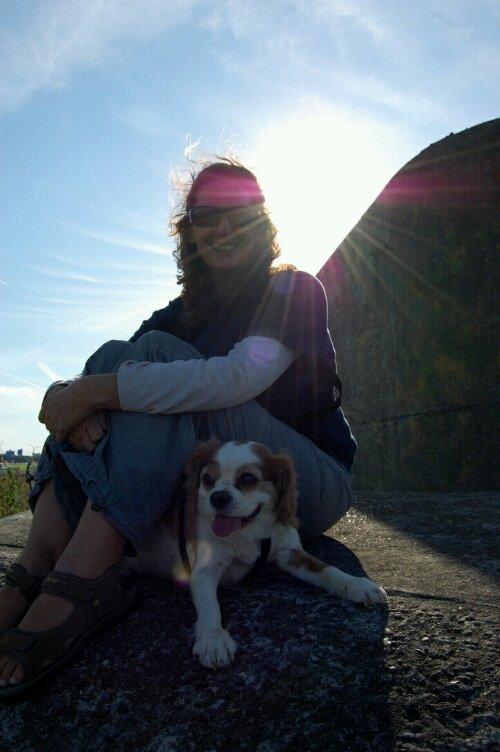 Before the harbour master is due to make his rounds collecting from those stopping for the night, we head further north to Den Helder following the promise of a free parking place from our database. A couple of attempts to find it see us reversing out of the ferry terminal (it was either that or paying €45 return to Texel) and making several u turns before we spot a group of motorhomes parked up. They seem to be inside the maritime museum grounds, surrounded by a submarine and various guns. Eventually we find a way through the maze of buildings and grab the last space. A small sign tells us we're in the official parking which will cost us €10 a night, but it's quiet, has other vans and loads of stuff to see, so we're not moving – although we're not entirely sure how to pay, we will.
Ju x