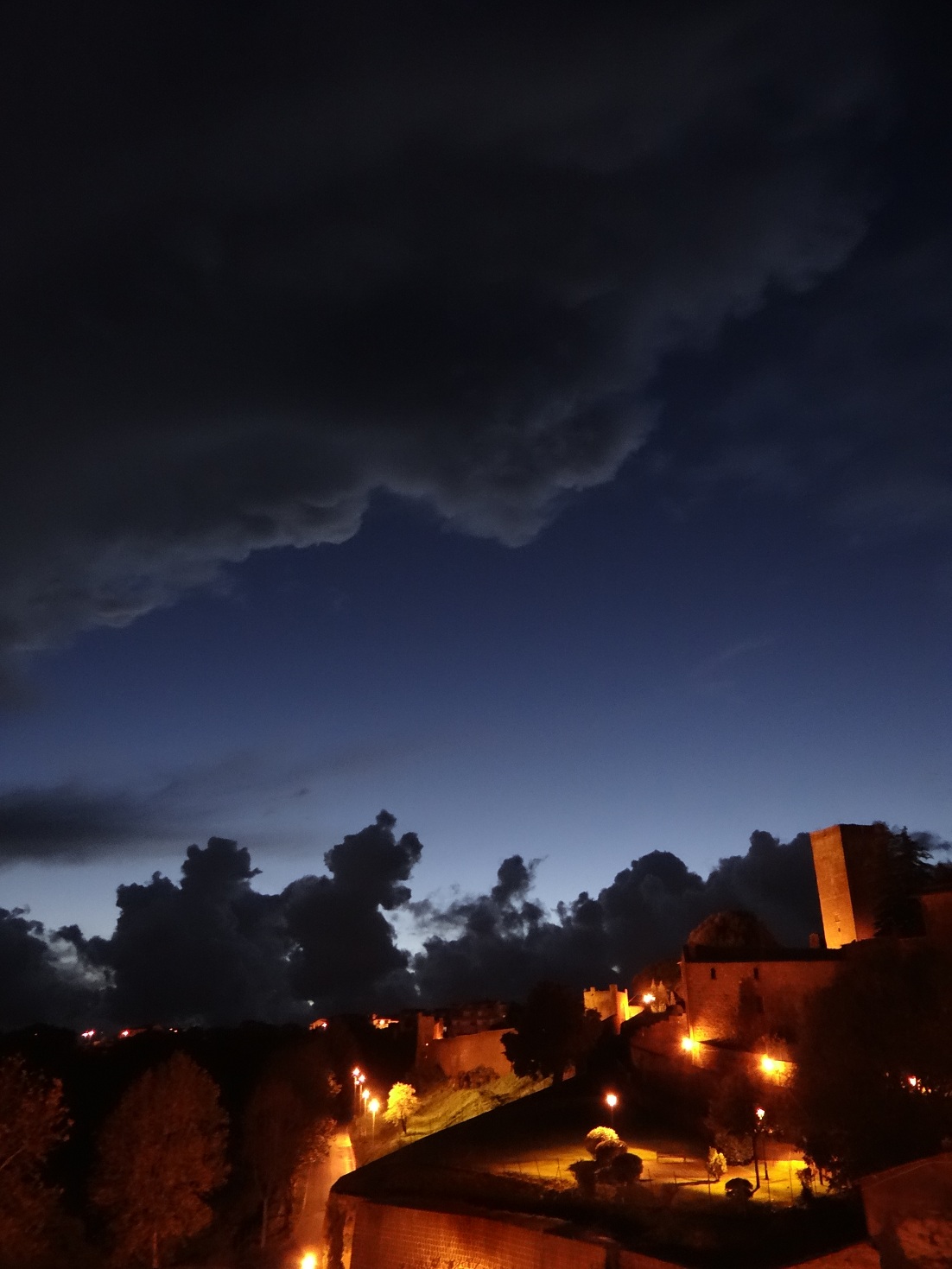 Dave the motorhome has spent the day stationary, being battered by the hosepipe of the gods, which they have seen fit to pinch the end of, and point it in our direction. Errant parts of Dave have leaked over the past year, cups catching drips in the night, but daylight monkey-scrabbling on the roof, armed with a tube of silicon sealant has left us sub-marine watertight. Our fear is for others today. Our parking spot is high on a hill, a couple of hundred meters outside the walls of Tuscania, with no unsupported mud walls around us, so we'll OK here. Others on the river-riddled slopes westwards towards the sea may not be sitting as pretty, with a forecast of several days more rain ahead.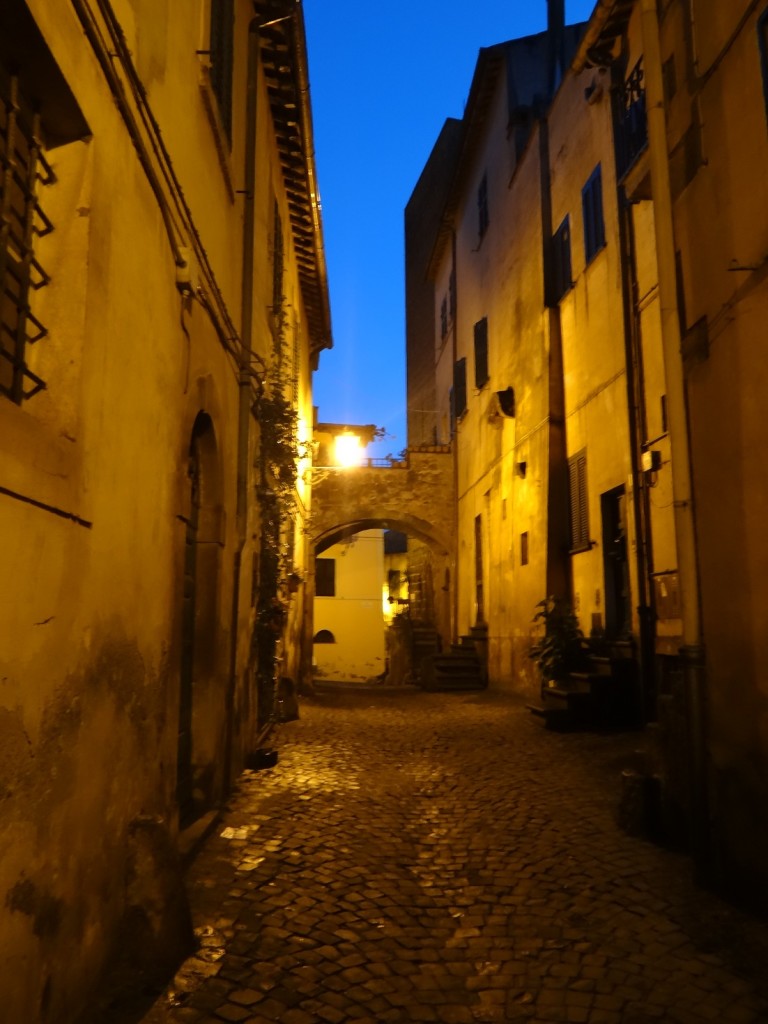 The neds made an appearance last night. Every country has them, usually bored teenage lads nailing it about in a battered car or on mopeds. They've never threatened us, although we do feel threatened when we're in the middle of nowhere with shouts and engines revving nearby. Last night was OK, a few blokes possibly having a fight, we couldn't tell if they were just discussing football, loudness seems built into Italian folks. I dropped in the earplugs, Ju listened.
This morning we woke to camera flashes from the sky, accompanied by a good old British-style lashing rain. One of us made it our of bed long enough to turn on the halogen heater and we lay and counted the seconds. The closest the lightening came was zero seconds, flashing followed immediately by a floor-shaking rumble of thunder and the heater gave a huff of indignation and powered off. Only for a few minutes, we were both surprised when the power came back on so quickly, almost as surprised as we were to find free un-metered electricity in the first place (after all, Italy's economy has self-destructed, hasn't it?).
With boiling rain outside, we holed up inside, tapped on the laptop and read. Charlie wandered about the confines of the van, in front of the fire until he cooked and then flopping onto the floor, and then re-heating himself. Come 5pm, just as the light failed, the rain halted and we took to the streets.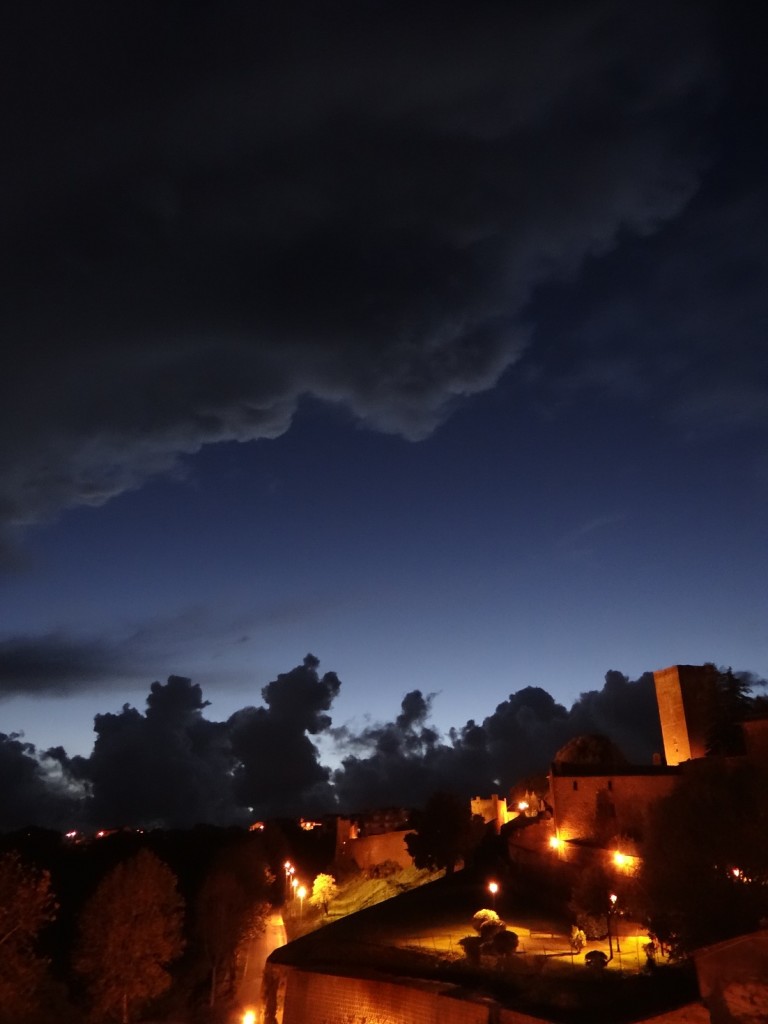 Tuscania, oddly in Lazio and not Tuscany, was used in the filming of The Taming of the Shrew, which neither of us has seen (or read for that matter). Since then an earthquake has crushed the medieval centre, killing hundreds in 1971. Not that you'd know, the high-sided, stone footed rabbit warren streets look much the same as those in Montefiascone to me. We took a walk around, spotted a Roman road, pulled at the doors of lots of closed churches, swung our hips in to avoid 30mph cars caning it through walking-pace streets, got lost, explained apologetically to lost Italians that we don't speak Italian, and ducked our heads under a follow-up downpour.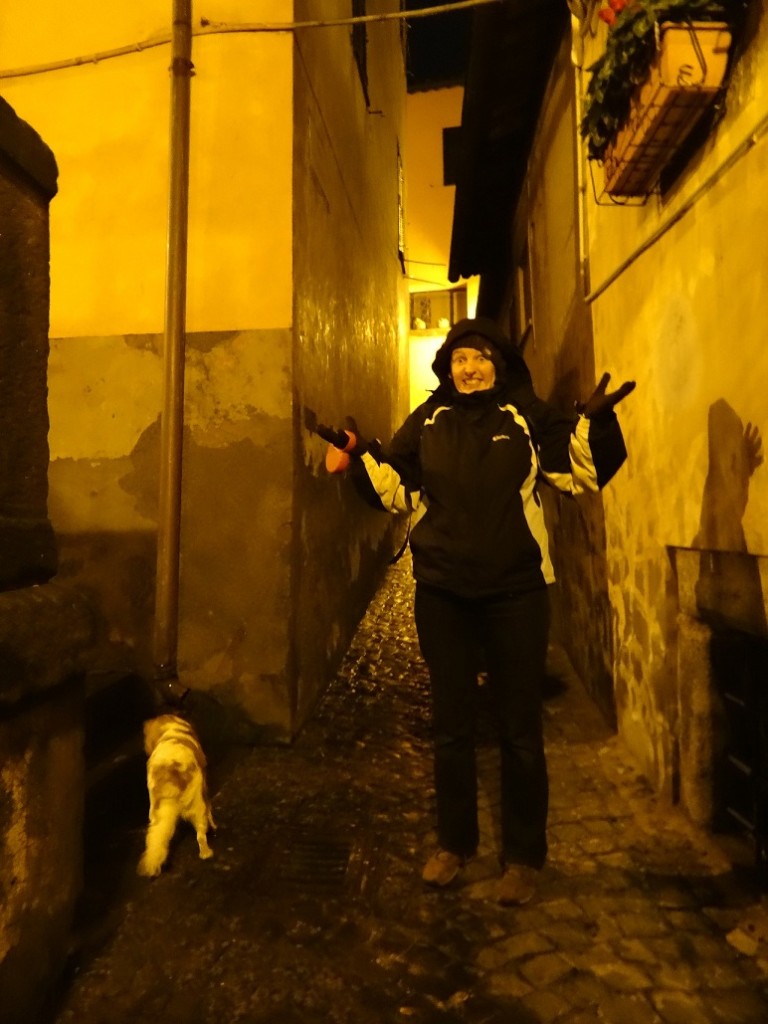 We're now back in Dave with the roof amplifying the steady rain. The heater is on, Charlie is steaming and a bottle of rose wine (the good stuff, over €1 a bottle) is chilling in our fridge, along with tonight's meaty Tuscan sausages. 6:40pm and it's black as Jack Dee's sense of humour outside. Tomorrow we'll move on, time to get the map out, which we've now started peering at, fearing the thin blue lines of rivers.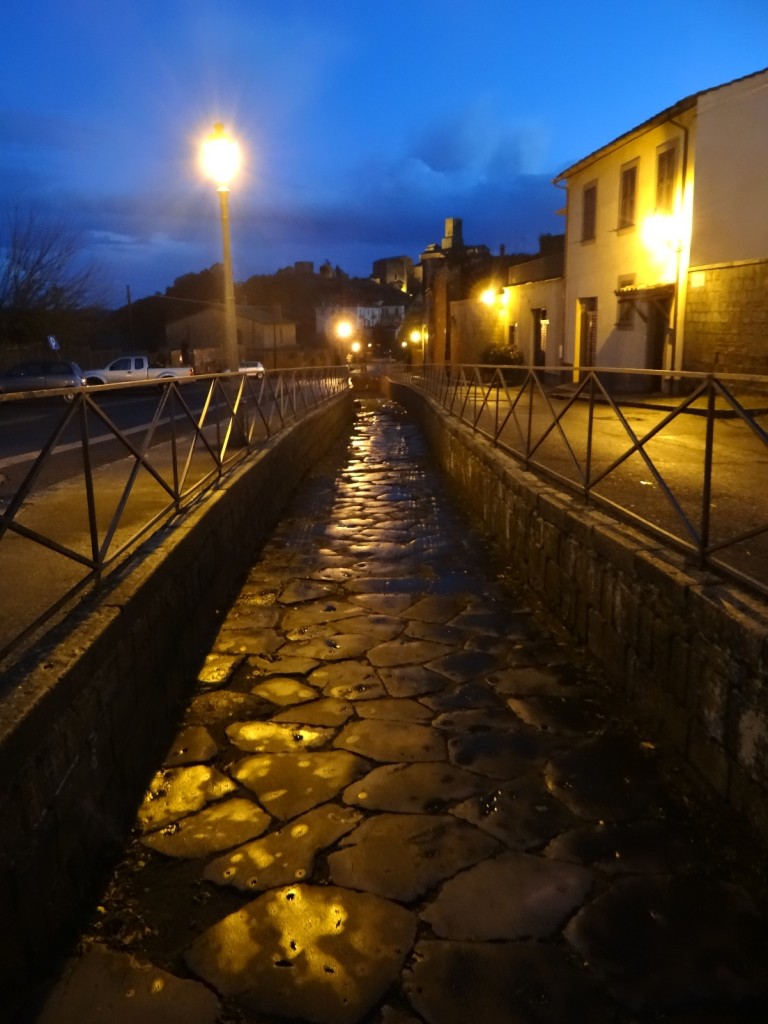 Cheers, Jay