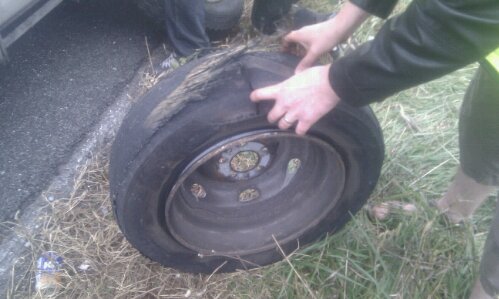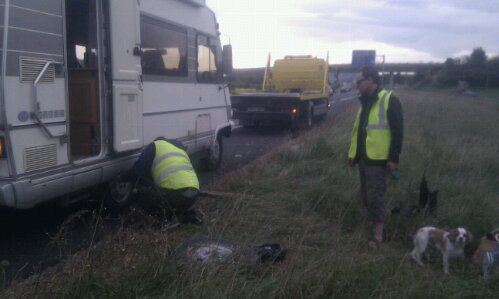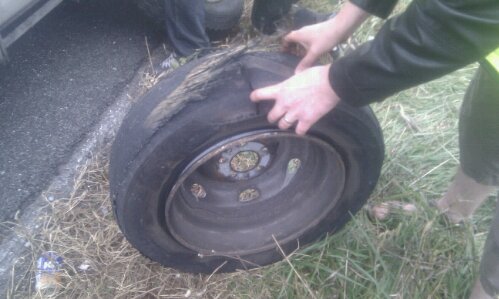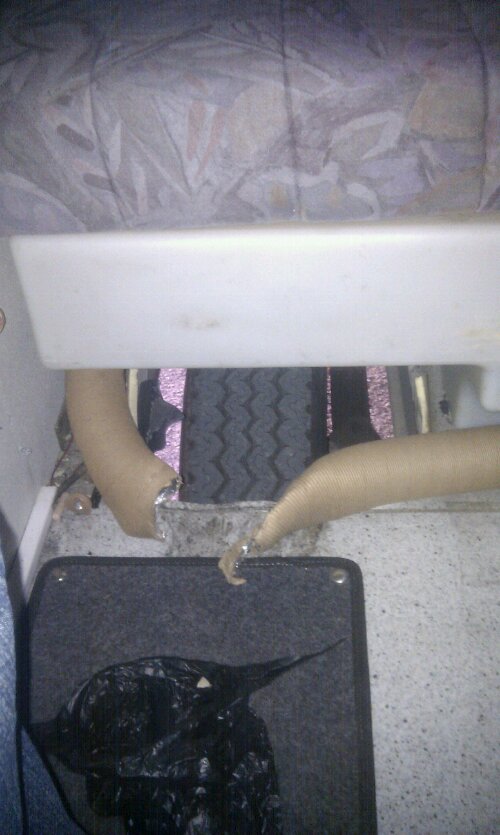 After reviewing the surrounding area, it seems that most of it was very similar to where we stopped last night, so we took the decision to head further along the coast to a small town near Santander.
We set off early as we'd found a campsite for the night which took camping cheques, so wanted to make the most of it.
All was going well and we were burning up the miles and should reach it before 1pm (generally when everything shuts for a few hours). Suddenly there was a loud bang – readers of this blog will know that loud bangs aren't good in Dave. He shuddered badly and as I looked around the front of the rear dining bench burst out under the table in a cloud of smoke. For a second I thought we were about to lose the back half of Dave. We pulled over onto the hard shoulder and went into emergency procedures – high vis jackets : check, triangle : check, back half of Dave : check.
It then dawned on us that we'd either snapped the suspension or had lost a wheel (the listing to one side and shreaded tyre behind us confirmed the latter), luckily we were only going about 80kph at the time or it could have been much worse. While J inspected the damage, I headed back up the hard shoulder to deploy the triangle and remove the bits of tyre from the carriageway.
At the start of the debris trail were broken bits of plastic, they looked Dave like, so I collected them too, along with chunks of insulation. It turns out that the tyre failed – looks like it was the inside sidewall that went first – this caused the tyre to delaminate which hit the underside of Dave smashing his plastic wheel arches. The wheel arches and bits of tyre and insulation then forced the front off the bench and ripped through the heating pipe. We can only assume that the cloud of smoke was caused by the dust under the bench and in the heating pipes as we were able to smell burning rubber, but nothing was on fire.
J (having had extensive practice changing the wheels from when he painted them – see August archive) grabbed the jack and the spare tyre, but because the tyre was totally flat there wasn't space for the jack to get it high enough off the floor to replace the wheel. Time to call ADAC.
We'd tried to get breakdown cover with the AA etc in the UK, but no luck as we were going to be away for more than 90 days. ADAC is the German AA and covers us for the whole of Europe. We grabbed our essential belongings and set up camp on a concrete block away from the road. I called ADAC and they put me through to the Spanish branch who said they would be there in an hour. I then tried to call the insurance company as we figured this may all cost more than our £300 excess – and we didn't know if we could stop in Dave that night.
About 10mins after we called ADAC a van appeared with the number of the road on it and a Spanish man who spoke no English came over to help try and jack Dave up but to no avail, we established – through pointing – that he was highway maintenance for this part of the road, and he was then gesticulating that we needed to call someone to take us off the motorway. After about 15mins we were worried he was calling a breakdown truck and we'd be charged so we called back ADAC to see if they could talk to him to translate. They simply told us to lock ourselves in the van until their man turned up as there were thieves on this stretch of road and he was probably trying to rob us. We agreed that he wasn't doing that as he was in a local council van and was seriously trying to help. After about another 5mins it became clear that he was getting us the details of a tyre place to get a new one. We waved him off and 10mins later the ADAC man arrived. We checked he was ADAC and we weren't going to be charged and he set about changing the wheel using two jacks and some planks of wood he had with him. Then we were all done and ready for the off.
We headed towards a motorhome dealership in Santander (luckily there was a list of them in the back of a camping book we'd bought at our last supermarket shop), by now it was gone 2pm so they were shut – siesta time! We parked up and had a bite to eat, tidy up and full damage assessment while we waited for them to open. It also gave us time to translate some phrases such as: my tyre has delaminated, it's damaged the inside too, and of course how much will it cost?
When they opened we drove in and luckily the owner spoke a little English. It wasn't hard to explain the damage, we mainly pointed at bits. He went and got his mechanic and there was some head scratching. I explained we could bring the van back if they needed to get parts, so we are tomorrow at 9am. They said they'll need it all day but should be able to sort it. They won't be able to match the colour of the wood on the bench but we're not too bothered about that. Before we left the mechanic got out his hammer and beat the step into submission so it would go back in Dave and off we trundled.
We're now parked up at an Aire next to a national park, about 25mins from Santander, from where we've seen buffalo and elephants roaming the hills – I kid you not. It's been a day of extremes but we've survived and are now sinking some well earned drinks looking at the ground through the hole in the floor.
Ju x