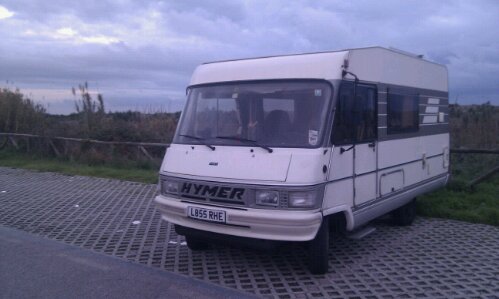 Dave the motorhome is being kept company by a few cars on a long, straight, restaurant lined road leading from Viareggio (N43.84790 E10.24711).
The fire on the beach didn't materialise last night. Jay nipped out after the sun had set to find the groups of families replaced by groups of youths – suddenly it didn't seem like such a good idea. So instead we settled down to a couple of episodes of The Inbetweeners, before a quiet night among our fellow Italian campers.
This morning, after Jay and Charlie had a play on the beach, we set off along the coast with the plan to head for Lucca. Mile after mile of closed hotels, restaurants and campsites reminded us that the season was firmly over.
We searched the petrol stations looking for GPL (LPG) which we are now very low on, but most of the stations were tiny town centre ones with only a couple of single sided pumps.
Cars lining the road indicated that we were approaching the entrance to a seafront promenade or pier, the actual pedestrian walkway littered with looky-looky men selling fake designer handbags, sunglasses, umbrellas and children's toys. Then just outside each little town area we'd pass a car park full of Italian motorhomes, huddled together as if in a defensive pack.
We reached Viareggio, the location of a free parking place next sand dunes according to our database. Charlie hinted he'd like a bit more beach action, so we plotted in the co-ordinates. Satnav pointed us down a narrow, car lined street – we duly ignored her. Carrying on we waited for a recalculation, but no that was it, one road in and out. Now we were on a long, straight, narrow, tree lined road with no turning around prospects. So we carried on, and on, and on. Eventually we reached civilisation and turned towards the sea. Finding a dead end we pulled in and decided to stop there.
I started doing some writing on the laptop as Jay and Charlie set off to explore the beach. A couple of minutes later they were back, as a dodgy looking character had parked right next to Dave, got out and stood watching them walk off. An uneasy feeling made Jay walk back, the dodgy character stood by his car for a few minutes before driving off. Next time they headed to the beach I was locked in.
The laptop power ran low so it was plugged into our invertor – nothing. We tried other gadgets and they charged. We tried our battery power pack, but still nothing, just a small orange flashing light as the life ebbed away from the laptop. Our conclusion – the charger has had it (and the reason there are minimal photos today – they're all on the camera and need the laptop to get them off).
No problem, we have our EuropaSIM in the phone so can still access the internet. It connected, but then nothing. Driving down the long straight road closer to the mobile masts didn't help either. So we drove back to Viareggio and found our way via back roads to our original destination.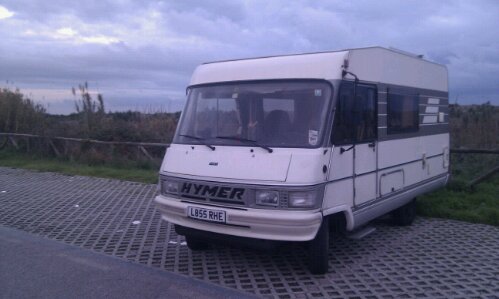 The internet works now, but the laptop charger is still on the blink. Looks like we'll need a trip to a computer shop on Monday. I'd expected to find our fellow Italian campers here, but it looks like they've congregated by the marina where there's a bridge into town – after all it is Saturday night.
In Dave Jay's cooking up a feast and on the wine. I'll need to join him soon as we might not have enough gas to put the heating on and a 'beer coat' will come in handy!
It's been a bit of a nothing day, but at least the promised rain has held off.
Ju x