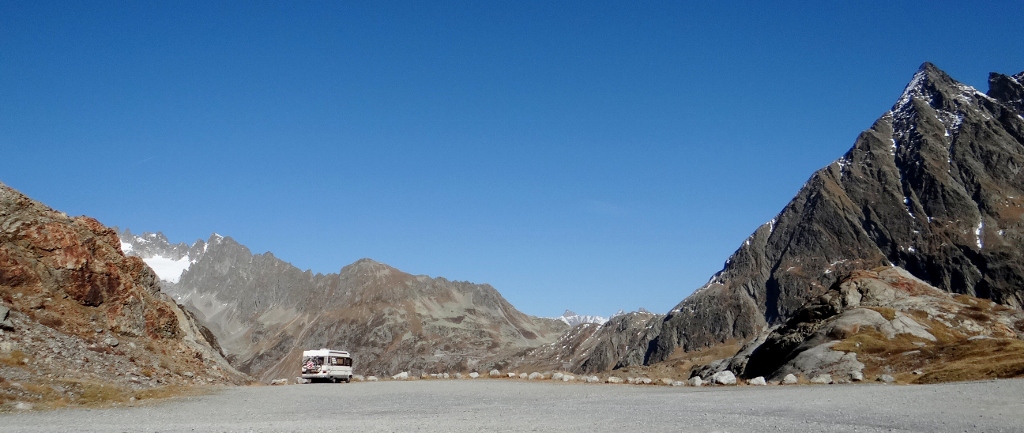 Dave the motorhome is feeling a bit naughty. He passed several no overnight motorhome/camping signs on his way up the private road he is parked at the top of next to the Steingletucher Hotel – but hey, it's out of season and we couldn't leave this stunning location (N46.71368 E8.41629). Below is how we ended up here!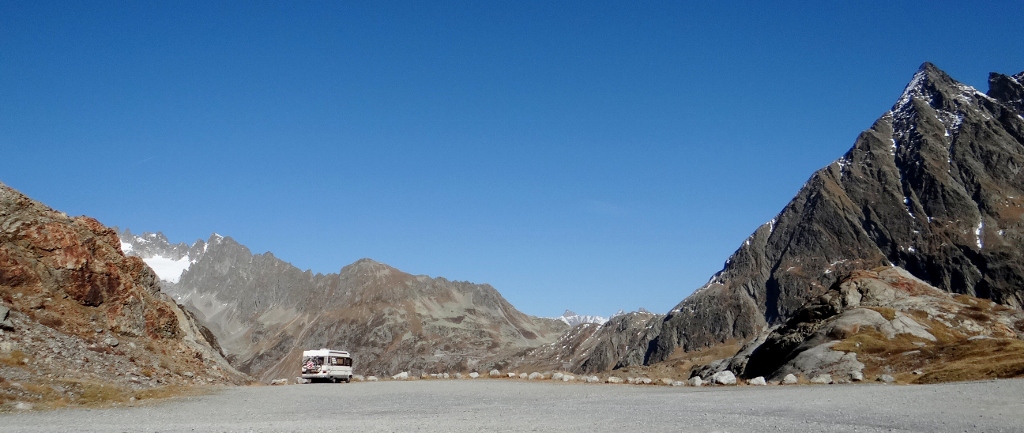 Just under 24 hours ago I was lighting one of the gas burners to make us something to eat at our overnight spot on the Oberalppass. Being pretty much in the middle of nowhere it was surprising when there was a knock at the door. Opening it I was greeted with the beaming smiles of our neighbouring Swiss motorhome owners asking what we were doing there, not in a nasty way, but they said they don't see many British motorhomes here, especially not sitting on the top of an alpine pass for the night.
The sun was behind the mountain by now and the temperature was dropping so I invited them in. Joseph and Petra are from Zurich which is an hour and a half down the road from this stunning scenery, so they pop down for the weekend, how jealous were we? What started as a chat about our travels, turned into recommendations on where to visit. Joseph is passionate about mountain life and travelling (so much so that he drove to North Cape at the top of Norway in an old VW van – in the winter!!) and had loads of tips of places to see, including the parking we are at now. Petra nipped to get a book with GPS co-ordinates for us and came back with a bottle of Swiss wine. If, like me, you didn't know they made wine in Switzerland, that's because they drink it all themselves and none gets exported. After tasting it, I could see why – it went down very well.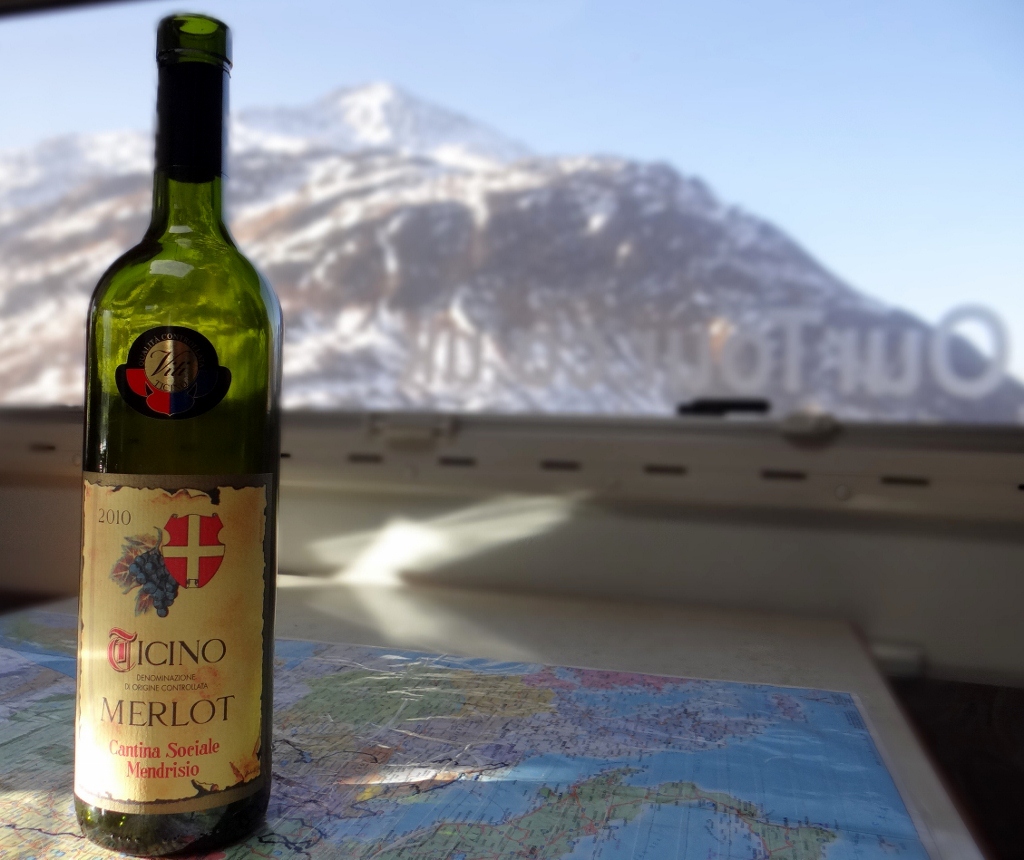 Crisps and peanuts held off the hunger while our five litre barrel of wine was finished. We could have talked for longer but none of us had eaten properly – and they had been on a four hour hike. Around 11pm we called it a night and then finished cooking our dinner before wobbling to bed a bit worse for wear.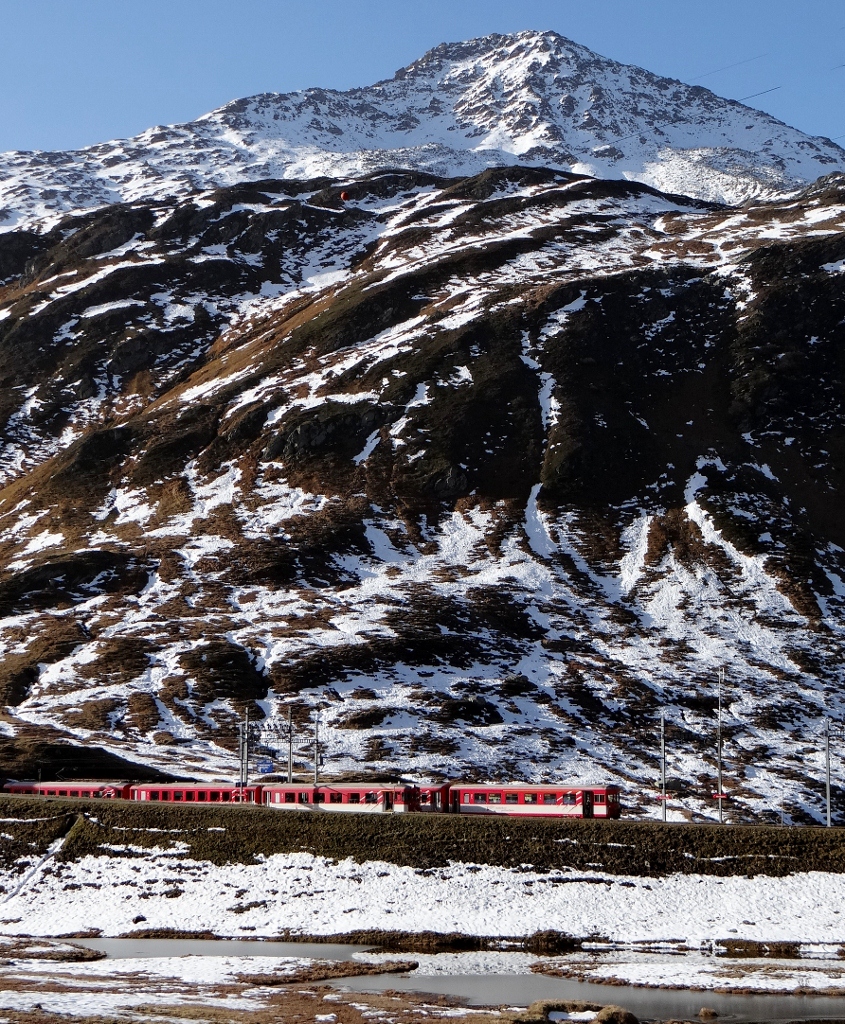 This morning the sun beamed down on Dave and the ground was still muddy – no frost last night, which was a good job as we'd turned off the heating when we went to bed. After a spot of breakfast we nipped over to Joseph and Petra's van to check the details of the places they'd recommended – hey after a fair bit of wine we couldn't really be expected to remember! They were off on another hike today, so as we left we gave them a lift a short way down the road to the starting point. I like their kind of hiking. They have parked at the top of the mountain pass, hike down to a town, have a drink while waiting for the train which they catch back up to the top – sounds perfect.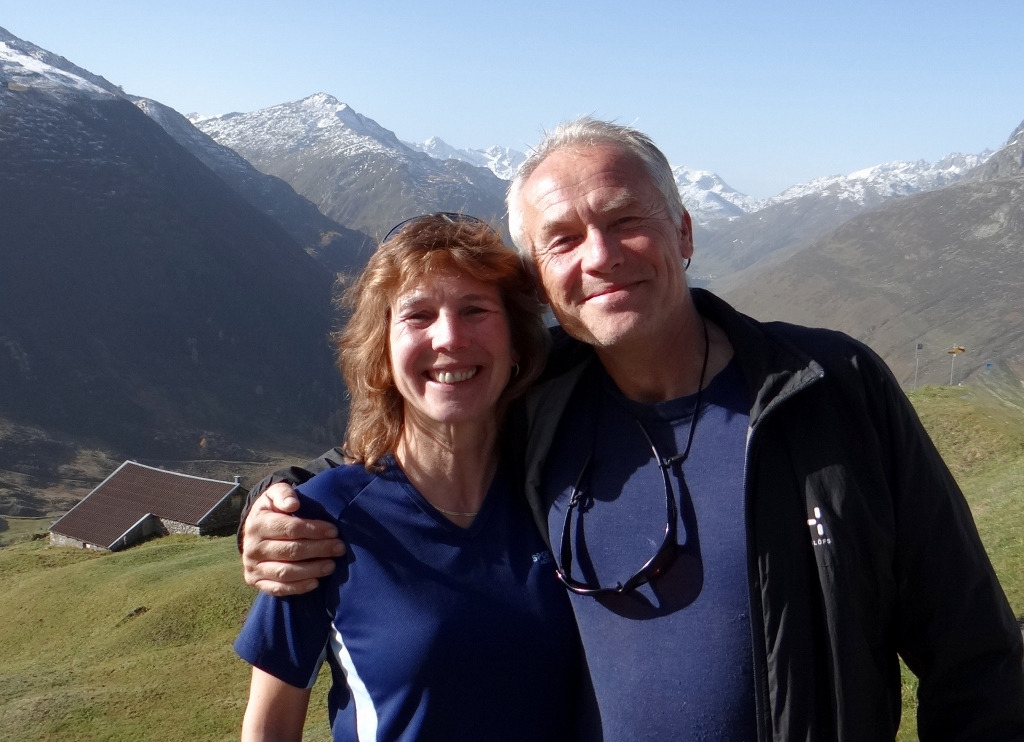 The road and train track tangoed around each other as we slowly made our way down the mountain pass protecting Dave's brakes as they would be needed a lot today. Joseph had pointed out the middle rail of the train line which is toothed to help the engines get up the hill – Swiss ingenuity will never cease to amaze me (or would that be British ingenuity as he also told us that the British built the line in the first place). Breathing a collective sigh of relief we reached Andermatt at the bottom of the pass, where we parked up Dave for a rest and went for a look around.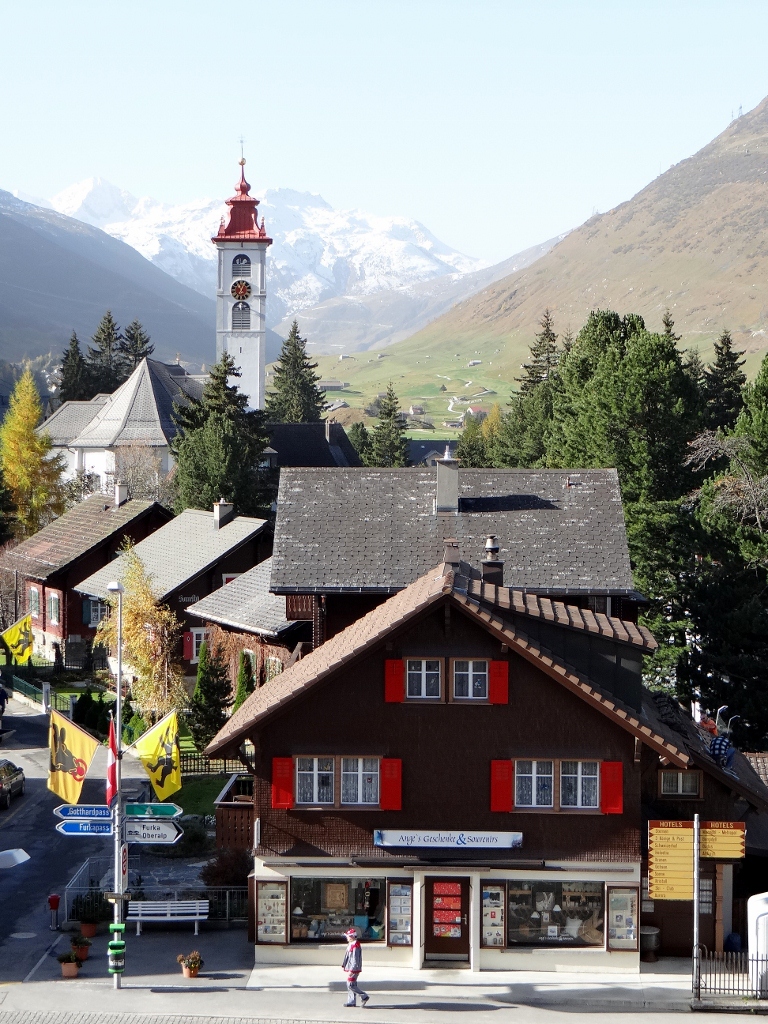 The place was getting ready for winter, as is everywhere around here. Huge hotels had signs outside saying Closed until December, shops full of ski wear were also closed and many buildings were having a quick facelift ahead of the season. One side of the town was a large building site which Petra had told us to look out for, an Egyptian millionaire is building an exclusive resort for the rich young people – err that won't be us then!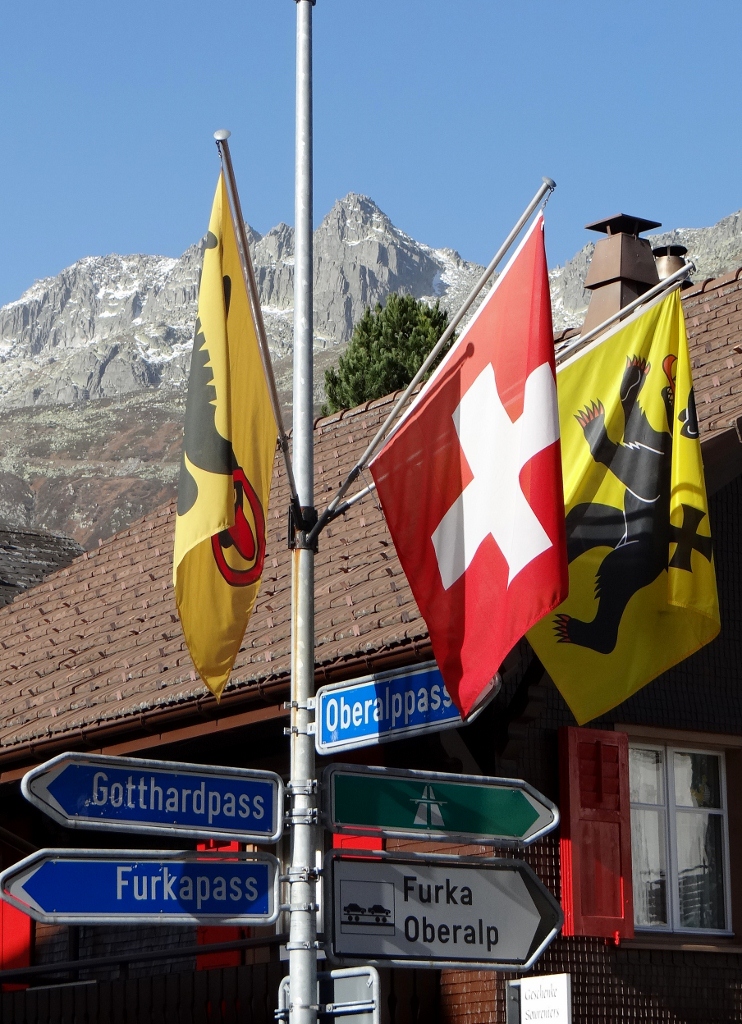 As Jay nipped into the Co-op for some bread and Rosti (a favourite swiss dish of ours) I watched the Glacier express slowly make its way up the mountain we had just come down. I've put that down as one of my 'must do' holidays for when we're back at work – the scenery around here is so stunning it would be great if Jay didn't need to concentrate on the road!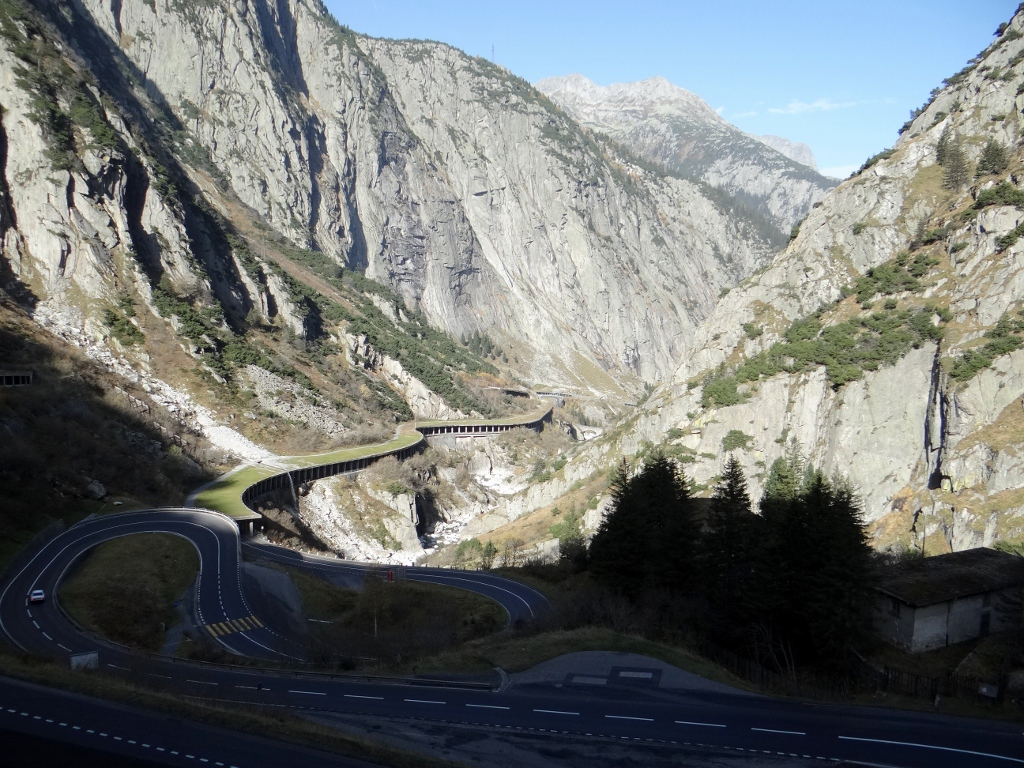 Jay expertly manoeuvred Dave down the hairpin bends from Andermatt, pulling over to let others pass us when he could, but as soon as we reached a bit of flatness a left turn took us to the Sustenpass – no rest for Jay and Dave today! We'd been assured it was an easy pass to cross, but our new found confidence took a blow when we saw the sign at the bottom of the pass.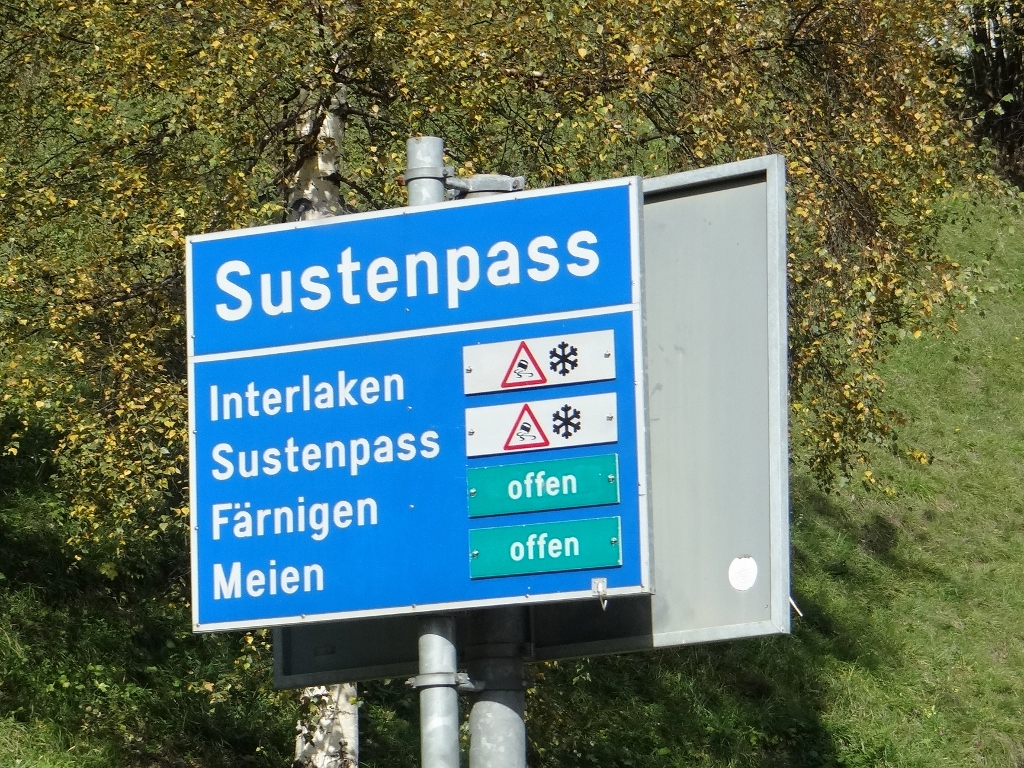 Undeterred we carried on, the worst case being we'd have to turn back and find another route. It was a long drag of a climb and Dave's engine started to heat up. We stopped a couple of times to let him cool and so we could jump out and admire our stunning surroundings. Dotted along the pass workmen were fixing poles and crash barriers to the posts which were permanently in place – it looks like these only come out in the winter when needed so they don't spoil the view the rest of the year.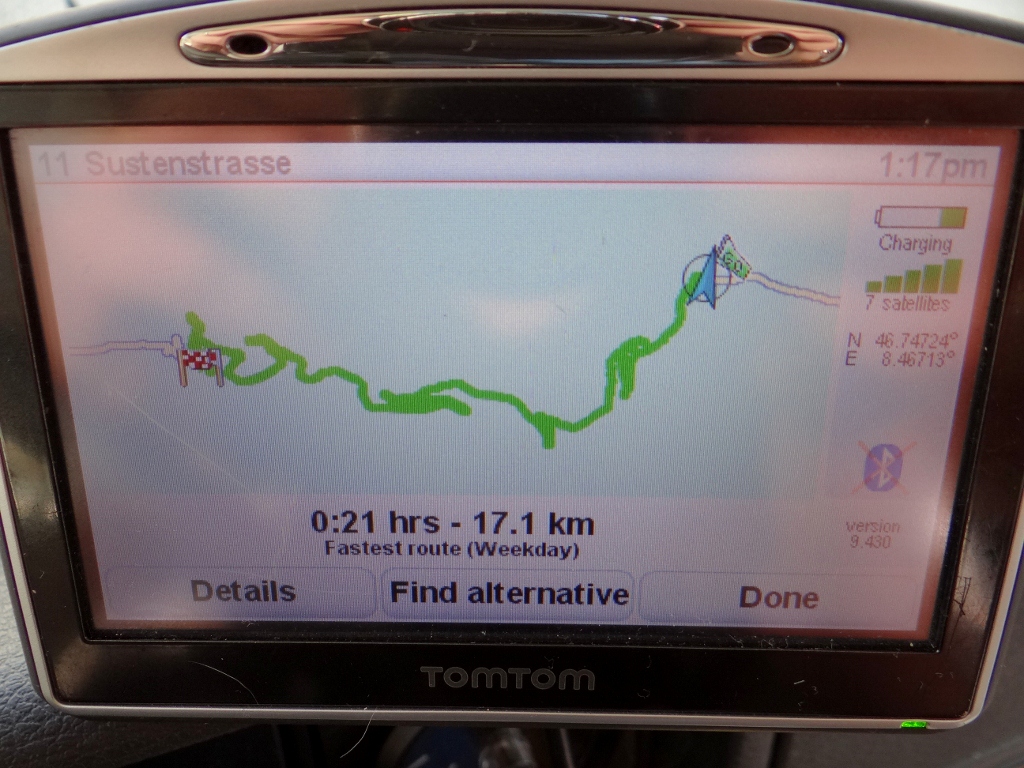 Near the top of the pass we got talking to a couple who were also looking at the view, they had come over the pass and told us it was all clear and OK – another collective sigh of relief! Through a tunnel and we were at the top, we pulled into the car park and climbed up to a viewpoint to take in the most amazing views. We thought the other roads we had driven on were stunning, but this one was even better!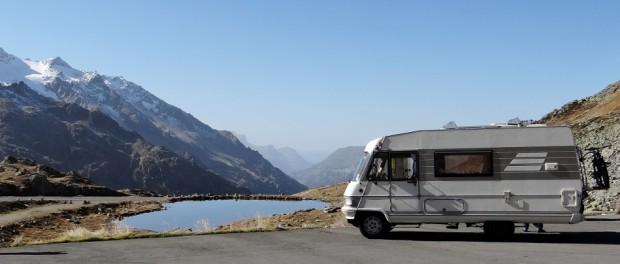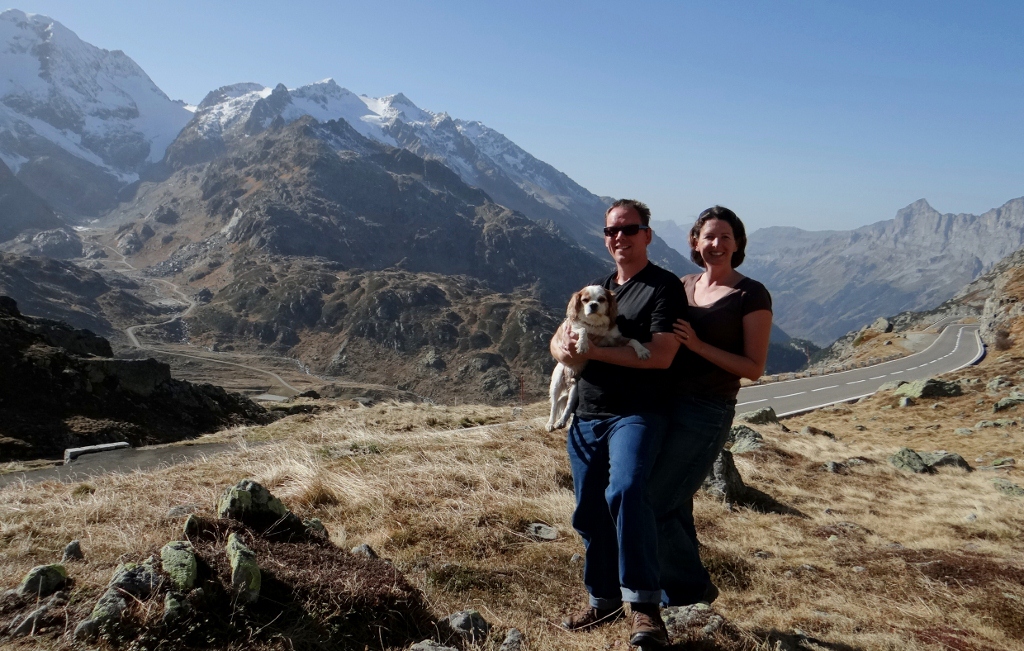 We were just congratulating Dave and ourselves on getting up the pass when two rather large people putted past on mopeds followed by someone's Granddad on a little scooter – back to reality with a bump we set off down tiptoeing down the pass until we reached the Steingletucher Hotel Joseph had told us to look out for. Next to it is a single track road with signs saying no overnight parking and a pay machine asking for 5 CHF for the private road. We would never have known that the road leads up to the bottom of the glaciers and a stunning place to sleep – Thank you Joseph and Petra.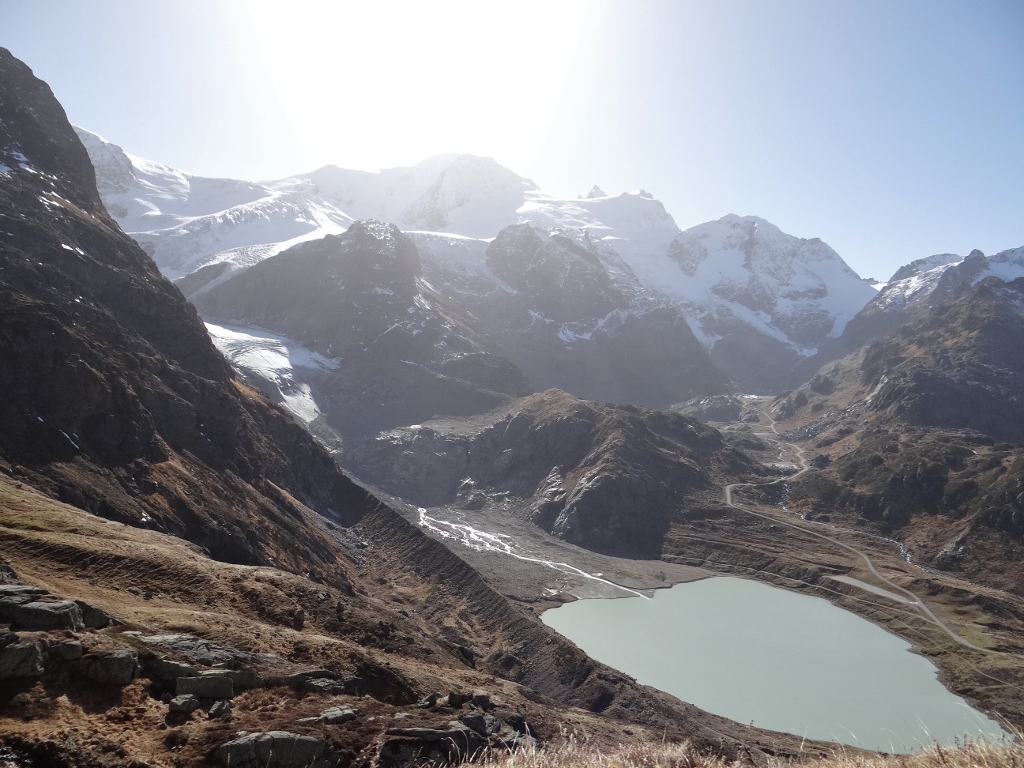 As the sun was going down behind the mountains we set off across the loose rocks to the nearest glacier – there are several surrounding us – it was dirty and grey at the bottom, but underneath the white ice shone. What do you do with an Alpine Glacier? Why you have to stand on it of course!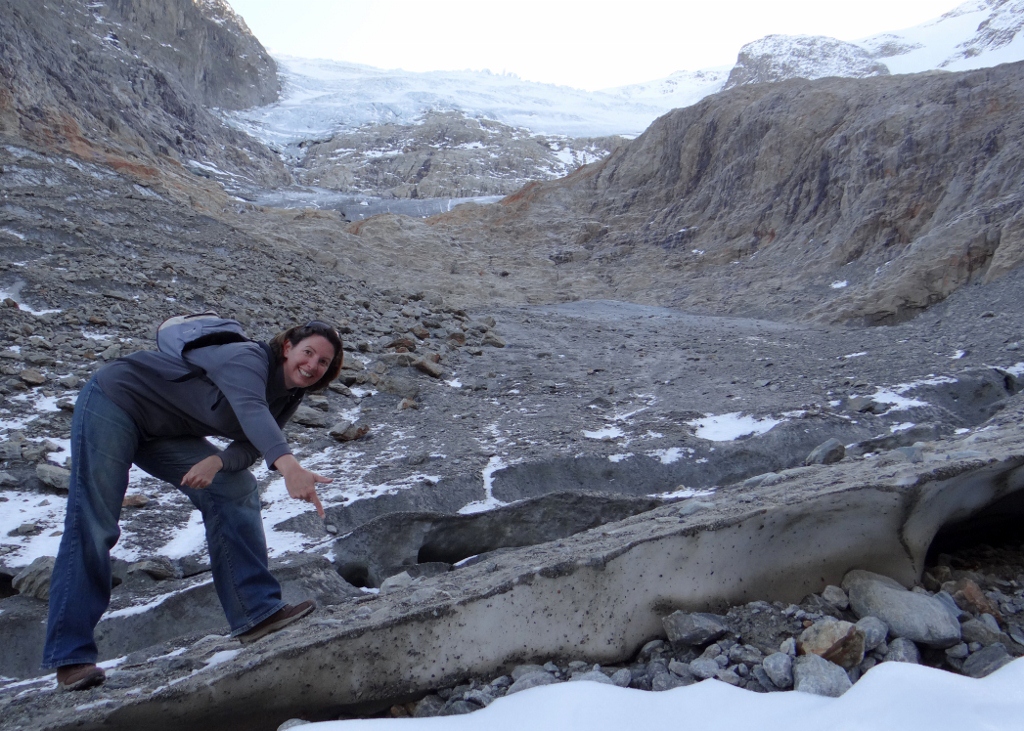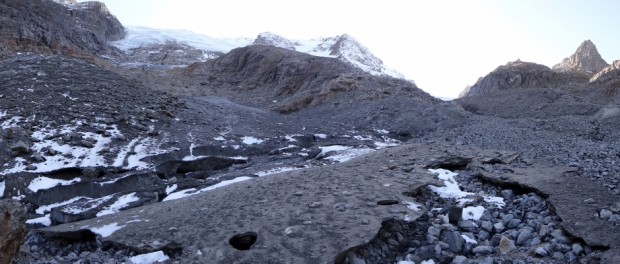 The mountain shadows are creeping their way across the valley in front of Dave's windscreen and I've retreated inside for the night. Jay has headed off for a walk around the rocks, to take in more views – we're all loving it here, it's like being in the wilderness but without the days of hiking to get there. We're the only ones up here now so it looks like we're in for a quiet night.
Ju x