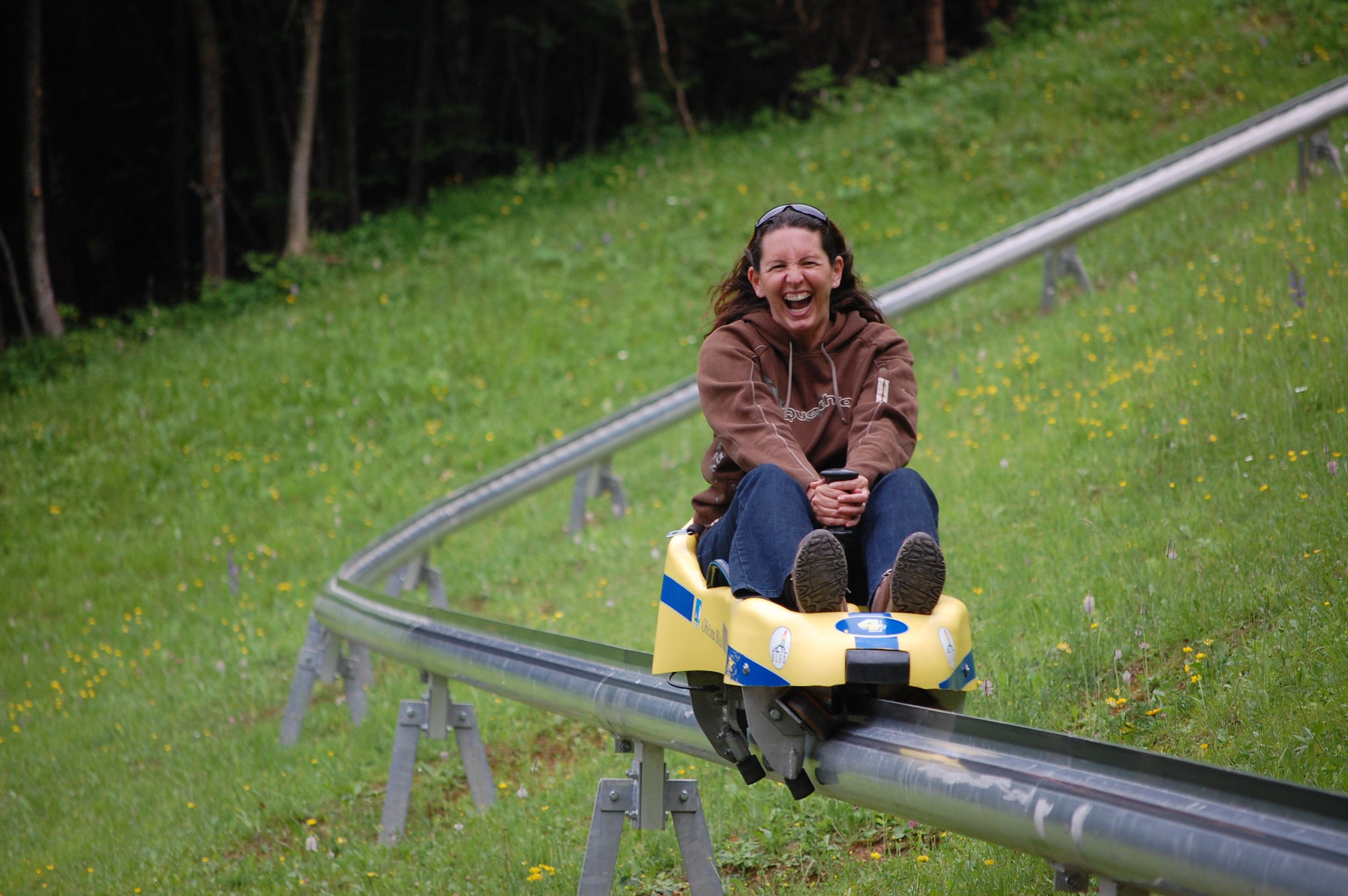 Dave the motorhome is still at Camping Bled, Slovenia, our be-forested campsite snuggled within cliffs at one end of Slovenia's premier resort – Lake Bled.
The weather is: as far as we can tell, it's always the same here: a combination of misty low clouds, pathetic attempts at rain and the odd hot-roast sun blast.
7am? What on Earth? I'm awake? It must be the excitement. Today's the Queen's Diamond jubilee, and where are we? In Slovenia, a country we keep confusing with Slovakia, and the occasional waft of wind has forced us to whip in the awning and with it our Brit-flag bunting (we ripped an awning off a motorhome once in Scotland – once bitten, twice shy). Dash and blast it. Stiff upper lip, we tally ho down to the lake for an early morning dip amongst the ducks, who seem to mistake us for one of their own. The water's swimming-pool clean, reflecting the light like mercury, but accepting our bodies in a somewhat less carcinogenic way. Champion.
Splashing completed, and hot showers all round, we toddled off up to the castle, Jon's VW Golf reminding us what its like to be in a vehicle which has perceivable acceleration. Posters at the campsite office have advised us we're lucky to have caught the medieval-themed entertainment at the castle. It's the last day, get up there for some medieval snacks; we joke about what these might be: are they hundreds of years old? On arrival Jon optimistically drives up to the barrier placed across the road. Fully expecting a 'can't you see sir, the car park is full' response, the car park attendant, speaking perfect English (it seems anyone under 30 has learned it at school, one local tells us he prefers English to German without explaining why) waves us in to a last free spot.
The castle here is one of those 'surely this was knocked up by Disney' affairs, topping a cliff which looks out over the lake. Apparently not though, it's been here in various guises for 1000 years. As we climb up the short road from the car park to the castle, I curse them for not building it somewhere easier to get at. A few little tents appear in the castle grounds; ye olde tat shop! They're flogging tiny horse shoes from a mobile forge which is decked out with a humongous sword, coloured shields and a few other instruments of warfare. Goat skins? Check. Small plant pot things? Check. A foot-operated lathe powered by a long bent branch? Check. Bloke decked out as Nottingham Sheriff badly throwing axes at a tree? Check.
All the while as we're wandering around this prelude to the main affair in the castle, there's a log fire pumping out wonderful-whiffing smoke, and the sound of rythmic drum beating from within the stone defense works. Let's go! We penetrated the outer defences, no problem, but sadly I have to report the British indomitable spirit did not win out on this occasion, the €8 a person entrance fee repulsed us at the last breach in the walls.
All this castle assaulting had built a collective appetite; we headed off to the rather posh resort town of Bled for some grub. With Charlie in tow, we need an outdoor spot. There are a few, so we dive into one. 'No food' the chap tells us, pointing at a burger joint to one side of the square. Rather than hunt any further we popped in. Fast food it wasn't. Enormous it was. Jon's burger was physically bigger than his head.
Next stop: adrenalin. From the height of the castle we'd spotted a summer toboggan run Jon knew about. A mono-rail runs down the mountain, with punters and specially-designed toboggans being hauled to the top by chair lift. If you ever come this way and get the chance to have a go, go for it! I defy anyone who can get down it without braking most of the way.
We're now back in Dave, having nipped down to the lake for a couple of cheeky Slovenian beers (don't remember the name, but they had a picture of a goat on the green can) and an oddly chilled red wine. My impression of Slovenia so far is clearly influenced by us being in a resort location, but it's certainly made it into Western Europe big style. Right, best be off, time for an indoor BBQ as the flippin' weather's gone all British on us. If you happen to be British, we hope you have a great Jubilee weekend. Sadly we missed it, maybe next time.
Cheers, Jay