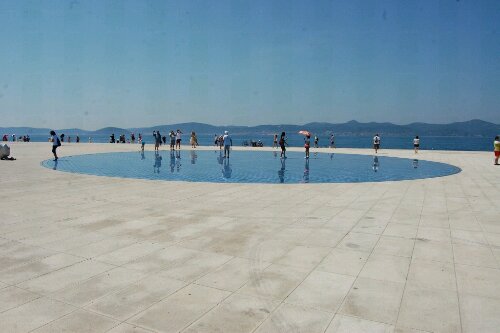 Dave the motorhome is parked under the shade of a tree on Autocamp Oaza Mira in Drage, Croatia (N43.88540 E15.53308).
As the sun cooled down enough so we could move without overheating yesterday we strolled down to the beach next to our campsite. Famed for its miracle mud it would be rude not to give myself a free spa treatment. So, as Jay and Charlie observed I covered myself in the mud then wandered along the beach while it dried. Once I was caked in dry mud a swim in the shallow warm lagoon waters cleaned it off. My skin now feels super soft and fully pampered after months of neglect.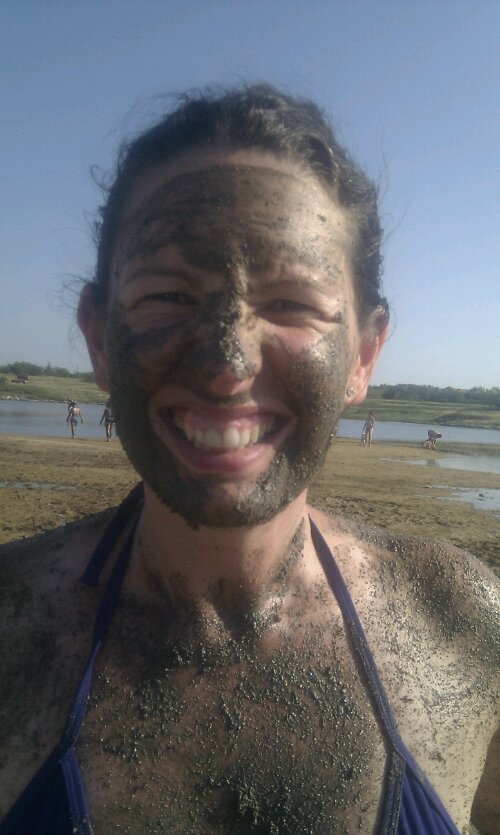 I spent last night chatting with Gerti and Ignaz from Austria. They were parked behind us on the campsite in one of Dave's slightly older brothers. We compared interiors and modifications – they won hands down as Ignaz has completely stripped down and rebuilt their engine to get more horse power.
Our friend Mac helpfully sent over the football results by text – England are through to the quarter finals, no fireworks or flares going off, in fact no tv's about showing the game. We even tried the tv in Dave, but it wouldn't pick up a single channel – maybe they're already digital here.
This morning Gerti treated Charlie to a couple of cat sticks, in return he dutifully did some roll overs, then we waved goodbye and set off for Zadar. It was 10am when we reached the city and already baking hot. A couple of circuits of the packed streets and we found a patch of land behind a news kiosk to leave Dave. A short walk through the high rise apartment lined streets and we were at the bridge over to the old town.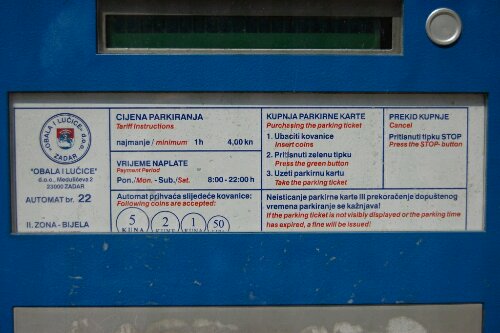 We'd done a bit of research on the place and I wanted to go to the sea organ, so we planned to wander the narrow marble streets to it, see it and get out before midday. Sorry Zadar, you probably have so much more to see, but it's just too hot to walk around. We walked along the edge of the streets to get maximum shade. Charlie panted his way along, trying to seek out his own shade, at one point wandering into a building as someone opened the door to leave.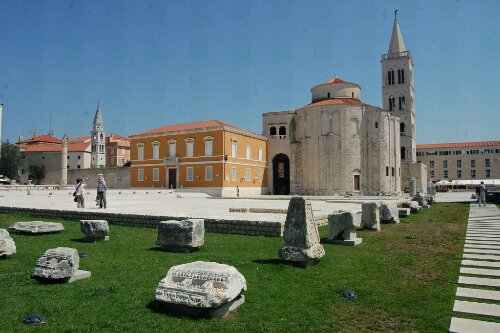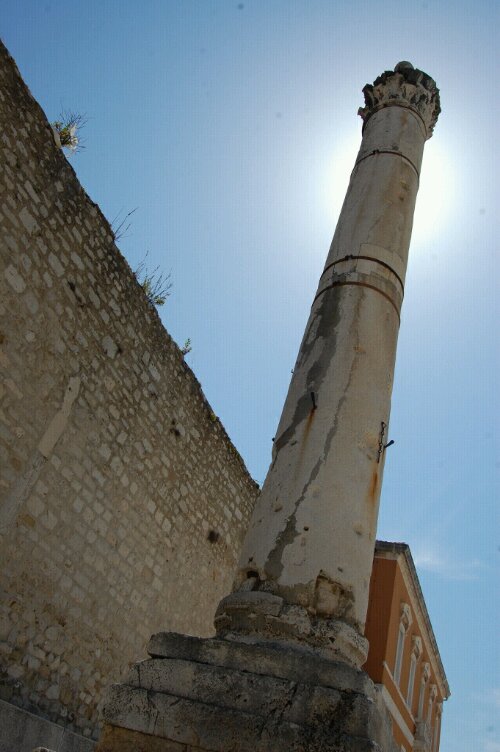 We passed churches and roman ruins, wandered through a garden full of busts of stern looking people we'd never heard of until we reached the end of the peninsula and the customs border for those disembarking at the port.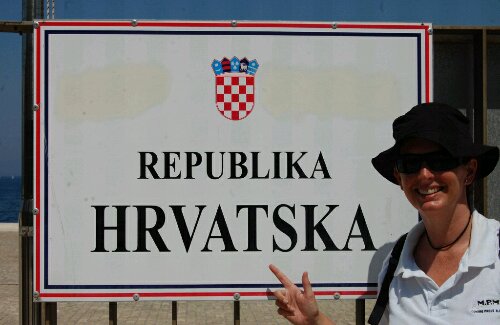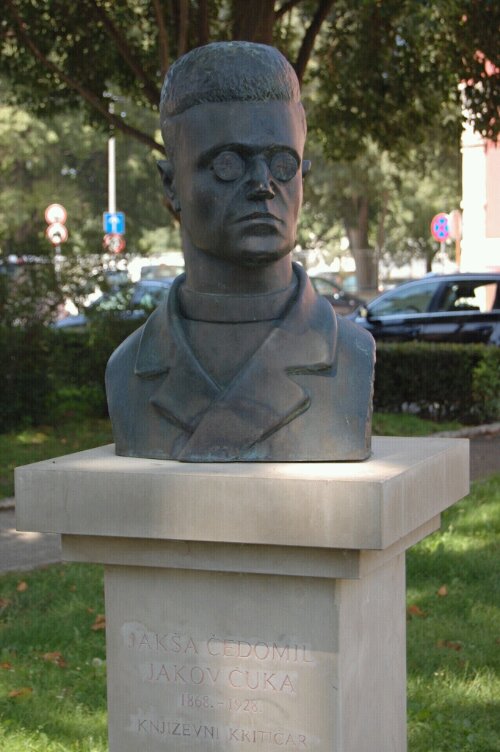 At the Sun Salutation – a huge round solar panel which absorbes energy in the day and puts on a light show at night – Charlie did a little dance when he realised that the solar panels were too hot for his paws. When we stopped laughing we could hear the tune being played by the sea organ.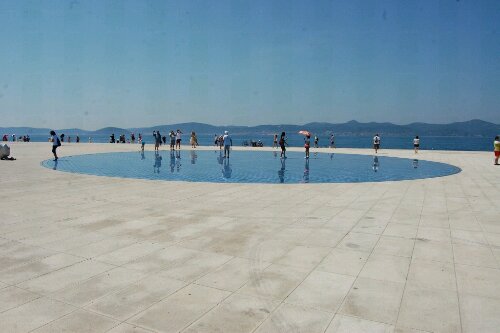 The reconstruction work undertaken to repair the devastation Zadar suffered in the Second World War (about 60% of it was flattened) resulted in a concrete wall along the whole of the sea front. The Sea Organ project constructed white marble steps leading down to the water. Concealed under the steps is a system of polyethylene tubes and a resonating cavity that turns the whole area into a large musical instrument, played by the wind and the sea. It's constant low soothing tunes are interspersed with louder and higher notes when the wake of a boat hits the shore. I love it and would certainly want one in my dream home by the sea – when we win the lottery! (we have recorded a video and will add it when we have wifi)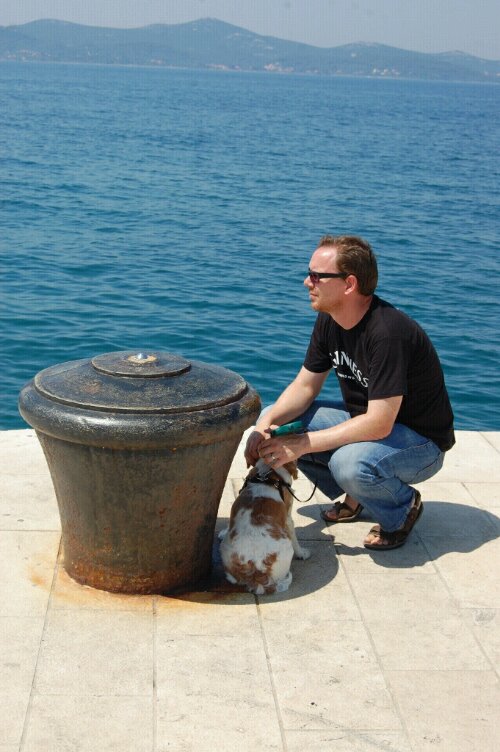 As we walked back towards the bridge the heat got too much and we sought shade and cool drinks outside a restaurant. Feeling peckish we ordered a platter of the local ham, Pag cheese (from Pag island), chips and some bread. Charlie got a large bowl of water and had finally stopped panting by the time we finished eating.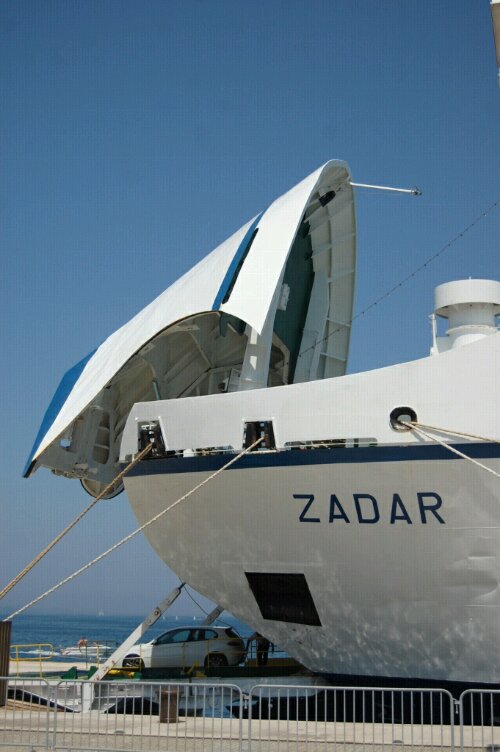 Refreshed we strolled back to Dave and this time looking up for evidence of damage from the more recent war which took it's toll on Zadar. At ground level it's a beautiful place, but looking up you can see the scars.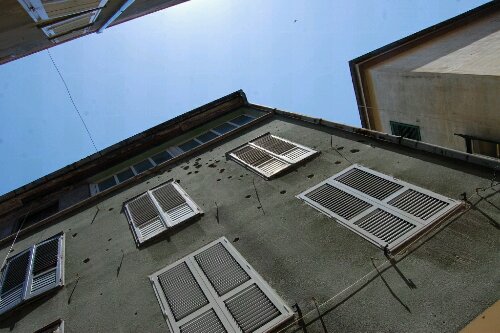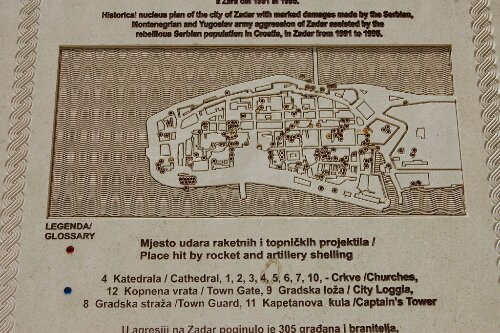 Back in Dave we set off further south. Stopping for diesel Dave was treated to the expensive stuff again – Jay did wonder why there wasn't a queue for the pump we went for – and I grabbed as much chilled water as I could to help the poor suffering fridge.
We parked up at the campsite and relaxed – we had no choice. Sweat pours off you just going to make a drink. We met an English lady who's been here several times before and has never known it to be this hot. She said it was showing 38c on the motorway signs (they helpfully display messages in English too) as she drove here.
It's 5.30pm now and almost cool enough to think about doing stuff. Jay has gone for a snorkel and I'm on laundry and dog sitting duty as Charlie isn't allowed on the beach. For that reason we'll probably move on tomorrow, but not before we cool him down in the dog shower!
Ju x