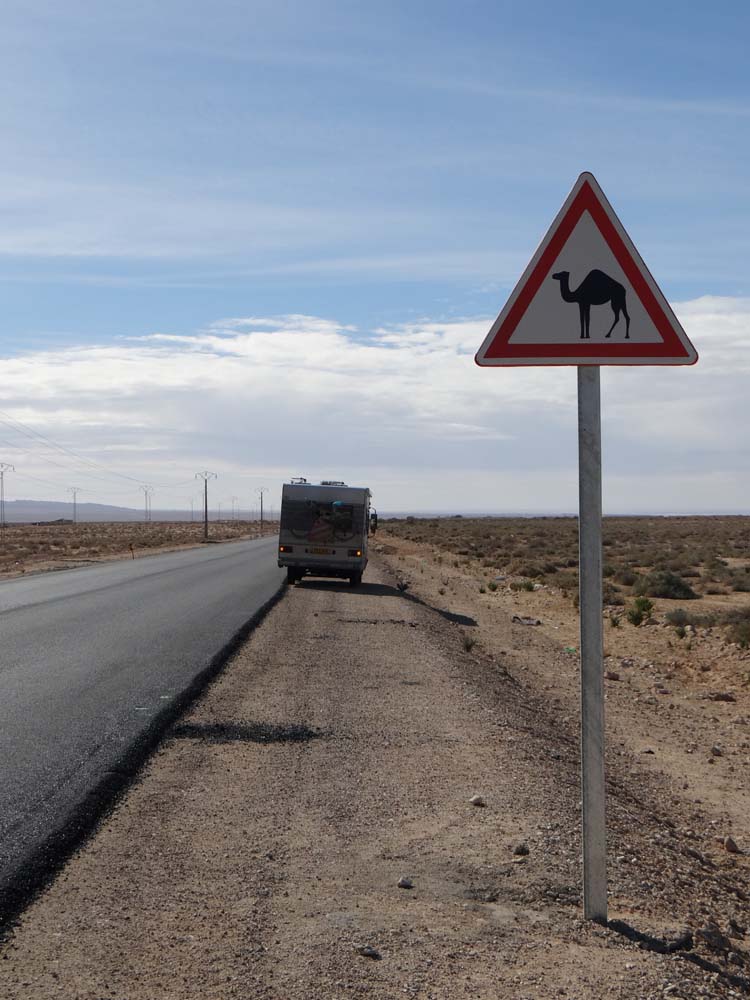 Dave the motorhome is in the World's Smallest Campsite, at least the motorhome parking bit of it, in Camping Les Beaux Rêve (the Campsite of Beautiful Dreams, no less) in Tozeur, Western Tunisia (N33.91351 E8.12461). Our view from the front window is wall to wall palm. We can hear music playing out constantly as a background to the shouts of blokes playing table football, and the silencer-less moped exhaust racket. It's fabulous, a safe haven just a few feet from North African fascination; just outside the door a man is hacking palm branches into sticks and making furniture, burning the left-over bits into a sweet-smelling smoke.

The alarm was set for 7:30am, time to get up and off to Metlaoui to the Lezard Rouge (the Red Lizard) train, made in France in the early part of the last century for the Tunisian king. It now punts up and down a narrow gorge through stunning scenery, just for the tourists these days. The road south took us quickly out into rocky, sandy terrain, the road stretching off into the distance, feeling like a true adventure.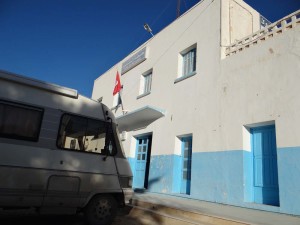 Walking into the station, both ticket booths were closed. A man followed me in and asked if I was there for the Lezard. It's not running he told me, maybe Friday (today's Tuesday), something to do with the track not being free. Not surprised, since there are zero tourists around, we decided to have a look around the town instead. The place only exists because a French vet discovered phosphor deposits, kicking off mine works and the build up of a community.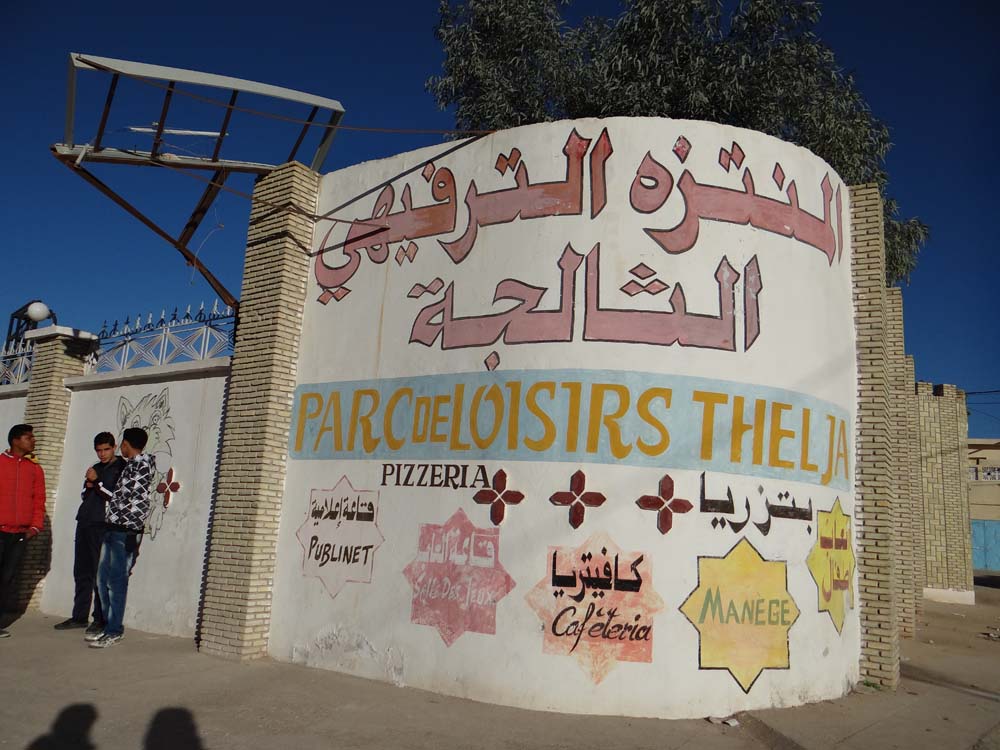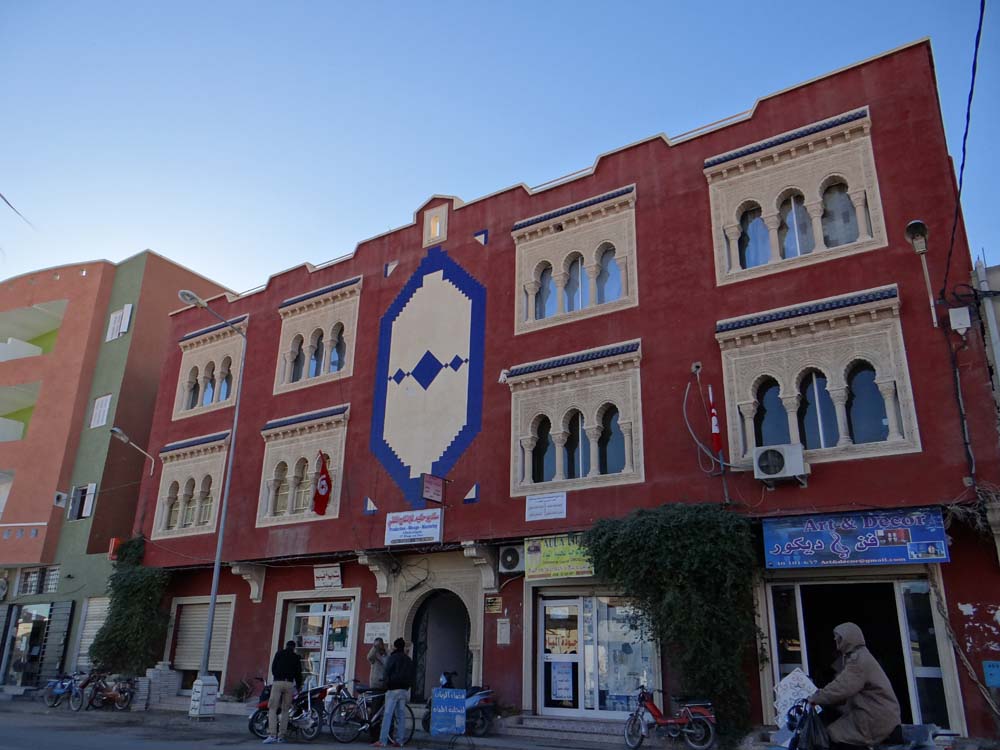 As we wandered about, Charlie once again proved the focus of attention. No one took much notice of us, clusters of blokes leaning against the wall or sat in cafes would turn from angry looking mobs into coo-ing softies in seconds. We came across a gathering of chaps trading sheep and goats. As I wandered about with the camera, Ju said she'd wait with Charlie to one side. When I'd got some snaps I looked up to find she'd gone. My bewildered look must have been plain to see as one of the guys whistled and pointed to my right. I wander right, still no sign, another whistle. Ah, I couldn't see her as she was surrounded by the blokes, all looking downwards, wanting a stroke of Charlie, one took him for a little walk, fiddling with his lead.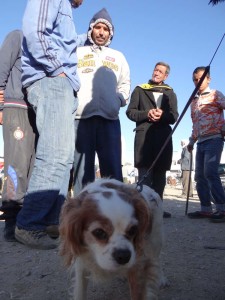 As we walked back to Dave, we spotted the train carriages in an under-cover siding. Ju walked over to ask a chap sat between carriages (in a place where John Wayne wouldn't have looked out of place, having leapt from his horse) and he jumped up to show her around. Another guy turned up, explaining about the carriages all being built at different times, and telling us where we could go see the first train stop a few miles down the road. Neither seemed to expect a tip, just wishing us a good day, shaking hands and turning around to continue their, erm, sitting.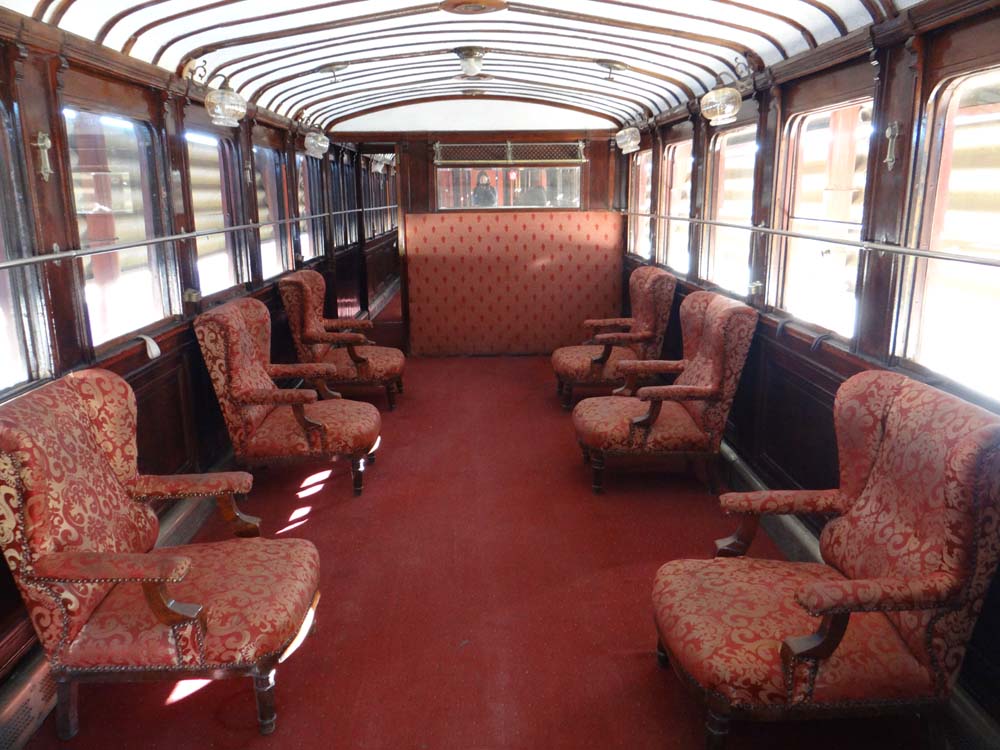 Back into Dave and south, the road became even more dramatic. I loved it. For the most part smooth new tarmac, currently being laid, the intersection between the old and new sections was marked out by a jumble of lorries with the traffic being left to itself to find a way past.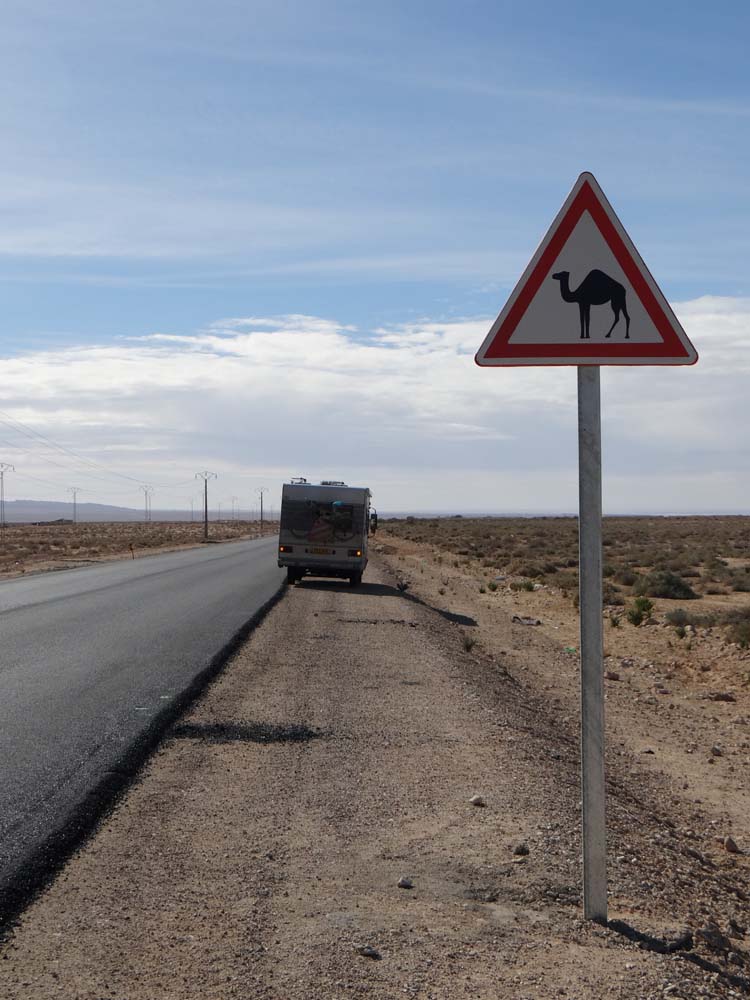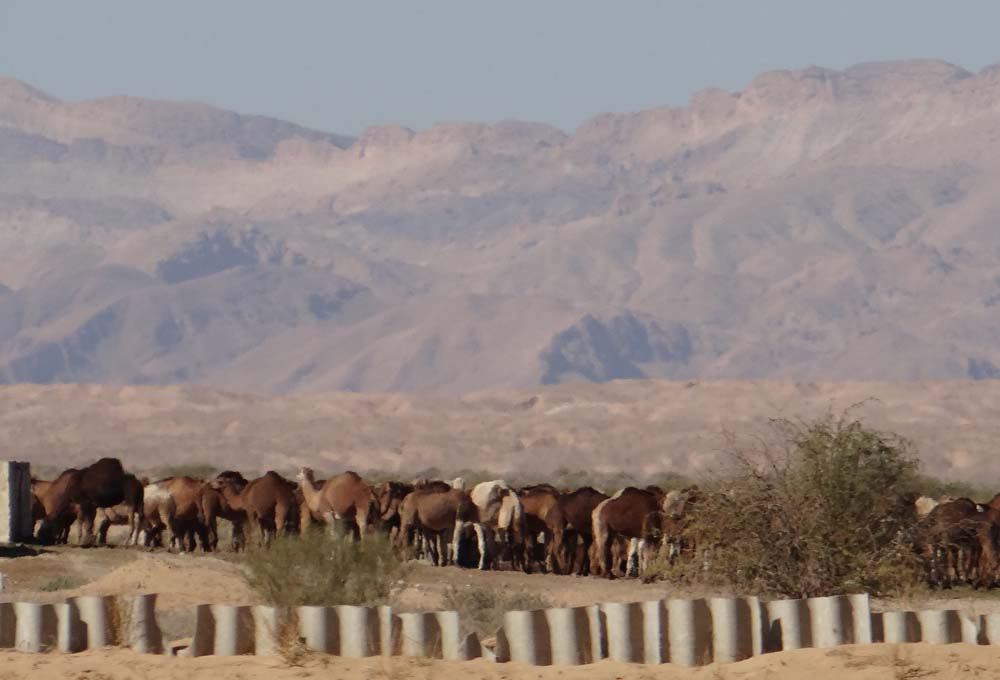 Reaching Tozeur, we nipped into a fuel station on the edge of town rumoured to have LPG. Sure enough, there it was, we now sport a full fat tank of half-price gas, of unknown quality! We topped up on diesel too, before a couple of laps of the town in search of the campsite. Unable to suss out the street system, we pulled over. A man wandered over, told us the way, shook my hand and left. Tozeur has a reputation in the Rough Guide for being touristy and having more touts than other parts of Tunisia. We've certainly came across a few, but they're childishly easy to fend off compared with the stuck-on-you-like-super-glue Moroccans!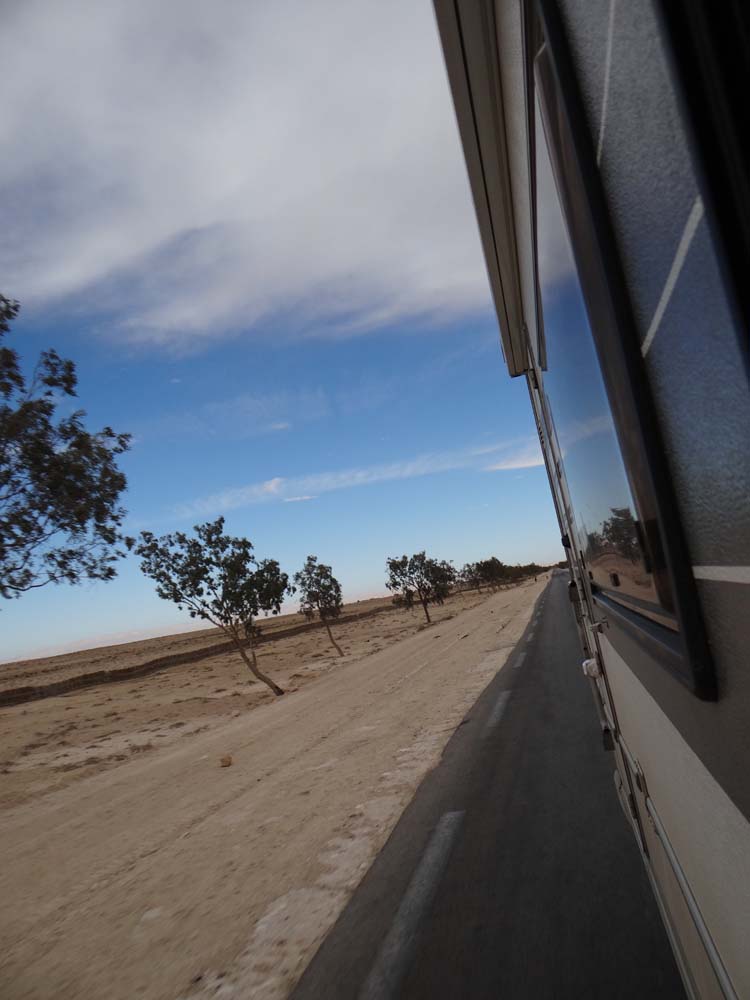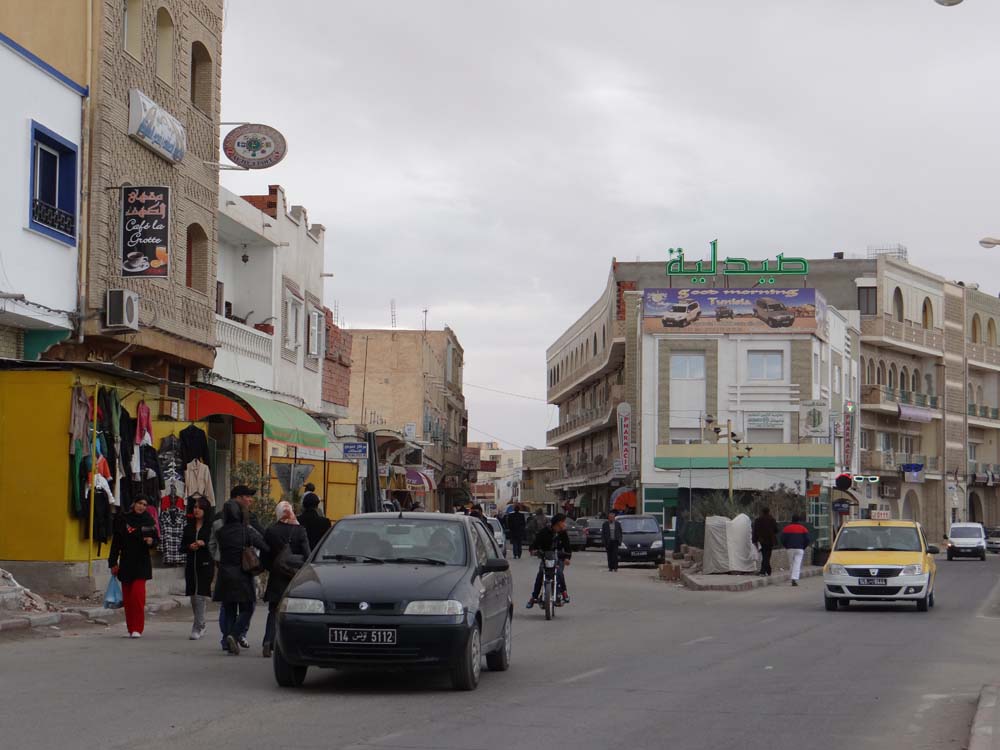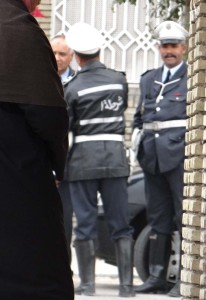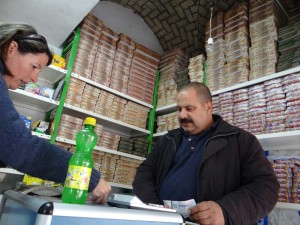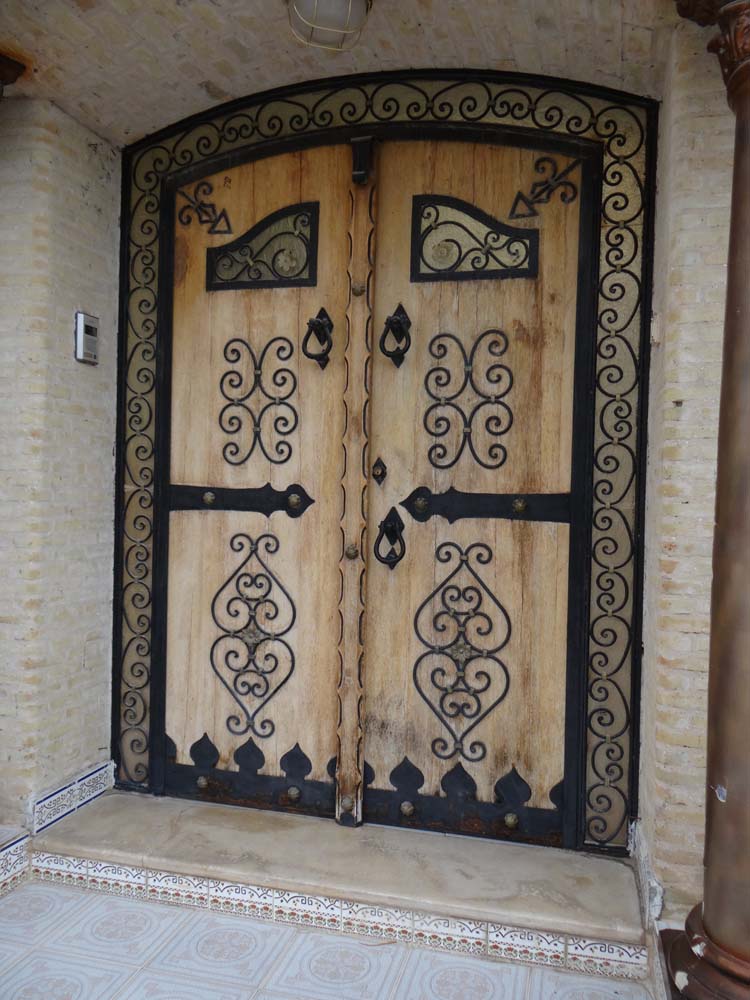 The motorhome area of the campsite is tiny, but absolutely fine for us. We've taken a walk around town, without Charlie and therefore with hardly no attention paid to us. There's a cafe next door which is currently blasting out commentary from Tunisia versus Algeria in the Africa cup, and a couple of round-the-world Brit bikers have just arrived who are coming over later for grub. Fan-flipping-tastic. Tunisia's starting to feel good, great, like maybe we're getting the hang of the place.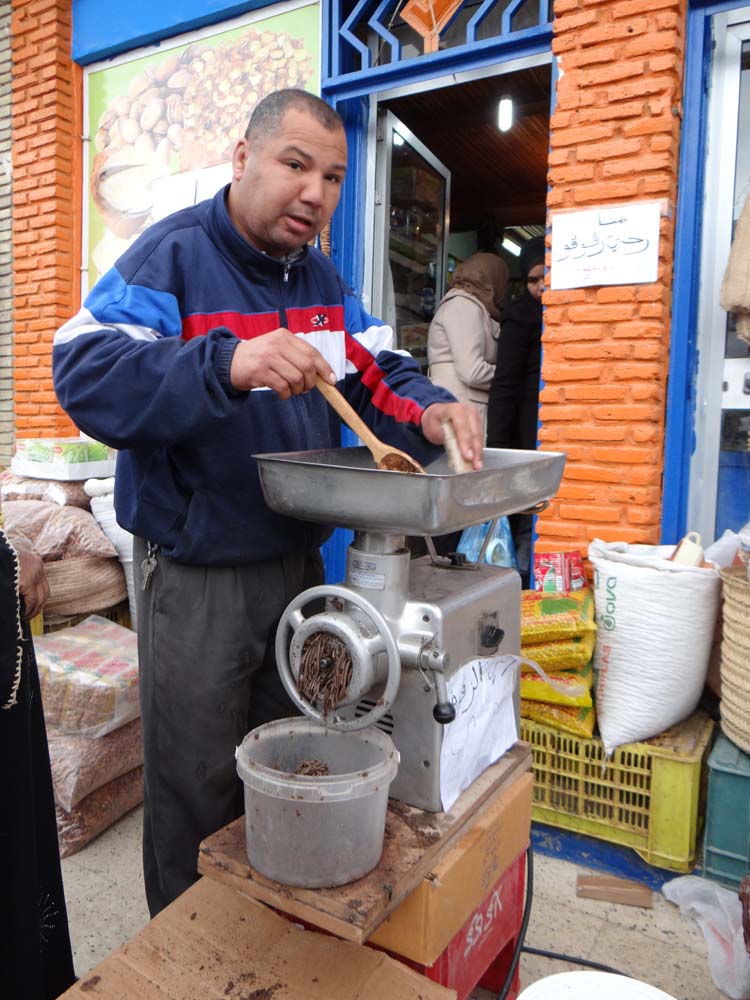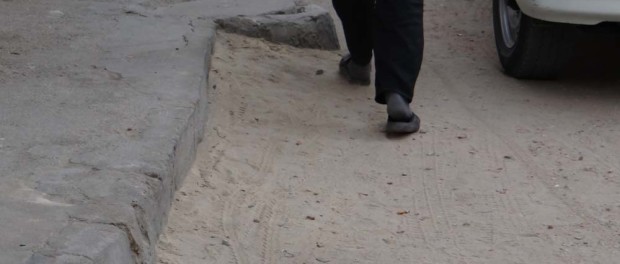 Cheers, Jay