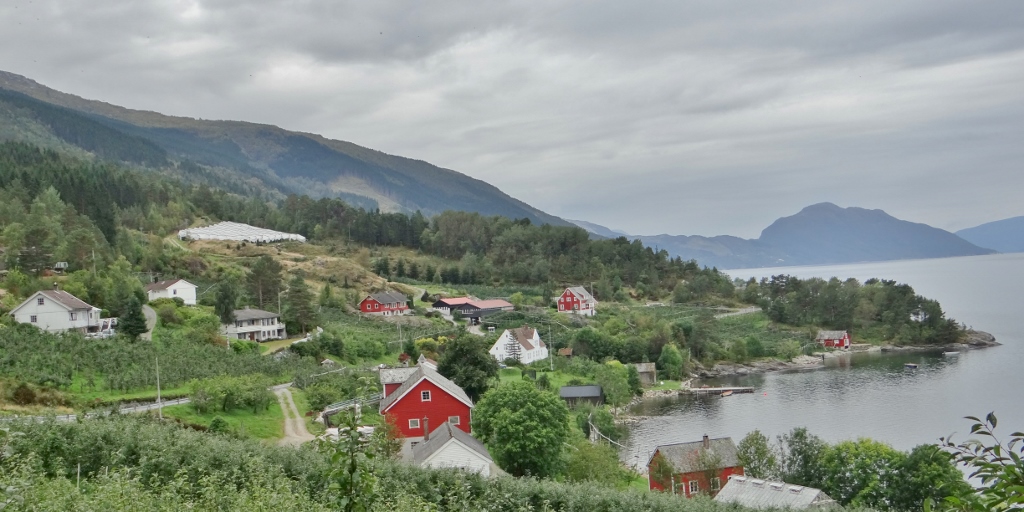 Zagan the motorhome's made tracks east then south, bringing us down past Odda to the small town of Nesflaten. There's a kind of unofficial aire here next to the lake, a beautiful spot to rest up, which even has free electricity available (N59.64467, E6.80210). We're in the Rogaland region here, which occupies the whole of the south-east corner of Norway.

Right then, where we were? Ah, yeah, Bergen. After waving goodbye to Anne and Andy, we talked between the two of us about just how privileged we are. Those guys are on a six week break, which is a long old time out of day to day work back in the real world, but to us it's more of a weekend break. They were working out whether to try and make Nordkapp or not, when I flippantly suggested they just extend their trip. Andy, who has his own landscape gardening business, relayed the fact he's a job booked in to make a client's garden wheelchair friendly. He didn't chastise me, but it really drove home the fact some (many) of you guys are out there doing good, necessary, useful jobs while we amble about the place.
Leaving Bergen we headed back east along the E7 until it turned south and ended at the Hardangerfjord where we slotted ourselves into a growing queue of Norwegians heading over the water. Being a Friday afternoon, we guessed some were heading home or on a break for the weekend. Relieved of another tenner, we picked up the road again at Jondal, heading north around the thin, slow roads while almost everyone else took the underground route south, miles upon miles of tunnel to Odda.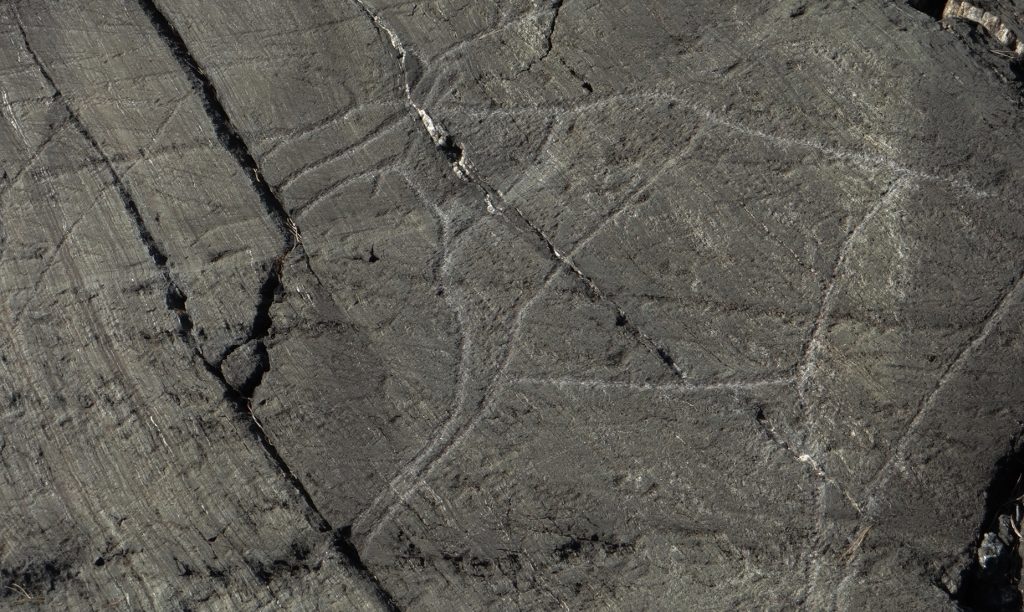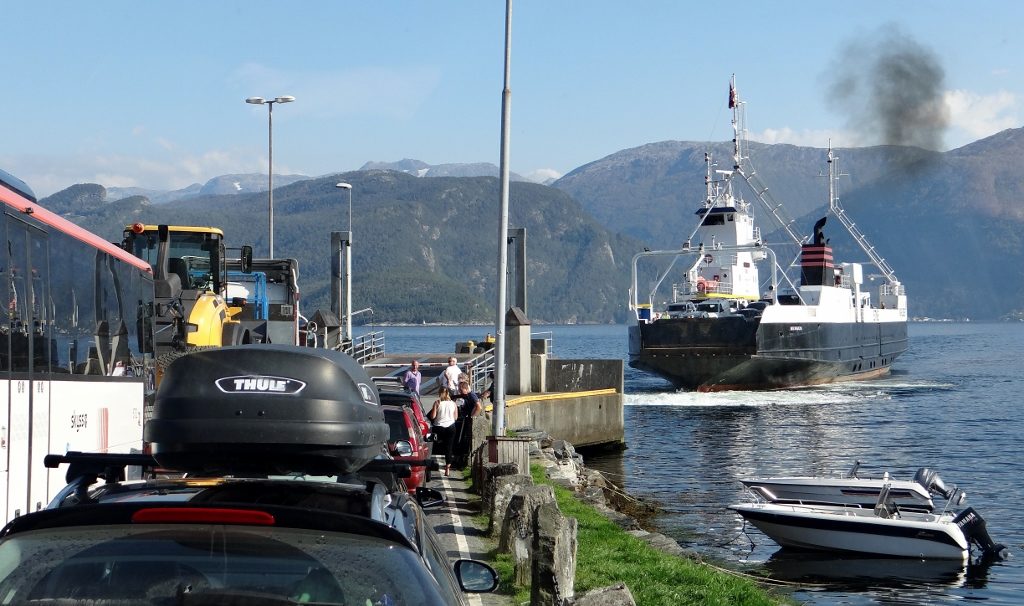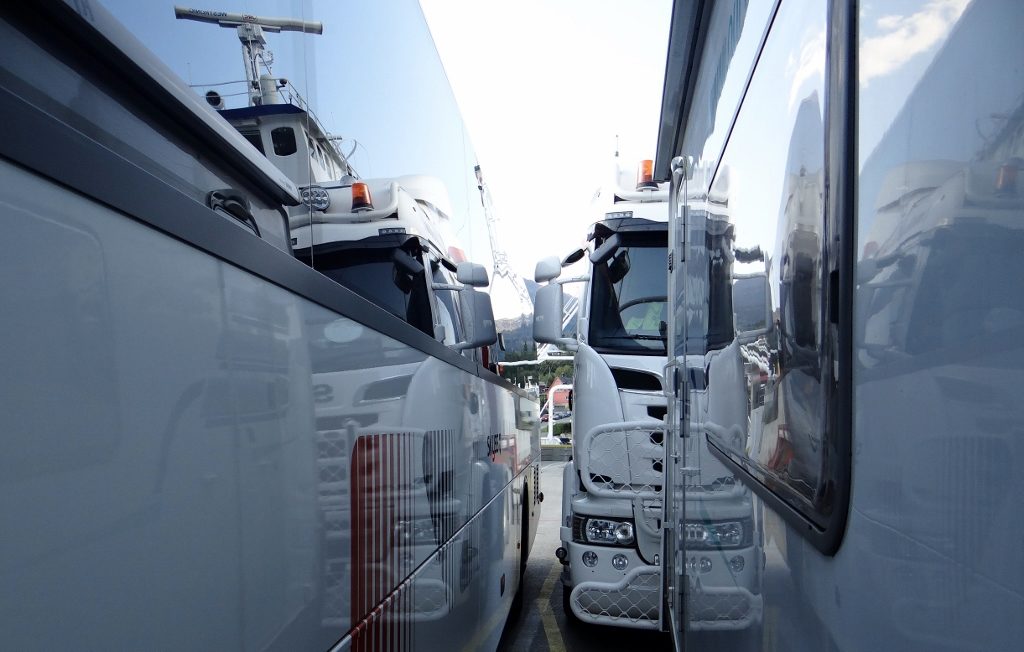 Just a wee way up the 550 we pulled into a rest area for the afternoon, a beautiful spot against rocks which dove into the fjord (N60.32824 E6.33797), as did I after donning 5mm of neoprene and a snorkel, feeling a great sense of calm as I floated about the fjord in the sunshine. The area had a sign forbidding camping, showing a picture of a crossed-out tent, but nothing about motorhomes not being able to park the night. We've spotted these 'no tents' signs more and more as we've got further south, with some places also clearly stating no motorhomes. A Norwegian chap by the name of Helge pulled up in his motorhome yesterday, 3m away from us as is the Norwegian way, and told Ju he'd stayed there before and it was no problem, so we felt at ease. He'd just done the Trolls Tongue walk, a 10 hour 20km hike which we passed today on the route south. When Ju said we weren't doing it, he was curious to know why. The real answer, dear readers, is that we can't be bothered, although we must admit to using Charlie's ageing leg joints as an excuse.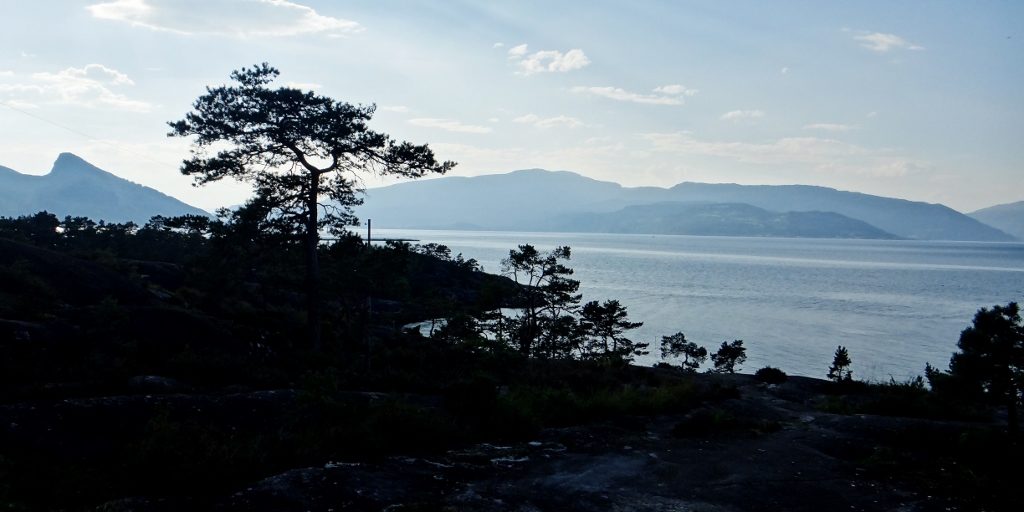 Today we've pushed on south, rounding out the top of the Hardangerfjord proper and heading south along one of its inland arms, the Sørfjorden. The road's a small challenge, shrinking to van-width from time to time as rock face meets fjord, but much of the drive was through orchards. This part of Norway grows the majority of the country's apples, and the trees were heady with 'em, bursting red fruit hanging ready to drop. Large wooden and plastic boxes stood along the road, some piled with fruit, presumably awaiting pick-up and sale. Each orchard looked fairly small, but the houses fitted in among the fruit were stately, perhaps a reflection on the fact competition from abroad is reduced through import taxes, keeping the price of fruit, and the farmer's standard of living, high.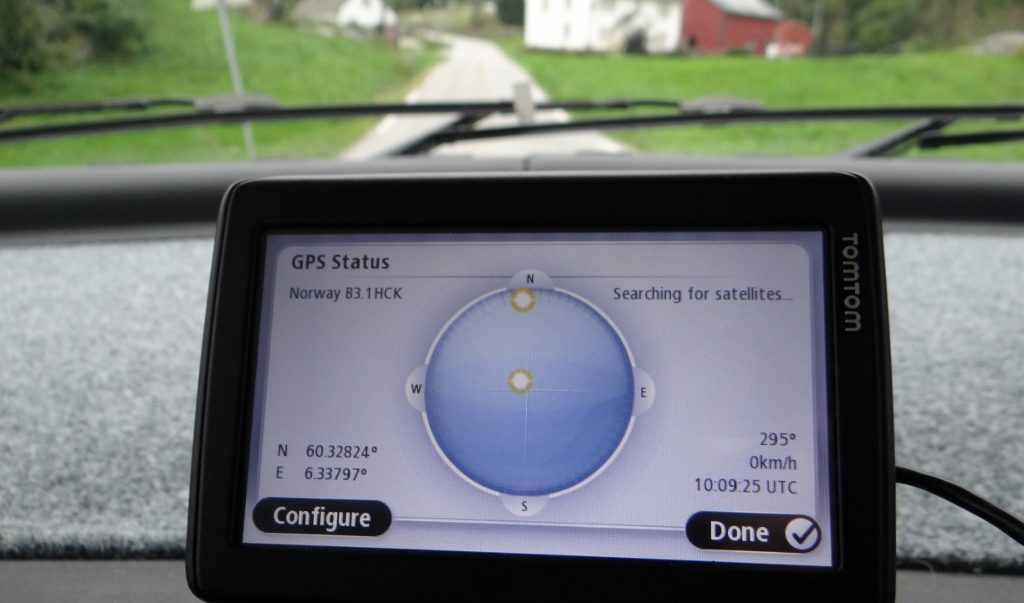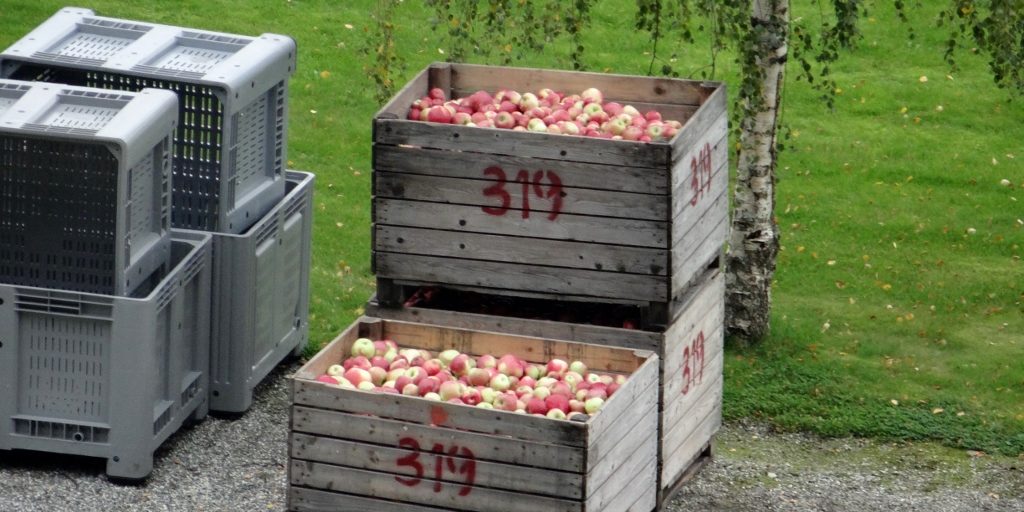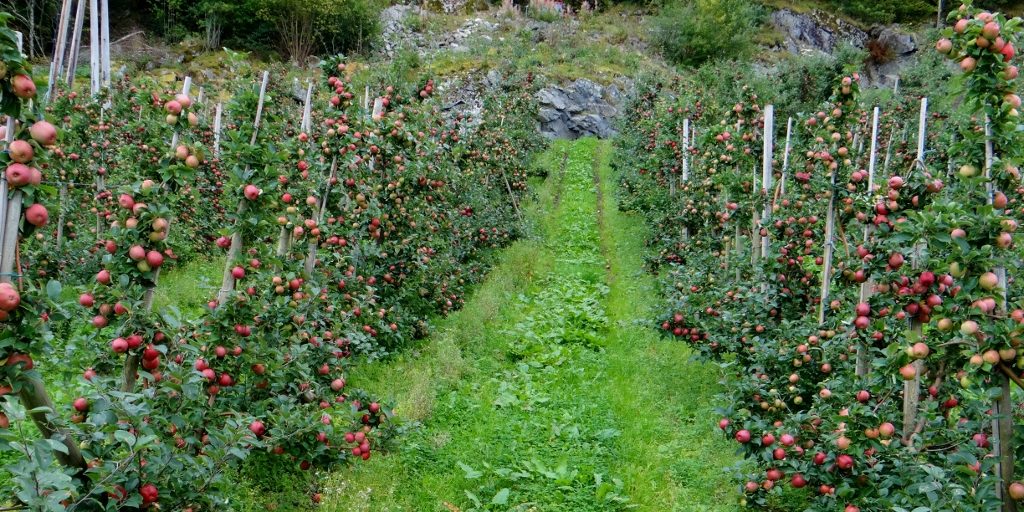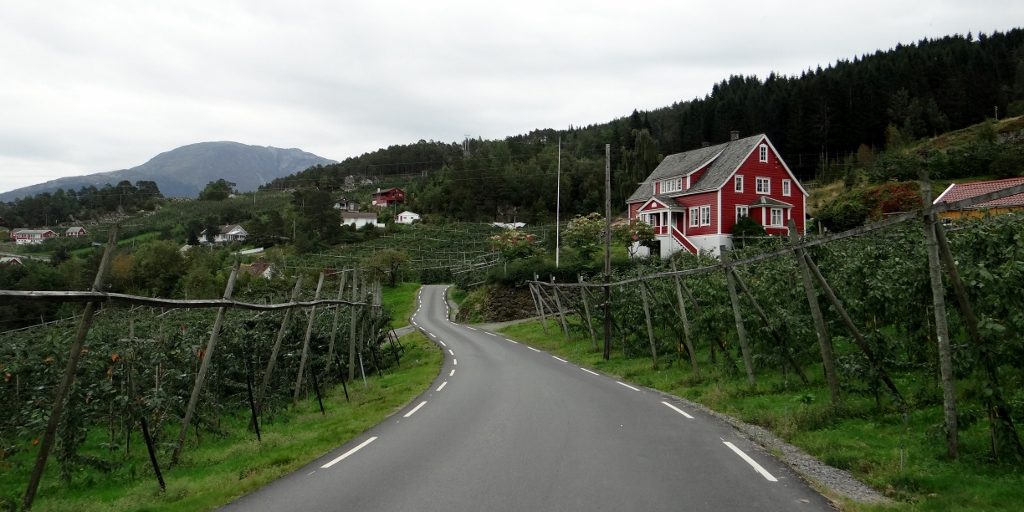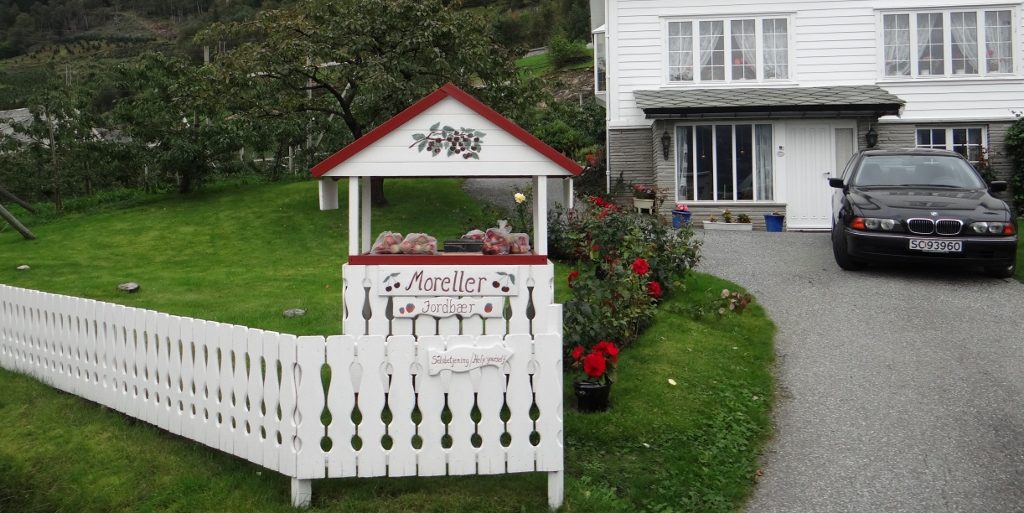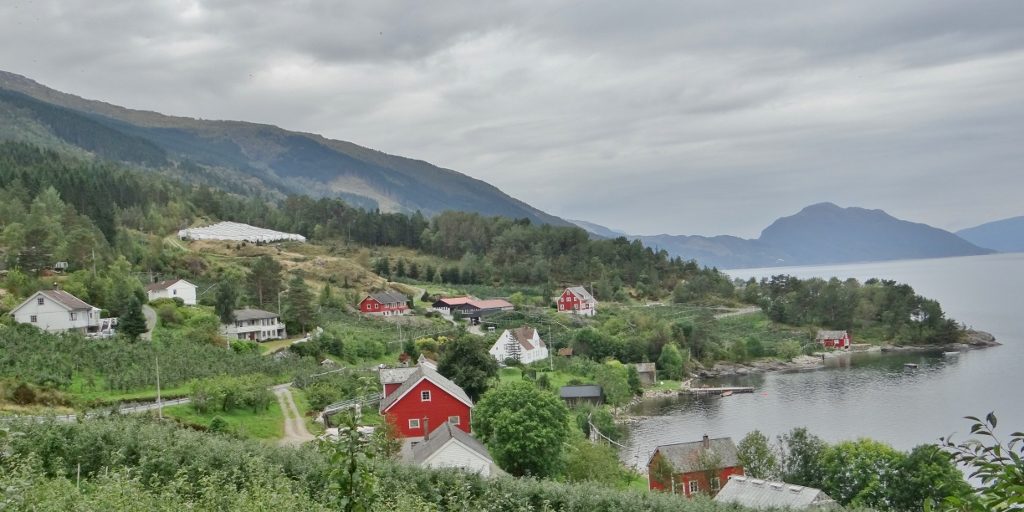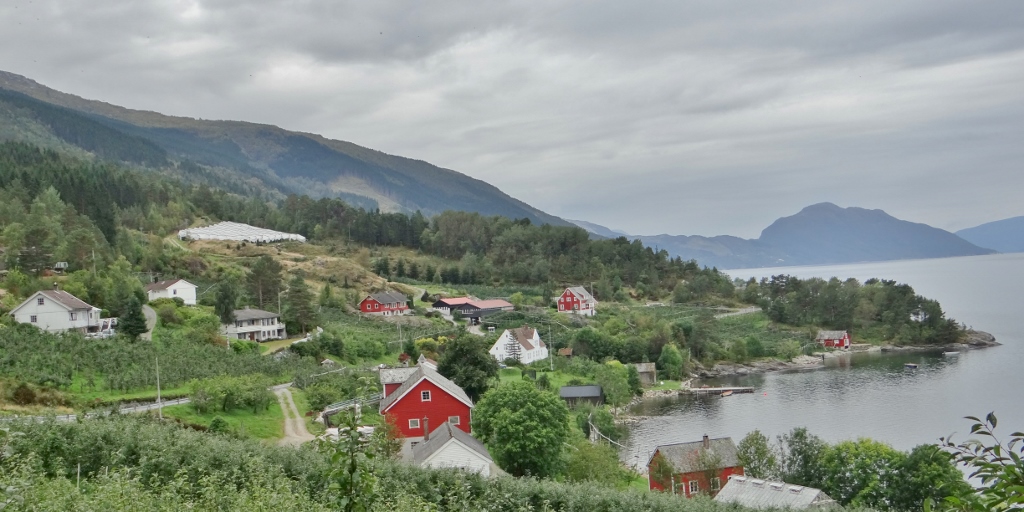 The main town on our route here, Odda, is having a blues festival at the moment. Helge had discovered this and, presumably not being a blues fan, had burned off immediately to the spot we were in to get out of earshot. We made an attempt to buy some groceries in town as someone warmed up, strumming a few chords over a loudspeaker, but the Rema 1000 was closed for refurbishment. Ju had a sniff around the government alcohol shop for a bottle of birthday wine, but returned empty handed. The minimum price for a bottle of the cheapest stuff is £10, which is roughly £9.50 more than we were once paying in Portugal. Needs must though – if we see another shop before or on Monday, we'll dig deep.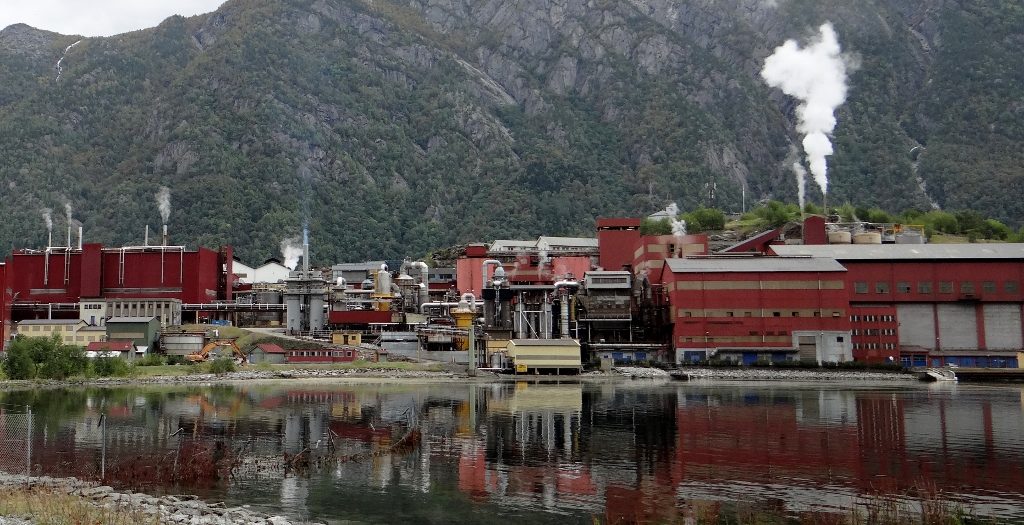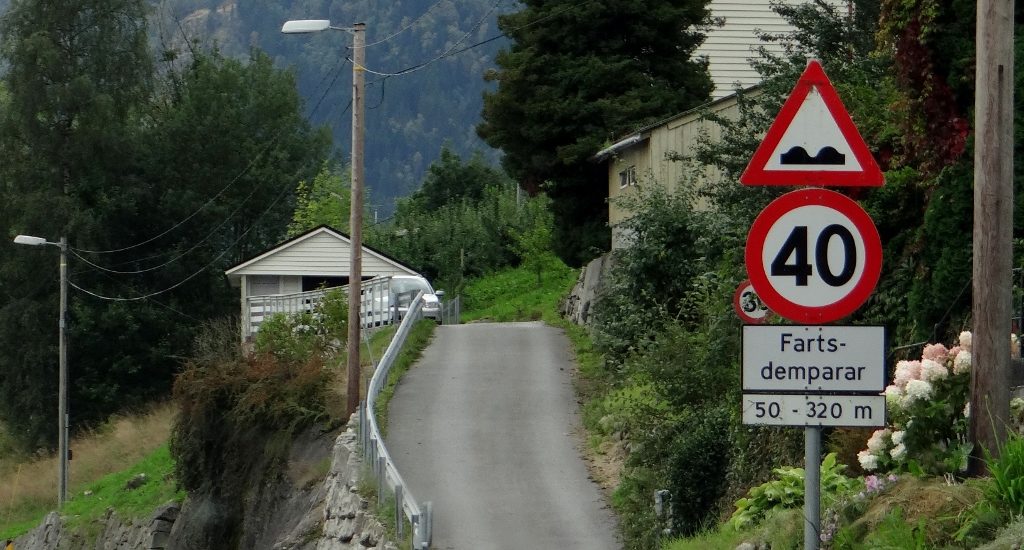 From Odda we followed route 13 down through a gorge, past waterfalls and through twisting tunnels, one of which did a full 360 degrees while we were in it, looking like an oversized roundabout on the satnav, dropping us down the hillside like a helter skelter. We'd the town of Sand in our sights, which has been recommended by a couple of folks, but failed to make it. Tight roads and afternoon blue skies tempted us in here for a look around and a chillout. Some images from the final stretch of the route to here: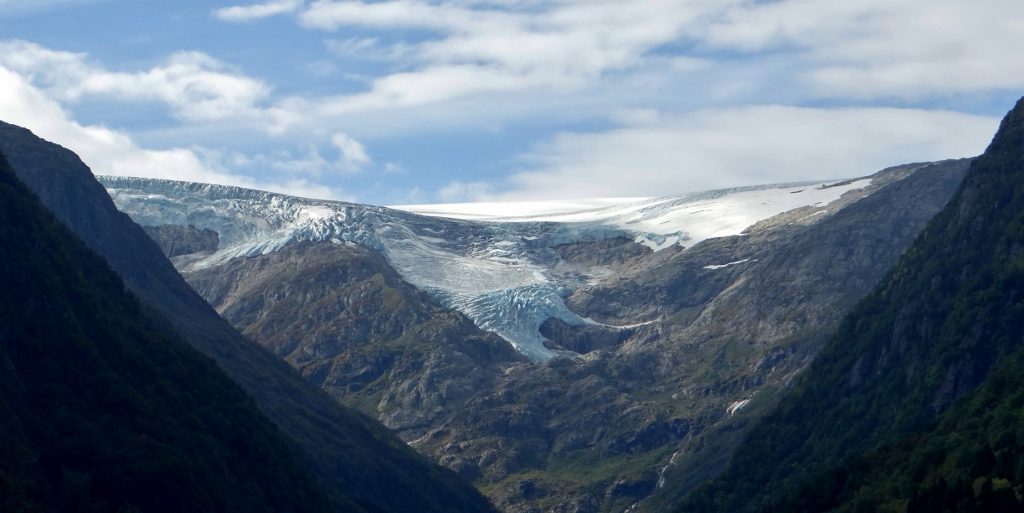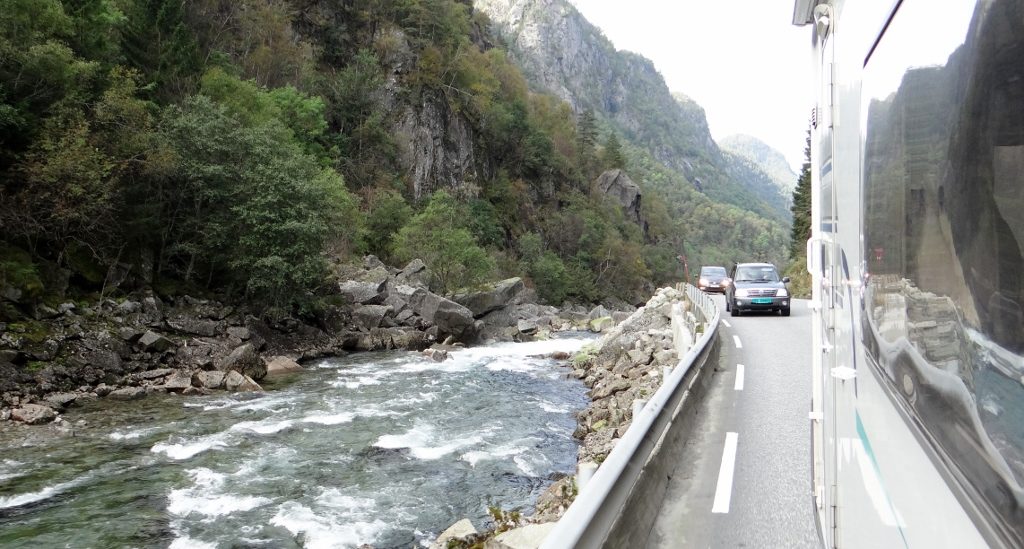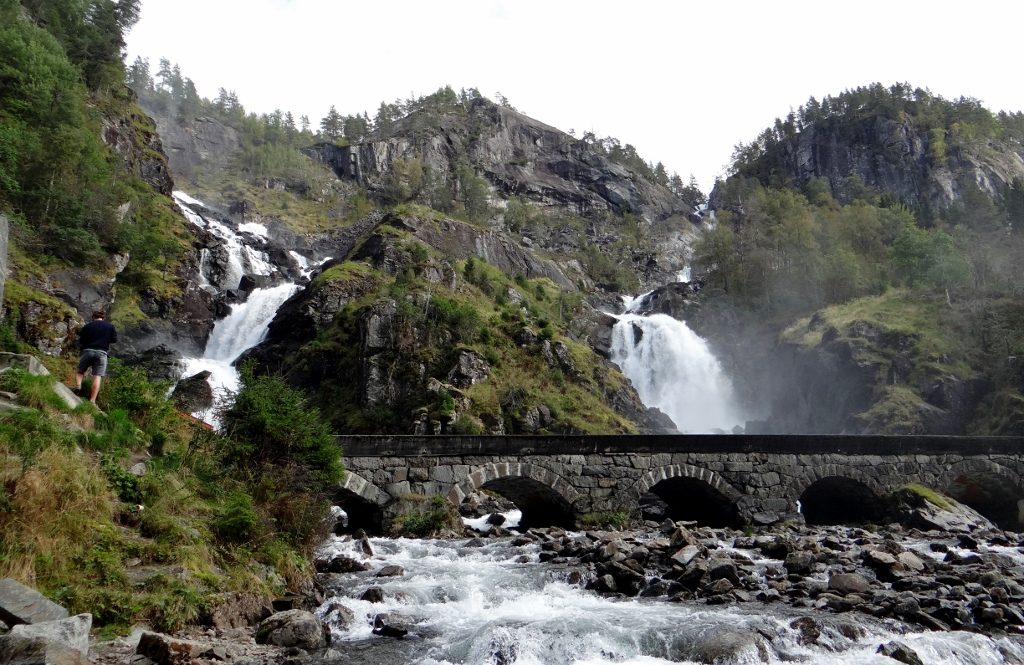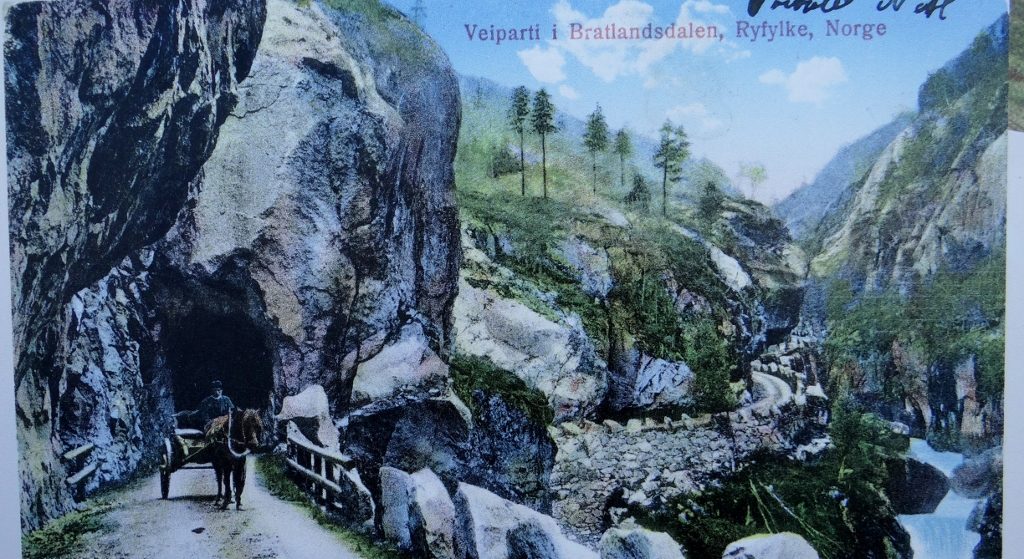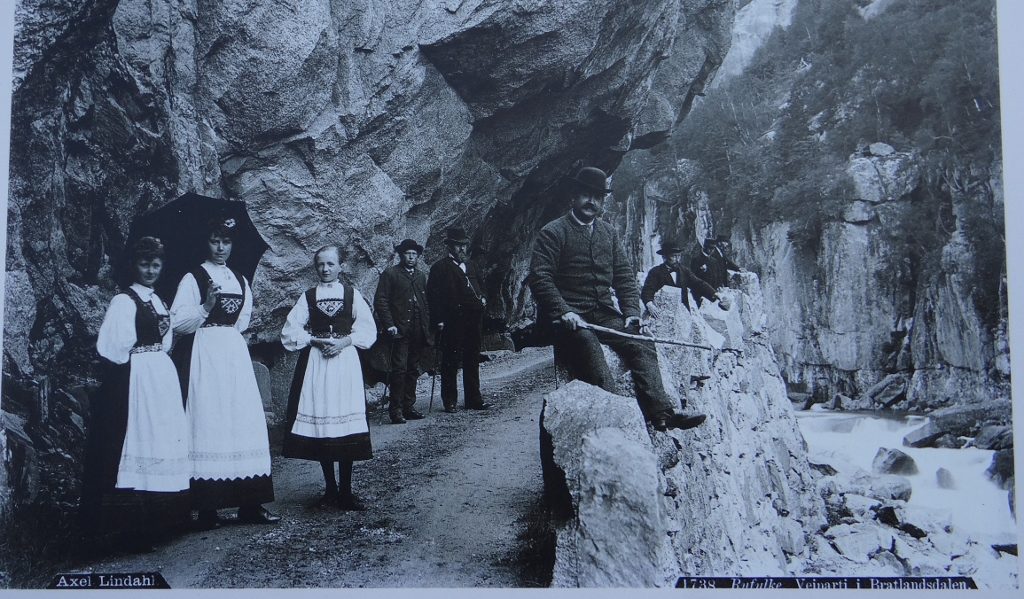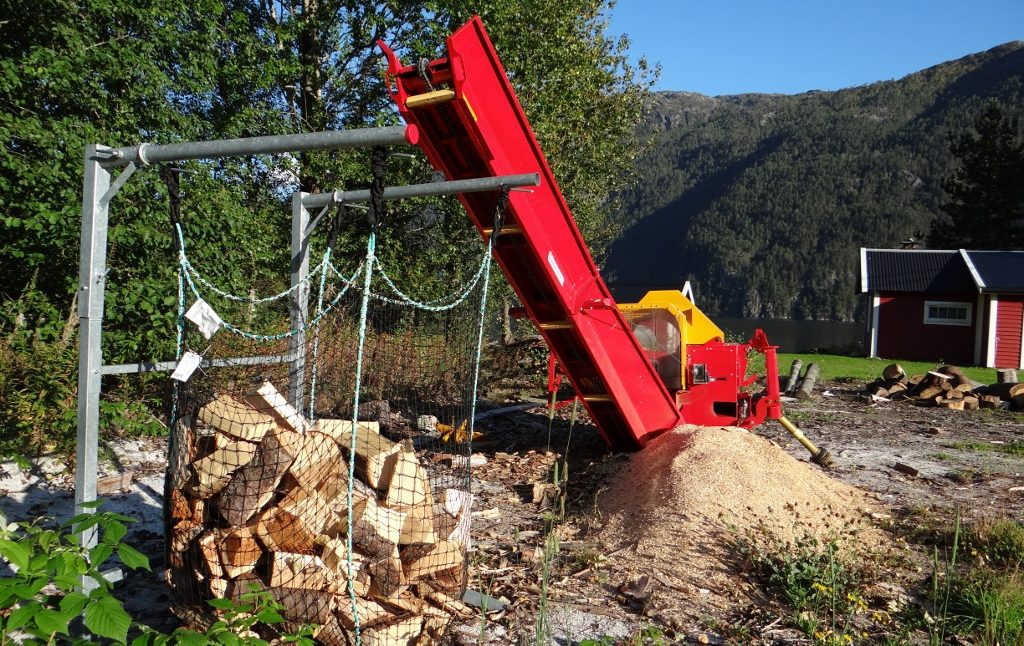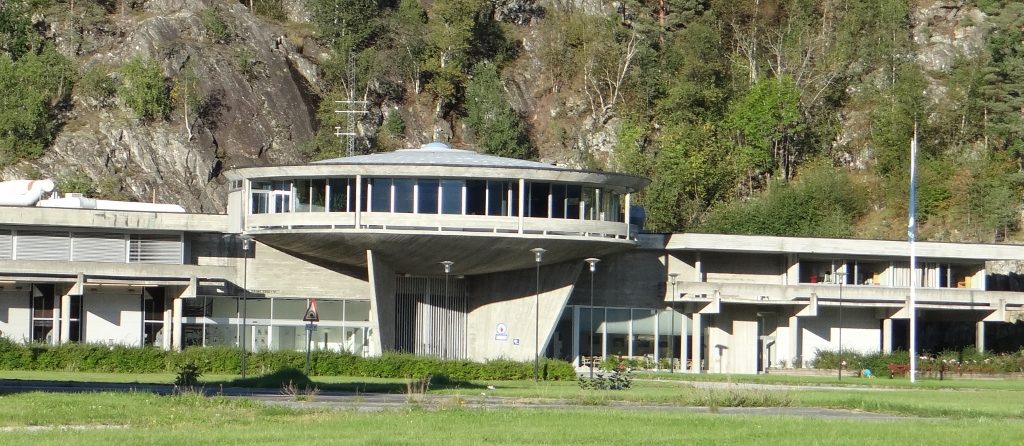 Cheers, Jay