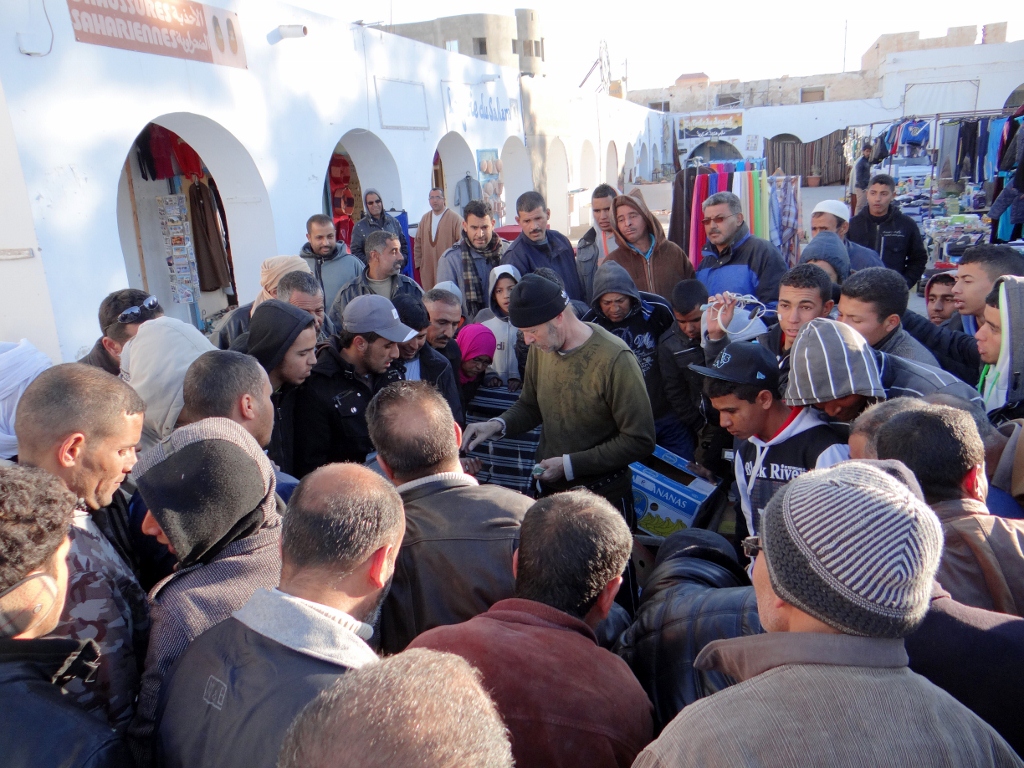 Dave the motorhome is getting itchy tyres – he's ready to move on from Camping Desert Club in Douz. We had kind of planned to do so today, but the lure of the souk was too strong, and besides it blocked all the roads into and out of the town. Tomorrow we will move, but it has been lovely staying in one place for a while. I had a quick count up of how much we have spent this week, we've stopped in a campsite every night, eaten out twice and done four loads of laundry – not to mention trips to the internet café each night and buying tasty food (well I'll hold judgement on whether the camel meat is tasty or not as Jay is cooking it up for tea tonight). Anyway the grand total for a week in the sun – just under €150! I'm not going to complain at that!
Last night we set our alarm as we'd promised to help Wim (previously spelt Wijm, but we finally asked him how it was spelt, and surprisingly for a Dutch name there wasn't a j in sight!) with his market stall. He'd brought five boxes of, well how do I put it politely? rubbish? Stuff that a charity shop might turn its nose up at? Added to that was our 12v slow cooker, still slightly dusty from lack of use (it just wasn't right for us) you get the picture. The cost for a stall at today's souk was 3.500TD (about £1.60), we were sceptical, but it was something we had to see. At 8am Wem set off with a borrowed wheelbarrow full of boxes, we followed with a couple more. He picked a prime spot by the entrance to the market square and laid out a blanket, we then all unpacked and laid his stuff out on the blanket. Almost instantly a crowd began to gather, by the time most stuff was out on display I had to push my way through to get out. Then the fun began.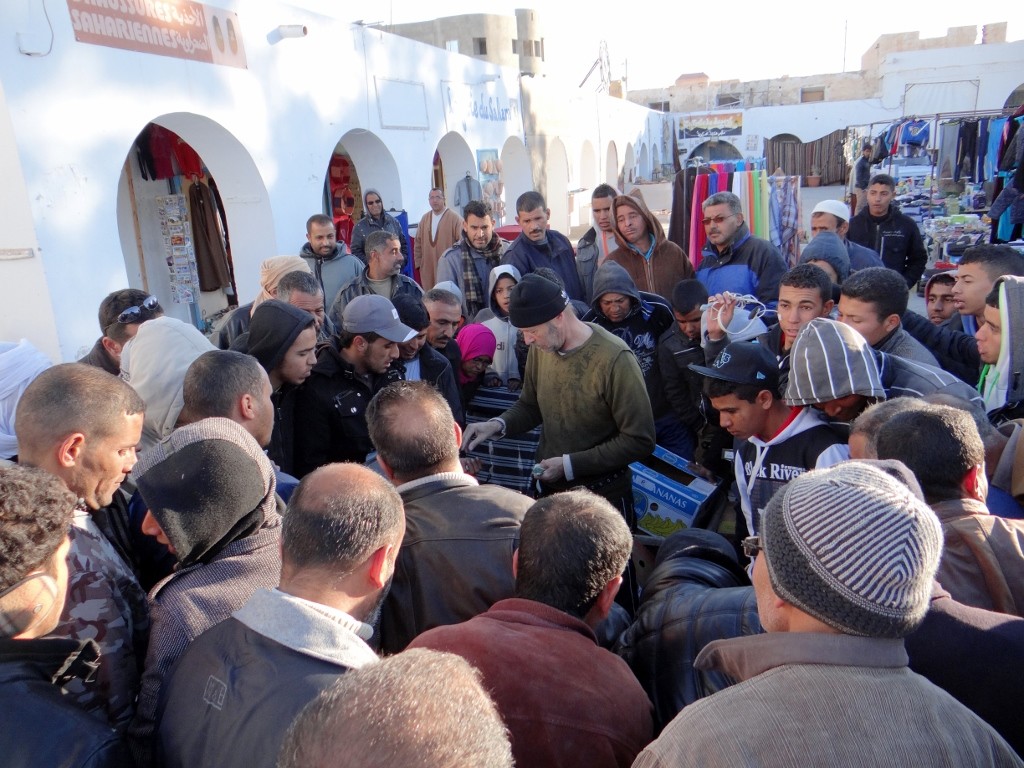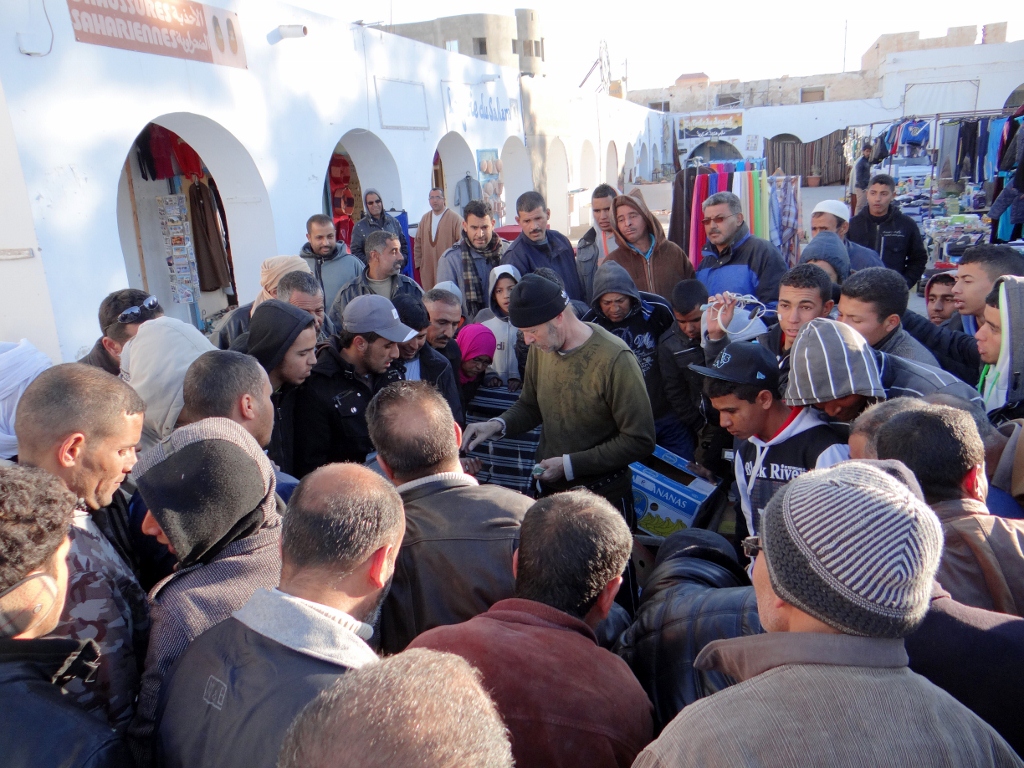 Jay and I kept back taking photos of the ensuing frenzy, at least three deep the local men gathered around, picked up items, wandered off with them, then returned to put them back on the blanket or pay. Ten minutes in and Wim calls over asking us to sit on his camping chair as people keep trying to buy it. 20 minutes in and the man comes round to collect payment for the market stall only he can't get anywhere close to Wim, so he decides he'll come back in a bit. 45 minutes later it was all done, just a few very sorry looking remains were on the blanket and the crowd had dispersed. Seriously if you're ever on an episode of The Apprentice, then buy up a load of rubbish and bring it here, it's like gold. Of course Wim wanted rid of it all so was selling at super low prices, but about 95% of it went to new homes – a speedy version of eBay I guess.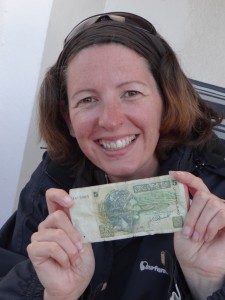 The remaining goods were packed in a box and left next to where we stood while we took the wheelbarrow back to the campsite and dropped off Wim's dog who had been patiently stalking the buyers by circling around them trying to get to Wim. Next stop was the animal market which is right next to the campsite. The access road was full of pick-up trucks with metal fencing welded to them to secure the animals for their journey.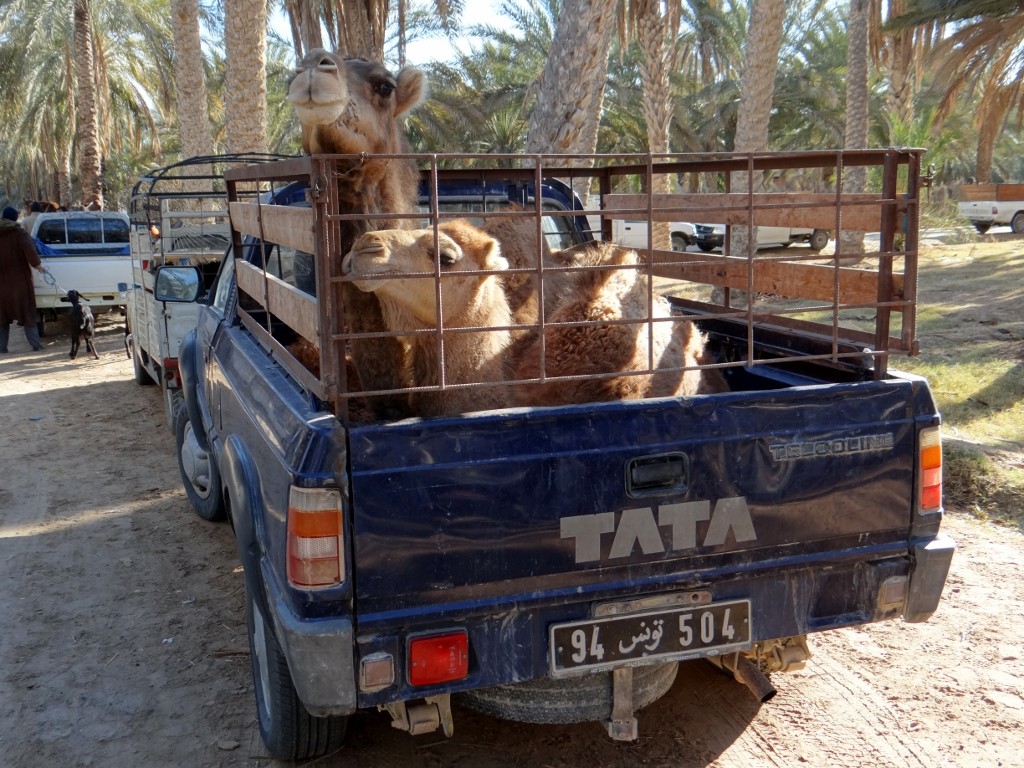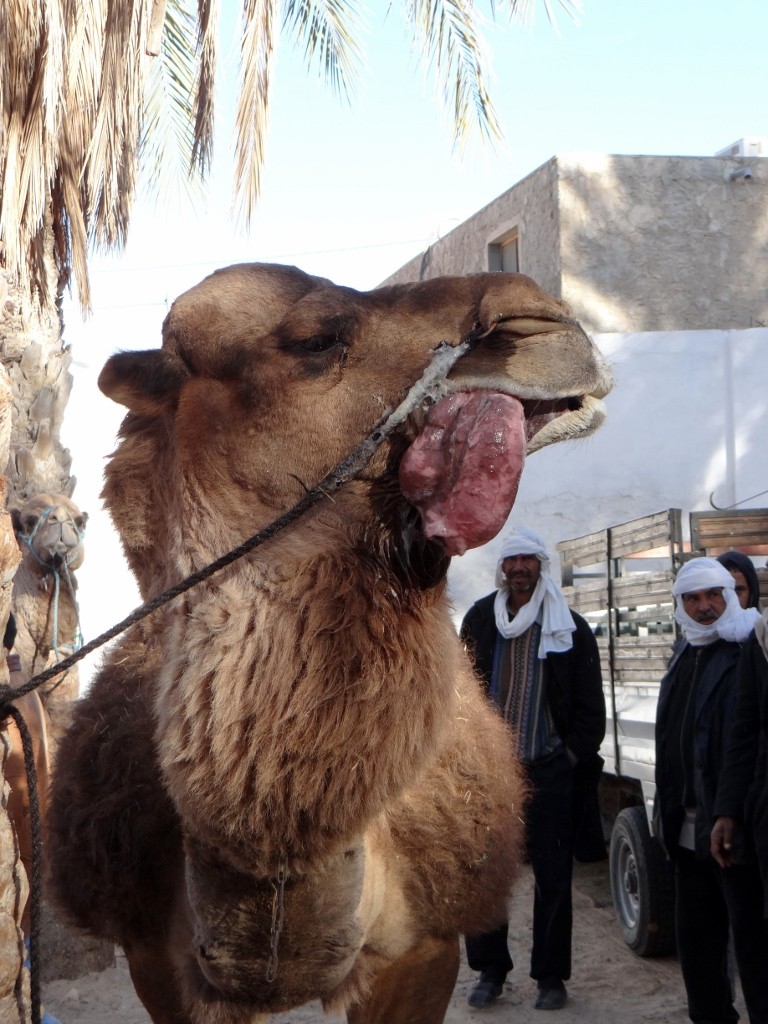 As we arrived two such trucks were spilling out their loads of goats and sheep, I never knew you could fit so many in one space. Entering the market wasn't the most pleasant thing, the animals were being treated like animals – dragged along by a leg, tied up in rows, hung upside down. But it was fascinating. People from the surrounding nomad tribes come here and the place was packed. In one corner Turkeys were being sold, next to them rabbits, across the way chickens and cockerels, by the entrance camels. A multitude of donkeys. goats and sheep filled the rest of the area along with their owners and the buyers; some in western dress, but many wearing a traditional long brown robe and white headscarf.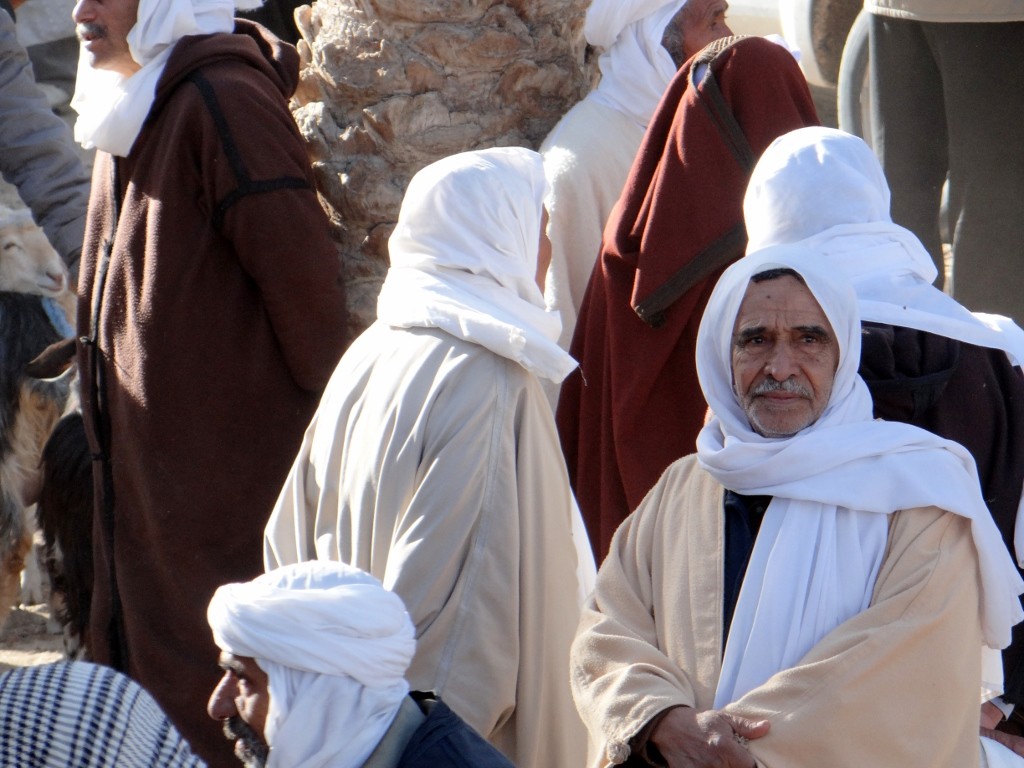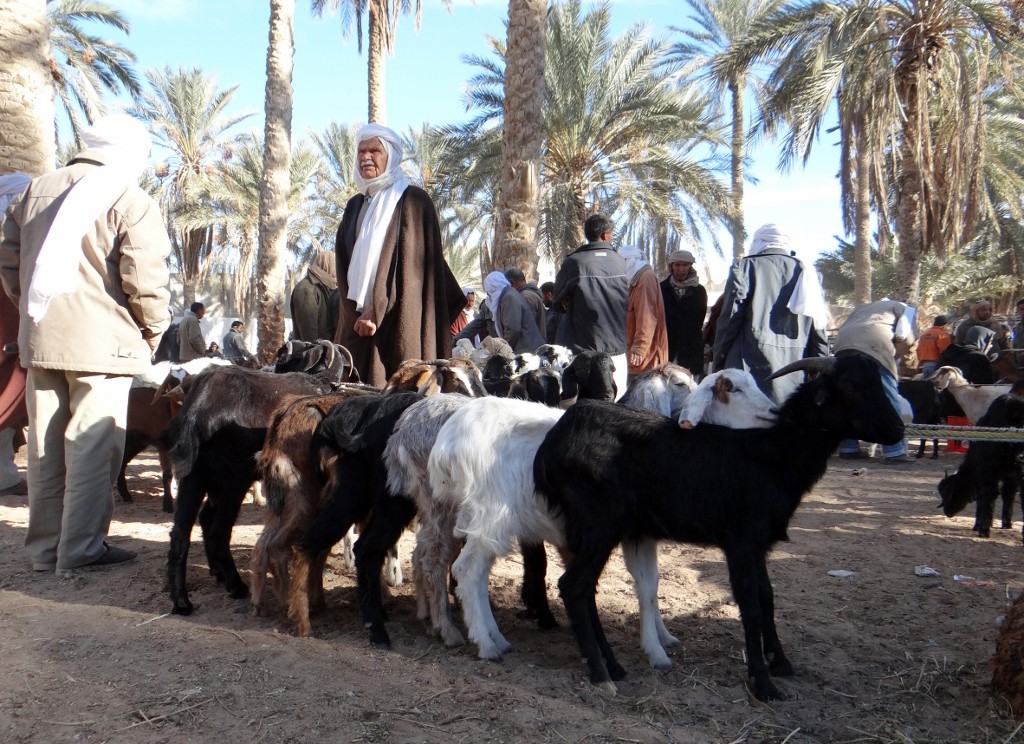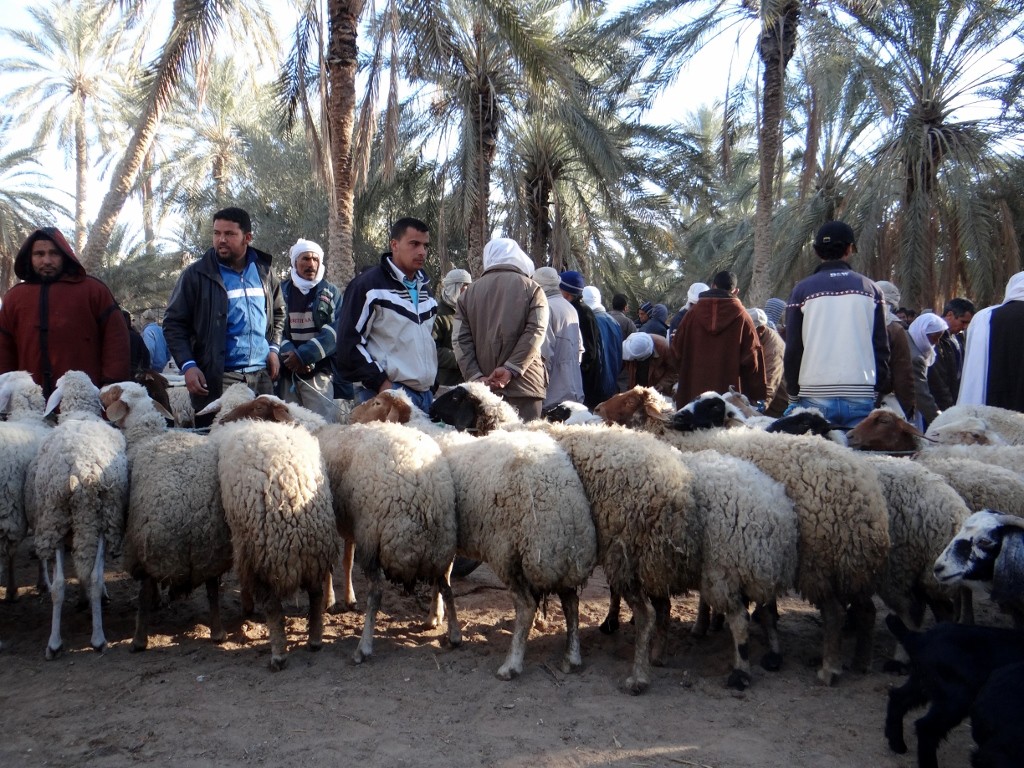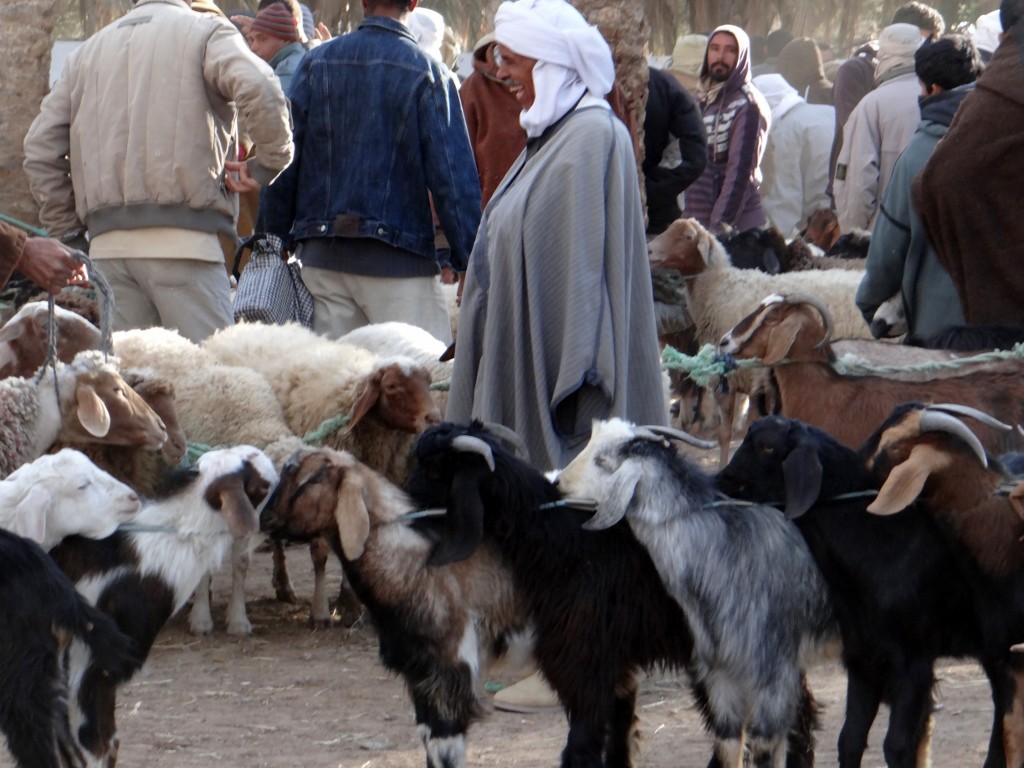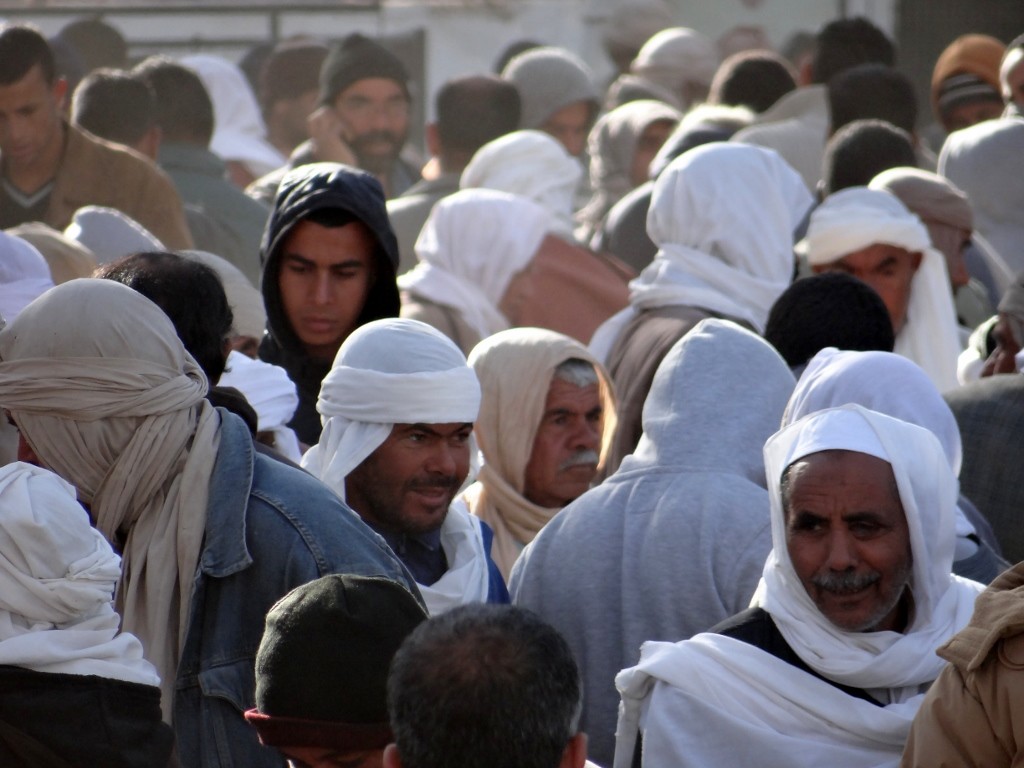 It was hard to tear myself away as it's the sort of place you could just stand and stare at for hours and still not see everything. We made our way into the main souk, the streets of Douz which had been deserted and empty on many of our walks around the town in the proceeding days, were now full of stalls, people and noise – the place had finally come alive. But there was very little we might want to actually buy, we'd stocked up on fruit and veg yesterday when it was all freshly laid out, we don't need any 'new' second-hand clothes or shoes – all European in style, and the other stalls sold everything else you could ever want from motorcycle parts to herbs and spices and kitchen sinks.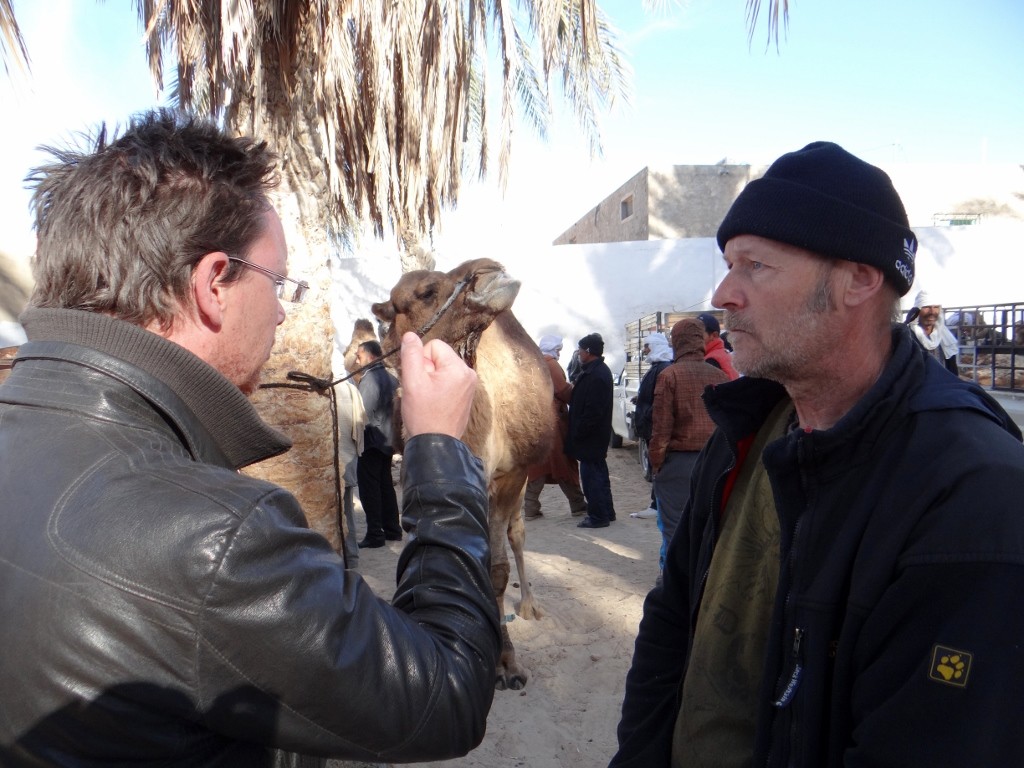 As we walked along we saw many more European faces than we had all week. A couple of English ladies,in their 50's, their heads wrapped in scarves to cover their blond hair, were bickering on a street corner deciding which was they needed to go. With the market stalls out the streets do confusingly all look alike, but having walked around them for a few days I was able to point them in the direction of the market square, they could get their bearings from there. They had to get back to be picked up, so it seems people are bused in for the market – which is not surprising at it was enchanting. I did wonder how we looked to them with our sun-kissed faces and weather beaten clothes.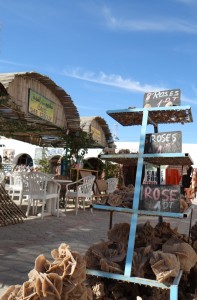 We walked over to the tourist shops which surround the market square, these are here and open all the time, in fact a lot of their goods are left out overnight as no one local wants them. But we fancied a scarf each, after all we're heading further into the desert and they would maybe stop some of the sand from getting in our mouths. We looked in a couple of shops, the staff were all very friendly and keen to sell, but not pushy and didn't try to keep us once we'd decided to move on – it was a nice feeling. Eventually we settled on two 3m scarves, one in burgundy and one in sand colour. We bought a kilo of the local, and very tasty dates (called Deglat Nour, Finger of Light, as they're semi-translucent), and tried some roasted nuts but the price of 2TD (about €1) was too high for a small bag and we didn't fancy haggling so we simply walked away.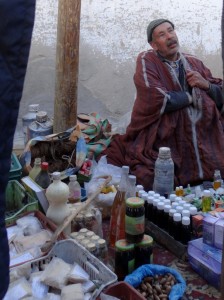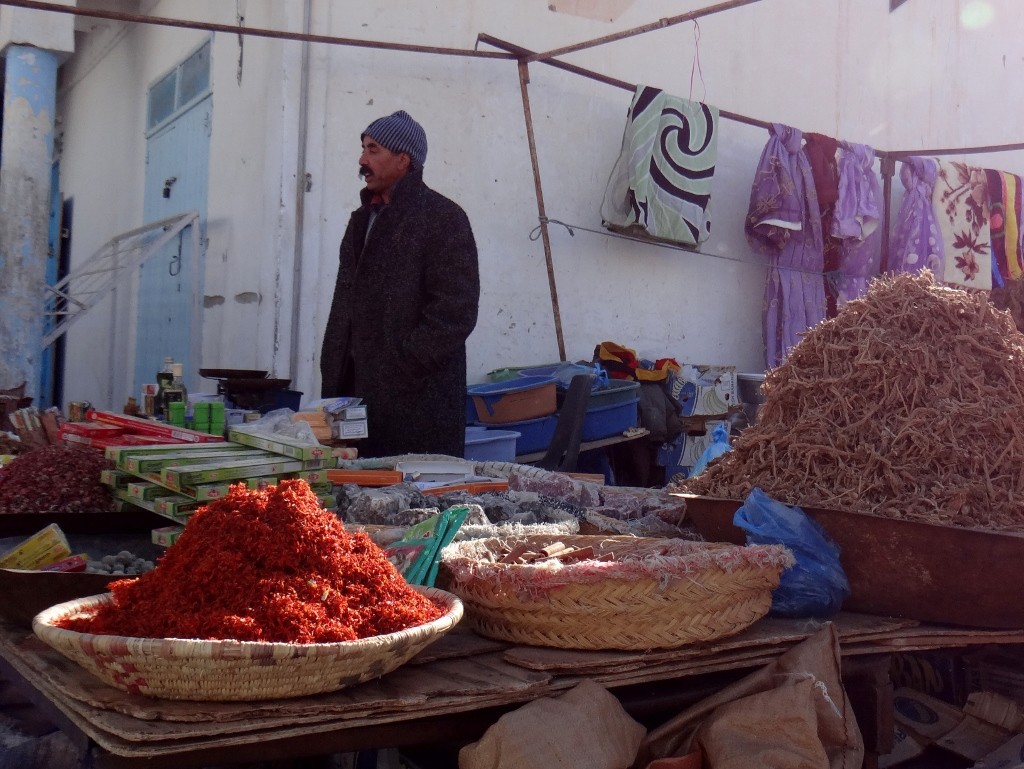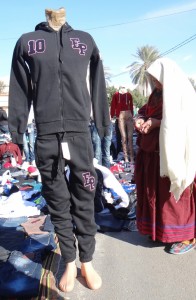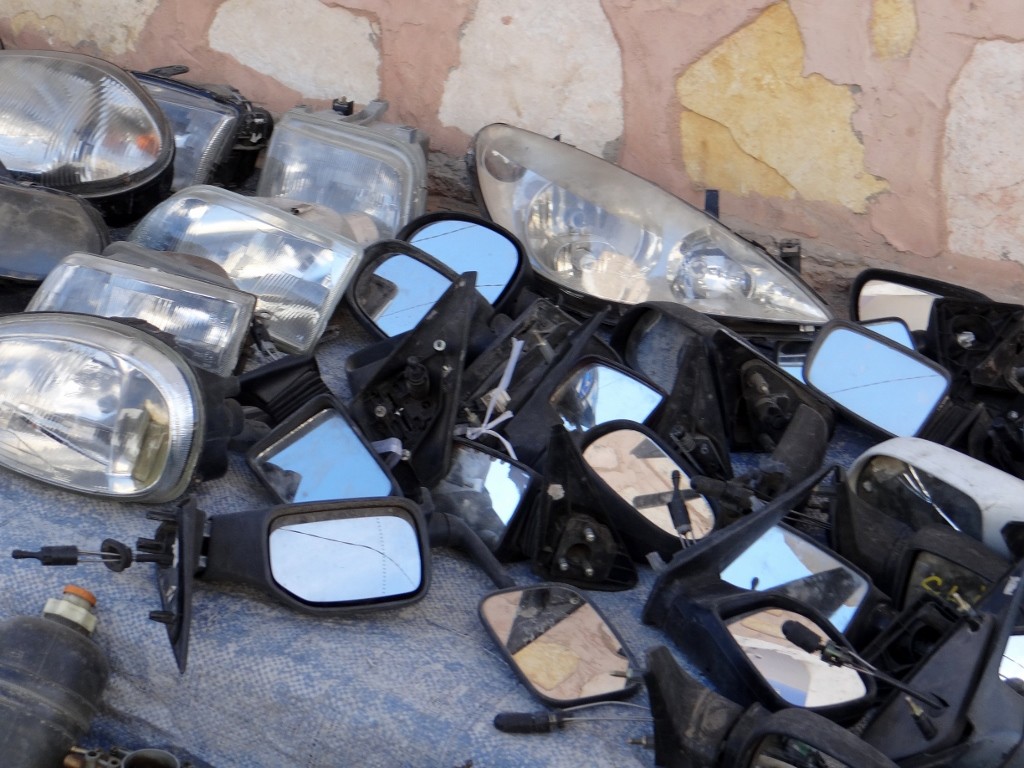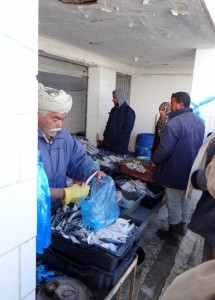 Back at the campsite Wim, Anne-Marie and Les joined us sitting in the sunshine outside Dave. Wim had a photo book, which he had printed on the internet (Lidl provided the service, far better than HP he said), of his favourite photos from his time in Morocco. It was a great memento and something we'll have to sort out when we return to the UK. Although it might take us a while, we've almost 2000 photos from Tunisia alone!
By 1pm the sun was too hot for us all. Even though I was caked in factor 30 I could feel it prickiling my face, so we retreated. Anne-Marie and Les headed off in their motorhome to see one of the nearby dunes, Wim went to sit in the shade under the verandah and Jay and I had a bite to eat. I had an afternoon nap while Jay went for a walk in town, the market was packing up – the hustle and bustle had subsided and goods were being thrown back into vans, ready to be brought out in another town tomorrow.
We could have got out of the town this afternoon, but we like it here. We'll move tomorrow, I promise! We're heading further into the desert following a road which follows an oil or gas pipeline – we can only assume the road has been tarmaced specifically for the pipeline. But we don't know if there will be an internet connection there. Our friendly Publinet man here told us there are no such places where we are going, but we might find a café with wifi. If we don't update tomorrow, don't worry, we'll be back as soon as we can!
Ju x