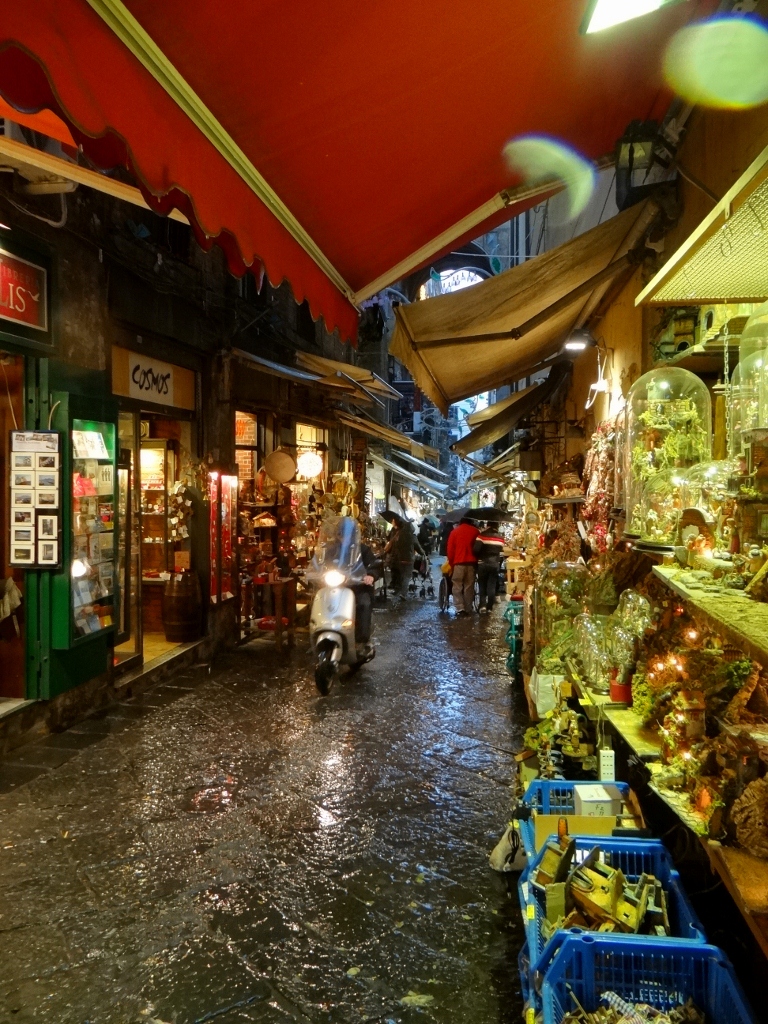 Dave the motorhome is a welcome sight after a long day sightseeing in Naples. He's happily been charging up and keeping Charlie safe and dry all day at Camping Zeus in Pompeii.
This morning the forecast rain began to arrive, just a few spots though, so not enough to put us off a trip on the train into Naples. We wandered out of the campsite gate just as the station tannoy announced the arrival of the train to Napoli (Naples to us Brits), the ticket man actually hurried, slightly, and we made it onto the platform just as the train pulled in. Hopping on board we sat down in a fairly empty carriage and commented how lucky we'd been with the transport over the past couple of days, hardly having to wait for trains or buses, and only having to put up with three accordion players doing the busking.
The train whisked us past rows of apartment blocks, each balcony crammed with belongings and washing and flat roof tops a forest of tv aerials and satellite dishes. Every train station we passed through was awash with graffiti, walls, doors, trains – you name it, most stuff is covered with paint, some actually very good, but most of it tags and bubble shaped words. We'd been warned by all the guide books and internet sites that Naples is dirty, seedy and a bit rough, but it's the real Italy – so we had to go and see it. We pulled into a gleaming train station, but not everyone got off, so we held our nerve and carried on to the end of the line.
Emerging into the street the volume of traffic (mainly stationary, horns honking) and sheer number of street hawkers made the place alive. Like you'd imagine the Bronx to be about twenty years ago. Holding onto our bags for fear of being mugged or robbed we found a map and worked out that we should have got off at the previous, clean station as it was connected to the central train station and the tourist office. We walked back towards it, circumnavigating a redevelopment to tart the area up which rendered all road signs useless. Following the lead of the locals we walked across and through lanes of traffic as it honked its disapproval at the pedestrians going faster than the vehicles until we reached the peace and shopping centre normality that was the train station.
The lady at the tourist office was very helpful working out where we wanted to go from my vague descriptions of what I'd read in our guidebook (I refused to let Jay bring it with us as it's the size of a brick and about the same weight, and I certainly wouldn't let him tear out a page with the map on it!) and circling on a free map before we set off out into the city.
The road leading from the train station was lined with mobile phone shops outside which stood the premier lookie lookie men discretely selling iPhone 5's and iPads, the lower league lookie lookies had to make do with flogging umbrellas and weren't having much luck as the rain was holding off. After about half an hour we found a problem with Naples and the free map from the tourist office – you can't tell where you are. The maps only had a few streets named and the streets themselves refused to have names on most of them.
Over an hour of walking lost around back streets, where as soon as we got the map out dodgy characters wandered towards us asking for money, the rain started. Admitting defeat – we should have torn the map page out of our guidebook – I asked in a clothes shop. My limited Italian of 'Dove?' (where?) and a point to the map was greeted with a smile and a question 'Where are you going?', to which I replied, 'No, where are we?'. A bigger smile emerged even though I was dripping on their carpet and the kind lady explained where we were, and the fact that the street we had just walked up contained the Duomo (Cathedral) and a lot of the main sights we wanted to see – how did we miss them?
The rain got steadily heavier and now having our bearings we made for the Museo Nazionale, the home to most of the stuff taken from Pompeii and Herculanium. A quick stop for a Pizza Fritta for Jay (a Naples speciality – deep fried pizza) and we took cover from the rain for a couple of hours in the museum. As we wandered around it was very clear why everything couldn't be left in situ at the sites, there was tonnes of stuff. Huge statues, painted frescos the size of a wall, massive mosaics made up of tiny pixel-like pieces, pots, pans and even glass-wear (which struggles to survive in Dave, so how it made it through the volcano is beyond me). Having missed the naughty frescoes at the Pompeii site due to the baths being closed, we were pleased to see a 'secret cabinet' area of the museum was open, to those over 14 years of age who promise not to giggle! It was quite refreshing to see just how open the Romans were about all things naughty, in fact there were male bits were all over the ruins as they saw them as a sign of good fortune.
I was initially reluctant to go in as we'd seen loads of old stuff in various museums on our travels, but the sheer volume of stuff, lots of which was in near perfect condition, amazed me. I'm so glad we did go in, but it only took a couple of hours before we were a little bit museumed out. We exited into pouring rain armed with a new map from the museum information office; this one had street names on it! Navigating like a pro we wandered through the historic centre of the city in a thunderstorm. Memories of the medinas in Morocco came flooding back (only things were priced here) as metal doors were flung open wide with a multitude of goods spilling out of them.
Rivers of rain ran down the narrow streets, in the apartment blocks above plastic sheets were thrown over the washing that hung out over us. More plastic sheets were thrown over goods standing outside as people huddled under any shelter they could find. We took refuge in a pizzeria, after all Naples invented the pizza and it's said make the best ones in the world. Our menus had over 40 types to choose from – but not one with pineapple! Tucking in I could see what all the fuss is about, mine was thin, crispy and belissimo!
Back in the street the rain was going from bad to worse. We nipped into the Duomo and had a quick look around, but by now water was seeping in through my ski jacket and Jay's new boots. The streets were becoming rivers as we waded back towards the train station. The man in the ticket booth told us to head to platform three, getting there it was packed – we then realised it was 5pm on a Friday. An announcement all in Italian had the crowd murmuring  then a second announcement and half the people raced over to another platform and got on the train that pulled in. We didn't have a clue what was going on.
Five minutes later a train slowly pulled into our platform, the front carriages empty, the back carriage was unlit, a few of its doors were half open as it was absolutely packed full. Steaming (literally) crowds spilled onto the platform, expressing their unhappiness at whatever had happened to them. I heard a voice speaking English and edged my way through the crowd towards it. A couple from Texas were trying to get the train to Sorrento, which is on the same line as our stop, an Italian was translating the announcements for them. A train would arrive at the next platform and we all had to get on, that was everyone already on the platform plus the ones who had just arrived on the other train.
Sardines have more room in their cans, people squared up to each other complaining about taking up too much space or stopping the doors shutting, others joked at the situation. Our favourite person to watch was the man in the middle of our carriage trying to eat a Pizza Fritta but barely able to lift his arm to his mouth – luckily the sheer volume of people held him upright as the train rattled along. So it would seem our transport luck ran out, but we had been warned – a printed out permanent looking sign was stuck to the glass in Pompeii's ticket office window stating that for unknown reasons the trains may be delayed or not run at all, seems it's the Italian way!
Ju x
P.S. – sorry folks, internet problems mean I've had to put the images at the end in a thumbnail gallery – if you click on them you'll be able to see the full image.
P.P.S. Naples is quite a large place, packed with life, and our lack of energy under the hammering rain limited what we could see and do. Although it's true to say much of it is filthy, defaced with graffiti and playing host to a whole range of unsavoury characters  it's a fascinating, lively place and one we hope to come back to one day.