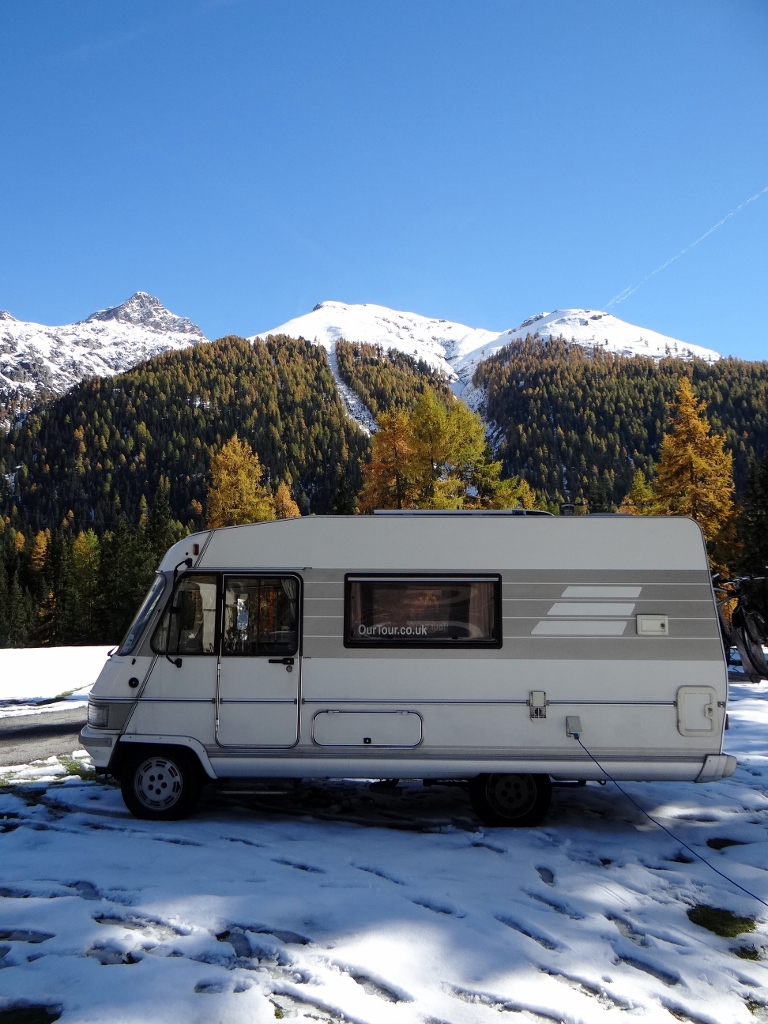 Dave the motorhome has cold tyres, they're sitting in the snow at Camping Chapella just outside Cinuos-chel in East Switzerland (N46.63209 E10.01435).
Sleep was fitful last night as Dave was buffeted around by the howling wind, the car park was wide, flat and in the middle of the valley with no protection to be sought anywhere. We went to bed at 9.30 knowing we'd be woken quite a lot in the night. My dreams were of fun-fair rides, driving along a bumpy road and being in an earthquake – no doubt my external surroundings had some bearing on them.
It turns out we were not alone in the car park last night, another motorhome from Switzerland was parked near us, and judging by the time they got up this morning (as late as us) we figured they too hadn't had a peaceful night. At less than a Euro it was certainly worth it. Not only had we stopped in Liechtenstein's capital 'city', but we were in the national football team's stadium car park!
As we'd found a free service point yesterday tucked away near the stadium loos, it was showers all round this morning before dumping all our waste water and filling up with fresh. Within a couple of minutes we were back in Switzerland on the other side of the Rhein heading along the motorway towards the scary mountain passes. The only thing we needed was diesel. At the first petrol station we saw, once we were off the motorway, we splashed a few litres into Dave so he could get us over the mountain. At 1.95CHF a litre it was some of the most expensive (non-service station) diesel we've seen, but how we now wish we'd filled up, as every station we've passed since the price has gone up – we're now only seeing over 2CHF a litre!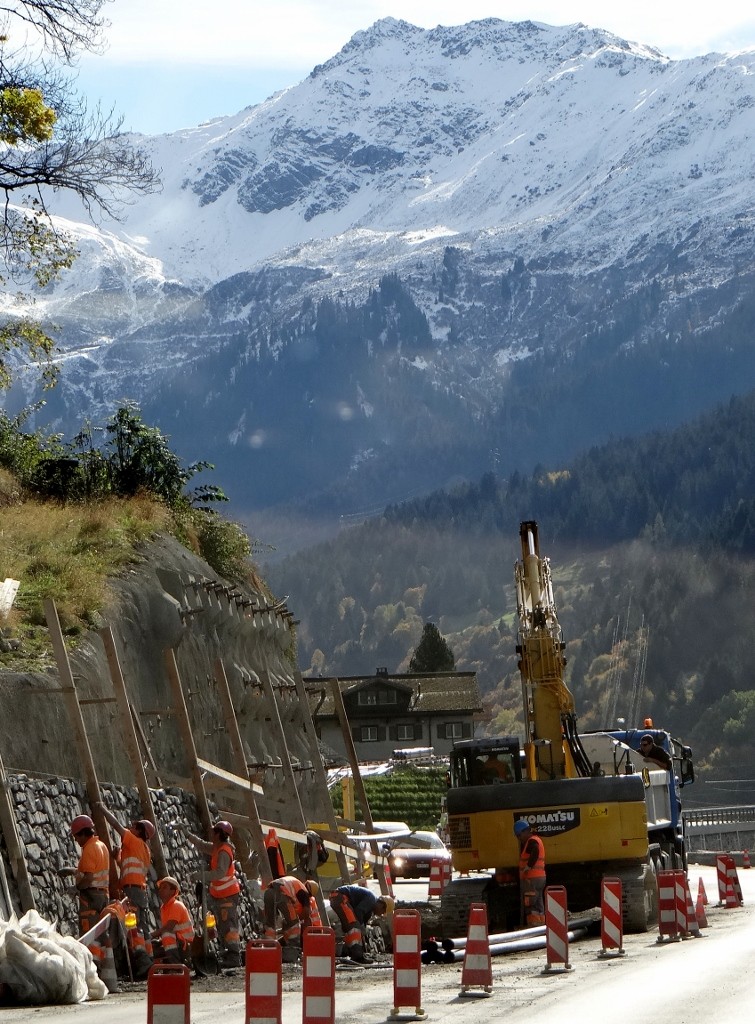 Soon Dave was winding his way along the tarmac with lush green alpine meadows either side of him, these swept up into tree covered mountain slopes whose tops were white as if they had been dipped in sugar. Everywhere direction we looked in was like a scene from Heidi, so we weren't too surprised to see Heidiland being advertised on the road side signs. The Heidi in the picture didn't look anything like the Heidi I remember from the TV of my childhood. I figured that undoubtedly Peter the goat-herder was now grown up and the fame would have gone to his head so he'll be in a rehab clinic elsewhere in the country, so we kept driving.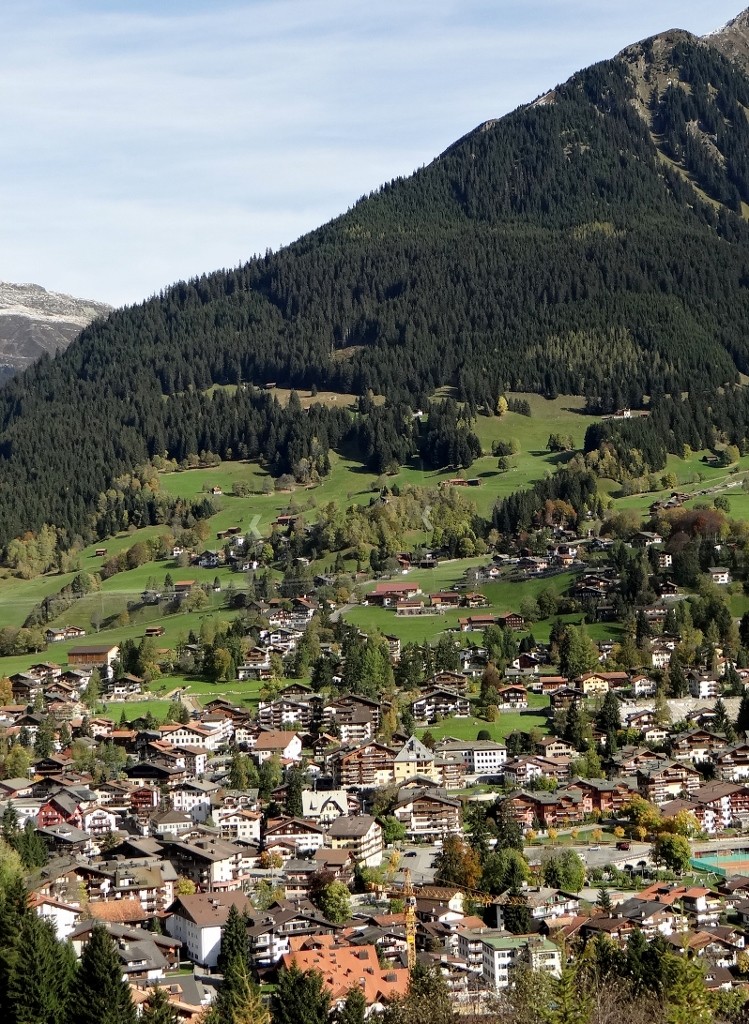 We passed the turning for Klosters, our only knowledge of the place is as a ski resort the Royals like, there was no changing our mind either as the road then went straight into a very long tunnel. When we reached Davos, home of the annual World Economic Forum annual meeting (I really don't know who they attract around 2500 CEOs, Politicians and Journalists to this ski resort at the end of January every year!) we pulled in for a look around. It didn't look anything special from our parking spot although for 2CHF an hour to stop there you would like to think it did. The no motorhome signs didn't appeal to us and the nearby campsite was purse-tighteningly expensive, so we left. I never expected Davos, Klosters etc to be cheap places, but I did like to think they would look something special and they didn't really – not half as pretty as some of the ski resorts I've been to in the past.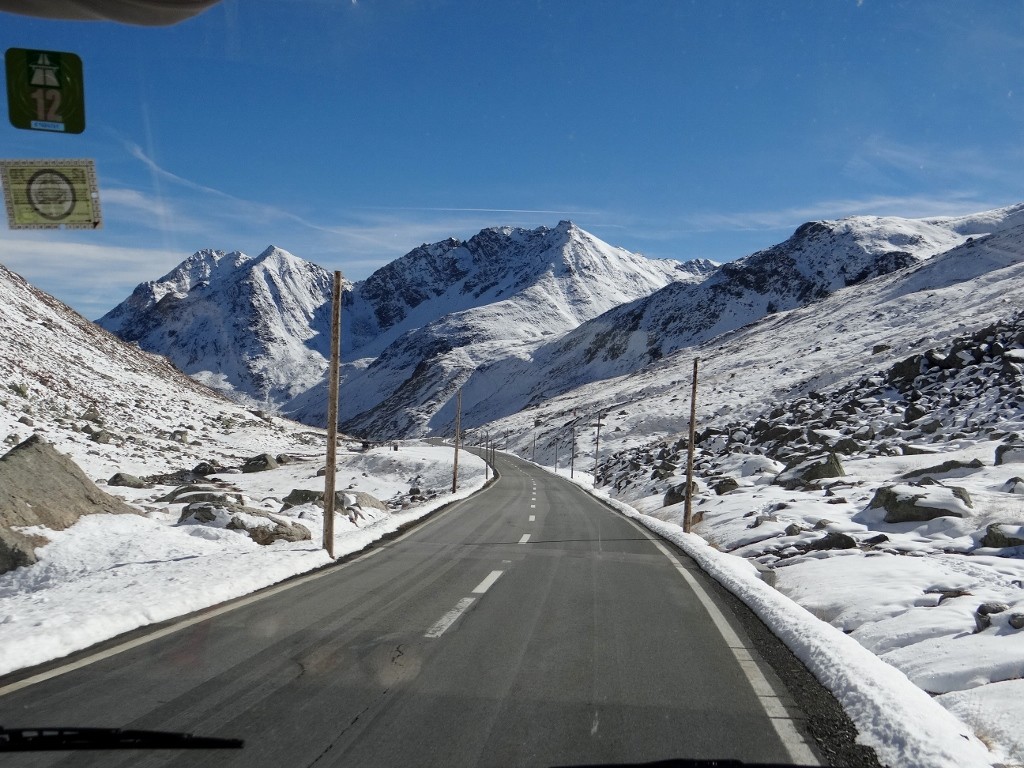 It was now time to face our fears and head up the Fluelapass.
The roads got steeper, the views more stunning and the snow closer until it was all around us. Our fears heightened when I misread the map and put the summit of the pass around 1000m higher than it actually was – unintentional expectation setting by me meant it wasn't so bad after all! The roads were clear and there were plenty of places to pull over and let our 'tail' pass. At the summit we stopped for a look around, Charlie went nuts in the snow and the lake so Jay had to go and drag the soggy doggy back to Dave so we could carry on.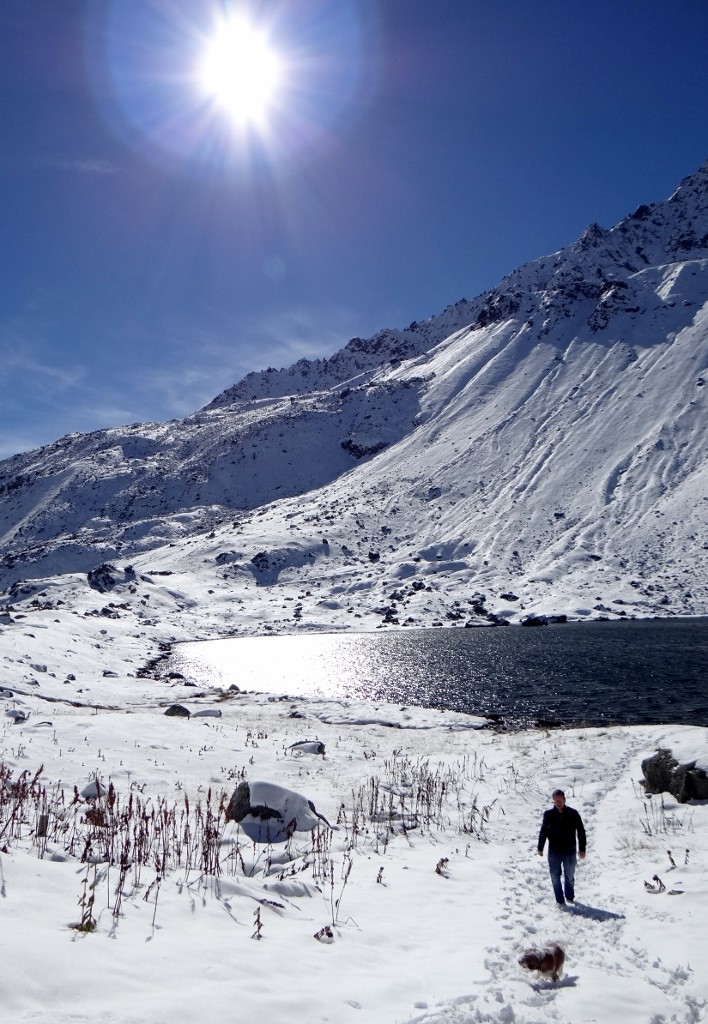 Since the smoking brakes incident earlier this year descents are always butt clenching, but Dave purred his way down the long straights and round the hairpin beds. Soon we reached our goal, an ACSI campsite which is around half the price of the place in Davos.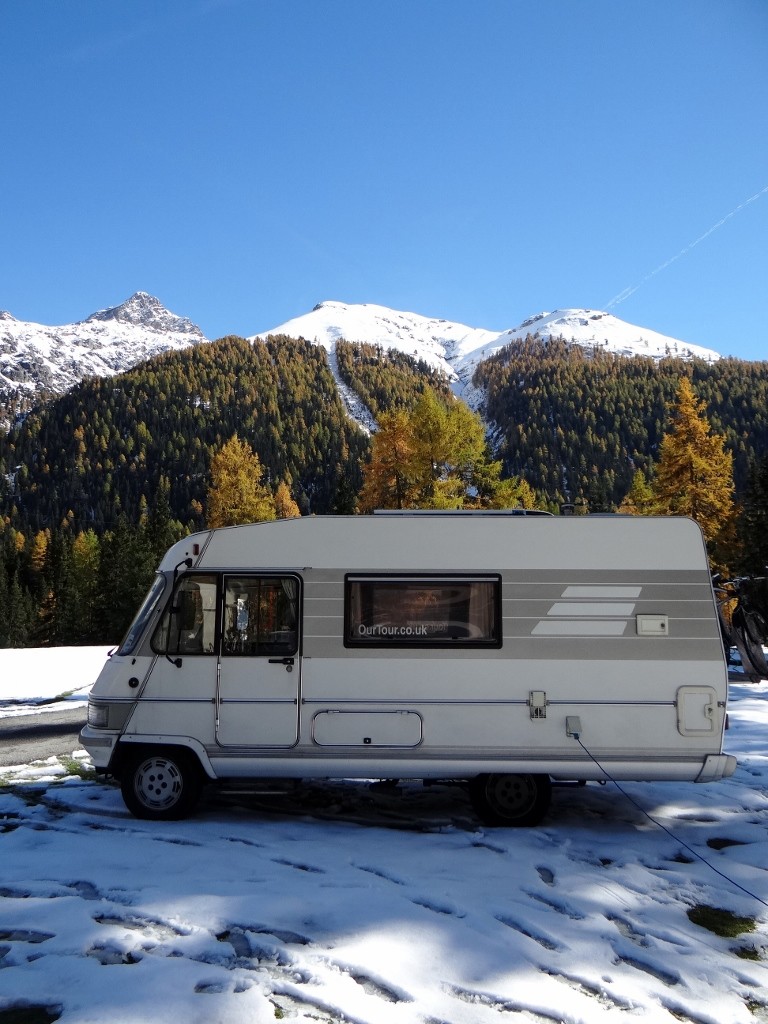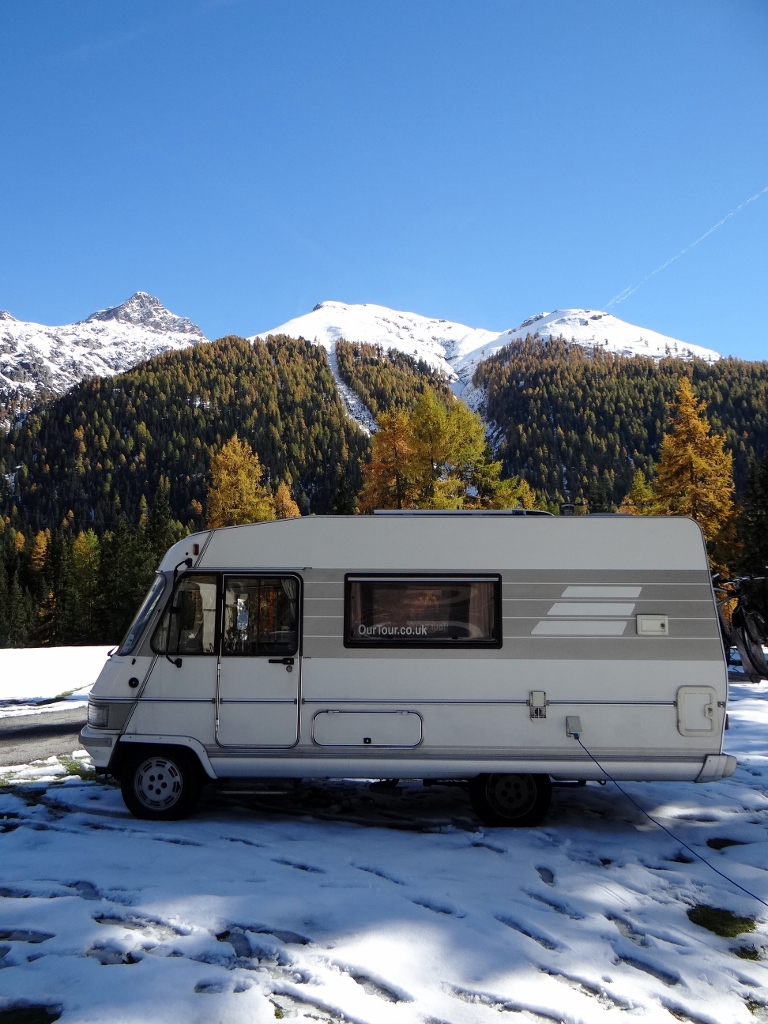 With snow on the ground (unusual according to the campsite owner) we parked up and plugged in. Jay rustled up some bacon and avocado sarnies (thanks Chris for introducing them to us) which fuelled us up for a walk along to the nearby village of Cinuos-Chel.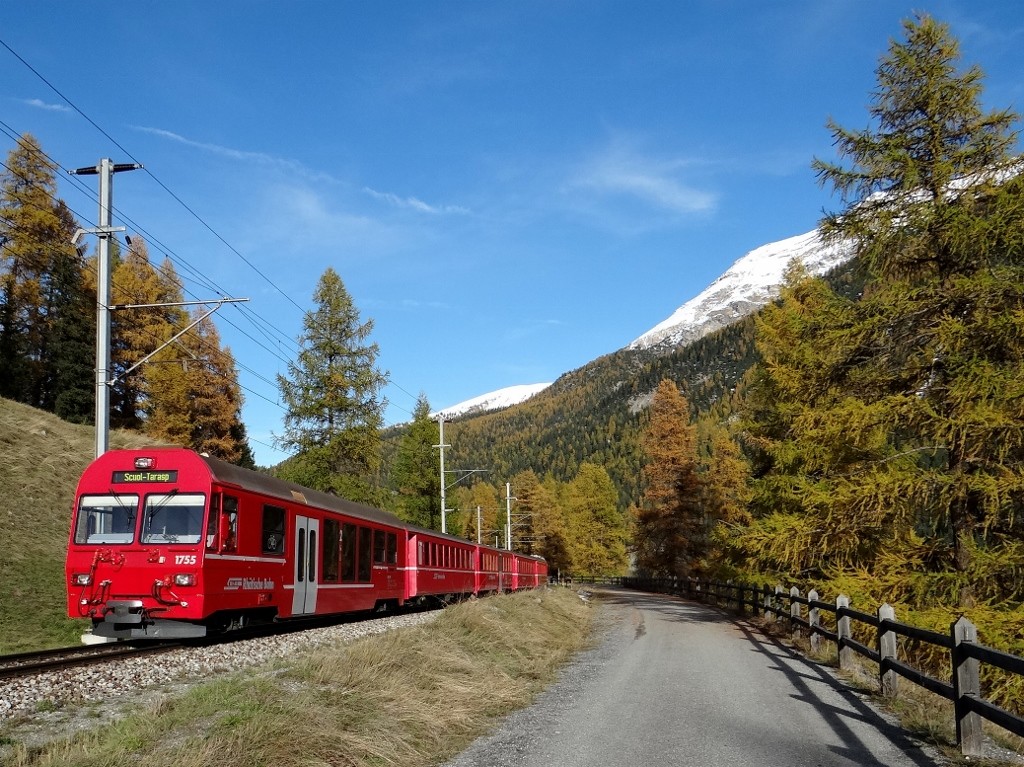 The scenery around here is simply amazing – and we happily wandered around in the sunshine for a couple of hours. We both agreed that if we won the lottery we'd buy a place around here – it's just beautiful. Although if you die around these parts it looks like you have two choices – hung on a barn door or commemorated by a nice piece of rock in the graveyard.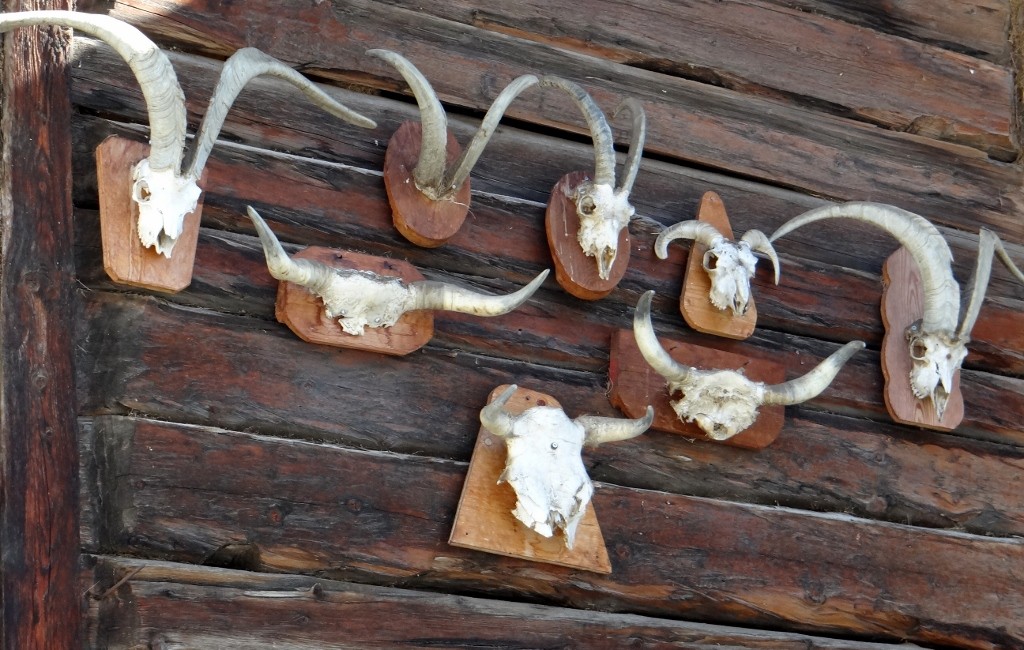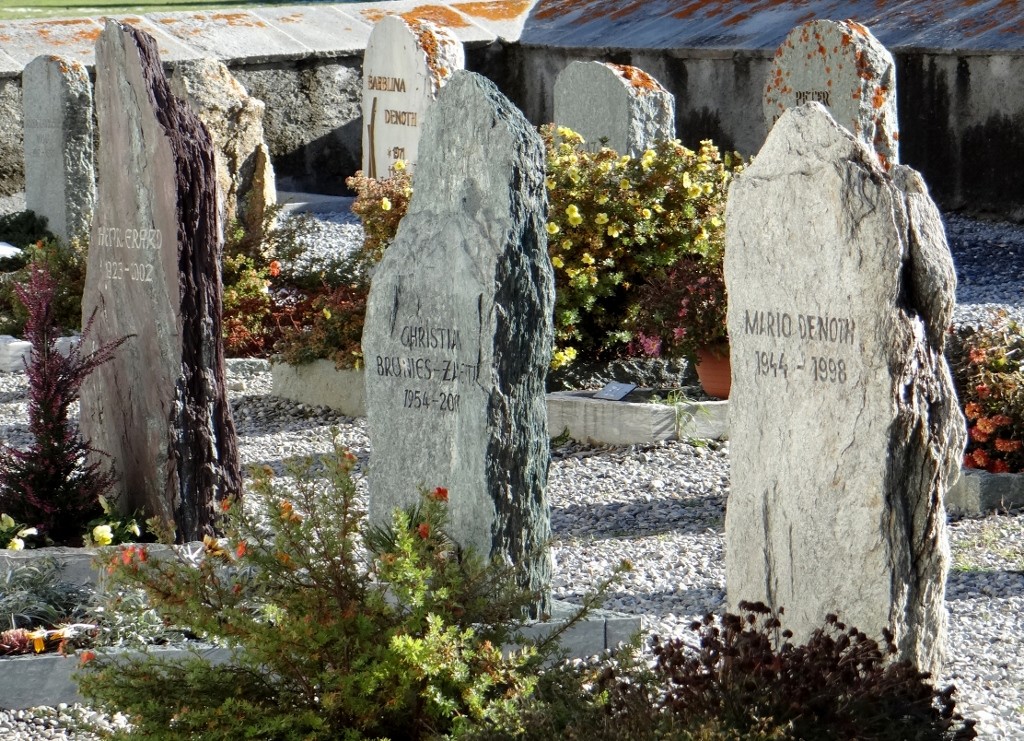 Back at Dave the heater is plugged in and we're toasty. We saw a chap putting his tent up earlier and our hearts went out to him – there's snow on the ground and it's freezing – but hang on, what's that pipe coming out of the side of it? and that orange glow – he's only got a wood burning stove in there, we no longer feel sorry for him, we're jealous!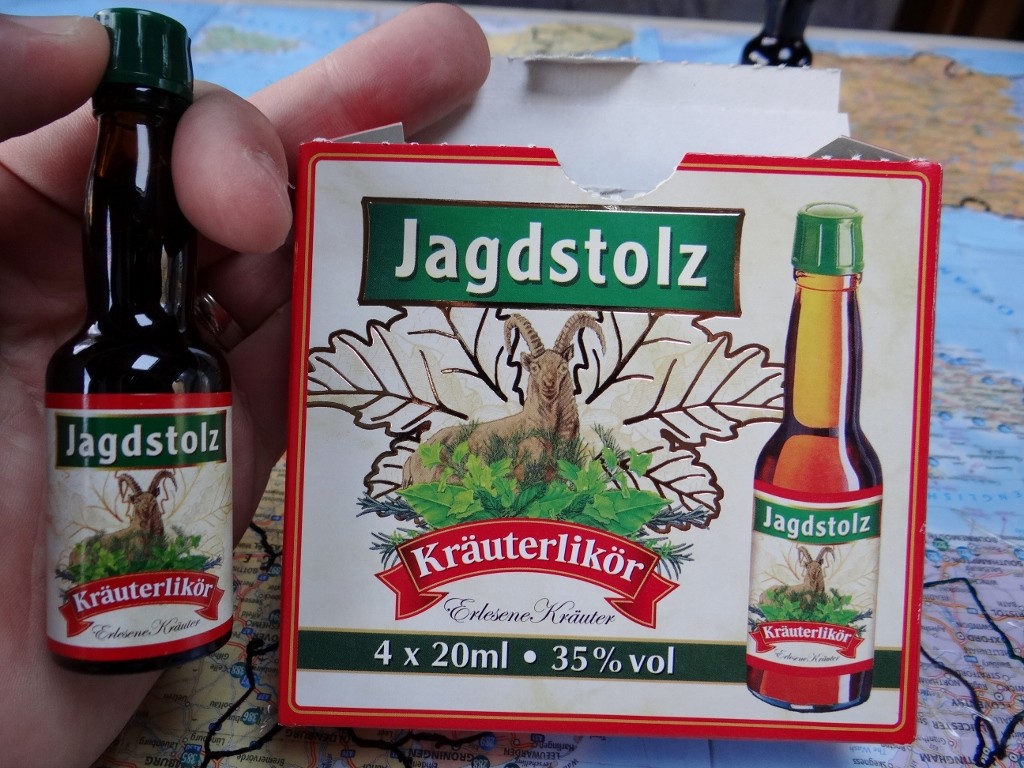 We're booked in here for two nights, so tonight we can have a little pre-weekend drink and make plans for tomorrow, train or bus into St Moritz? Well we have to pop into one classy ski resort, so why not go for the best one?
Ju x
Bonus pic –