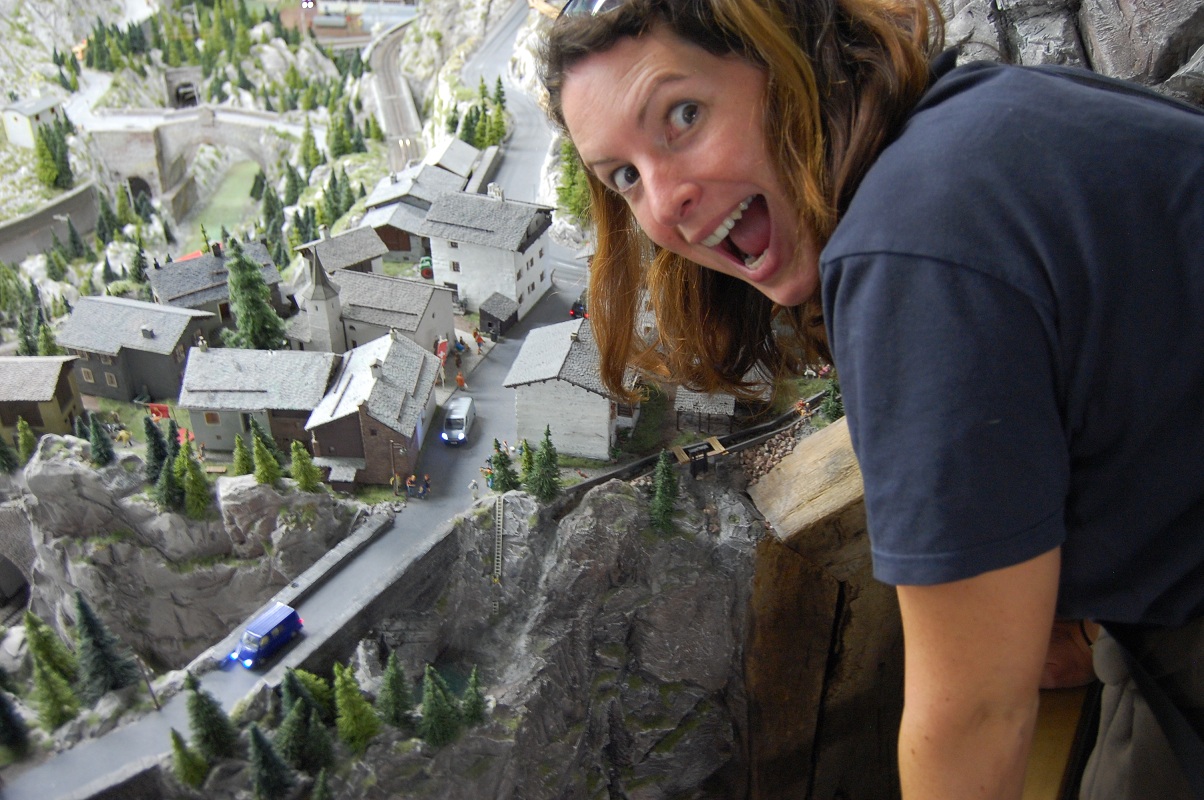 We're still parked in the same place as yesterday, for once tempted to stay a couple of nights in the same place. The location is excellent, really close to an S-bahn station which takes you into the centre of town in a few minutes. Less than €10 buys a day ticket for up to 5 people, the dog travels for free (as far as we know) and it also includes some of the boats which cross the Norderelbe.

At our lunch with ex-colleagues in Hanover, conversation turned to where to head to next. Hamburg was mentioned, which resulted in a chorus of approval for the suggestion of the Miniatur Wunderland. Now, I don't know much German, but I rather like the language because of instances like this! It's pretty obvious what this place would be, but to actually see it, it really is a wonder. I must apologise at this point for another gratuitous number of photos (see below); the place was stupendous.
I'll let the piccies do the talking, but it was a really great place, €12 each, and well spent, we walked the place until out feet and eyes ached. Night and day revolve inside, every 20 minutes or so, strips of red, blue and white lights creating the illusion. Whoever built this place clearly started off building model railways, and since then had some sort of epiphany and went a little crazy for the whole thing. Now banks of computers control aircraft taking off, landing and taxiing, cars with no tracks brake, indicate and pull in to a police check point, ships floating on water with a simulated tide propel themselves about. The place is a miracle.
For me, the really touching things were less the animation and more the humanity of it all. Humour plays out everywhere. A man flees dinosaurs outside his log cabin, a couple cavort naked in a sunflower field, cows scuba with bright blue tanks, a man on a ladder drops a tin of red paint on a man below. It's beautiful and has you hunting the floors for more. There's a serious element to it too. As you walk in a series of exhibits show the development of the Berlin wall, from the end of WW2 through it's increasing militarisation to the point tiny figures swarm across it at the end of 1989. The next exhibit shows the development of civilisation over the ages, culminating in the National Socialist era, minus the swastikas, which are illegal in Germany. There was no need to include it, a tiny splash of time in 7000 years of history, but it is there.
Our only problem, apart from not understanding some of the German audio, was stamina. You could be in there for 5 or 6 hours and not see all the exhibits (also known as 'big boys toys'). And, incredibly, they are building more. As the latest exhibit cost €3.5m, the place must be doing rather well.
Once we'd finally done peering over the tiny things, we headed back to Dave for food and to pick up Charlie. Reluctantly we dragged ourselves back out again, off for a look at the huge docks, using our day ticket for a boat cruise around the Elbe. The boat, like the Wunderland, was absolutely packed full of folks, and we gently recovered afterwards with a cheeky beer at the Blockhaus brewery, speculating whether the three chaps opposite us were filming the German equivalent of 3 Men in a Boat.
Back at Dave and we've seen off bangers and mash, gravy granules have been added to the 'Blighty Shopping List' and we've been invited to go see Geoff and Maggie tonight in their motorhome. Excellent! Best be off.
Cheers, Jay