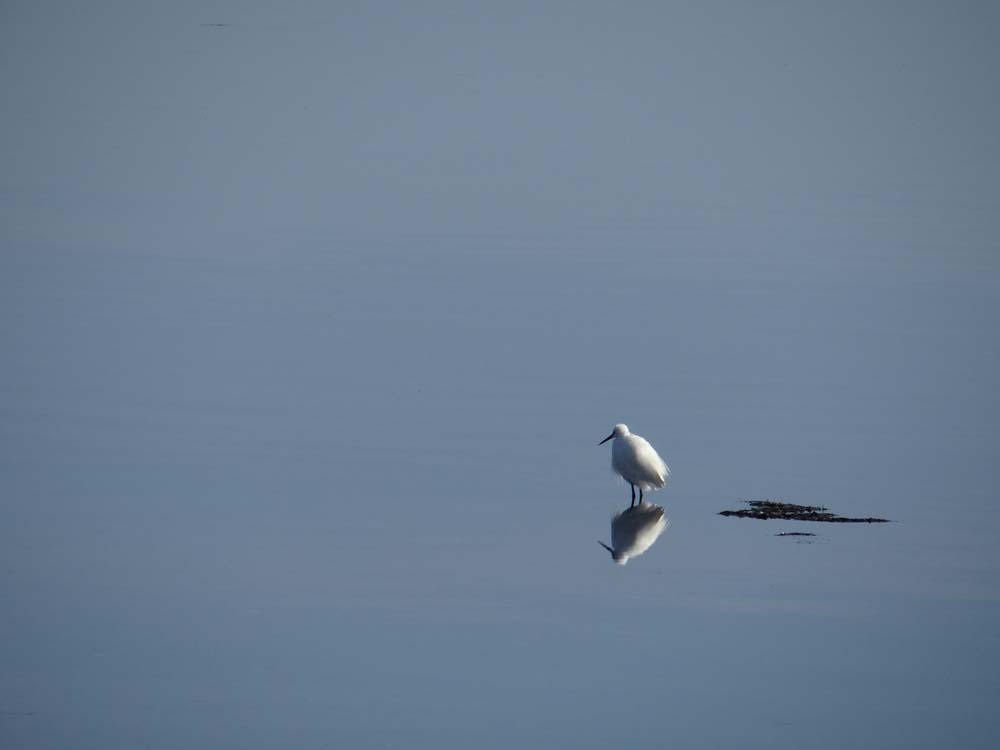 Dave the motorhome's panoramic windscreen is end-to-end full of sea, looking out eastwards over the Med, towards Syria, far over the horizon. We're in the playground of Residence et Camping El Kahena (N35.02032 E11.00644). As Dave's parked between a kids' swings and a slide, I'm writing this to the excited chatter of teeny Tunisian kids. Tiny colourful figures of men, bent slightly to peer at the seabed are walking thigh deep in sea, despite being hundreds of meters from the shore. The seaweed strewn beach exposed by the receding water's being pecked over by a variety of unidentified bird life, and a bloke with a stereo-typically unhelpful donkey.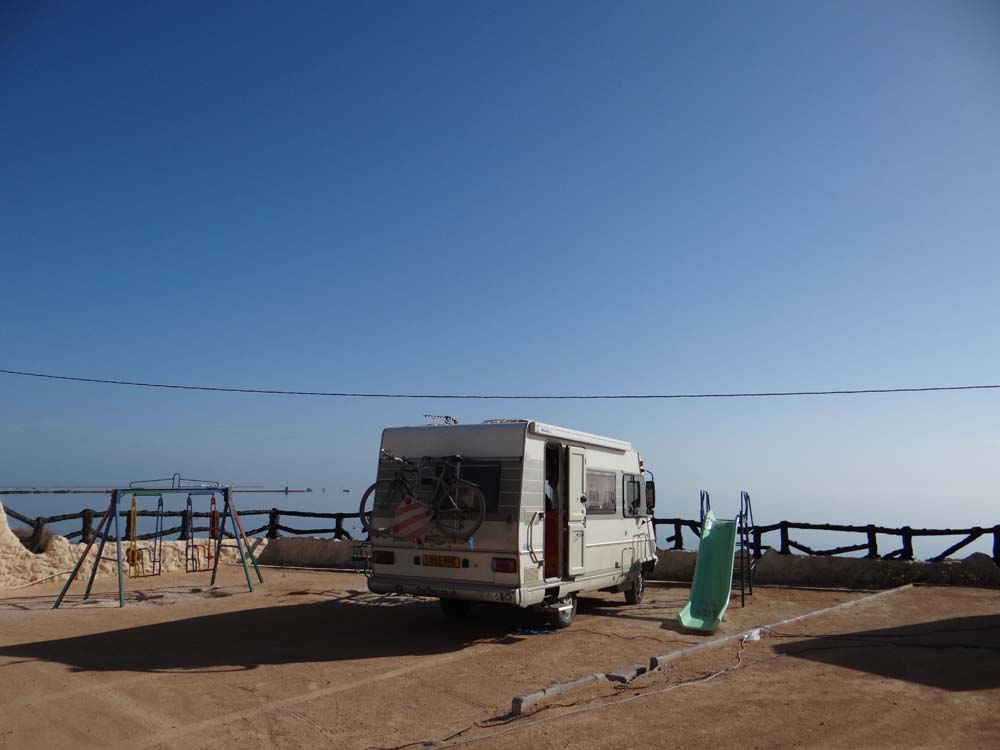 Behind us, other motorhome owners are engaged in an outdoor lunch and chat with the owner of the hotel we're camped at, the conversation volume and pitch dipping and leaping like an orchestra. It's all in French, despite there being a mix of Tunisians, French, Italians, Austrians and Germans. We feel a little left out, but are guessing they already know each other, or we're being anti-social in here with an iPad…!
We metaphorically screwed up and threw away the plan yesterday, binning the Kerkennah islands in favour of heading north. I'd read an account by fellow Brit camper vanners Adrian and Ellie, which recounts them being advised by the police not to free camp, and the only hotel known to allow camping being closed. They'd free camped for the night anyway (I guess they had little choice), and left the next day. That was a year ago but, if anything, it feels like Tunisia's perception of its internal security is deteriorating rather then improving. The owner of the hotel here, although he has a conflict of interest of course, told us free camping's not a good idea at the moment, recounting some theft or other which we couldn't quite understand. Werner, who owns the Bremach adventure vehicle next to us, free camps everywhere, poo pooing the police here as being over dramatic.
On the subject of his full time olive green home on wheels, Werner described it as an Italian UniMog. He let me sit in the sky-high driver's seat and I fancied myself as Arnold Schwarzenegger for a minute. His next destination is Siberia. If I were heading there, I too would want to be in something resembling a cross between a bulldog-chewing-a-wasp and the you-have-ten-seconds-to-comply robot from Robocop. Awake half the night, we're both knackered. Partly the usual anticipation of getting up for an alarm clock which you don't need, and partly being parked up in central Sfax. Parts of the city looked like they were wallowing in the aftermath of a war, rubble piled on street corners, burned out buildings, thick rolls of razor wire, you get the picture. There was no hint of us being in any danger, the intensely and almost overwhelming experience in the medina with Charlie painted an opposite picture. It's hard for me to look at a place like Sfax and not be reminded of endless TV reports of similar too-far-away-to-care cities and strange looking folks being mangled in some unfathomable dispute or other. Being in among it all alone was both fulfilling and frightening. No, we didn't sleep well.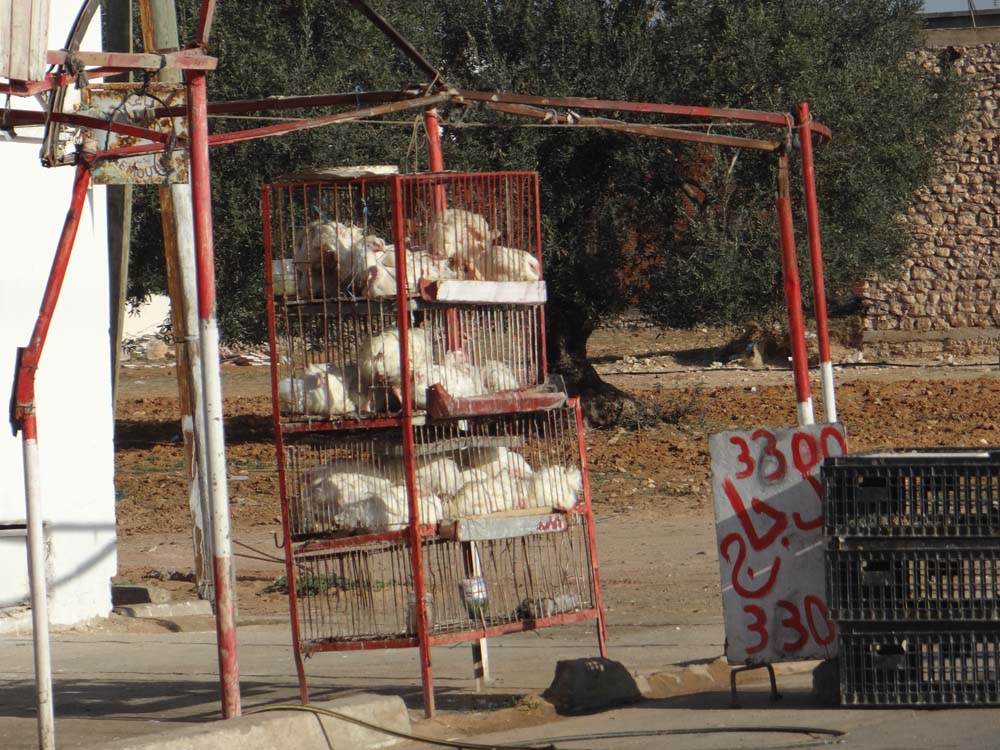 By 7:30am Dave was prepped to leave and we headed off through the near deserted streets, a far cry from the grid locked just-go-for it driving of the previous day. I'd accidentally skipped a red light on yesterday's entry to the city, our unjust progress across a wide busy junction accompanied by a hyena-laugh of honking horns. All four eyes scanned for them today, Charlie adopting a more cavalier attitude as he encouraged us to just speed through them, the crazy mite. Some locals did appear to ignore them, unless the American 'you can turn right on a red light if you won't squash anyone' law applies here too?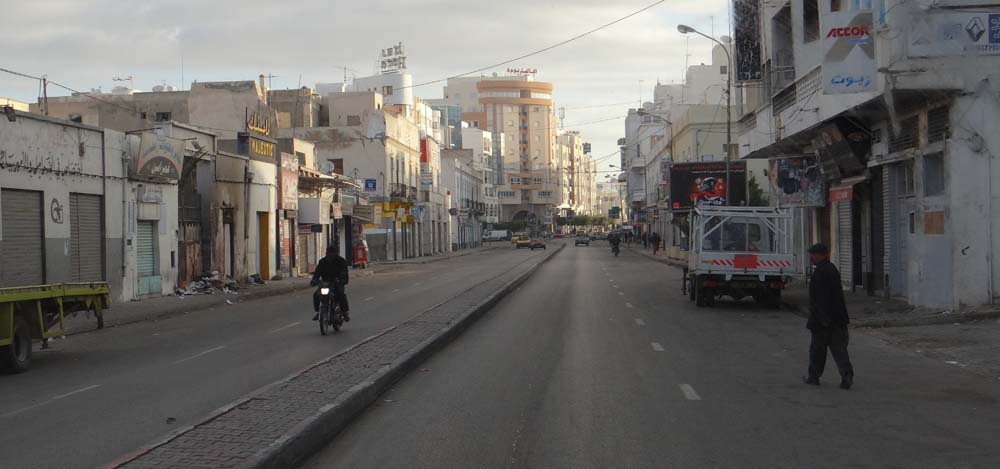 Relief and relaxation marked the end of the city proper, although the white blocky buildings extended for miles along the route. Tiny towns seem to be slowly merging together here, many of them not even signed, our arrival being marked by unmarked sleeping policemen. A ghoulish sideshow of sheep, in various stages of slaughter, draws our unwilling eyes to the side of the road. 50kph signs also attempt to remind the hurtling traffic of the potential for human-metal interface, underslung with a no-overtaking sign. Easing off the accelerator at one such sign, a coach flew past us, followed by a string of pick-ups.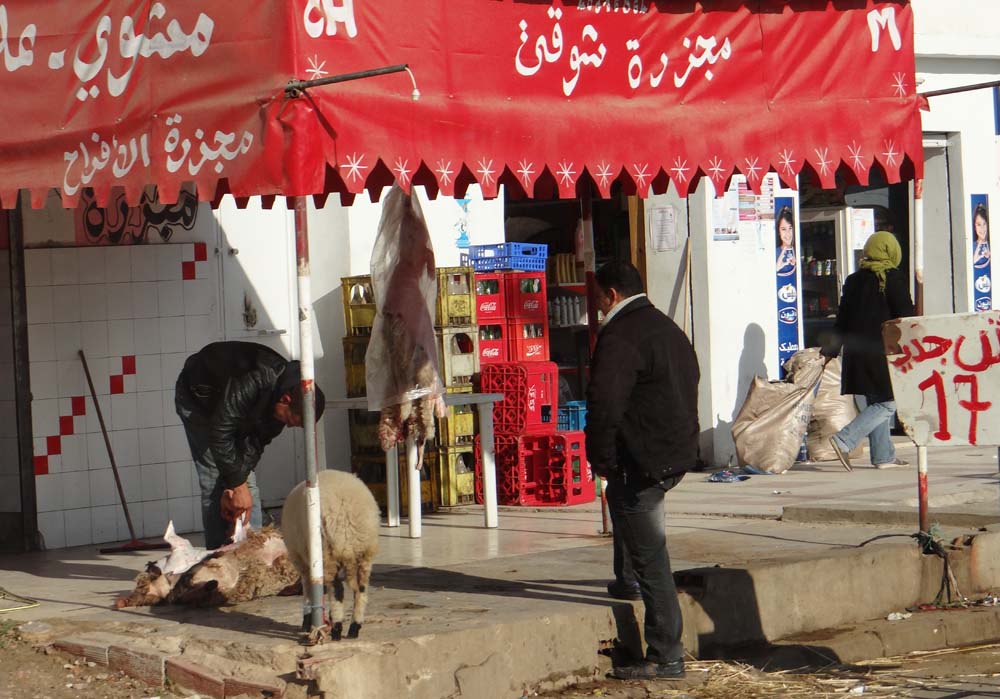 We'd skipped breakfast to be out of the Youth Hostel, and we'd miraculously managed to eat all of our Jerban-procured carrots (Ju maintains the friendly stall owner swapped his smiles for our euros, over charging us by maybe 50%). A line of piled-high veg stalls in a quiet stretch of dirty urbanism caught our eye. We pulled in and restocked, then eating some of the bread picked up in the Sfax medina, which I brandished about in its see through bag as some kind of authentic shopper's badge.
A short trek further on, all on good surfaced road, and a sign appeared, Residence et Camping El Kahena. A good sign. Even the campsite at Douz, which a couple of the other vanner's here have too raved about, hadn't gone to the trouble of popping a sign up in the town. Further on, another junction, another sign, and a professionally produced one too, yeah! At the last sign we stopped dead. The sight of the mirror-still sea ahead of us, blue merging seamlessly from water to sun-burned sky, had us fumbling about for the camera. As I tried to distill the image into our Sony black box of tricks (which seems to be working again), the owner arrived in his pick-up, an immediately amiable fella. Ju took over, following him in Dave as I filled up our SD card. The site is basically a packed-earth car park in the grounds of a small hotel, but is immaculate (incredibly rare) and has a view to relegate a 3D 72″ telly to a skip.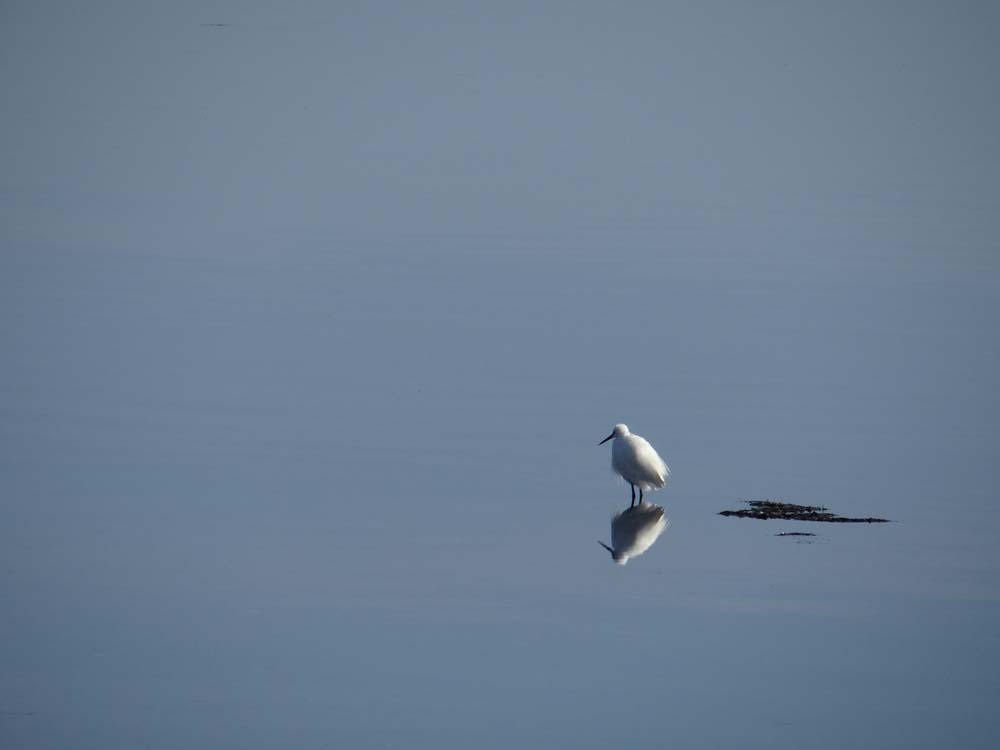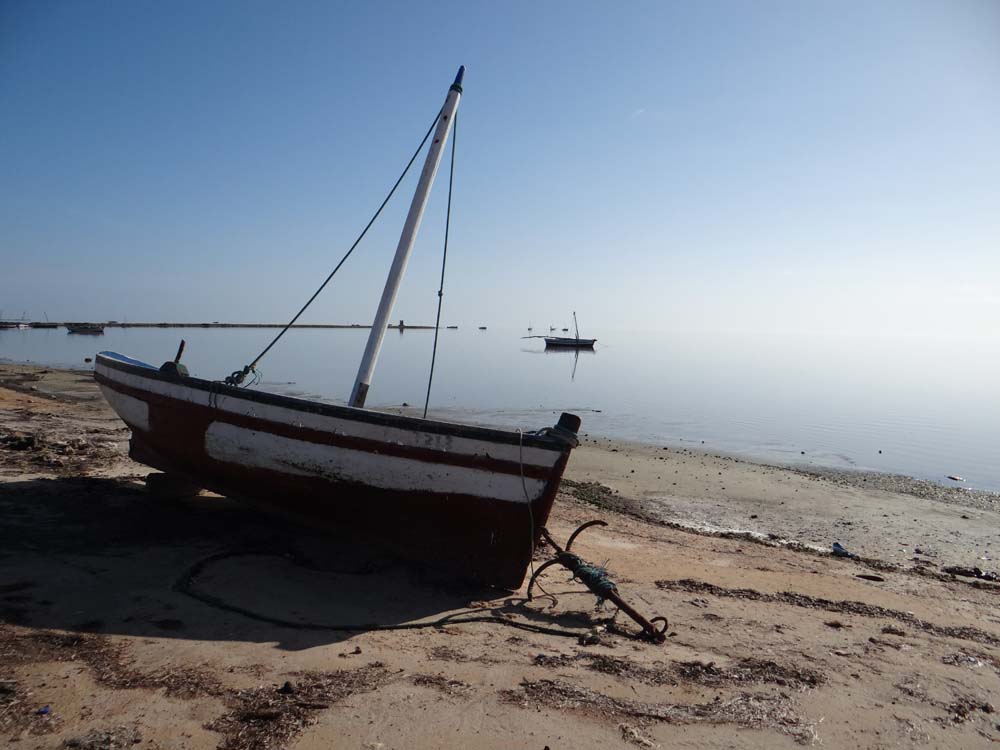 After a quick chat with the other van owners around us (it's a calming feeling to be among our European brethren for a while), we took a walk along the coast to photo birds and stretch Charlie's legs before knocking up yet more lumpy carrot soup. Ju's kipping as I tap this out on the iPad. The Orange data signal here is at the wet-piece-of-string end of the signal strength spectrum, but anything beats nothing! The new plan is to halt here for tomorrow, maybe see if the owner can cook us (me) up some octopus, finish off some work and then head north towards the amphitheatre of El Jem.
Cheers, Jay
P.S. As we gradually get our heads around a return to the UK, to getting up for work and immediately getting stuck in traffic, Catherine and Chris, who's epic blog helped inspire us to head off in the first place have set up their own motorhome products business to fuel their ongoing need for adventure. More inspirational stuff for us, have a look-see at www.bobilstore.com (Bobil being the Norwegian for motorhome!).
P.P.S. On one of Charlie's many meanderings about the beach today he refused to come when called, nothing unusual for our wayward chum, but when I went over I found him sniffing around a 2 foot long turtle shell. He'd not managed to scoff any of it, but I'm adding it to the list of free-dog-food anyway, alongside the Portuguese chicken foot, Moroccan spider crab leg and Saharan dates.