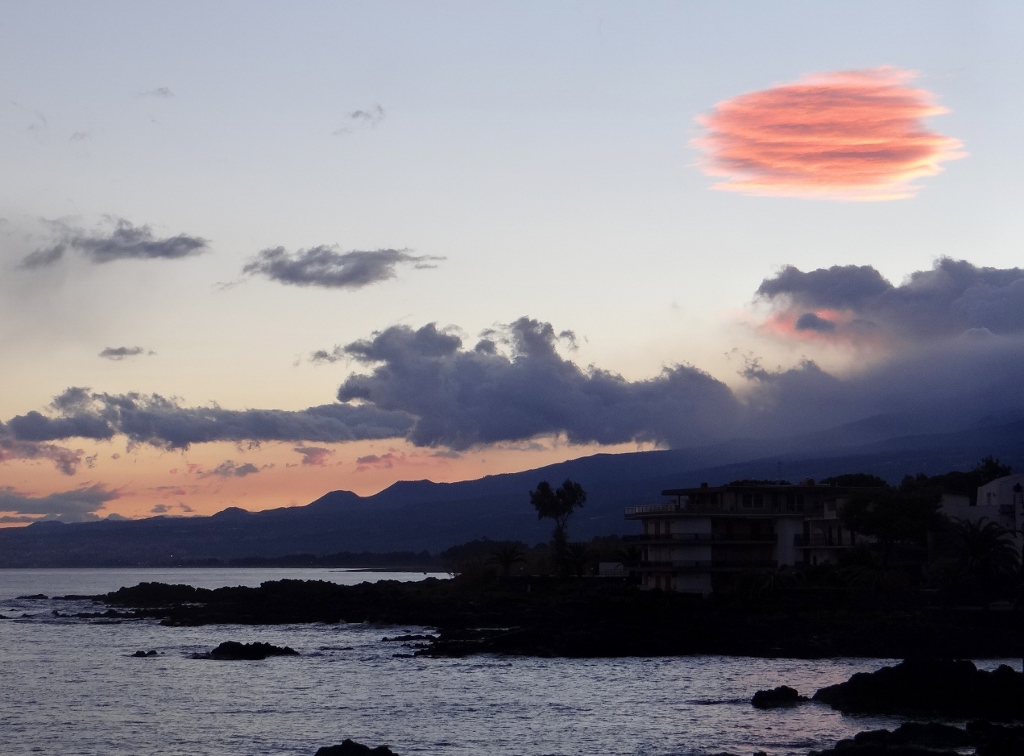 Dave the motorhome is once again parked up by the sea in Giardini Naxos, only this time his view is of the Italian mainland as we've made it into Sicily (N37.82206 E15.27576).
After a day working on our new book yesterday I was ready to pull my hair out, but if everything drops into place (and that's the problem at the moment – formatting) then it should be ready to buy from Amazon in the next couple of days. I'm so excited about it as it's taken months to write, but soon we'll be able to buy a print version of our own book, how cool is that?
Today we were up early(ish) and on the road with a plan to reach the ferry port around 10.30am. Dave needed diesel, his fuel light burned as brightly as the sun as we climbed out of out of our overnight spot. Pulling into the first petrol station we only put in €20's worth as it was more expensive than many others we'd seen. The fuel light went off and we were on our way.
Rose from The 731 Report had emailed us with loads of hints and tips about Southern Italy and Sicily, one of them was a warning about traffic delays due to roadworks on the autostrada leading to the port. Checking their blog we realised that they were here in August, but sure enough as we neared Villa San Giovanni the traffic ground to a halt and we spent about half an hour winding our way through old tunnels looking at the new shining tunnels being built next to us – we can only assume they're an upgrade due to the fact that the road were were on was crumbling and there is an on/off plan to build a bridge over to Sicily (currently off – I think).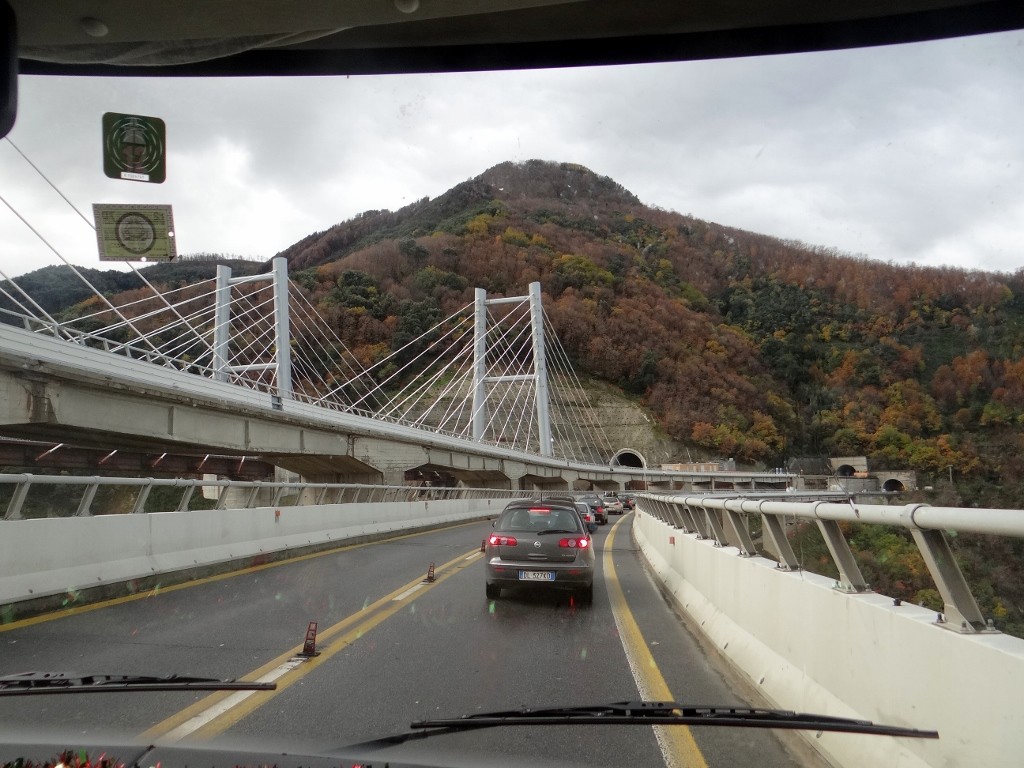 Finally reaching Villa San Giovanni we pulled into the ticket office a short way from the port as our internet research told us we'd avoid a €3 additional charge levied at the port ticket office. We could clearly see Sicily across the short stretch of water, but because we're a big old lumbering motorhome we get charged €95 for a return ticket – slightly higher than I'd expected and more than we paid to get back to the UK and out again!
Pulling away from the ticket office we pulled straight into the queue for the ferry, it snaked around the town with police manning junctions to keep things moving. It dawned on us that the weekend before Christmas might be the busiest time – it certainly looked that way. Not being in a rush to get anywhere we had fun watching the distraught faces of drivers trying to get onto an already full ferry. The next ferry was coming in at another gate so three lanes of queue played out like Whacky Races to a symphony of horns.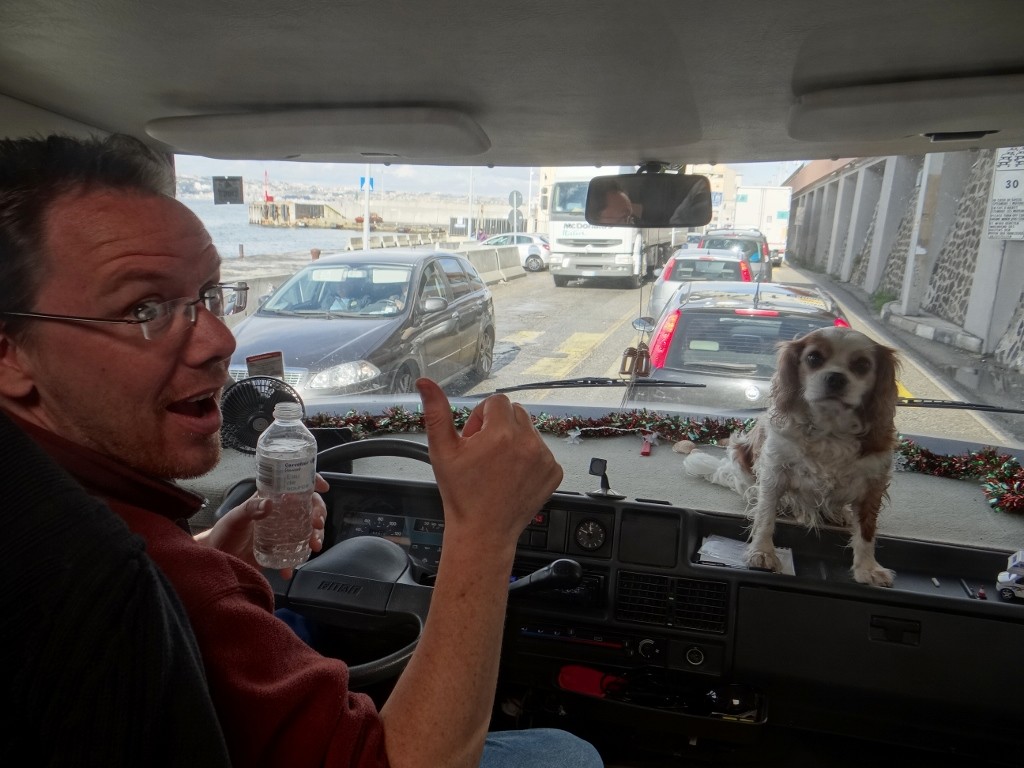 We only had to wait for about 40 minutes before we were boarded. Leaving Charlie in Dave we headed up on deck and watched the mainland get a little bit smaller, and Sicily become a little bit bigger – seriously the crossing isn't that far. All too soon we looked as if we were about to run aground on the beach (just because they're driving a ferry it doesn't mean the Italians slow down) so we headed back to the car deck. The doors opened and it was every man for himself, it made me wonder if the back of the ferry was on fire – Jay held his nerve and pushed out in front of white van man, I was so proud.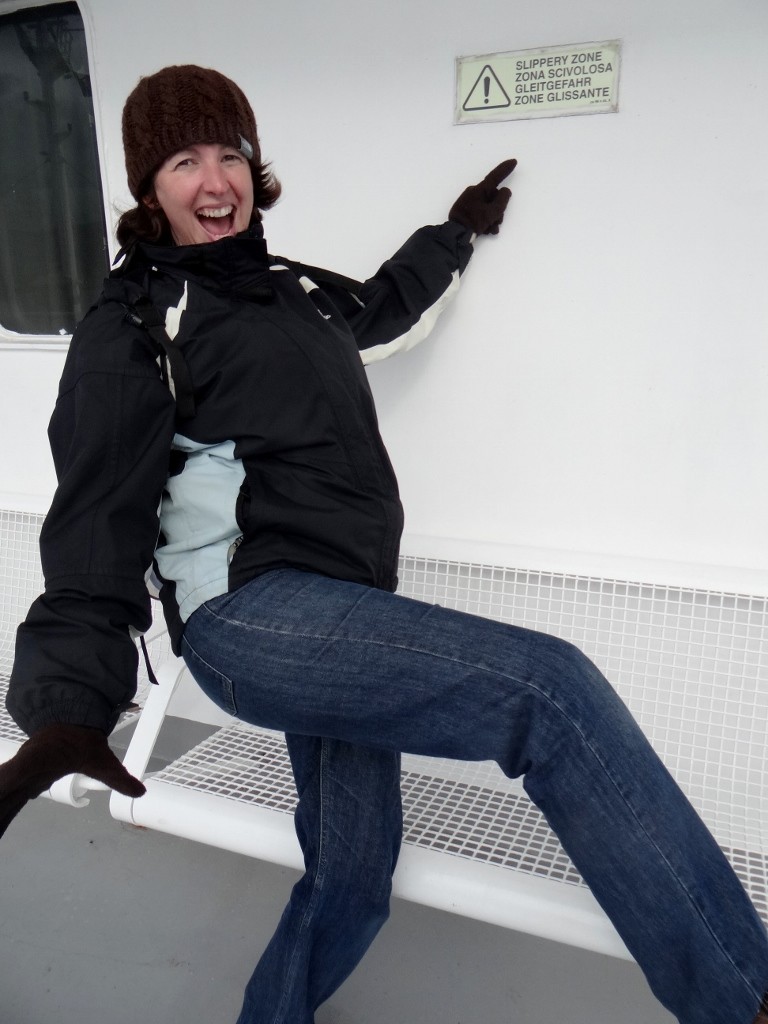 Not fancying the narrow streets around Messina we headed straight for the autostrada, the dual carriageway to get to it was reduced to one lane most of the way due to double parked cars. There was an audible sigh of relief as we spilled onto the wide, quiet road and headed south stopping at the first services as they had a motorhome service point and we needed another top up of diesel. We opt for the self service lane as the fuel is cheaper, but Jay got carried away and picked the wrong nozzle so Dave now has €20 of expensive diesel plus in him; an early Christmas present for his engine.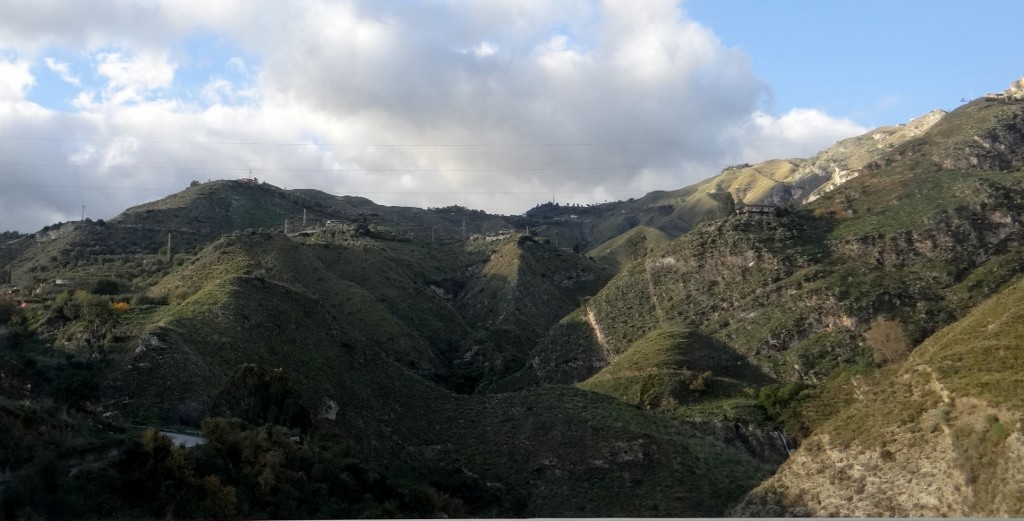 Plotting in a free camping place suggested in our guidebook we make our way down the bumpy and narrow main road to Ali Terme only to arrive and discover no motorhome signs everywhere. Feeling unwanted we carry on south, only this time we head for the autostrada, unable to face any more of the crazy pre-Christmas drivers in a hurry to get places. Perhaps they always drive like that – lets hope not.
We reach Giardini-Naxos and tackle the narrow one way system down to the water front. Our guidebook coming good we find ourselves a nice place by the sea looking across the bay to Taormina – the place all the guide books rave about and one time home to D H Lawrence. Next to us we have jagged black lava dipping into the sea as if it had only flowed there yesterday which it could well have done as the looming outline of Mount Etna reaches up into the clouds to our left, as if she's trying to hide her snow covered peak.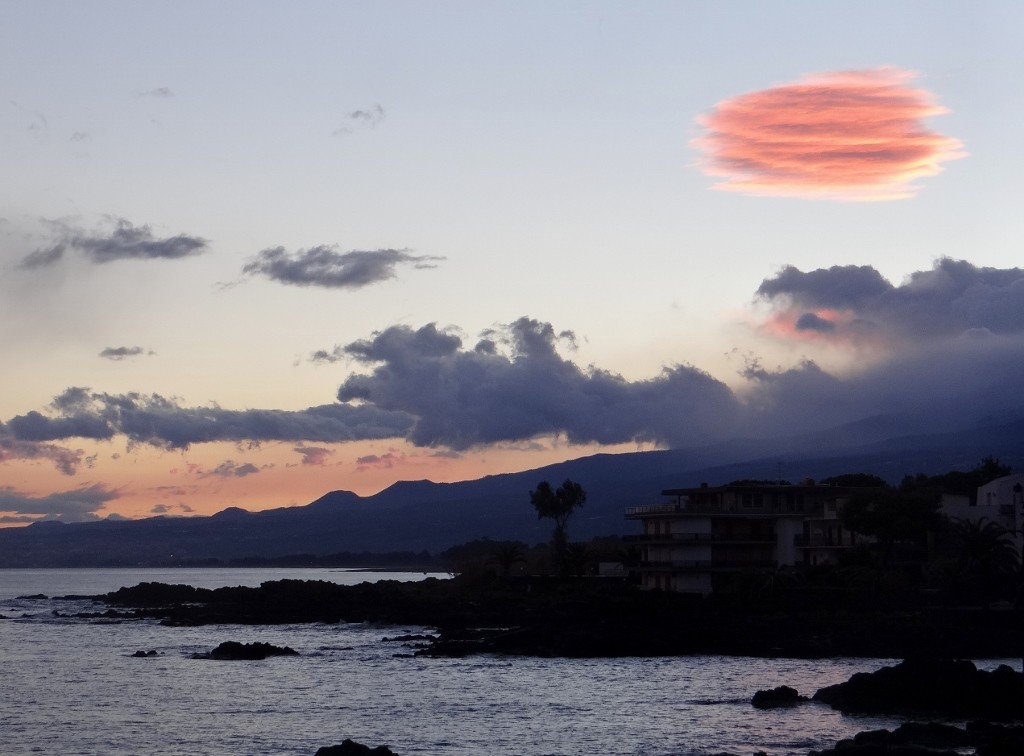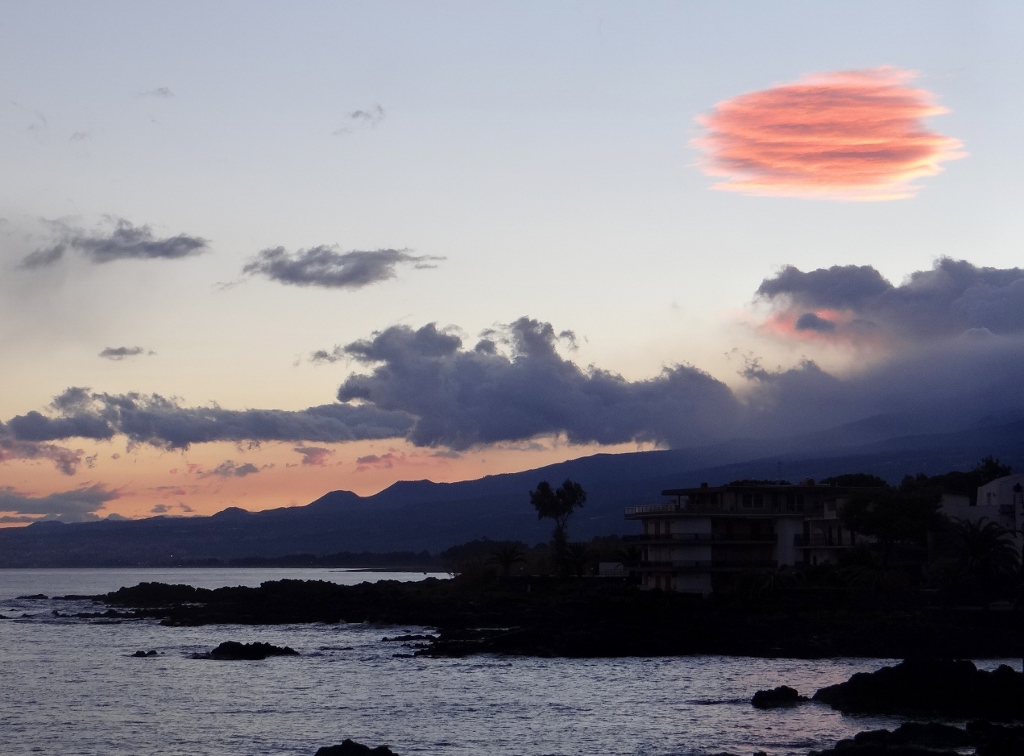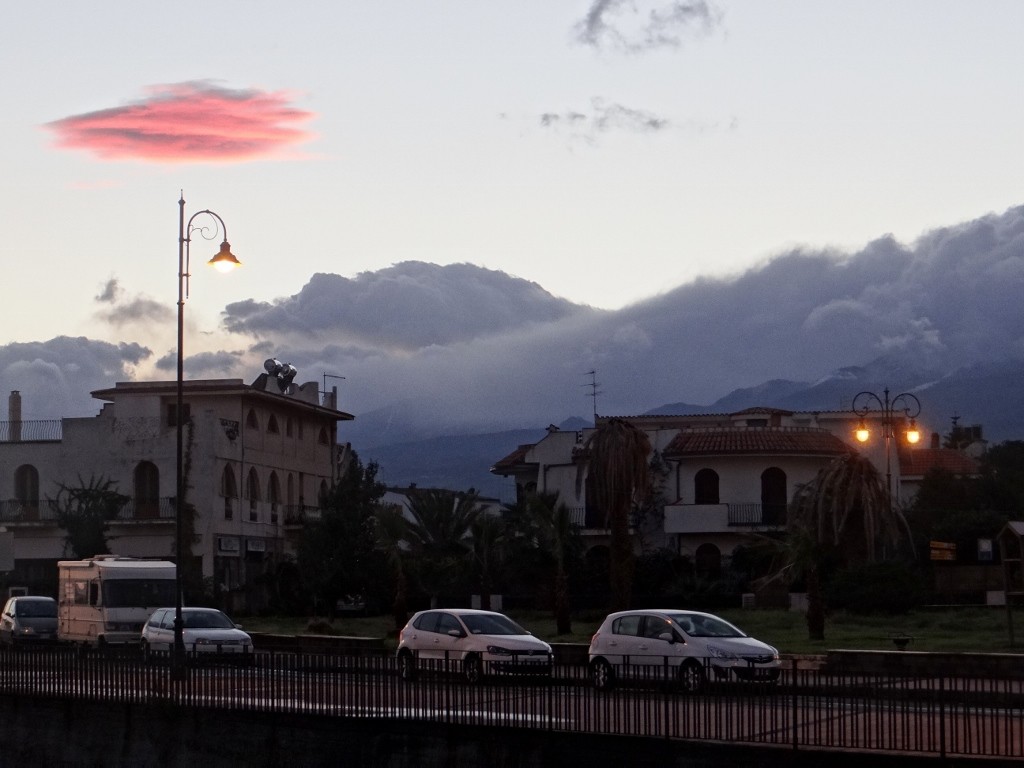 Taking an evening stroll we walk along the sea wall, looking back into the bay the Christmas lights are flashing (yes strangely flashing not twinkling) and silent night is playing on church bells. We're lured in and walk along the bay gazing into brightly lit windows at last minute shoppers loaded with bags, as Charlie strains on his lead to get onto the beach. It's all beginning to feel like Christmas – time to dig out some of the UK choccies I hid when we left and tuck in.
Ju x
More ferry fun: