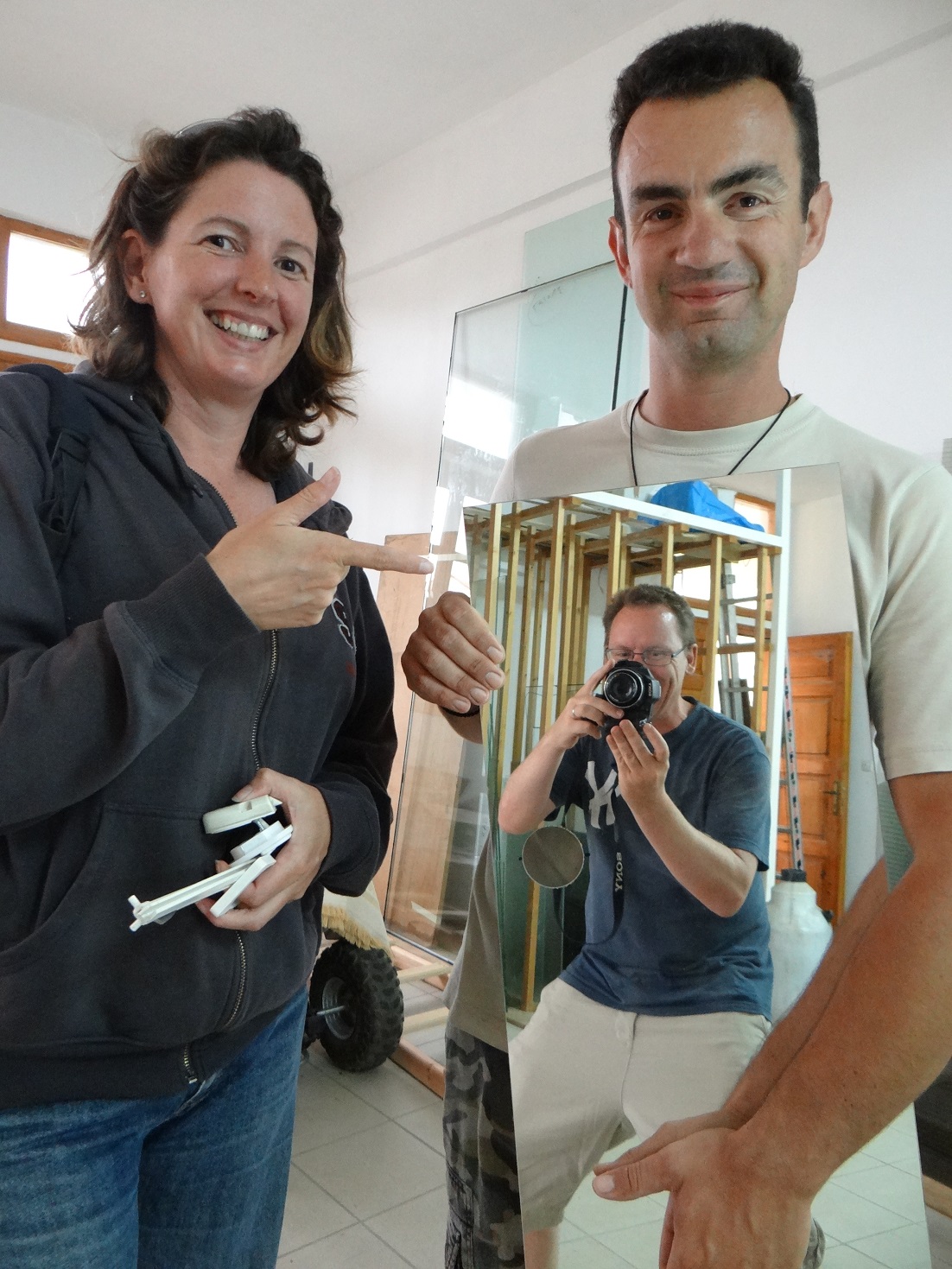 Dave the motorhome's still side-on to the sea, accompanied by an eclectic bunch of Austrian, German, French and Greek campers at Camping Verdelis in Palea Epidhavros (N37.61877 E23.15726). A gathering of German folks opposite us is celebrating a 60th wedding anniversary, sat in the comfortable warmth (if not glowing sunshine) drinking wine and laughing. Good on 'em, shame we speak hardly a word or I'm sure they'd have some stories to tell.
Today's been a day for chilling out. With the campsite WiFi I've done a couple of hours work on the skin cancer detection video. It's a fascinating idea, the fact you could just shine light on someone's skin and within minutes get a good idea whether there's a problem or not. There's a whole heap of work to do to make it happen though, years of development by hugely dedicated people. As I'm currently contributing rather little to society, I feel humbled.
We've chatted with Gerti and Ignaz, drunk a beer and had a BBQ. Greek and German lager, Greek salad, Austrian and German sausages, Lidl meatballs (of unknown origin), Greek lamb and a splosh or two of Austrian Radler (shandy). Multinational nosh-up. Ignaz loaned me his half pint glass and we laughed over lines from 'Dinner for One'. If you've not heard of this oddball little show, I'm not surprised. Although the dialogue is entirely in English, it's only every shown in Germany (and Austria too it seems), and featured in the Guinness Book of Records as the most frequently repeated TV show ever (every New Year's Eve or Dec 23rd), until they dropped that category. You can watch the whole thing on YouTube (see below); it's a bit beyond me why it's become a cult!
As Gerti and Ignaz have a place close to the Czech border, we chatted about the iron curtain too. Ignaz is a big Mini fan (I suspect this man could fix anything), and recalled how he'd taken part in a rally across the border. They could get in and out, past the guard dogs, guns and barbed wire, but nearly came a cropper buying fuel. It was rationed and as the ten Minis attempted to fill to the brim on cheap fuel the army turned up! Gerti relayed how Czech restaurant staff would turn sour at their appearance, offering lack lustre service since they earned the same whether they sold covers or not. The menu would often consist of two options.
A dog walk, dog play, dog feed and more dog playing later and we were at 6:30pm. Time to go get the mirror door. Stefan, the campsite owner, responded 'papa' when I pointed to the faded photo of a tanned, shirted and big chested fella above his desk, then pointed to his car. He'd taken us into the village yesterday and offered to take us again today. Climbing into the front seat, the same procedure as last time, unbuckle the seat belt, get in, buckle it back up (the Greek procedure is to sit on the belt with it done up, that beeping noise can be so annoying). I pointed to Stefan's belt and he laughed, 'only 5 minutes trip', and then belted off down the narrow track. A slight change today as an elderly lady climbed in the back alongside Ju. 'Yia sas'! She came along for a lift into town too.
As we passed the glazer Stefan leaned over to see if he was awake, honking his horn. I would bet good money no Greek car journey is made without at least one horn honk – although always to say 'hello' or 'thanks for letting me though'; we've seen no aggressive horn leaning yet, maybe in Athens! The glazer was up, his nippers playing outside. '5 minutes' Stefan says as we continued onwards to drop off his relative, oblivious to a moped being man-handled off the back of a truck missing us by an inch.
The glazer, who's name we forgot to ask, spoke great English. He explained the hole was 50mm instead of 45. We took the handle out and checked, it fits fine. Somewhat bemused at the request for a photo he went along with it and we handed over a couple of battered €5 notes. That'll be our 7 years of good luck back then (we're relentless optimists these days), huzzah!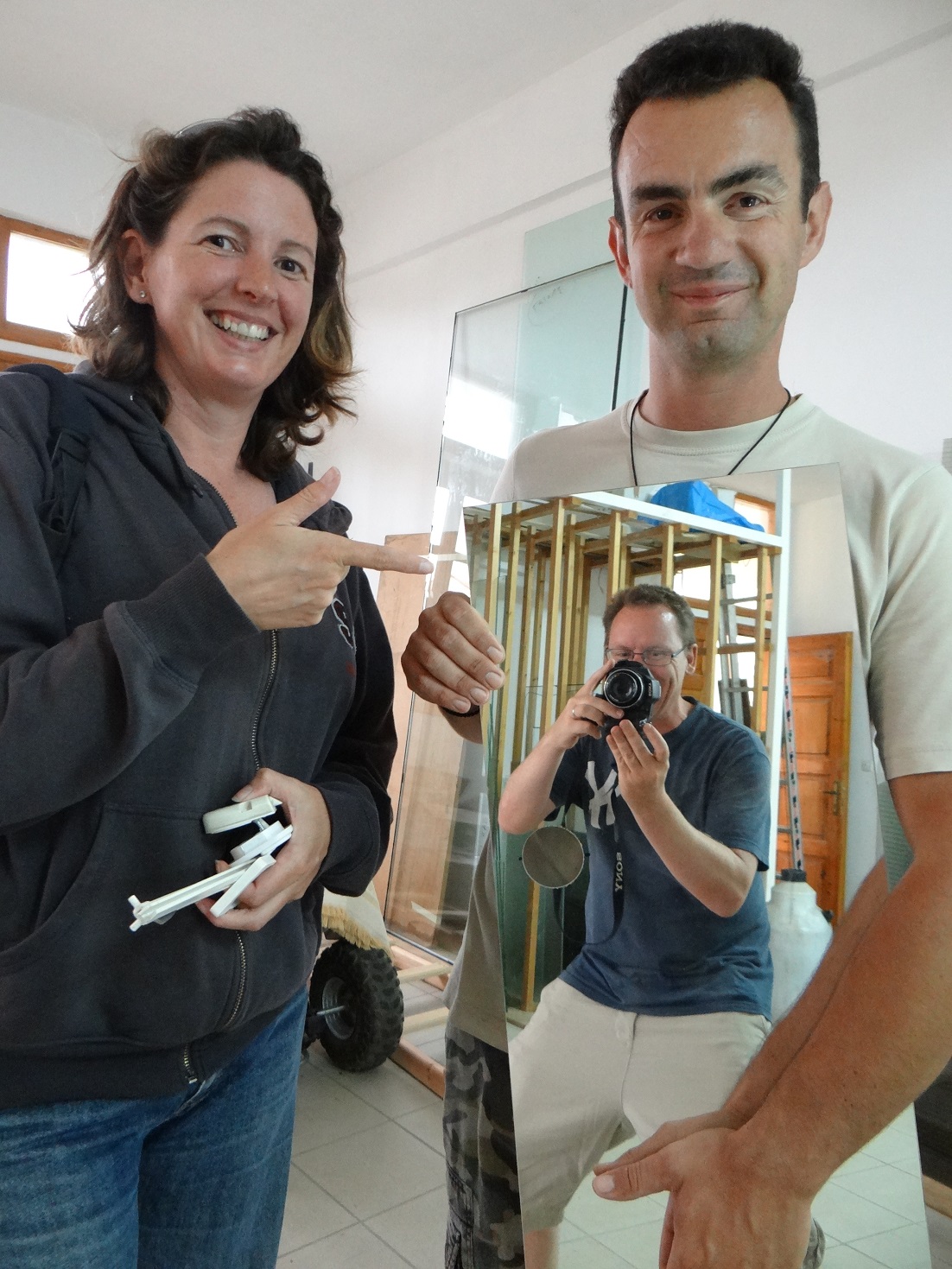 On the way back I asked Stefan about all the oranges. We're in citrus county here, all oranges and lemons and many of the dark green leaved trees are heavy with fruit. We've seen so much fruit going unpicked as we've travelled Spain, Portugal and Italy, and here in Greece oranges roll down the street. 'I have 125 boxes' he told us. '25kg for €6′. That's a lotta oranges for not a lotta wonga.
As we tentatively carried the mirror back to Dave, the glazer's warning of its thin-ness and fragility fresh in our ears, Ignaz came to the rescue to fit it. He's practically rebuilt their entire Hymer B544 (the same make and model of motorhome as us), engine, gearbox, you name it, so I was secretly relieved as he took charge. I hovered about for a bit then wandered off, letting him quietly and calmly adjust it into position. It fits, Dave is whole again, we're happy bunnies.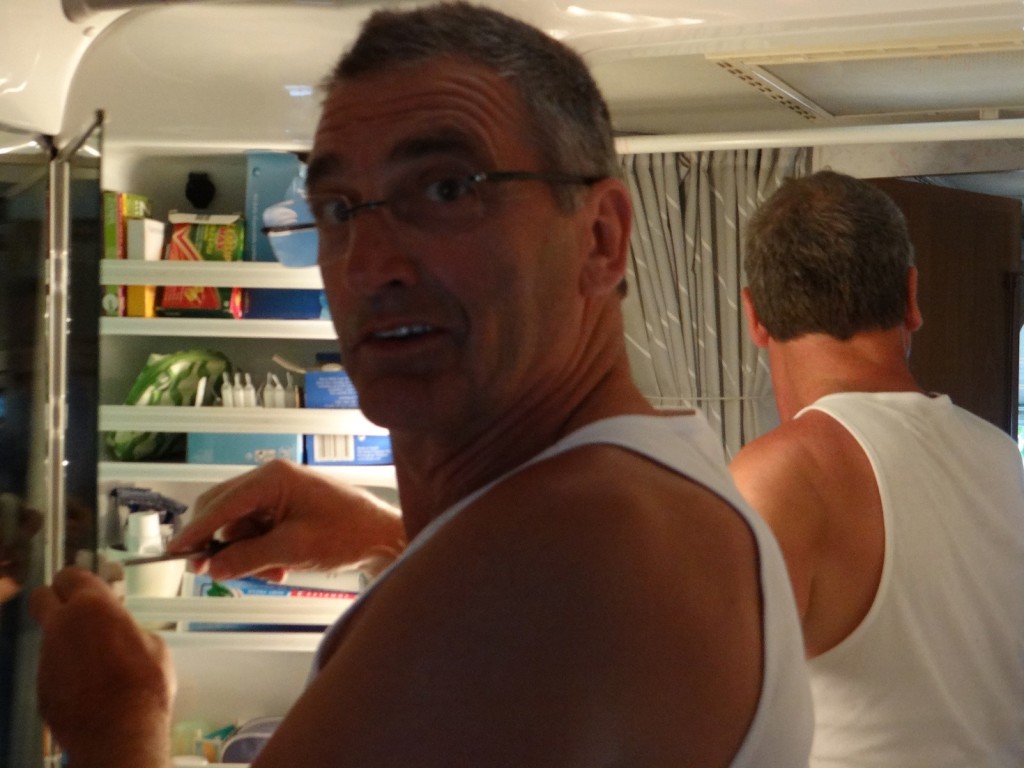 The rain's come today, I could have counted the drops though. The ever-correct BBC weather predicts more rain and cloud tomorrow, then we're back into 30°C territory. Spying the map, there's a tempting peninsula below us, a nice little loop. Looking outside a nasty slash across the hillside, looking something like a thin mile-long quarry, gives away the presence of the road. Dave's wheels are ready to spin, that road is calling.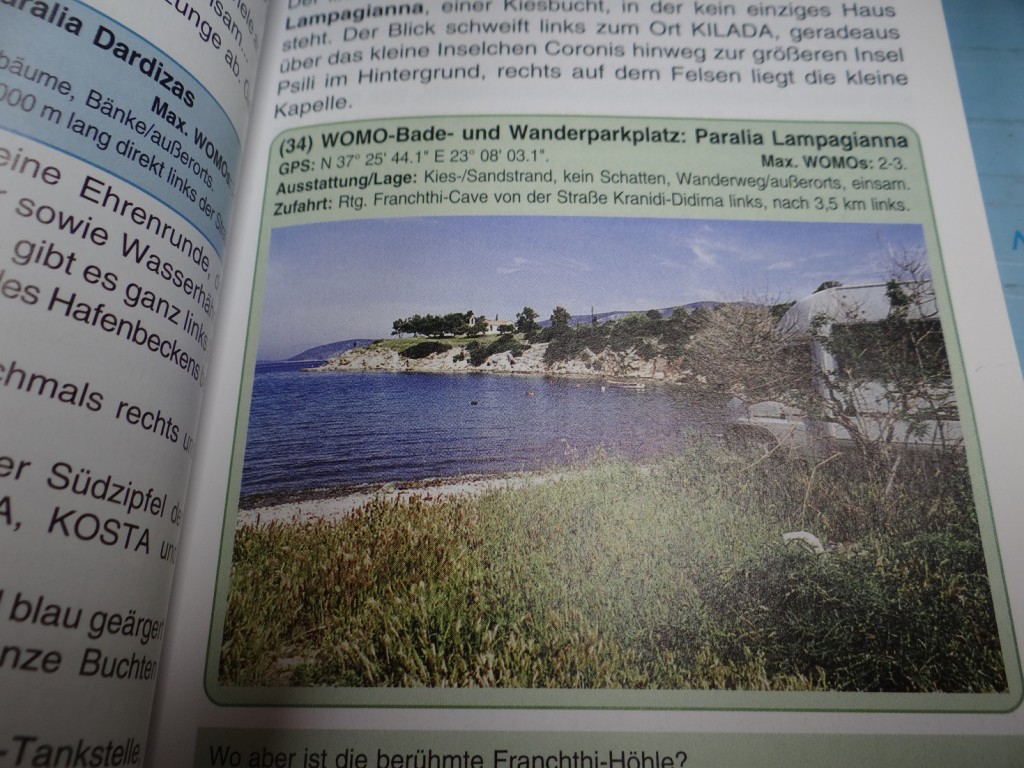 Cheers, Jay
P.S. There are blackberry (brombeere in German) trees just behind Dave (they grow on trees here…)! Gerti's collected a load, enough for two jars of jam, and kindly given one to us. It's roasting hot, the freshest jam in the world!