Dave the motorhome is being a tad cheeky again. He's parked up by the side of the road right around the corner from the official motorhome parking 1.7km from San Gimignano (N43.46089 E11.04142). The official parking is empty, as are many of the car parks closer to the town, but the tourist office insisted we weren't allowed in those, they also said we weren't allowed to park by the roadside, but hey it's out of season and we don't fancy coughing up €1 an hour while we sleep.
Last night's equally cheeky free parking place was peaceful, except for the squeals coming from Dave as several stink bugs found their way in via the tiny gap in his sunroof. They buzzed around, Charlie tried to eat them, I squealed like the girl I am and Jay heroically captured them and shoved them back outside. The skylight's thermal lining was inserted to keep any further pests out. The rain came and went in waves, keeping the temperature in Dave nice and toasty – we're now very, very close to the magic 15 November obligatory snow chain and winter tyre day, but no sign of the weather getting any colder – thank goodness.
We've also hit a bit of a landmark today – 400 days on the road. To celebrate we sought out nearest Lidl (in Poggibonsi – what a great name!) and did a BIG shop. €82 worth of food and drink (mainly drink) is now crammed into Dave's cupboards. There's no room for laundry on the laundry/drinks shelf, so we'll either have to get very drunk over the next couple of days, or keep wearing the same clothes – is there an acceptable length of time you can wear the same t-shirt for?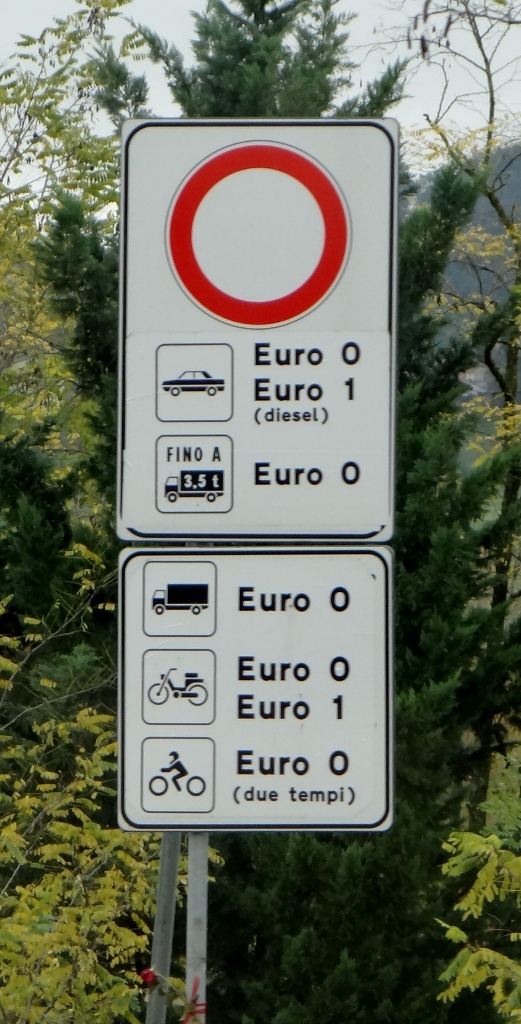 With bumps and bangs emanating from the cupboards as our latest purchases settled in, we headed a few short kilometres to San Gimignano. Our friends Jacqui and Marc recommended it to us for the fabulous ice cream in the town square – they didn't mention it's also one of the most visited villages in Italy and sits on top of a hill surrounded by the most amazing countryside.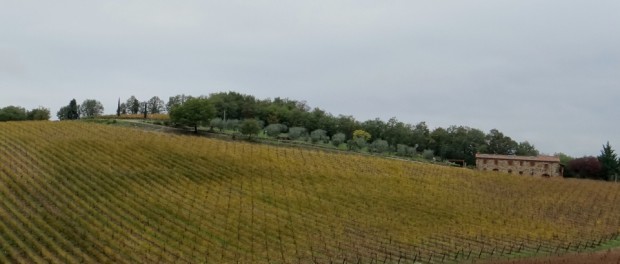 Driving round in circles for half an hour all attempts to find a parking space within a still-on-the-mend Charlie walk of the village were thwarted by no motorhome signs. Nerves and tempers frayed as we found ourselves negotiating a narrow gap between a stopped bus and a large group of teenagers waiting at a bus stop opposite. The group spilled out into the road making the gap too small for Dave, so we inched forward very slowly to move them over. Unfortunately they'd spotted that we'd just had to make a u-turn. Laughs, shouts and jeers rang out in our direction and one bright spark tried to hit Dave's tyres with his umbrella. We crawled past unable to move any further over because of the stopped bus, until the inevitable happened – one of the group didn't see Dave's sticking out wing mirror and it caught her on the head, much to the amusement of the masses. Stopping I leant out my window to check she was OK. The girl in question was rubbing her head, her mates smiled and waved that all was good, but the baying crowd sensed our weakness – we were concerned about our victim – so the shouts and jeers intensified. We drove off.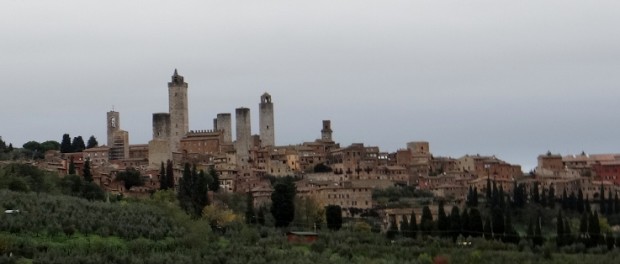 We pulled into the tourist bus drop off area and I managed to negotiate (as in, please help I don't speak Italian and there's no where to park around here) with the security guard to let us leave Dave there for an hour while we had a quick look around the town. As soon as we looked through the arched entrance we knew we'd need longer than an hour. The place is beautiful. It's tall buildings, towers, large open squares, tiny alleyways had us hooked (and the promise of ice cream).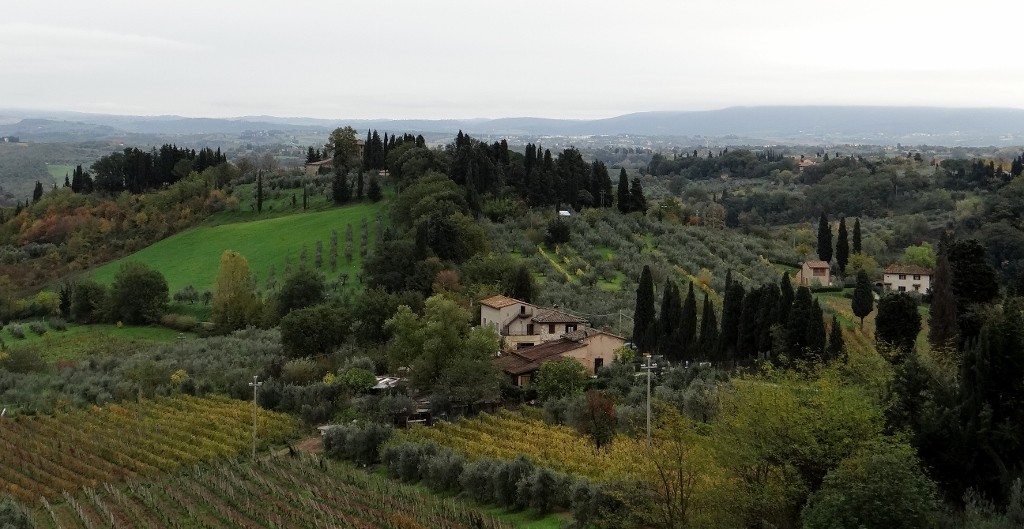 We had a quick wander around before nipping into the tourist office to get a map of the place to prepare us for tomorrow. We passed the ice cream vendor in question and with his position mentally noted we headed back to Dave to find a free place away from the town to spend the night. It's pitch black now by 5.30pm, we had thought of walking up into town but we'll save that for the morning. Tomorrow hopefully the weather will be a bit better and if Charlie starts to suffer I'll accompany him back to Dave on the bus – after our ice creams of course!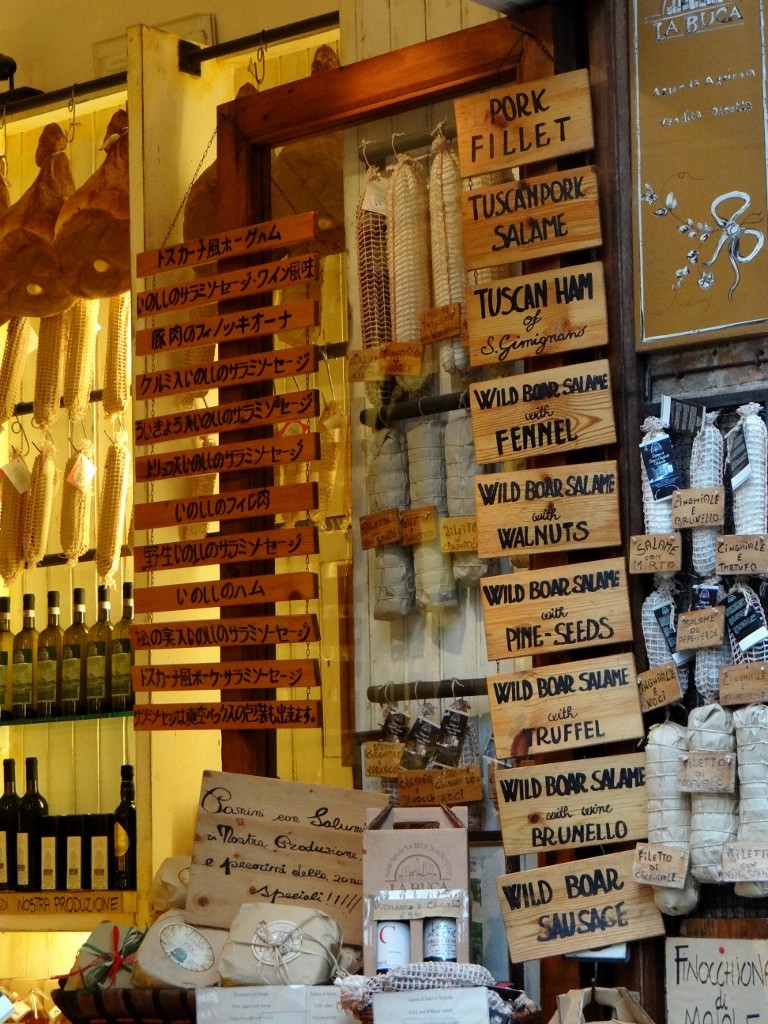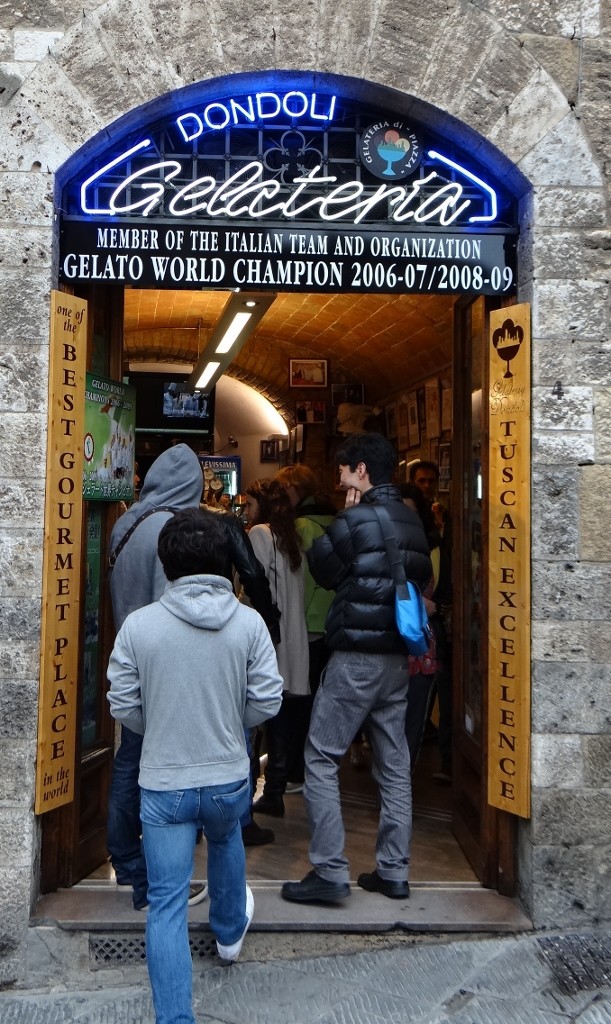 Ju x
Bonus pic –