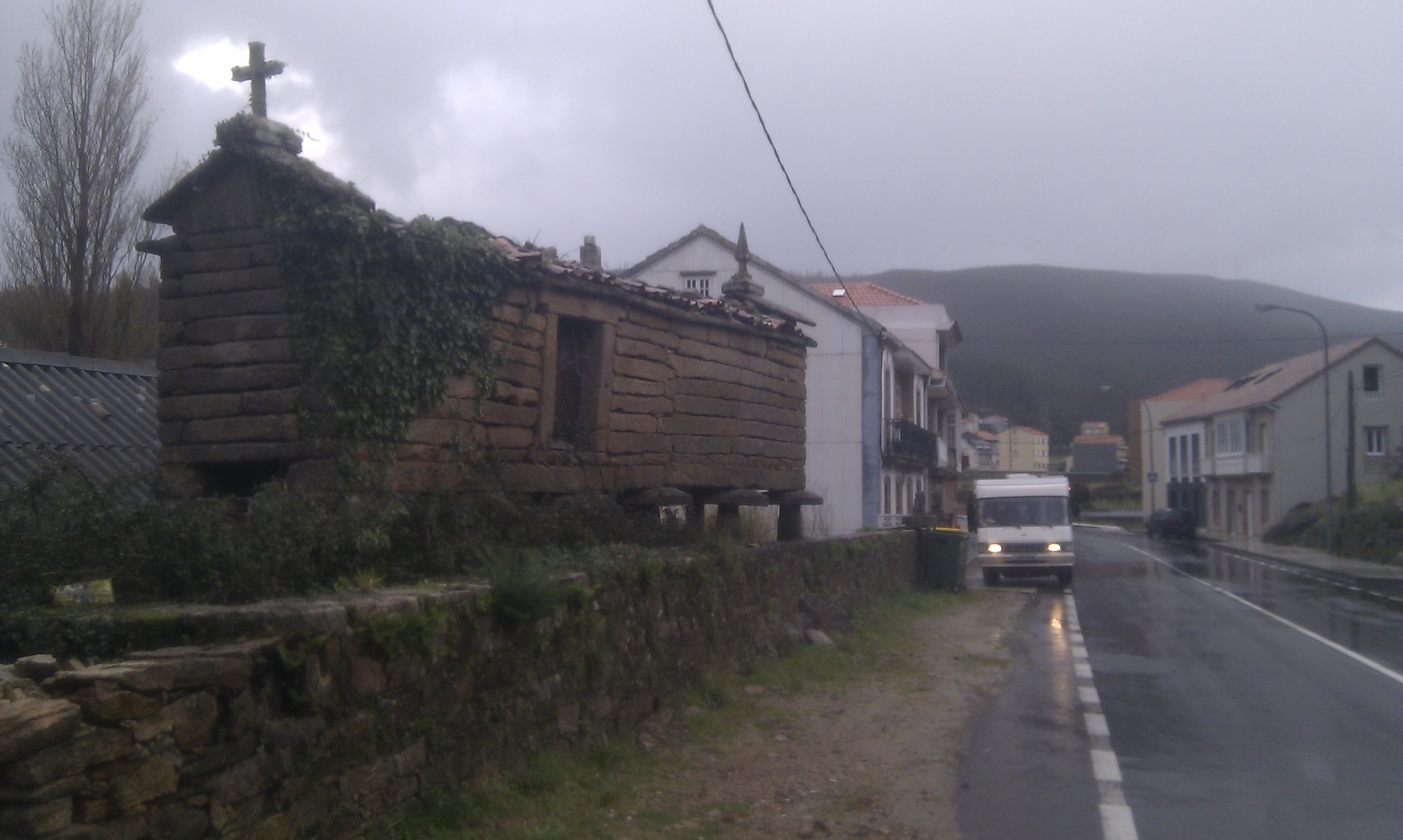 We're here – N42.761665 W9.061875
Weather – showers (no! we're trying to dry stuff!).
Our wild camping spot last night on the Finisterre harbour turned out to be rather popular with the local fishermen. At about 4am we woke up to hear a van pulling up next to us and then some gruff Spanish voices talking in an animated fashion. We couldn't understand them of course, so we naturally translated their comments to "right lads, let's teach these camper-vanning English a lesson for parking in our favourite spot". Naturally, this wasn't what they were saying and it was probably something more like "fish, yeah, let's go out there and catch some fish", and off they went. At about 4:15am the scene repeated itself, and so on until dawn. When we finally got up, the van was surrounded with cars and vans, and we were bushed!
Once we'd sussed we could get the van out, we headed off along the coast road to a campsite San Francisco. It's a great spot, right on the beach within a wide bay, about 1km away from a few bars and restaurants. As soon as we'd checked in (they seem to want €18 a night from us: we've been told you can haggle them down to €11 but our Englishness has kicked in again and we failed to argue) we got all giddy. Being on a campsite means 3 things: 1. We can wash clothes. 2. There may be WiFi. 3. There will be hook-up and we can charge stuff, heat water with the kettle and put the halogen heater on whether we need it or not. As usual, we attempt to try all of these things immediately as soon as we parked up, resulting in 1. Us breaking the tumble dryer. 2. Me (Jay) banging on the laptop keyboard as it refused to connect to the WiFi. 3. The usual snake's wedding of cables everywhere.
With the tumble dryer out of action (oops), Ju wangled a €2 refund from the campsite (every cent's a prisoner) and I walked Charlie down the beach to look for a shop selling pegs. I found a place, but it was closed for siesta. At least I thought it was, when I cycled back there later I pushed at the door to find it opened, but the keys were in the other side and no-one was around. I stood there like a fool for a minute or two wondering what on Earth was going on when the shop owner finally turned up, allowing me to thrust a demonstration peg Ju had given me at her so she knew what I wanted. A couple of minutes and €1.40 later and 48 pegs were mine. Our washing is now secured to the communal washing lines for the night.
Having finally got the WiFi working, we've had a few Skype sessions with family and friends, great to see people and hear about what's happening 'back home'. We are, of course, missing everyone and look forwards to these chats as and when we can get Internet access. We're going to stay here tomorrow too, and hopefully meet up again with Chris and Tina for a cheeky Saturday night couple of beers in the campsite bar, before heading to Santiago de Compostela for some culture on Sunday.
Cheers! Jay
P.S. We keep seeing some odd little buildings next to the road on stone stilts. We took a photo of one (see above). If anyone knows what they are; can you let us know?