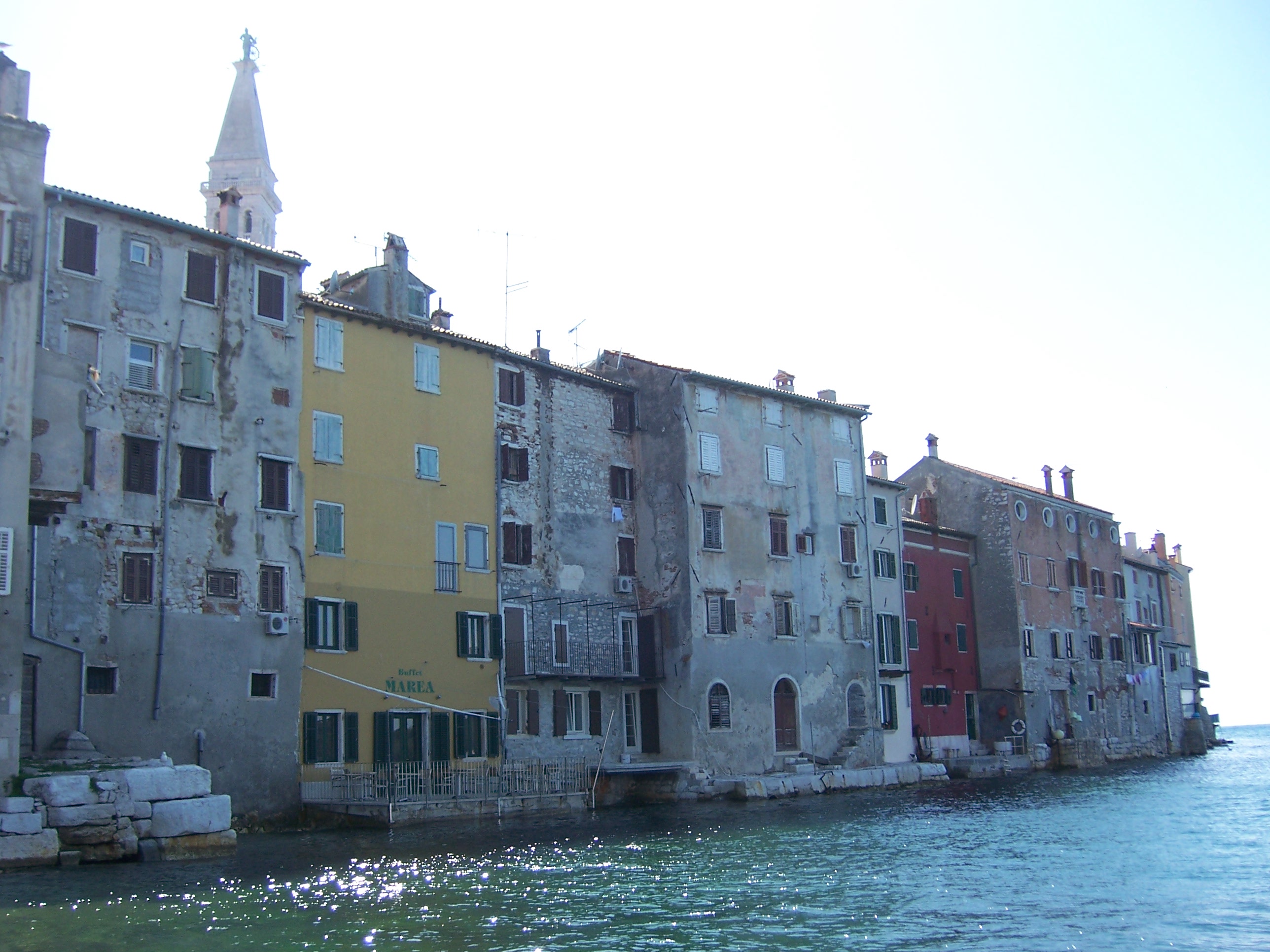 We're at Mini Camping Ulika (N45.06560 E13.67563) about 2km from Ravinj in Northern Croatia, for a second night. We found the place using the list of Mini Campsites from the Croatian Camping Union (see link at bottom of post). We really like the campsite; it has an intimate feel, especially compared with the behemoth next door who's tarmac waiting area is bigger then this entire site. Ju's just paid – €18 a night without electricity.
Arriving anywhere, we usually don't know where we are. Same goes for Croatia. Vague memories come back from the 90's of wars here, or hereabouts. Something about Croats versus Serbs. I was busy living it up at University, bending my brain to understand quantum mechanics and special relativity. The war was 'miles away' and all rather confusing. I suspect policy makers of the time were no less confused than me. The war (called the Homeland War here) is very much over (although the underlying causes may still remain?), and has been for 17 years. Croatia is set to join the EU on 1 July 2013, and this place is lush, awash with the tourist Kuna (ten Kuna to the pound), mainly German and Dutch. Balkan Ghosts is slowly being thumbed through, thickly-laid prose and obscure references to long gone empires and competing religions making it hard for an Anglo Saxon atheist to grasp.
As the rain subsided this morning, yesterday's plans were revived. Map in hand, the trio walked the coastal path into Ravinj. Much of the coast is straddled by production-line campsites, churning through German and Dutch motorhomes and caravans, receptionists speaking a dozen languages and security guards at the entrance. Fortunately for us, said guards didn't take a second look as we short-cut past them to the sea. Unfortunately for us, the first sea sight we saw was a naked elderly man. This end of the beach will be the naturist end then. We shuffled on, eyes drawn to the wrinkly figure like reluctant witnesses to a crime.
Shade. In our winter and spring wanderings, it's not been important. In fact we've avoided it to help our solar panel meet our meagre electrical needs. No longer. The lady at the campsite made a big play on it yesterday and we understand why now; it's baking, unless you're in the shade of a tree-covered coastal walk, then it's perfect. The Adriatic thwarts Charlie, not a single dead crab to be crunched. It's cool waters engulfed him a couple of times; functioning as as a natural alternative to Ruben Barrichello's high tech F1 cool vest.
The town itself is marvellous. Foot-polished cobbled streets lead us past numerous but mainly tasteful tat shops and food-photo embellished fast grub restaurants. The voices were German, Dutch and the odd English (talking quietly outside a supermarket about some hush-hush plan to sneak wine into their hotel room). The baker's speaks German to Ju. It's all very confusing, until 1947 the place was part of Italy.
Once we'd eyed up the yachts, flash cars, colourful streets and introduced Charlie to umpteen league of nations pooches, we headed back. Our Croatia map is now dotted with the locations of the Mini Camps, and with stickers showing the main twenty-odd places Lonely Planet suggests we go see. Time for a cool glass of wine and another crack at the Times Cryptic Crossword that is Balkan Ghosts.
Cheers, Jay
Croatian Camping Union – Link to information on Mini Campsites