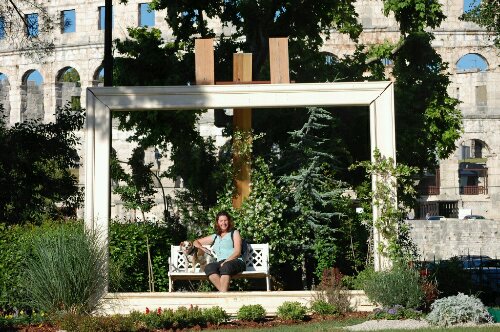 Dave the motorhome is in Pula, Croatia. He's parked up in a car park next to the port (N44.87627 E13.84790) and a hundred meters from the Roman amphitheater.
This morning we left our campsite in a massive thunderstorm. Lightning struck the ground about 100m to our right as we drove along, that was a bit too close for comfort. We took cover in a supermarket and were met by a aisle end of Croatian merchandise for Euro 2012 – Dave could have been seriously pimped with flags and wing mirror covers! It reminded us both of the stuff on offer in the supermarkets back home when the footie is on – rest assured UK, you're not on your own.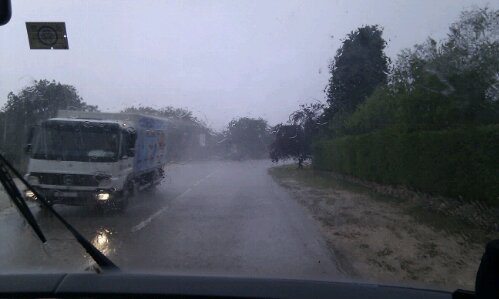 I've been attacked by mozzies, and if you know me you'll know what beautiful shades my skin goes when one of the critters bites me, so at the supermarket I stocked up on repellent and a net to cover our big skylight – fingers crossed we'll be able to keep them at bay.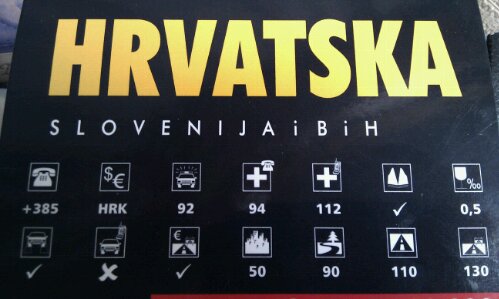 We made our way south to the town of Pula and pulled into a car park. I spotted a warden checking tickets so asked if we were ok parked here and to sleep tonight. She looked bewildered that we would want to, but it's ok and only costs 100kn (which sounds a lot but is about a tenner). A couple of countries ago we'd have driven off and parked elsewhere, but here free places are pretty much none existent and dedicated motorhome parking not much cheaper than campsites.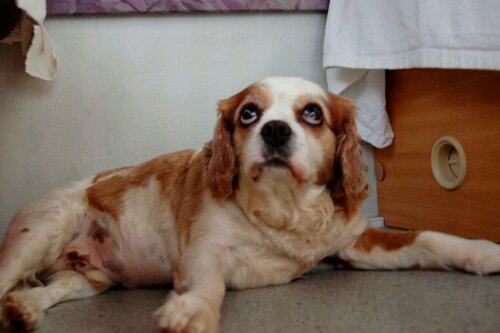 Still we are in a perfect location with a view over the sea and a small park behind us. As we headed out for a stroll this afternoon, once the thunderstorm had stopped and the sky had returned to it's usual blue, a huge yacht was pulling in near Dave. It was very sleek looking for with a helicopter on the back, it made you unashamedly stop and stare. It's the Lady Moura which is owned by a rich Saudi businessman and at $210m is (or maybe was as it's 20 years old now) the most expensive yacht in the world – even the name on it is made of gold. Dave keeps good company.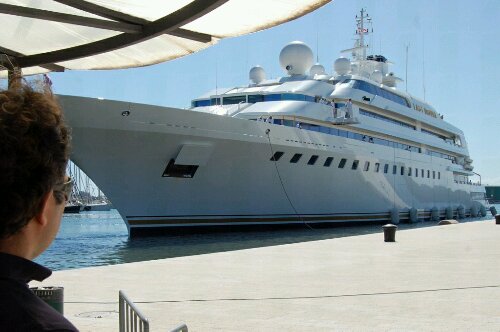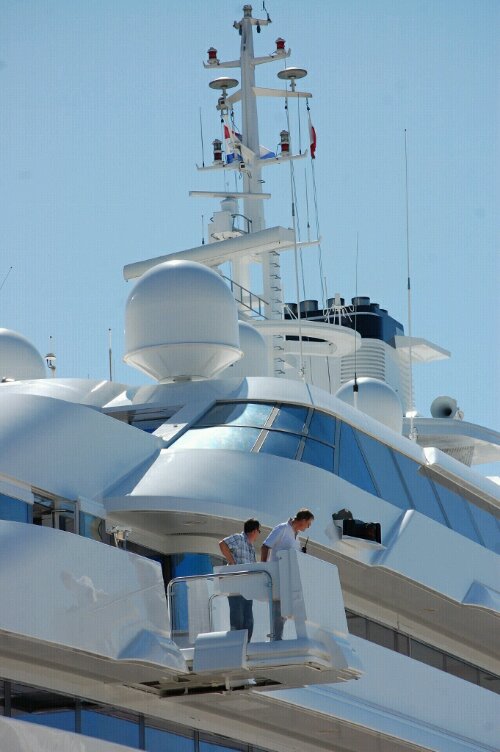 We turned our backs on Lady Moura and went to see the amphitheatre. Dating back to the first century it's built entirely from local limestone and was designed to hold gladiatorial contests, seating up to 20,000 people. As we walked around the outside we were stopped by a tv crew who filmed me taking a photo of J and Charlie for some national news thing. Once again Charlie will be famous, and I'm glad I'd washed my hair this time.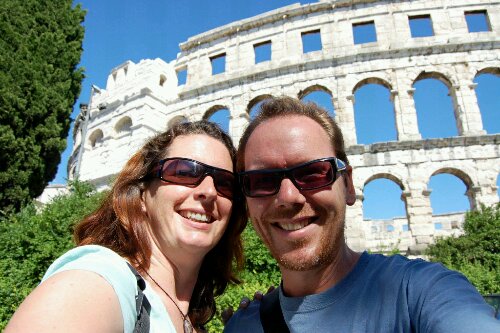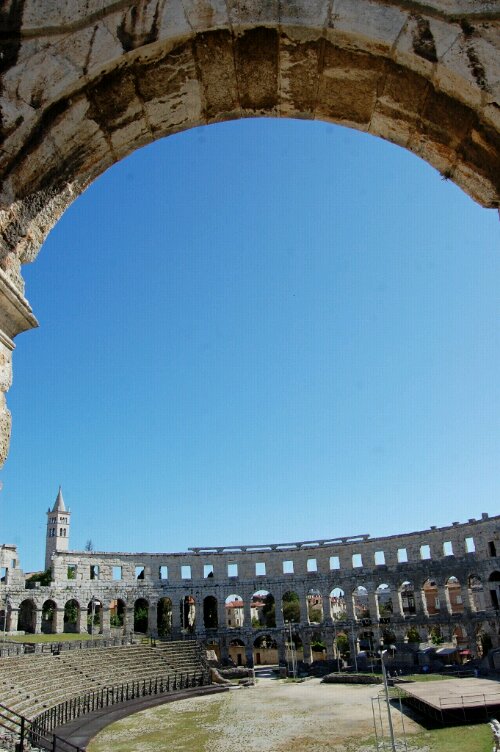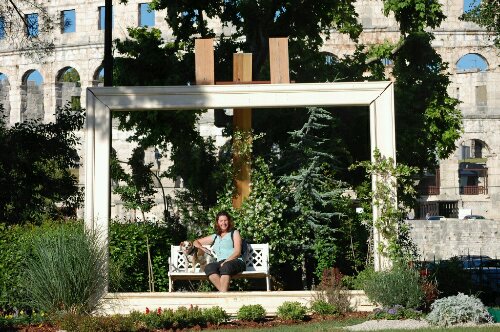 We strolled through the town in the shade of the Roman walls as the sun was making up for lost time this morning. Standing alone the Triumphal Arch of Serguis dates from 27 BC – but we suspect that it's surroundings were less commerce focused in those days and here we turned into a narrow winding street.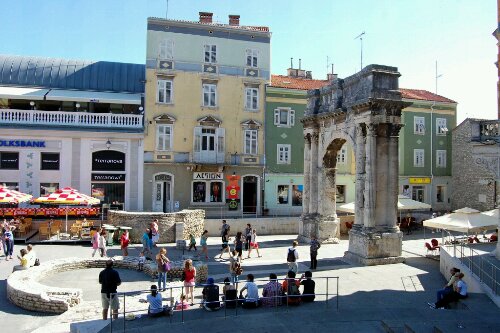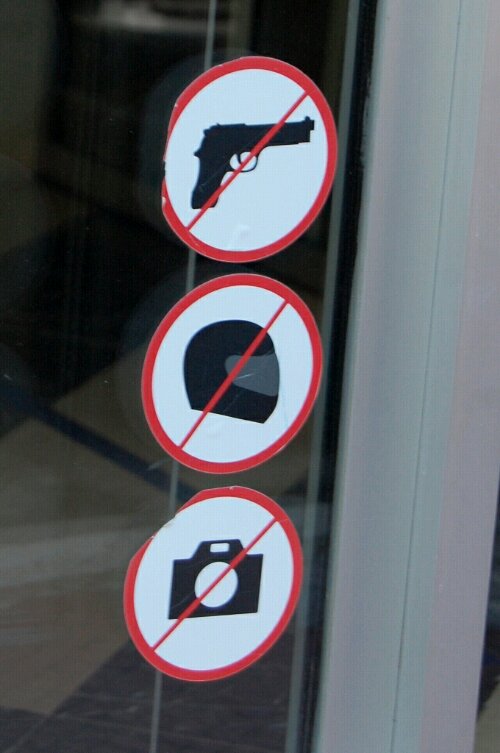 It was full of people shopping and sightseeing so we turned right onto a deserted side street. A quick check of the map and we were going the right way to climb up to the Venetian Citadel (or castle as I've been calling it). At 10kn to get in, yes about a pound, we decided to walk around it instead. Not actually sure what was in the Citadel, but we were happy exploring our own way.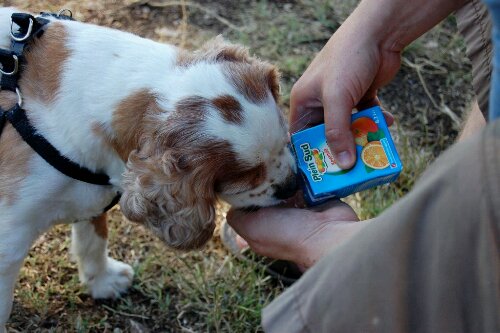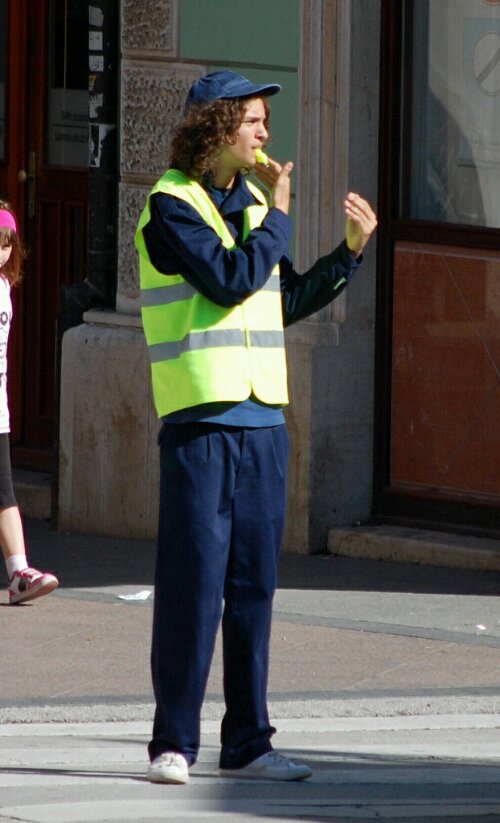 We took in the views from the Citadels position and found around the back of it an Roman theatre – why they needed this within spitting distance of the amphitheatre is beyond me. I can only assume it was for more intimate gigs.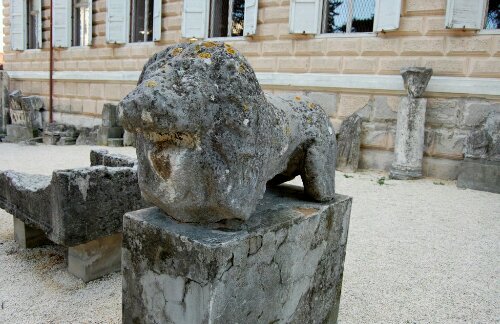 Along the back, or would it be the front?, of the theatre behind the stage was more Roman rubble. I thought the Italians had a lot of it, here it was like a giant jigsaw puzzle was waiting to be solved. The pieces carried on outside the theatre ground and around a near by building. Now bits of columns were replaced with headless statues dressed in togas and as we got towards the front of the building words and numerals were carved in huge blocks of stone. Then we spotted a small sign by the door to the building – Arheoloski Muzej. The pieces were from all over Istria and there were even more inside, but we'd seen enough. It was time to head back to Dave.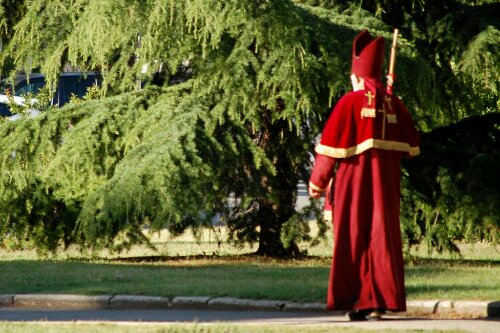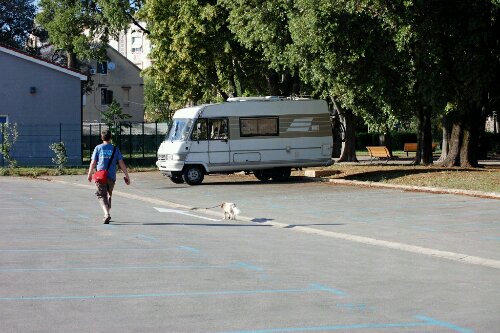 The sun is setting across the port now and over dinner Jay summed this place up perfectly 'it would be a stunning place if it didn't have to earn a living'. I agree, across the port from where Dave is parked are docks and cranes, but behind us it's trees and a Roman amphitheatre. Still I like Pula, and if you're in the area stop by, it's worth a few hours of your time.
Ju x