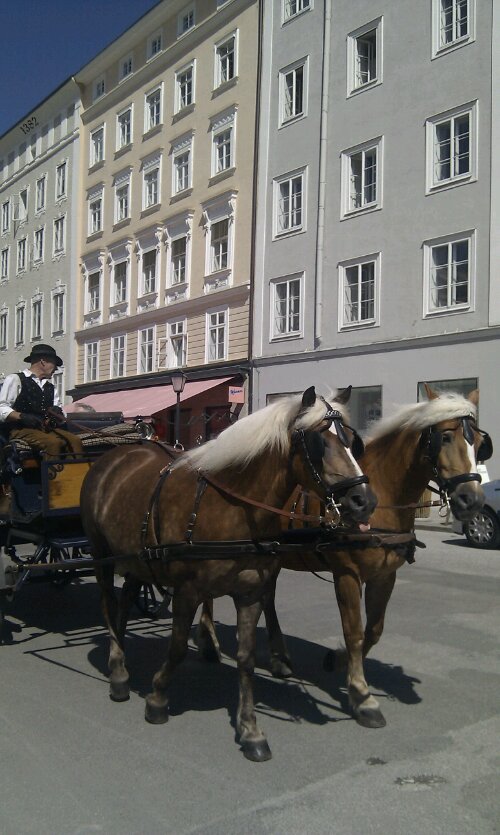 Dave the motorhome is in a car park in Seewalchen (N47.95122 E13.59060).
Our quiet sleeping spot for last night turned out to be rather noisy as lorries thundered past a few metres from where we lay. Good job we packed earplugs!
This morning we woke refreshed and ready to hit Salzberg. A few hours of research by candlelight last night provided scribbled notes on potential car parks, things to see and eateries (we're not being romantic, the LED lights have blown, and with the rainy weather we suspect that the solar panel wasn't doing much, so we were on electricity conservation mode).
The sun won in the battle with the rain clouds and the weather forecast on the radio, albeit in French, was for a warm day ahead. It didn't take long to reach Salzberg, or the first car park we'd listed. As we pulled in it looked small, but didn't have height barriers. What it did have was a no motorhome sign – grrr. With Dave straddling the entrance I jumped out and asked the teenager in the pay booth where we're supposed to park. He shrugged and suggested Mirabell car park. I pointed to the roof on Mirabell's parking sign on my map and he shrugged again. So we turn around and head for Mirabell.
The city centre is closed to traffic between 10am and 2pm at the moment, posters all round suggest the Park and Ride a few kilometres out, but it's €12 and Charlie might not be welcome on the bus, so we cross the Salzach river once more. Dodging the trolley buses, whose twin poles connecting to the overhead power lines wiggle around like a slalom skier, we spot a motorhome parked up next to the three lanes of traffic. At the end of the parking row in front of it, a Dave sized space beckons us in.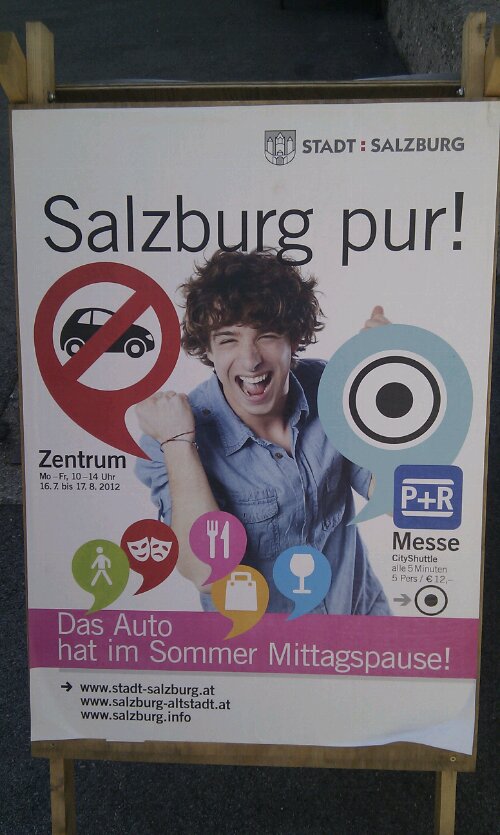 A quick look at the parking meter tells me we can have a maximum of three hours, so we prep Dave before I cough up for a ticket to save precious sightseeing minutes. Back at the machine an old man has to help me work out how to use it, a big blue button is actually a dial to set how much time you want. I pop in four euros to cover the €3.90 fee and they are promptly spat back at me. I try again, the same thing only this time I notice a message flash up stating 'overpayment not allowed'. I admire the parking machines morals, but I only have €2 coins and a queue forming around me. The helpful old man takes my coins and buys me a ticket, but only for €2 worth of time, I head back to Dave and break the news to Jay. Salzberg will either be a flying visit or we'll have to come back and buy another ticket.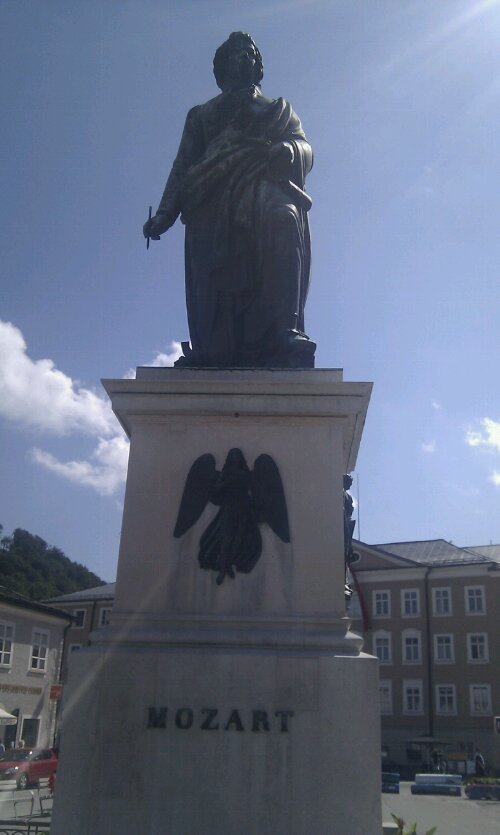 The flying visit begins under the gaze of the ever watchful Hohensalzberg Fortress as we cross the Mozart bridge and head into the Old Town via Mozart Square where a statue of the man himself stands, pen poised ready to write another ditty. The irony is that from what we've read he couldn't wait to leave the place.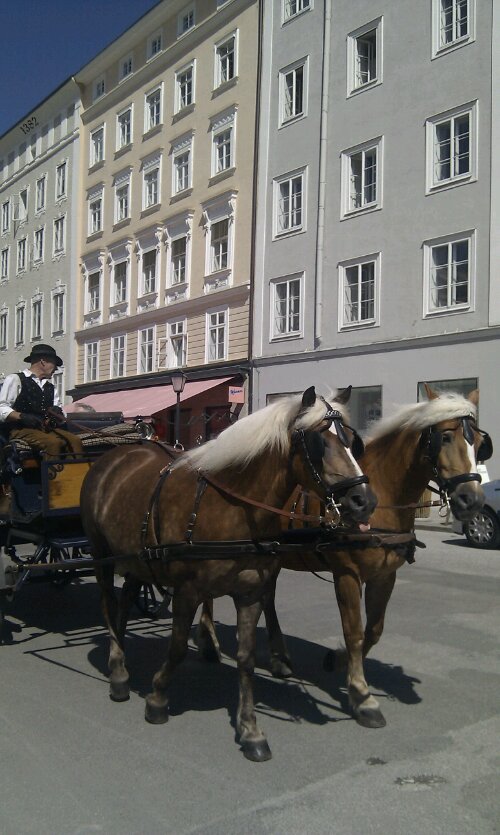 A check of the clock and it's almost 11am, so we hang around taking in the baroque brilliance of our surroundings until the Glockenspiel starts up. It only chimes, or should that be plays, three times a day, so we were lucky to catch its melody.
No time to hear its third repetition though, the clock is literally ticking. We stride over to the cathedral and take a quick peek inside before heading through a square with arty benches, a monster sized chess set, a statue of a man standing on a huge golden globe and several market stalls selling souvenirs and baked goods.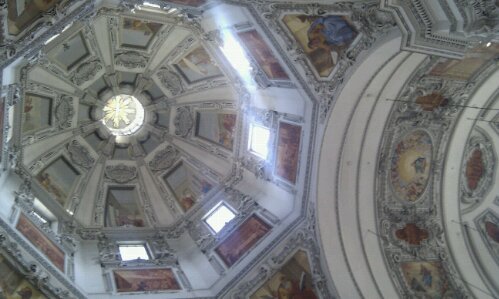 At St Peters church, Jay goes for a look around the oldest cemetery in the city, complete with catacombs and statued mausoleums, while Charlie and I check out the queue in the bakery next door. It looks like the rest of Salzberg has read the same review as me as the hungry queue stretches out of the door.
Moving on we walk past stages,  seats, lights and cameras being set up for the festival ahead – we suspect this is part of the reason you can't drive in the city right now,  with several police cars parked up to ensure you don't. A quick stop at the 'horse pond', while its name explains its purpose it can't begin to describe how elaborate it is, but then it has to be as everything is, and we're soon on Getreidegasse.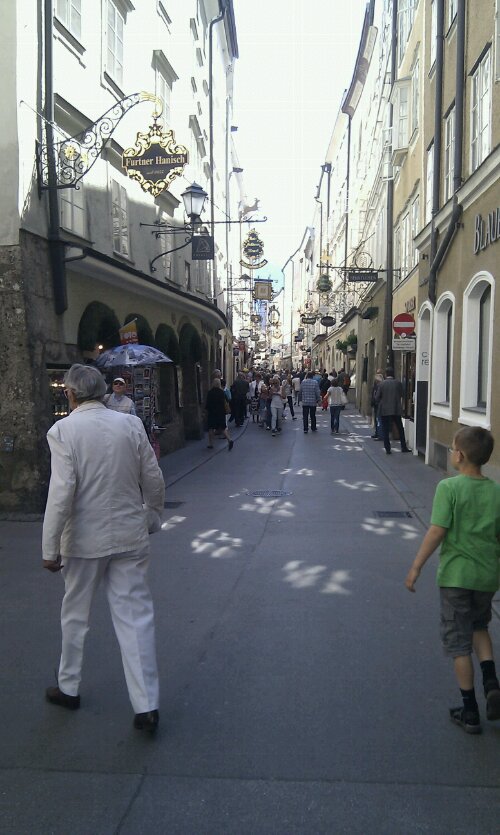 This narrow street is packed full with people, ornate metal signs hang above heads telling us which shops they're visiting – even McDonalds has got in on the act with a very tasteful M surrounded by a metal garland of greenery. As we walk along we're amazed to see the number of shops selling the traditional costume – think Julie Andrews for the ladies and lederhosen with felt jacket and hats for the men. We'd seen people wearing these outfits around the town, but had them down as tour guides – which most of them were. The number of shops and the price of the outfits suggests they're not all for fancy dress, although if I'd won the lottery I'd be tempted to stock up and have a Sound of Music party.
Past the Mozart aftershave, Mozart rubber ducks and Mozart chocolates – we bought a chocolate each, they tasted like the 1800's – rich dark chocolate, marzipan and nougat, not too sweet – we reached a crowd photographing a Spar shop. Turns out it's underneath Mozart's birthplace, very convenient if he wanted to stock up on Mozart chocolates!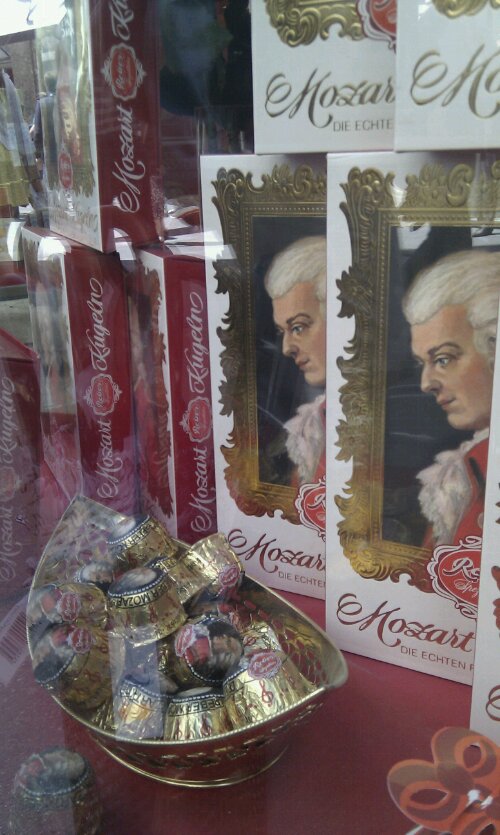 Finally the tall buildings, with their white baroque decorations clinging like icing to a rainbow of pastel-coloured walls, bring us back to Mozart's statue. With ten minutes to spare we head for the only reachable eatery on my list, which happens to sell home made ice cream. Jay goes for chilli chocolate and I opt for Rafaelle, a quick try before I buy confirms it's a creamy coconut flavour – the perfect end to a whistle stop tour.
Of course there was so much more we could have seen and done, we'd not visited any of the castles, fortresses and palaces perched on the hills, or any of the sights from The Sound of Music, but we got a feel for the place. Cheesy, kitsch but fun. Maybe one day we'll make it back for a concert, I think I'd like that.
For now it was time to move on. After squeezing Dave out of his space, a kind soul having parked under his bike rack to try unsuccessfully to fit within the parking lines, we make for the motorway – our Austrian friend. We've hardly used them elsewhere to avoid paying tolls, but as we've paid €8 ish for a vignette we're determined to get the most out of it. Tomorrow we have a rendezvous with a Hymer dealer in Linz for the elusive door hinge, so we head in that direction, dropping off the motorway by Attersee lake. Bezi and Walter who we met on our first night in Austria live around here somewhere, and while I'm digging out their details I notice that we've driven past the doorstep of Gerti and Ignaz, fellow old Hymer drivers who we met in Nin in Croatia. I need to keep a better note of where everyone is so we can fulfil some promises and stop by to say hello.
A Spar supermarket lures us in, unbeknown to us Hofer (Aldi) is only a few metres away, but as we stocked up on Austrian goodies we assure ourselves that Hofer probably wouldn't have had any of them, but would have saved us a few euros.
Driving around the lake we worry we're out of luck on free parking places as small 'parking verboten' signs are everywhere. We feel like Forest Gump on his first day on the school bus – 'this parking spot's taken'. Just as we're about to give up hope and head back to the motorway a car park appears with empty spaces, a view over a park to the lake side swimming pool and best of all it's free!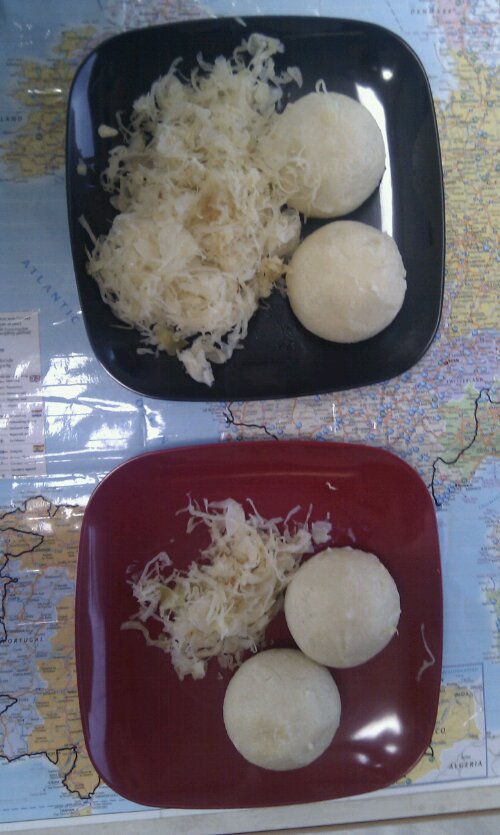 A late lunch in Dave of sauerkraut (for Jay only – urrggh) and dumplings from Spar, sets us up for a walk along the lake. We sit on a bench overlooking the crystal clear, bright blue water and before I know it I'm holding Charlie, Jay's wallet and t-shirt and he's in there. A refreshing swim, a dry in the sun then a nip back to Dave for a change of clothes before we carry on around the lake. Signs dotted every hundred or so metres tell of this areas claim to fame – the artist Gustav Klimt painted many of his landscapes here. The signs have square holes cut into them so you can view the scene as it is today.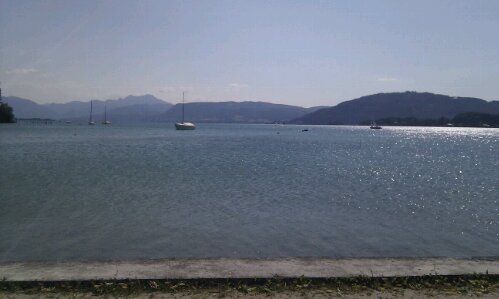 Back in Dave it's fish finger sandwiches for tea – as the dumplings were really filling – and maybe a tv show before we turn in for a much quieter night.
Ju x