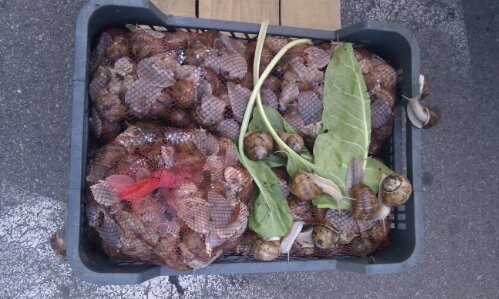 We're here: N45.31992 E8.41855. It's a parking area around the Piazza Batista in Vercelli, Piedmont. Ju's checked with the tourist office, a friendly bunch who have confirmed we can park overnight anywhere with white lines delineating the parking, as long as there are no signs to say otherwise and nothing touches the ground but tyres. Excellent, it's near a road but we're so tired we'll sleep through any noise (famous last words).
The weather is: 36°C in Dave, sun all day, we've been searching out the shade.
We woke to find Dave surrounded by a sea of cars. The huge Asti car park was rapidly filling, mainly with small (fuel efficient?) cars, Fiat obviously being well represented with their factory just down the road. A walk into Asti yielded a disappointing lack of wine shops, although truth be told, we'd most likely get our Spumante from Lidl anyway.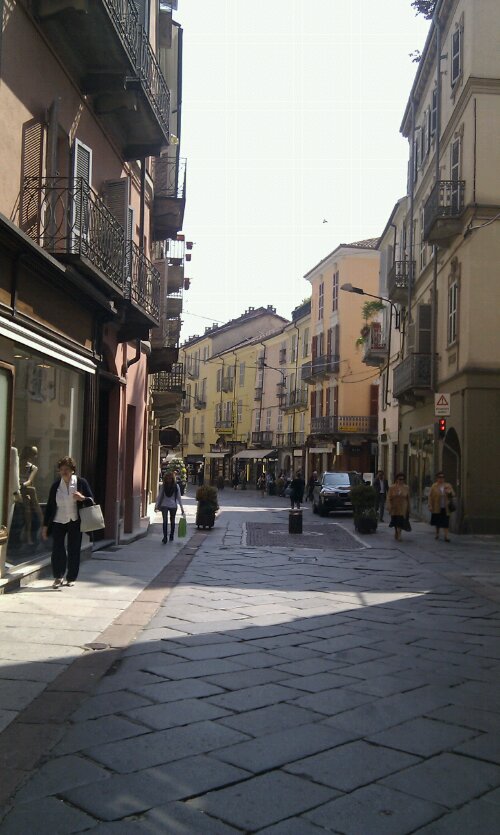 We did spot some escaping snails at the few market stalls left on the parking.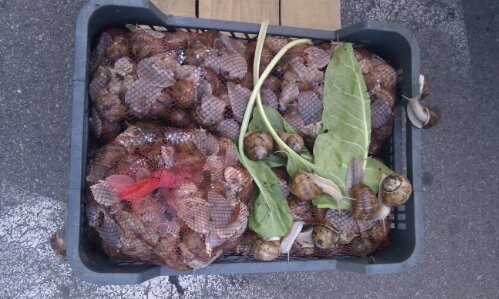 We have a look at the Rough Guide and the map. Just north of us, Casale Monferrato looks promising until we read it is 'the cement capital of Italy'. Hmmm, no worries, somewhere else then. Moncalvo pops up, we fire up the satnav and follow it's dulcet tones for half an hour. In British driving parlance, I've been 'cut up' about 10 times since entering Italy, often while on roundabouts by cars or vans pulling in front of me. My instinct to hit the horn has been repressed and instead I've gone native and cut a few folks up myself. No one bats an eyelid, it's the norm it seems.
As we drive along we notice the aged terracotta roofed villages are generally atop each of the little hills we pass. The Insight Italy Guide Jules loaned us tells us the Kingdom of Italy only came into being in 1870 (Spain had it for a while, who knew?), and before then it seems it was every region for itself. Building up high meant easier defence I guess. I'll have to put more effort into research, and Wikipedia is just full of stub articles for these towns.
Moncalvo turns out to be an old village (on a hill, of course) with narrow streets and alleyways, overhung with balconies. Shops leave their goods on the pavement during their 3 hour lunch. The market is on and we spent a while marvelling at how the awnings folded away by remote control, and how one clothes stall did a Transformers impression into a lorry, with a bit of prodding and thumping from the stall lady.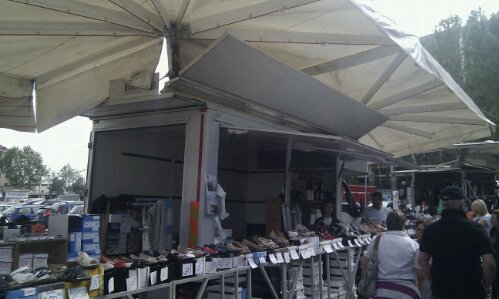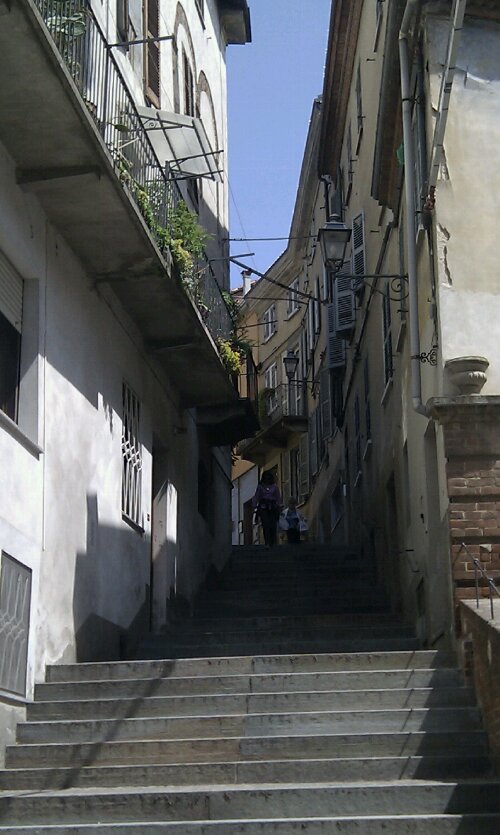 Next stop: here. No aires showed up on our database so we chanced it. Vercelli doesn't make an appearance in our guide books, so I guess we're off the beaten track. We passed miles of paddy fields coming into town, a strange sight, we thought they only existed in China!
The town's an airy, clean place with be-scrolled windows, small parks and a thousand balconies. The locals are stylishly dressed; even a nun we met on a bike looked chic. Charlie's been working hard as an ice breaker and we've made acquaintance with several Italian pooches of various shapes but all of one size: small. No pooch poo to be seen here, the locals pick it up.
We've wandered to the Basilica (big church) and nipped into a café. I went for the lemon ice tea. Surprisingly nice stuff when it's 30 odd degrees. The table behind Ju was populated with young Italian ladies, dressed to the nines and acting out some sort of adolescent high drama, with intermittent stomping off and cheek kissing. Just like roller disco at Heanor sports centre when I were a nipper.
Back in Dave and it's slowly, slowly cooling off. Time to pop some French wine in the fridge and to start a search for tomorrow's Lidl adventure.
Good evening folks! Jay