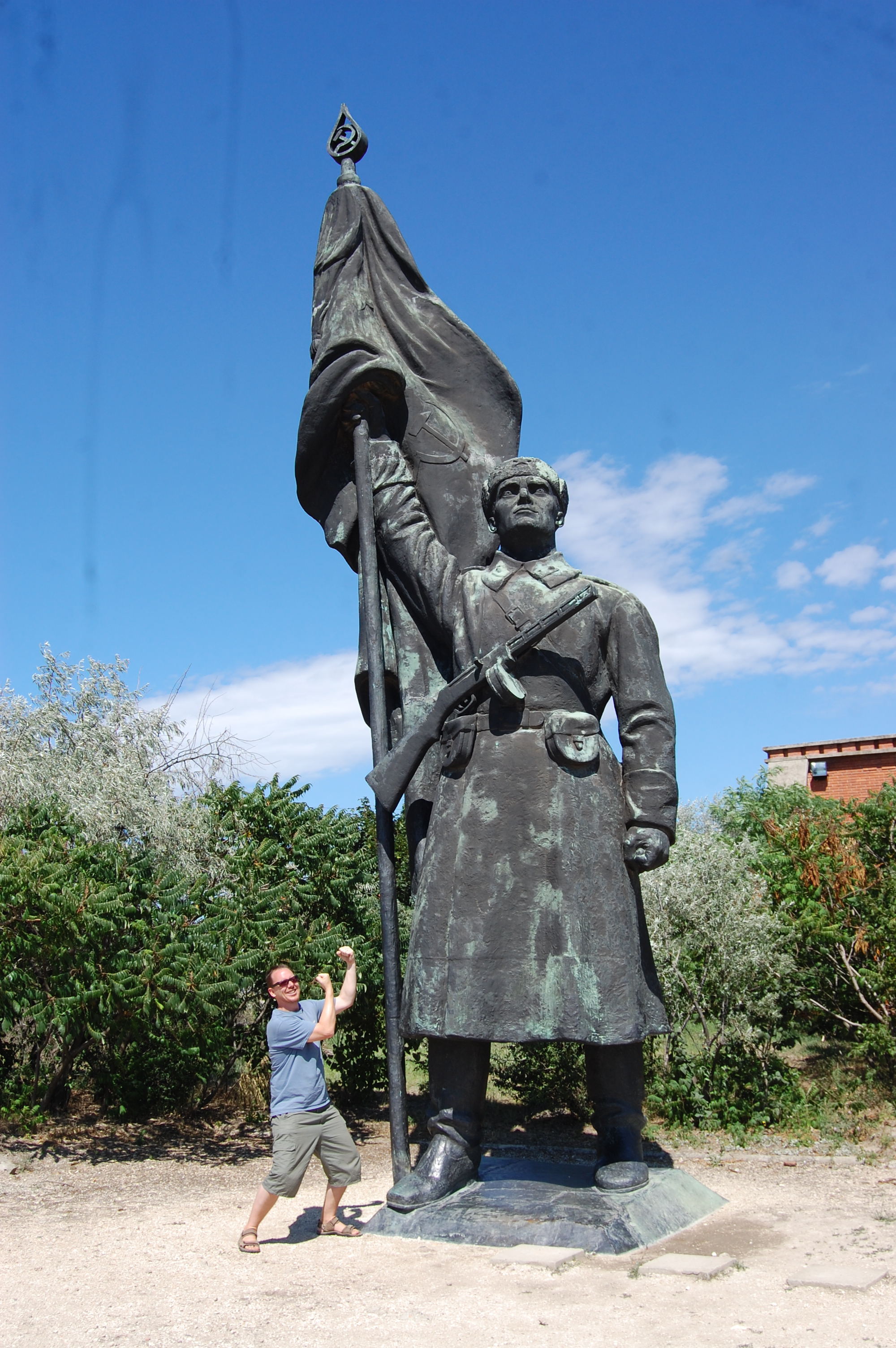 Dave the motorhome is basking in the sun on Camping Haller in Budapest (N47.47574 E19.08428), getting here after 4pm meant all the prime pitches in the shade had gone, but he's reversed next to some trees and a block of flats which will hopefully keep us cool in the morning.
After the 'heated' non-argument of yesterday, we were both relieved when the weather finally broke last night. Our lakeside free camping spot provided us a 180° display of lightning and surround sound thunder, which Charlie is now starting to take in his stride.
Shattered from too many hot, sleepless nights we all managed to sleep through it and woke this morning to find a much cooler, cloudier Hungary. Jay and Charlie headed off for a walk in search of a geezer – we assumed it wasn't the old fella type, but as they didn't find a water one it might have been – and I headed up the hill to tourist information in Tihany. Passing the throng of tourists walking down the steps from the church to the souvenir shops, completed with bunches of dried chillies hanging outsite, I only heard one English voice. It was saying 'oh look dear, there are shops here, you can buy things!', but I wasn't stopping to shop, I was on a mission to solve the mystery of the Hungarian Vignette. We'd made our way up the country to Lake Balaton with no problem, one little u-turn after we spotted a vignette sign on a motorway bypass. But as we tried to navigate around the top of the lake yesterday we struggled to get anywhere without being on a vignette road. According to our atlas they're only needed for motorways – perhaps I need a newer atlas!
At the tourist office they explained lots of roads need them, including the one we'd driven along to get to the lake (ahem), and you can buy them at any petrol station. Back at Dave co-ordinates set for the nearest petrol station. At the MOL we filled up with diesel (420HUF/l – about £1.16/l), bought some oil for Dave and our vignette. I tried to explain that I wanted to buy a vignette and helpfully pointed to the sign. Unfortunately it was in front of the  cigarettes, which sound very similar – but I got there in the end. As Dave is light on his feet he sneaks into class D1, the same as cars, so for 10 days (the shortest period you could get) it cost 2975HUF around £8.25. Had he been 3.5t or over it would have been 8255HUF, I won't curse his lack of storage space ever again! All legal we relished in our new found ability to drive and not care what road we were on as Satnav led us around the lake. Soon we were burning up the miles on the motorway.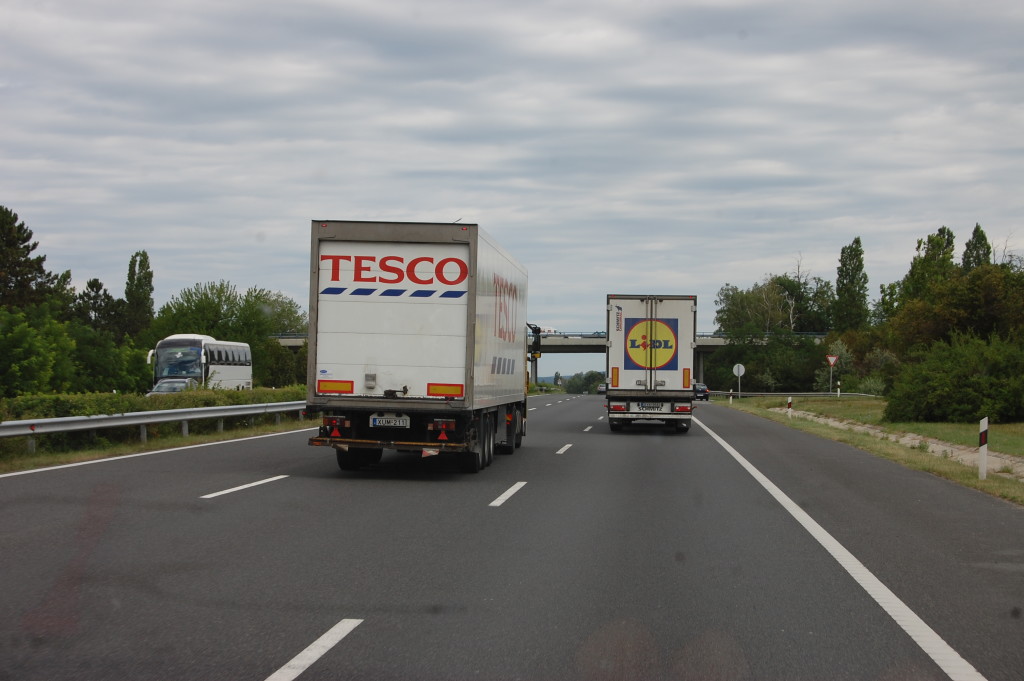 As we approached Budapest we made a detour to a strange tourist attraction we'd seen advertised – Memento Park. Some clever soul had the foresight to keep hold of the old statues from the Communist era and display them all in one place. As we drove into the tiny car park, there were only four other cars in it, we passed Stalin's Boots high up on a plinth. I don't remember Stalin's statue coming down, but I do remember when the one of Sadam Hussain was pulled down and all that was left was his feet. Thanks to a tip from a fellow traveller I got in for student price by flashing my ancient student union card – cheeky, I know, but we made up for it by buying one of their books on the 1956 Hungarian Revolution – which Jay has now read cover to cover.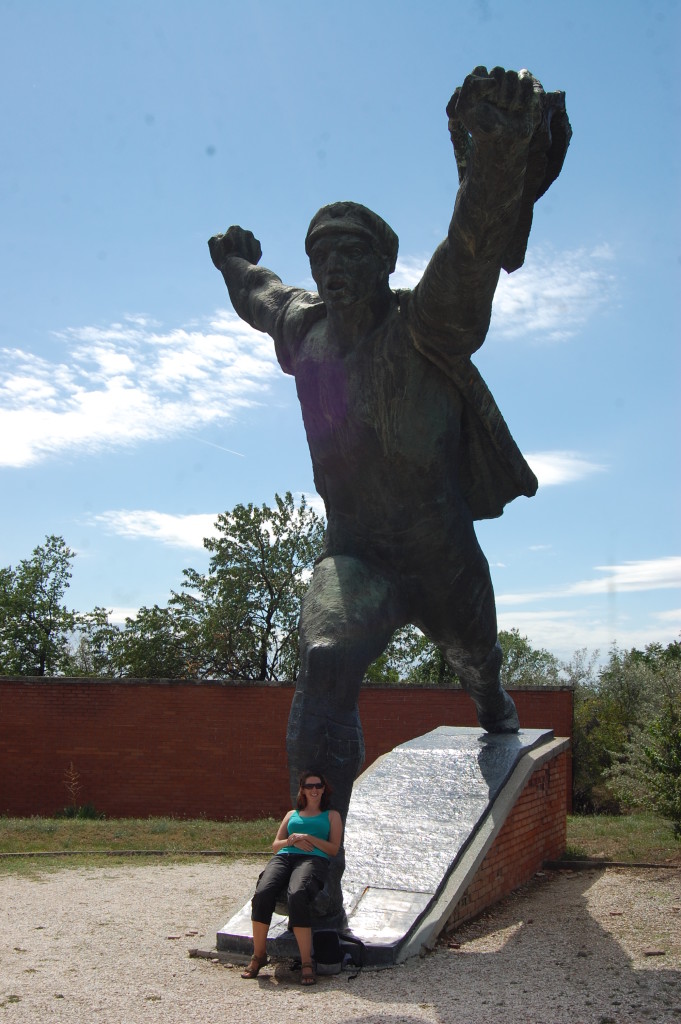 Stepping into the park we were firstly greeted by a Travant car, under Communism you could pay half for one of these then wait 6 to 8 years before it was delivered – and we complain if we have to wait a few days for items to be delivered by post! The main part of the park is laid out with a flower bed in the middle , red flowers making up the obligatory star, and paths leading off into circles around it. Around the edge of each circle were several looming statues, a man holding a flag in full Russian uniformed (like you see on the movies), a huge muscle bound man resembling the hulk, tall men waving and a people who we didn't have a clue who they were.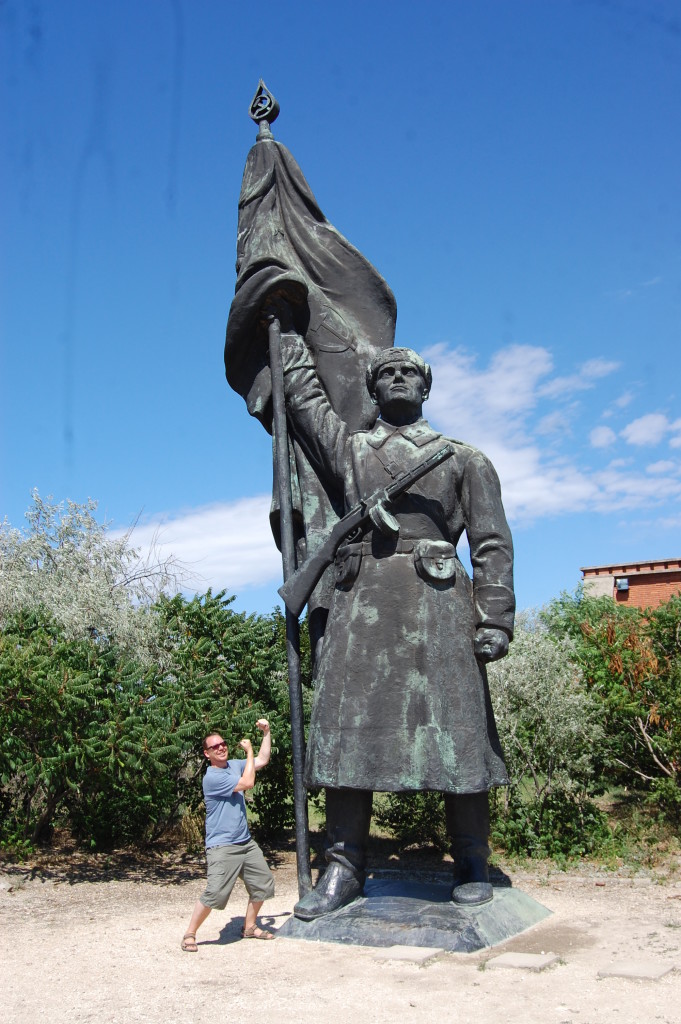 Luckily I studied A level History (if only for a few months), so I was able to tell Jay that Stalin was the one with hair and Lenin was the one who looked like Jean-Luc Picard from Star-Trek.
We knew very little else, so were somewhat worried when a Romanian girl, studying in London, asked is she could interview us for her dissertation. Anca kindly put us at ease by chatting for a while then asked our opinions on the park and Communism. Its not something I've been asked before and I guess my view is tainted by growing up in a society where Russians and 'Commies' were the baddies in all films and tv shows, but after meeting people who've lived under a communist regime, like Sasha the campsite owner near Mostar, and Pavel and his family from the Czech Republic, I hope we were able to give her something useful to work with.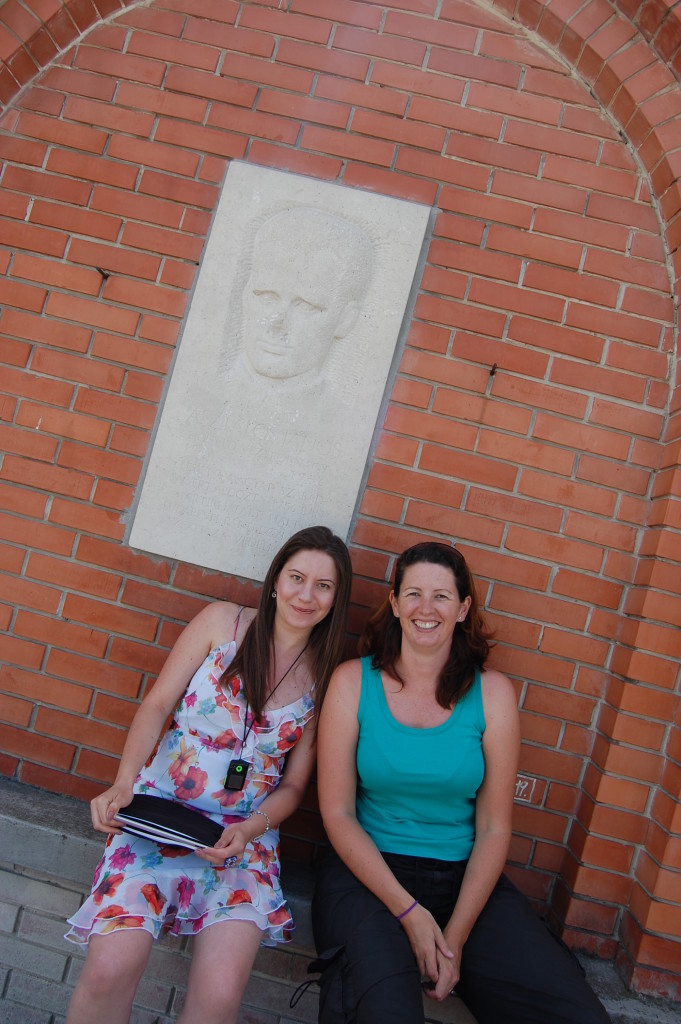 After an hour or so posing with the statues we drove the last 9km to the campsite along busy streets, we're not big fans of cities in Dave, but his size does help when it comes to pushing into queues. Checking in we're out of season for our ACSI discount card, but managed to get 5% discount because we have ADAC breakdown cover – a tad random, but we'll take it. Our friends Jacqui and Marc from Germany stopped here when they visited the city, so Jacqui gave me a heads up on the free use of the washing machine – load one is done, load two is on and I'm scouting around to make up a third load. Rain is forecast for tomorrow so Dave may turn into a Chinese laundry again, but it'll be free clean stuff! The word on the campsite is Charlie can go on the tram into the city as long as he has a ticket, so tomorrow we're off into downtown Budapest while everything is drying and charging.
Ju x