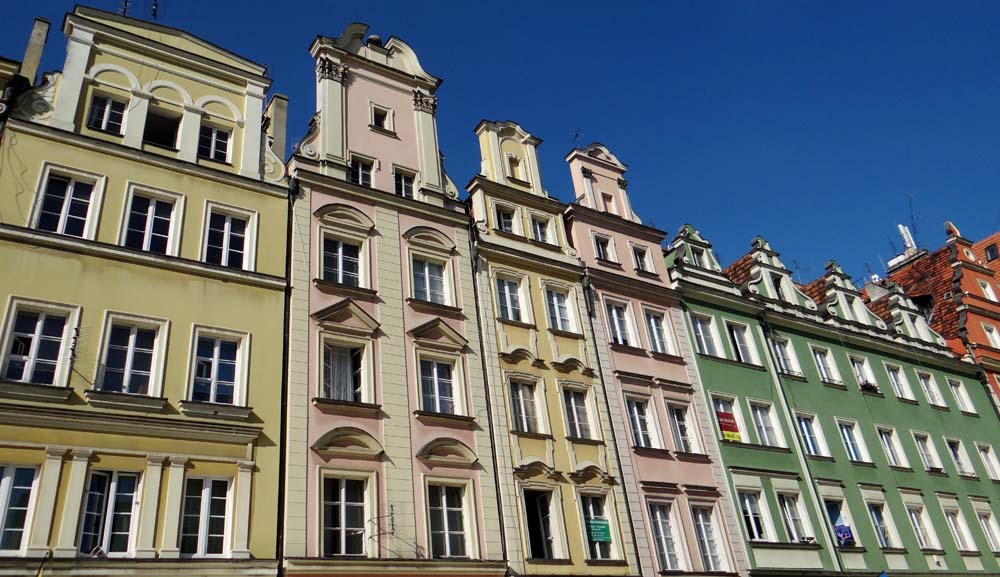 Dave the motorhome is parked up in one of the dodgy car parks I'm referring to when I tell people about some of the free places we stay for the night (N51.10150 E17.02479). In front of him is one of the main roads into the Polish city of Wroclaw (pronounced vrots-wahf), and raised above him to his left is the train lane into the same city – it might not be a quiet one tonight!
After an emotional day yesterday, we topped it off by watching Schindler's List while sitting in Auschwitz car park – of course there were tears, I defy anyone not to cry, as it further brought to life the buildings around us and the horrors that occurred in them. Jay spotted that one of the original paper lists of typed names that was Schindler's list is up for sale on eBay right now starting at $3m! It makes you wonder who else's life that movie had changed – without it I suspect the enamel factory in Krakow would be a ruin and a Californian collector wouldn't be about to become a multi-millionaire.
We were the only motorhome left in the car park when they locked the gates, we spotted several staying the night in the car park across the road which turned out to be five zloty cheaper – I guess we should ask before we park, but as it was only a euro difference we notched it up to experience and savoured our peace and quiet.
This morning it was decision time, once again. Out came the maps and guidebooks, but try as we might we couldn't find anything to tempt us in south-west Poland – sorry Poland – apart from Wroclaw where we had visited before many years ago on a very drunken weekend with our friends Claire and Mark. Eyeing up the toll road motorway we decided to make a run for the border – it would be a long drive but by teatime we'd be in Germany, land of Stellplatz and expensive things.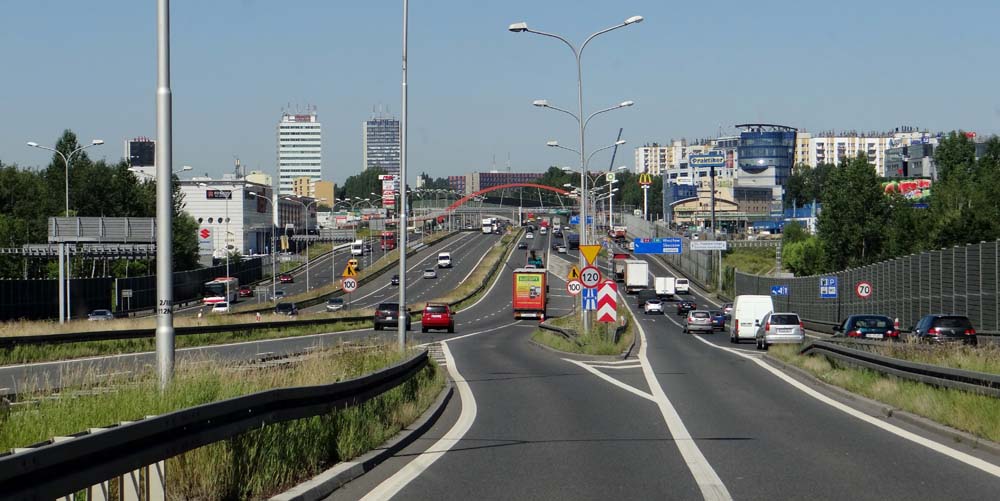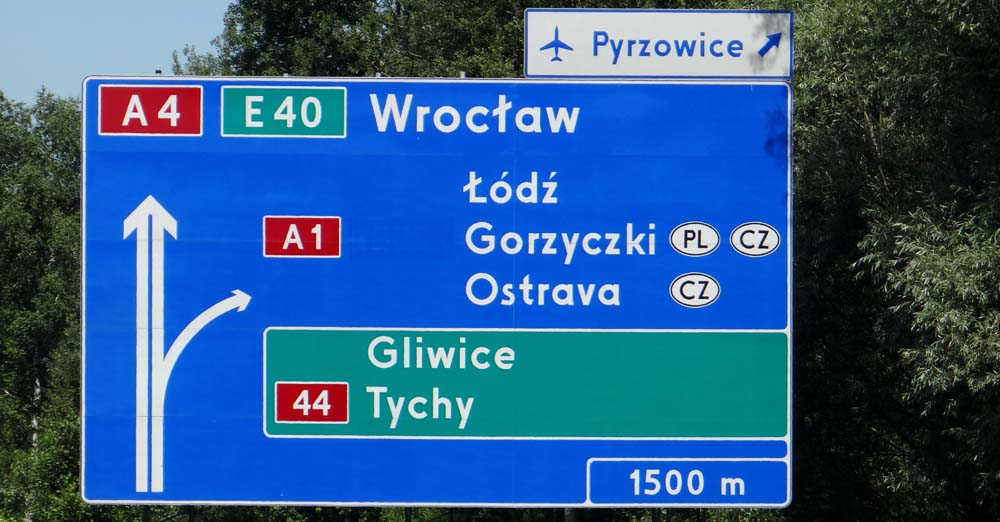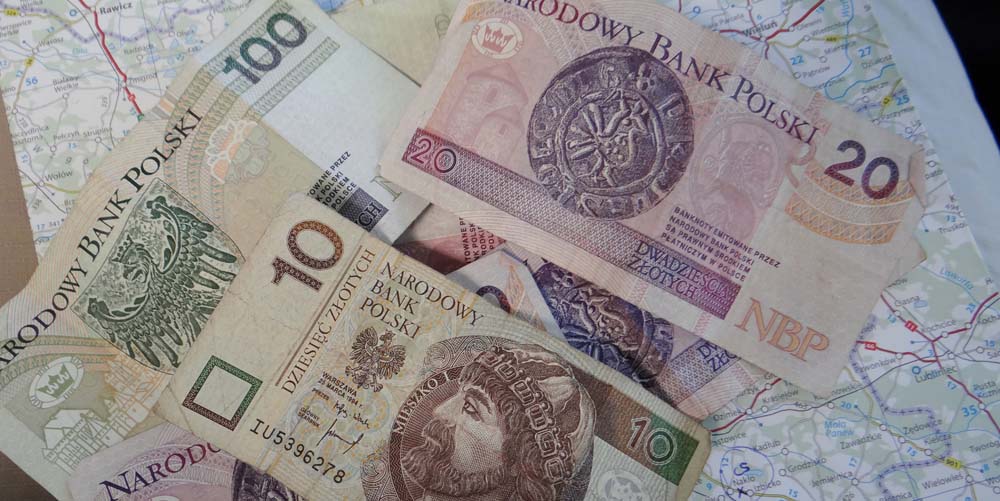 As we got onto the main road satnav cheerfully chirped 'follow A4 to Wroclaw for 332 kilometres'. We eyed up prices in petrol stations as Dave would need to fill up to make that distance and worked out that it's around €1.40, so would also be cheaper to fill up here than in Germany. The scenery around us for kilometre after kilometre was a mixture of industry and wide open farmland. Combine harvesters spat out plumes of dust as they worked the fields with eagle-eyed birds of prey waiting on the power lines to swoop on an uncovered creature for their lunch. Just after noon we pulled into a motorway car park and had a cuppa and some biccies while checking our progress. Wroclaw was starting to look a tad more inviting, after all it perfectly splits our journey in two and we knew of a guarded car park near the historic centre. Change of plan – Wroclaw here we come.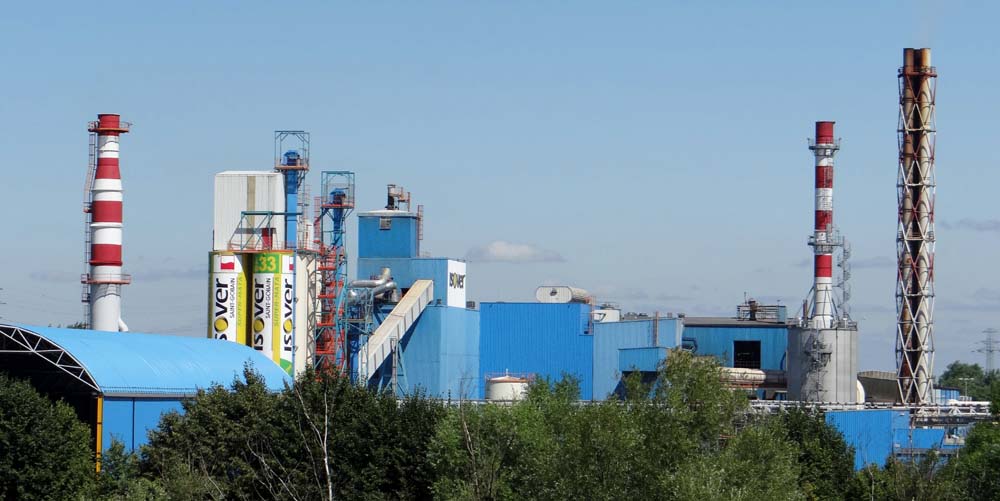 When we finally reached the toll booths, having driven the entire stretch of the toll road from Gliwice to Wroclaw, the woman in the booth leant out and looked along Dave trying to assess his length. Next to us a Dutch caravaner was deep in conversation with his toll booth attendant, arms were waving and we suspect he (and his mate behind him also with a caravan) might be classed as being too long for the lanes we were in. Passing over our laminated card which lives on Dave's dashboard and reminds us of his height, weight, width and length (often vital information needed in a hurry) the attendant looked at the side which had his tyre pressures and wheelbase measurements before nodding in agreement – we are a short motorhome and worthy of her lane. The price flashed up as 16.20 zloty (about £3.30) which we handed over quickly and drove off before she changed her mind – a bargain, we've saved way more than that in fuel by cruising along the motorway.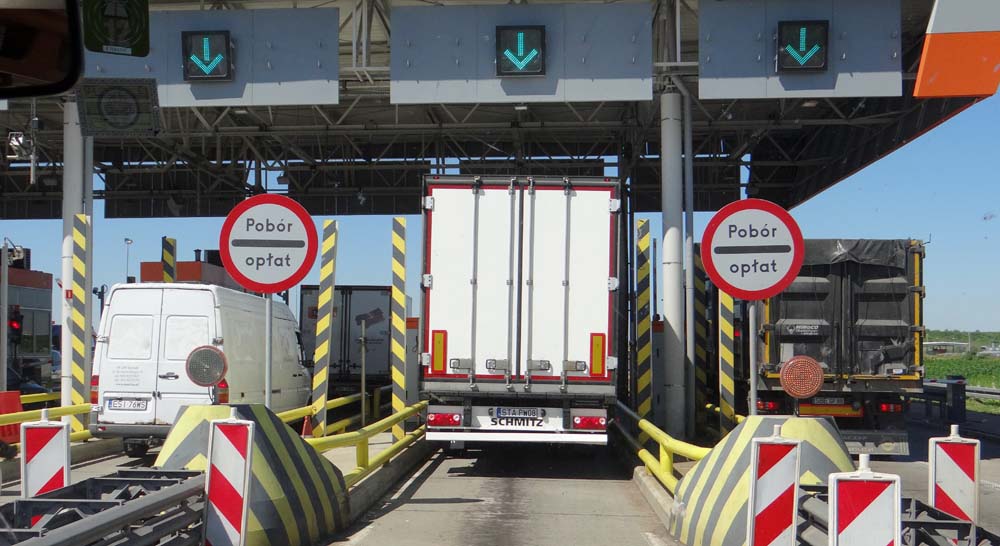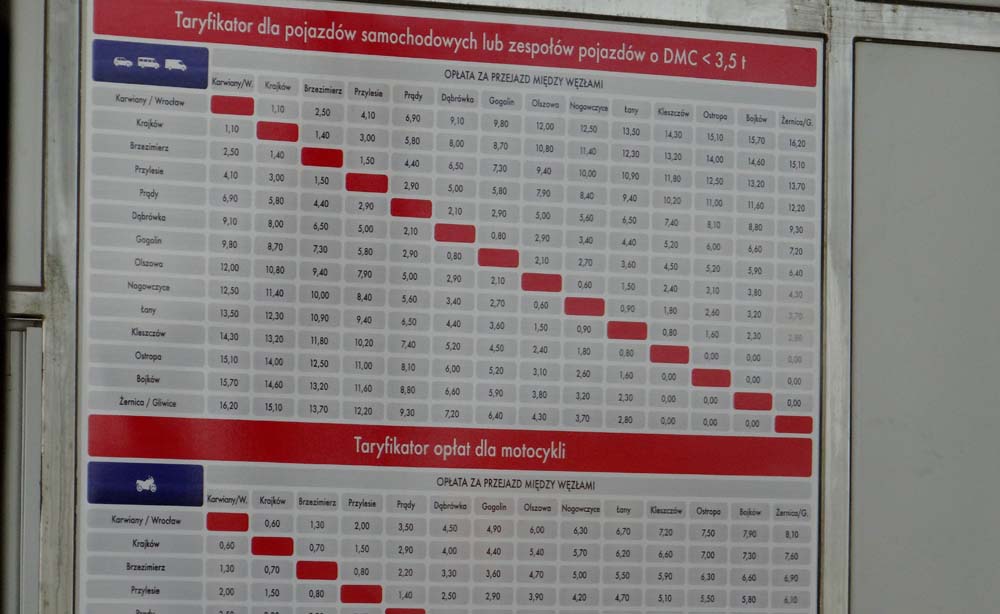 As we approached the city a huge shopping complex loomed into sight, this could be my last chance to get some cheap Polish goodies, so we pulled in and after filling up with diesel and LPG at their petrol station I headed in. Yes me, all alone. Jay opted to stay in Dave with Charlie as the temperature was rising and with him there the windows could be left open. Armed with a very short list and a need to look at every aisle, I was in there for at least an hour, but only managed to spend €55! Although I did have to spend at least five minutes looking for Polish wine, didn't find any, and another fifteen minutes trying to work out how to get fruit on the list of products on the weighing machines in the fresh food section. To price the mandarins I'd picked up I needed to put them on the scales and select number three, but the list only started at 45! Turns out one of the many buttons on the screen said fruit in Polish, still I got there in the end!

Once my shopping excitement was over Jay headed into the DIY store next door to pick up a fibreglass repair kit so Dave's front grill can have a bit of a fix (it's been split for ages and held together with silver duct tape). Finally with Dave's cupboards groaning once more we drove the five kilometres into town. Satnav guided us in perfectly, but on arrival we questioned if we were at the right place. There is a small fence around it, but it's not guarded, the gate is wide open. We looked around at the signs to see where or whom we pay, but there was nothing. All the street parking around us is paid, so it looks like this must be a anomaly, either that or the parking attendant finishes at 4pm.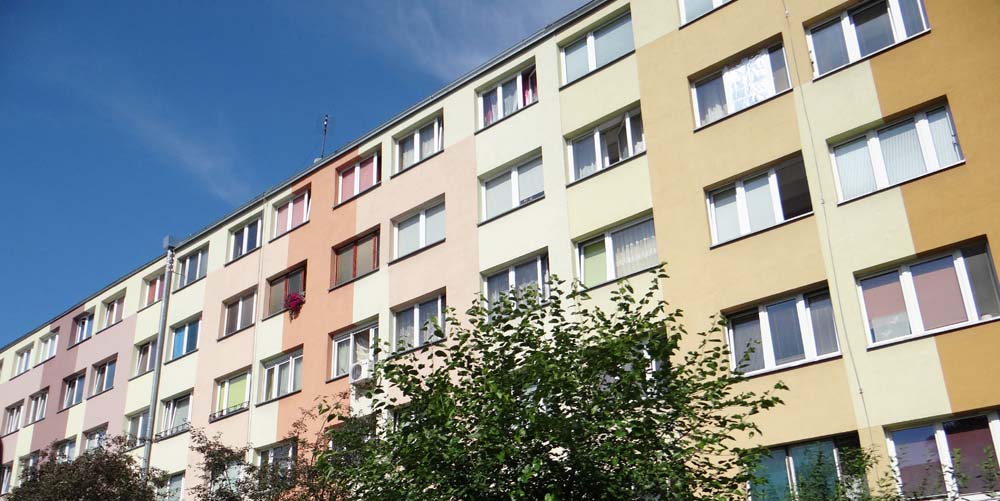 Checking around the place looks run down but safe enough, so we set up false Dave (pillows under the duvet of our drop down bed), pack anything thievable into our big rucksack, close the curtains and set off into the city. After only a short walk we found ourselves in the beautiful old square, only things have changed a bit in the last few years.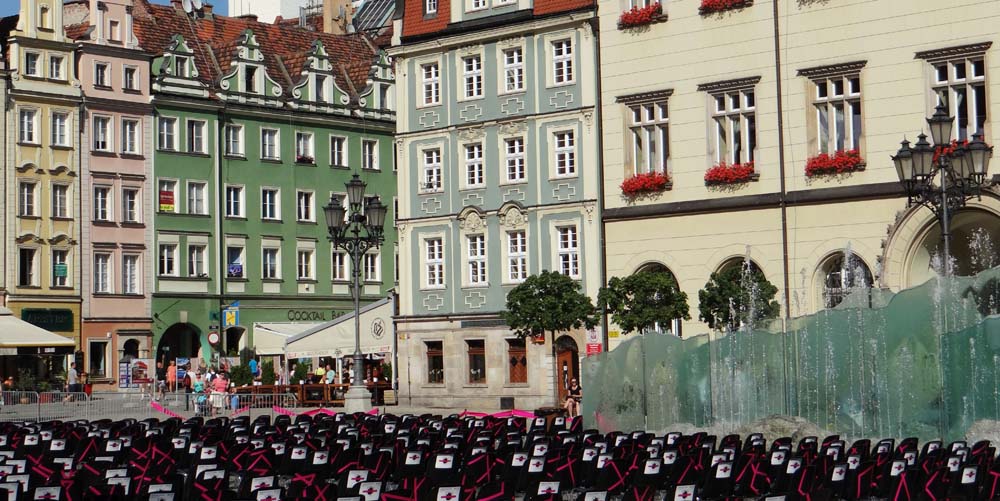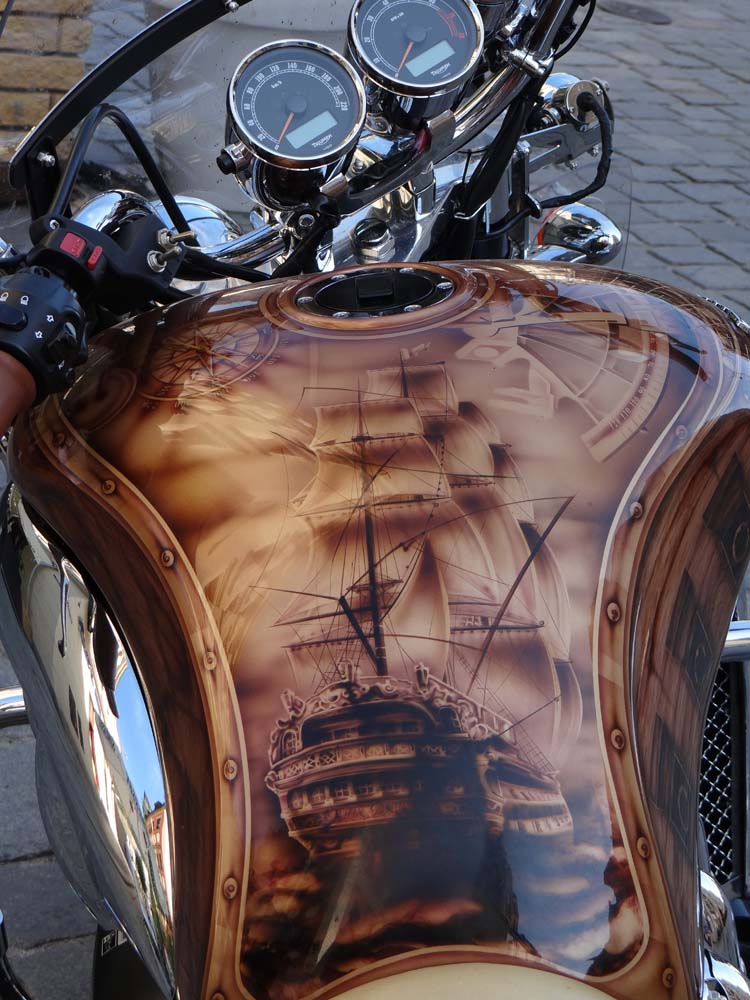 We'd flown into Wroclaw with Ryanair on one of their first flights to the city during a very cold winter – so cold that the river had frozen. As our taxi drove us along the rough and bumpy road into the town we wondered what we had done, passing row after row of run down, grey, concrete housing blocks. The very centre of the city was picture postcard perfect, with quaint little bars and a couple of restaurants so we barely ventured out of it. We sheltered from the cold in a tiny vodka bar, we were the only customers, and drank for what seemed like ages running up a bill for around £10. We dined in a very posh, but still cheap to us, restaurant on the main square overlooking the ornate town hall, and ice skated in the square itself. Our days were spent seeking out the bronze statues around the place; animals and people but mainly little gnomes doing all manner of things. Our hotel was one of the cities best, just behind the main square – everything in the mini bar was 50p – vodka, pop, beer and crisps it was all wonderfully the same price!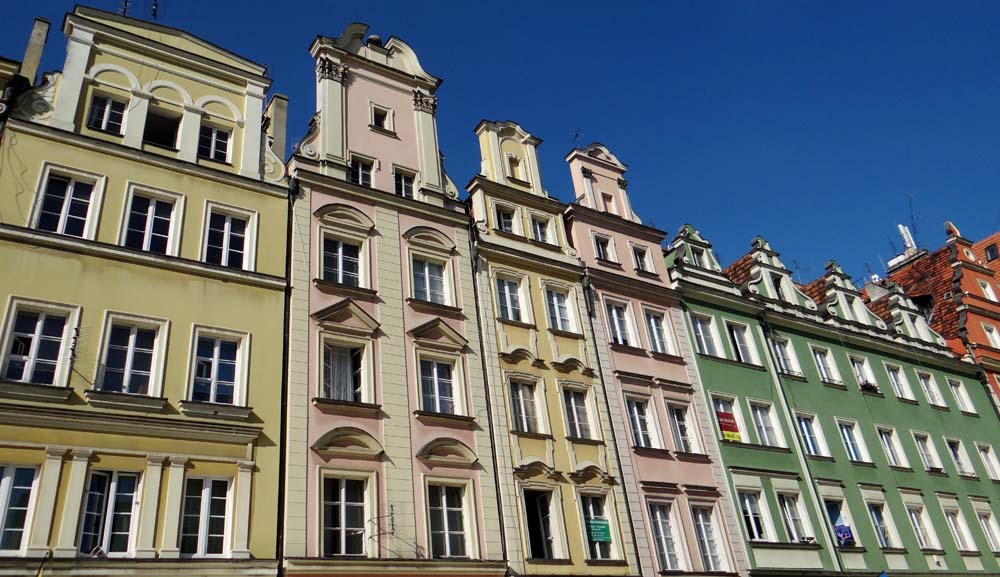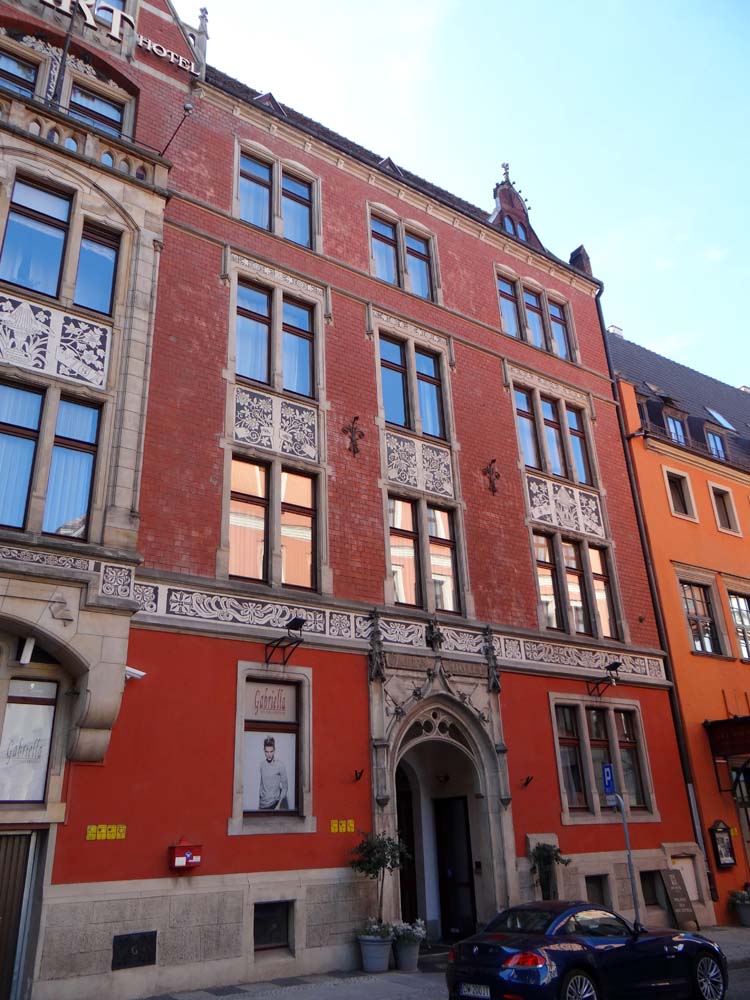 While there were lots of improvement works taking place they centred just around the edges of the city, but once you were outside the loop of rainbow coloured buildings surrounding the main square it was grotty. As least that's what I remember.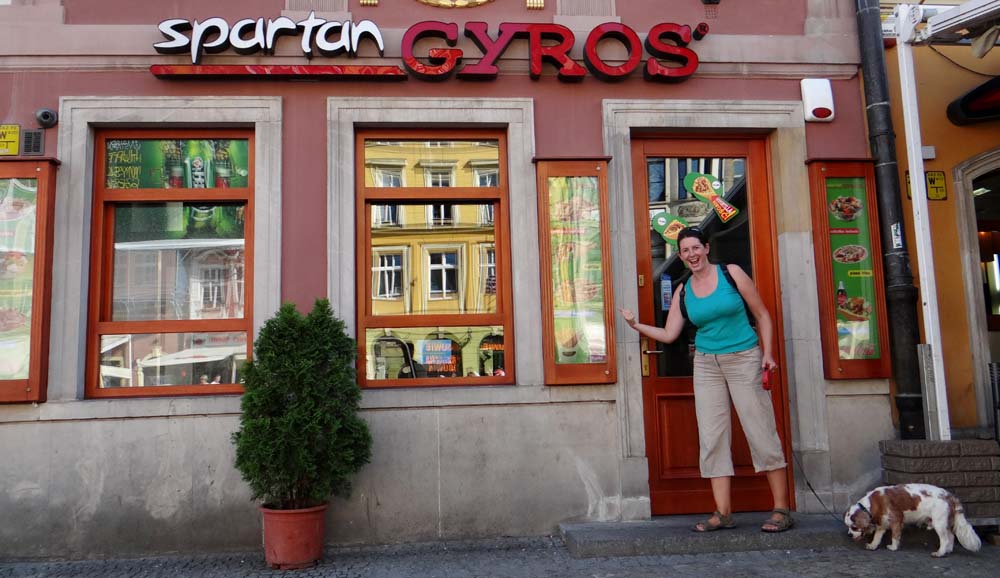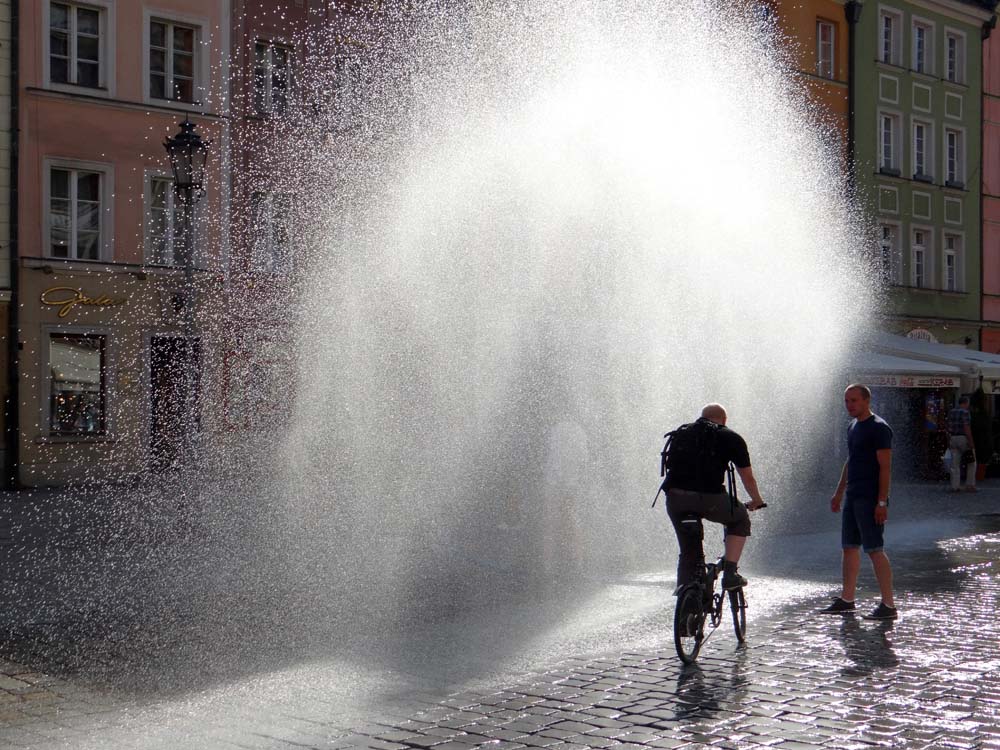 Arriving today things seemed very different. Maybe it was the sunshine, or the fact that we've seen some very run down places on our tour, but the town seems much more welcoming, alive, and some bits are even modern! The grey communist blocks are now multicoloured and the road is still bumpy in places because it's cobbled – not because it's worn out. Sadly the little vodka bar has morphed into one of a chain of eateries that you can visit anywhere in the world, and the rest of the square has also been taken over by Pizza Hut, Starbucks, Sushi and Mexican bars. We searched for the posh restaurant which might still be hidden there somewhere behind the rows of pavement cafe umbrellas. We did however find the hotel we stayed in, and while it looks exactly the same it now shares its street with a modern looking business centre.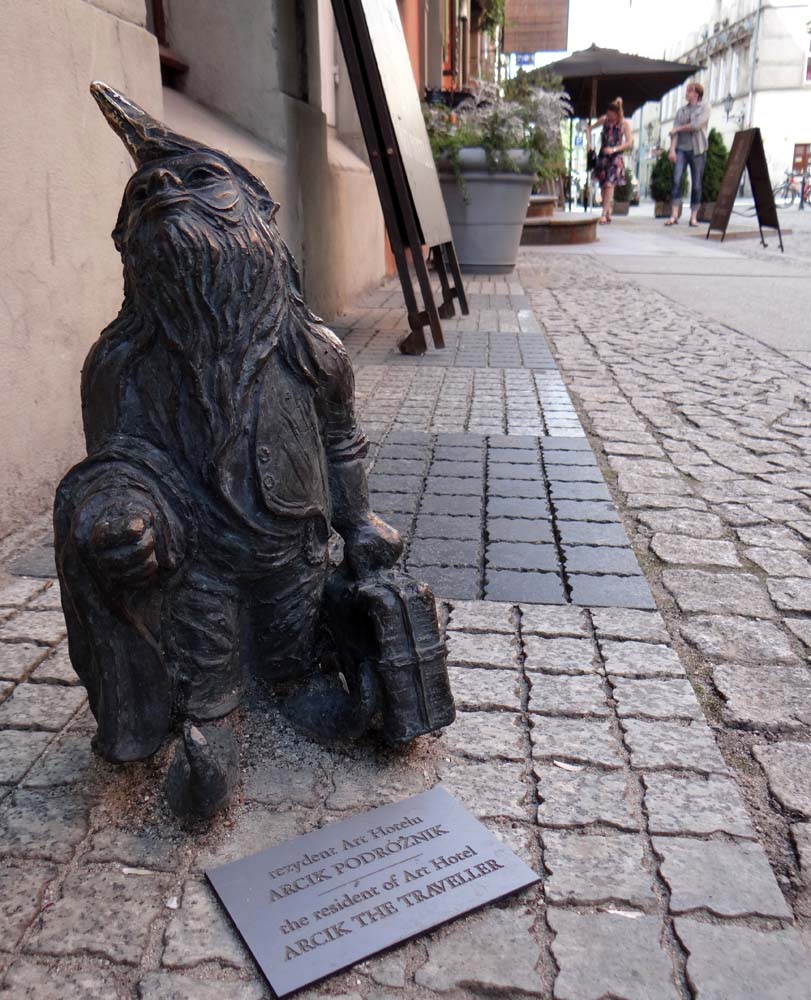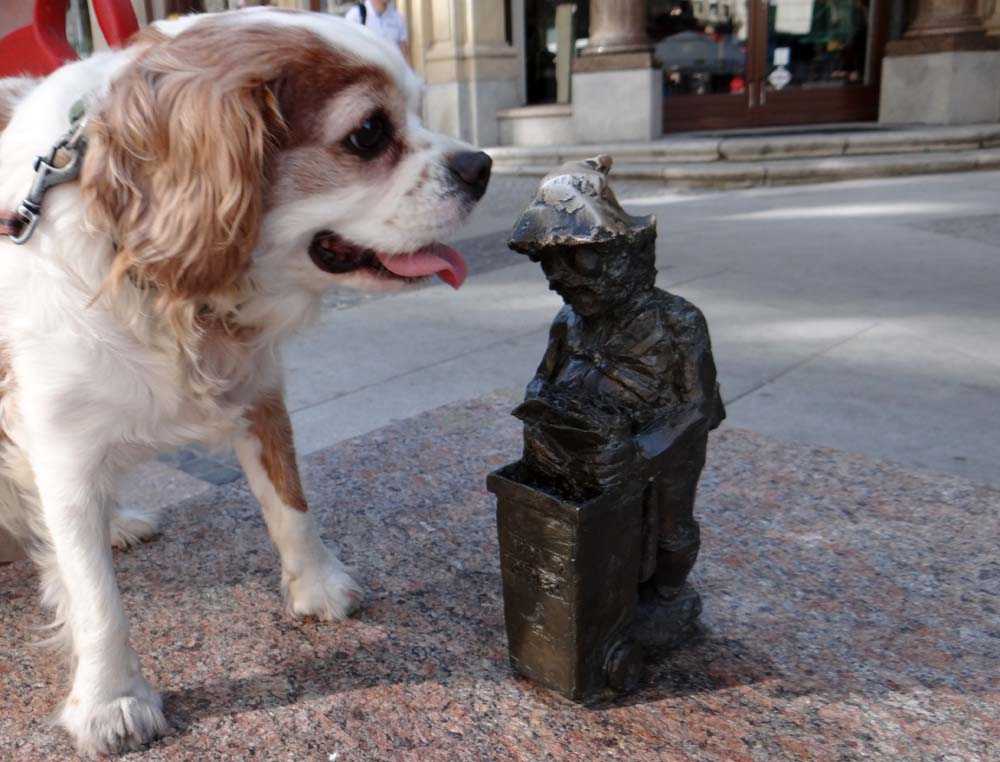 As we strolled around we spotted a stag do dressed all in their lime t-shirts, which is impressive seeing as it's Wednesday – they must be going for a whole week of it. Our guidebook tells us this is one of the top places for stag and hen do's, so we're quite glad we're not here over a weekend (we're too old for that sort of thing now!). I'm glad the place is doing so well and I'm glad we decided to stop off to visit again. I wonder if the people here have noticed the change which has gradually crept over the place? A bit like a child growing, you only really see it when you've been away for a while. But finally, I'm glad Dave was still there when we got back and in once piece – good old false Dave!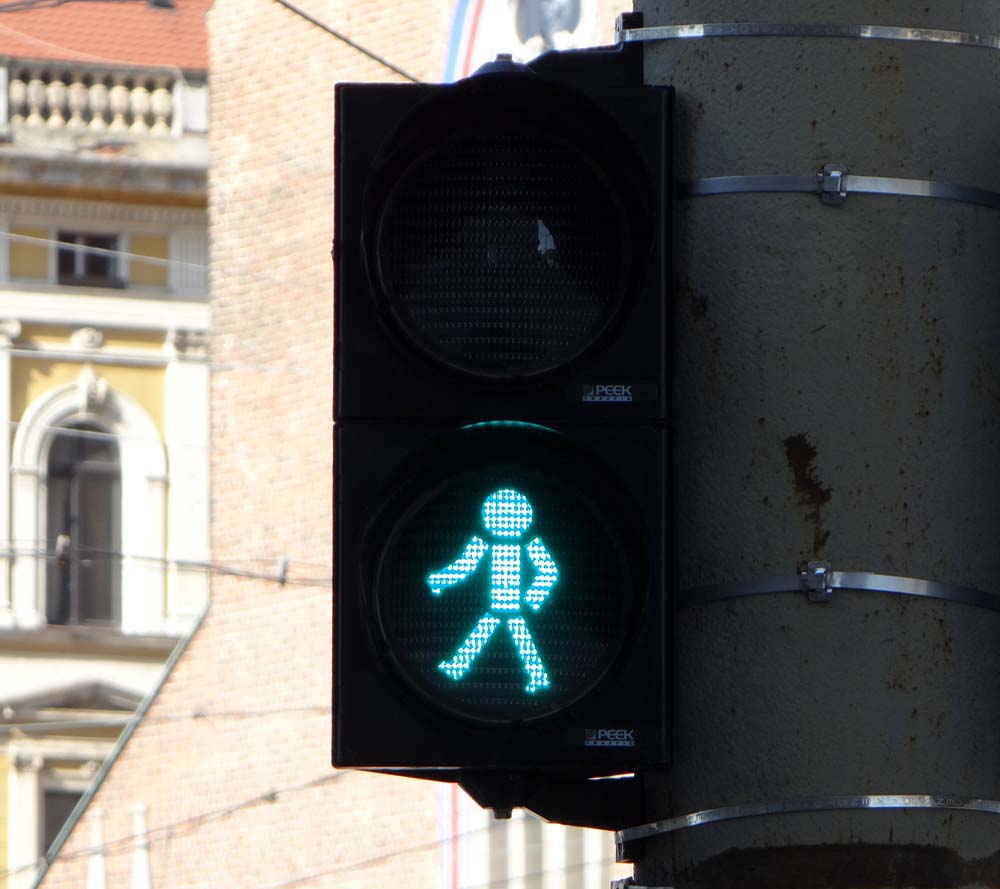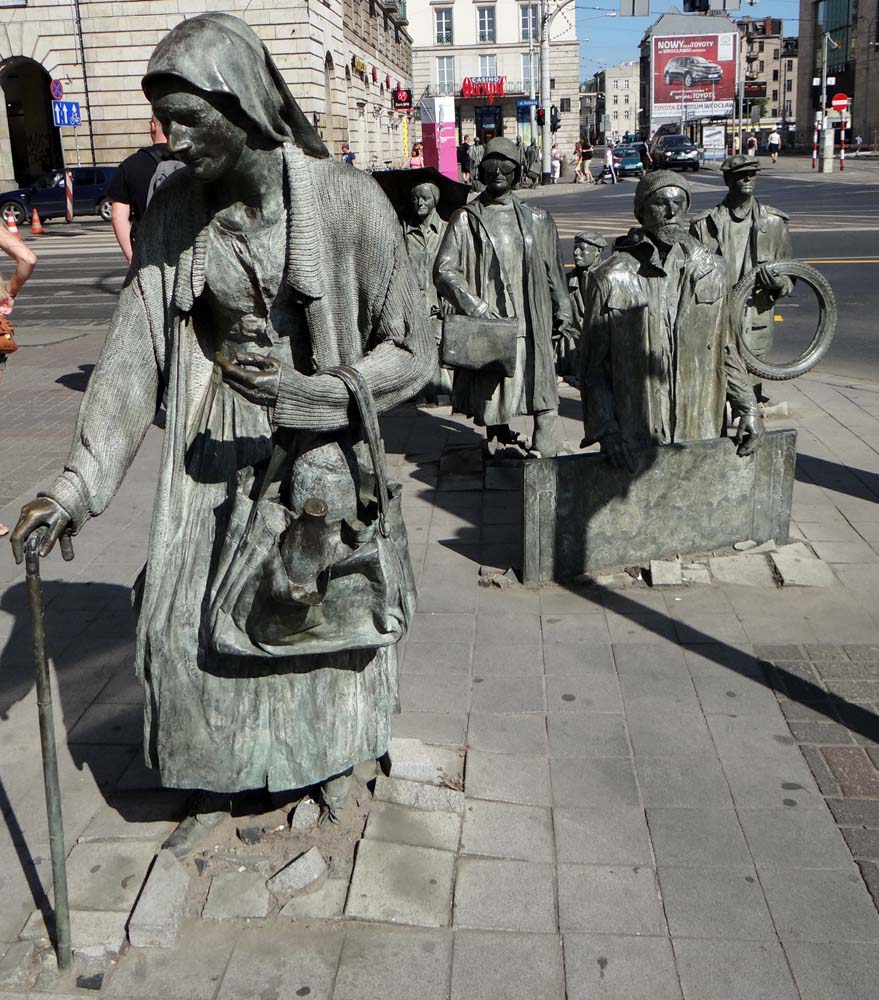 Ju x
One for my Dad and Brother!