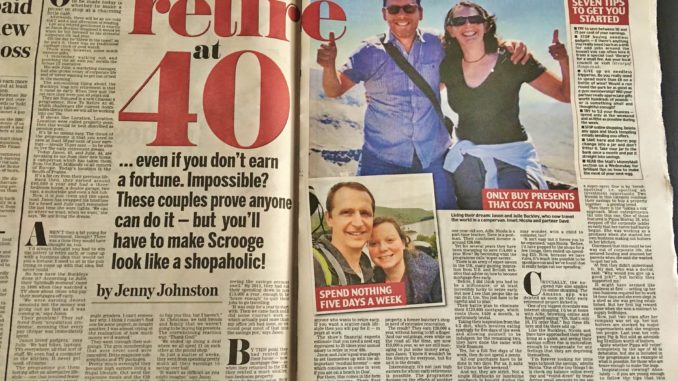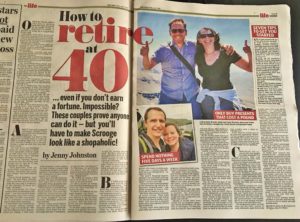 In the future, everyone will be world-famous for 15 minutes – Andy Warhol
OK, it might not be global, but it looks like our fifteen minutes are happening. After chatting to someone about how we retired early, we're part of a TV programme called 'How to Retire at 40' and to help promote the show we were interviewed by the Daily Mail.
The article in the paper kind of got it right, but as it was written for mainstream media (we don't drink G&T and I never really wore tights a lot!) it sort of glossed over all the years of hard work that took us to where we are today and the reasons why we did it. If you regularly read this blog then you'll know that we have been working towards our financial freedom (we don't tend to say 'retired') for a good few years now and will have no doubt seen all the stuff we've already posted on here about doing just that.
Hopefully some people may have just found our blog after seeing the article or show, so we thought we'd pop this post up to give you some pointers as to where to look for more information. If you want more detail about how we got to where we are and why (financially-speaking), the easiest thing to do would be to download a free copy of our eBook called Funding Freedom.  This was written in April 2016 a few months after we 'retired' and lets you know our story and what you can do if you are interested in getting on the same path.
You can also check out the section of this blog that has all the posts about money and financial freedom, and Jay has recently started writing a new blog specifically about this topic called The Matrix Experiment. It's still in its infancy, so it's worth subscribing to get updates when he writes something new.
Right now we are sitting on a mountain waiting for the Tour de France to cycle by in a few days. Being financially free gives us choices, the choice to sit here for four days, the choice to not go to work, the choice to go to work and do something we enjoy and the choice to head home and spend some time with our friends and family – which is what we're doing next.
Julie x