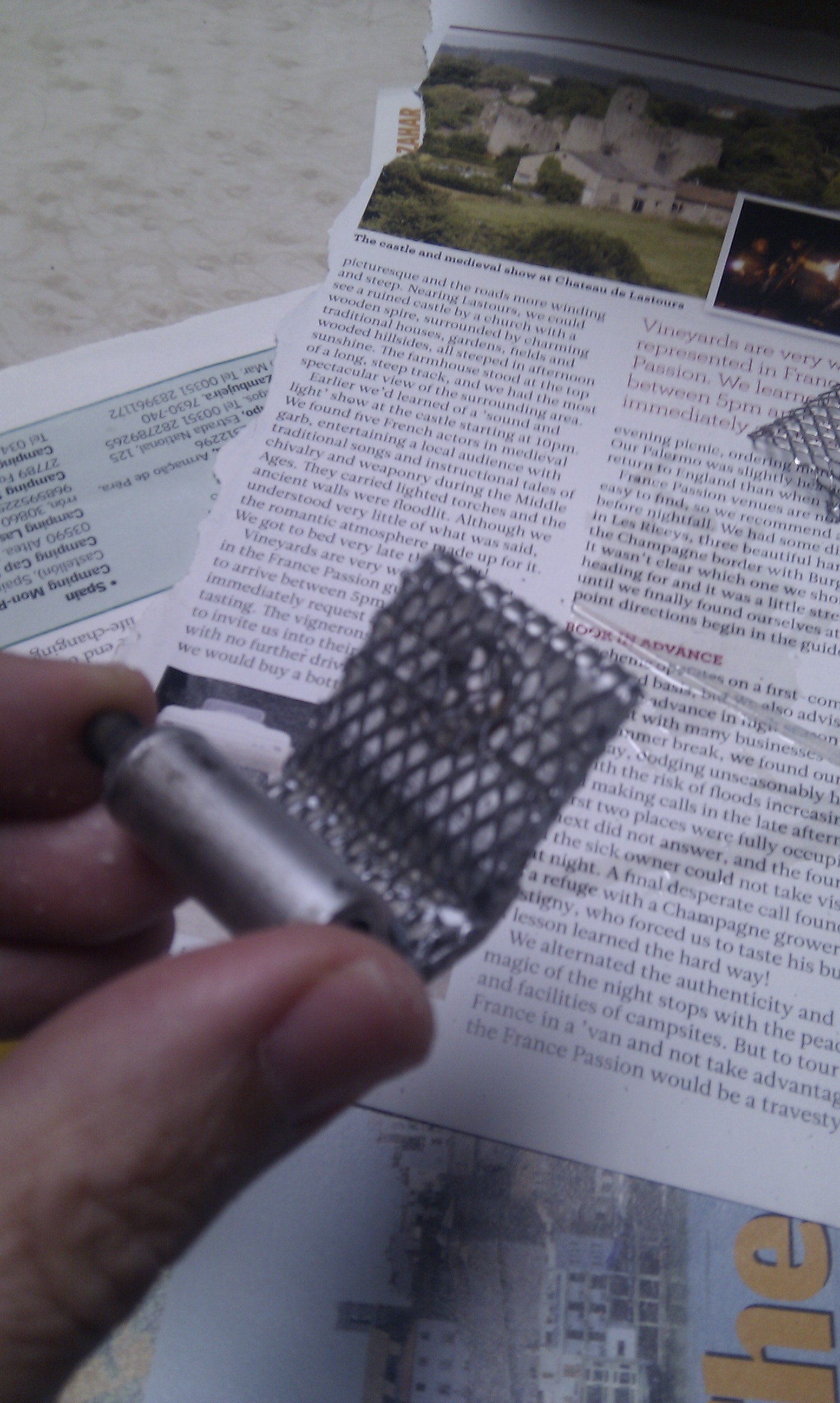 We're here: N43.81639 E6.09209
Weather: The rain has gone and it's sunshine and clouds :)
This morning as Jay donned a pair of latex gloves and Charlie hid, but it wasn't time for any veterinary tasks, it was time for a more permanent fix to our broken door hinge. The bit of plastic plate we'd super-glued and duct taped to the hinge wasn't holding, and Hymer UK priced the replacement part at £30 – it's only a tiny bit of metal. So, armed with metal mesh and very strong glue/resin – the sort that needs mixing out of two tubes – J set to work. He created an exo-skeleton for the hinge from the mesh and used the resin filled in the gaps to hold it all together. I'm really impressed. It only cost €11 for the bits and there's plenty of the stuff left.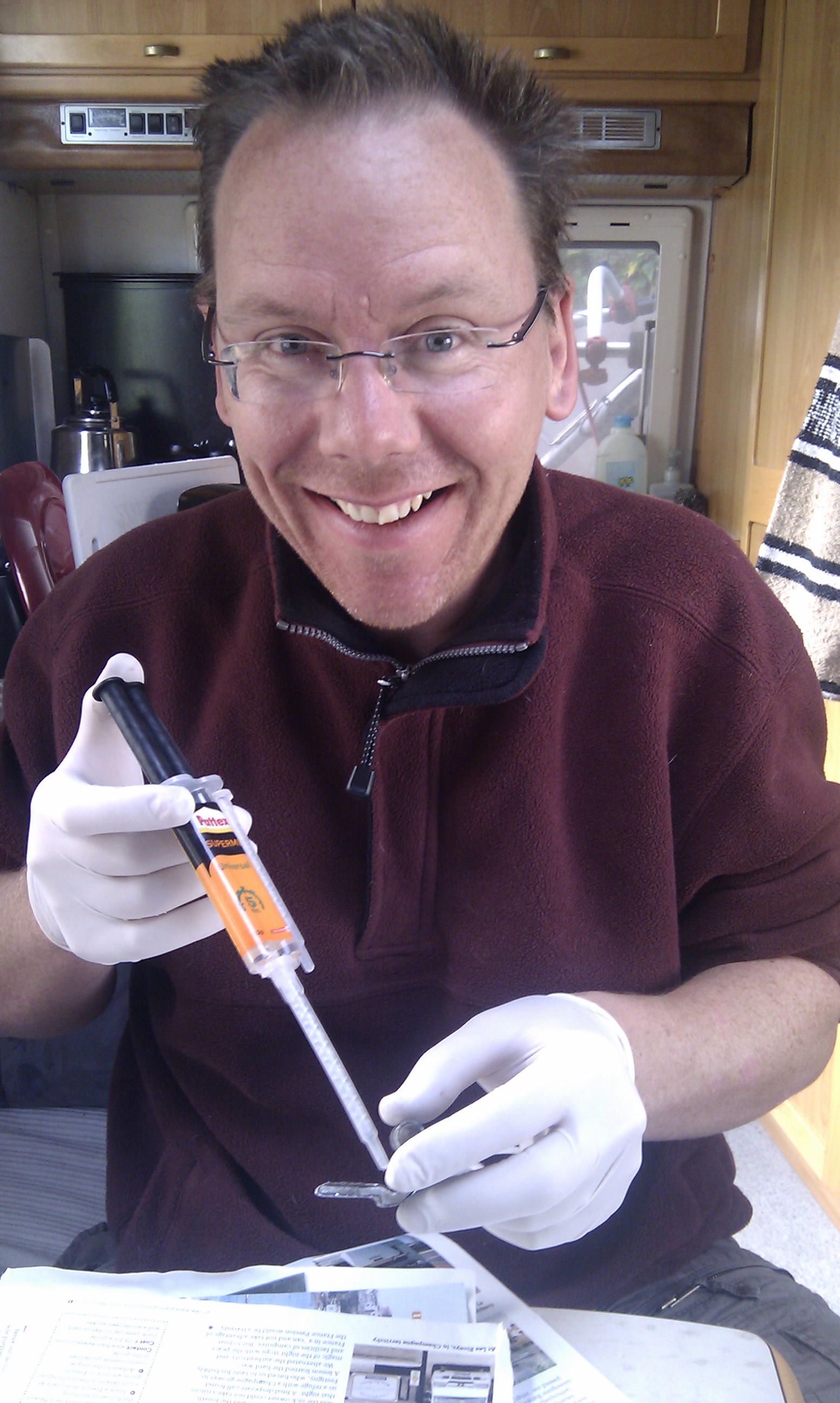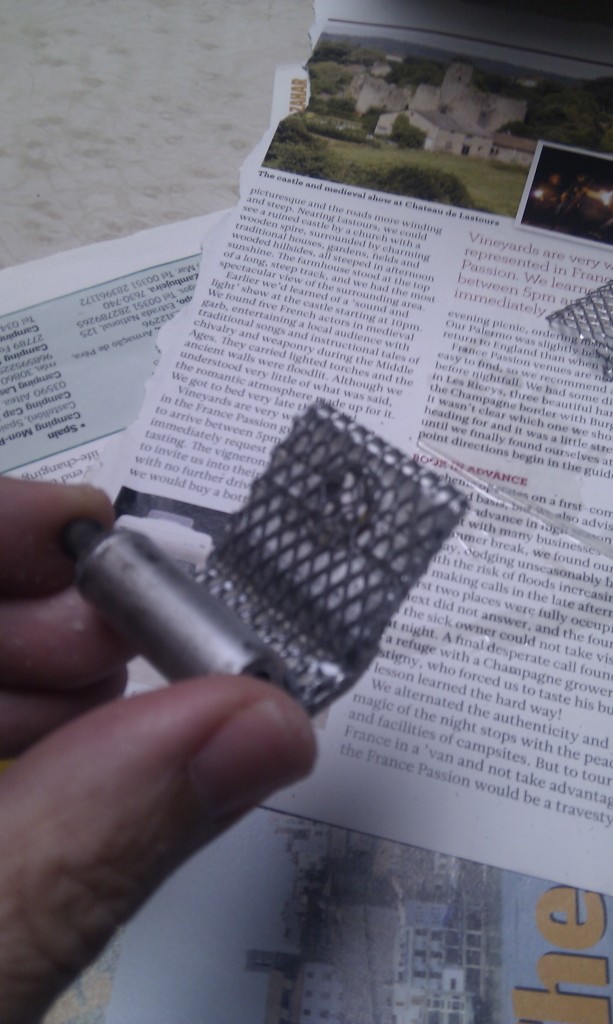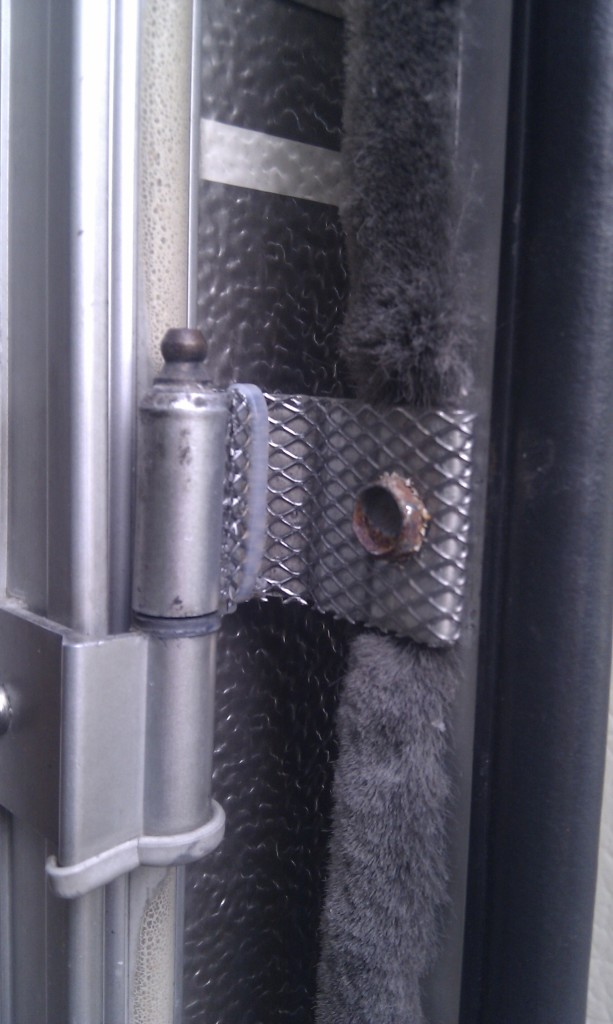 Once the door was back in action we headed off the trailer park, followed by two local lads who had been wandering around all morning. I don't mean to be cruel but they reminded me of dumb and dumber. One of them was wandering around in big dark sunglasses, gold chains and a white shell suit – I'm not sure he knew exactly where he was. I was quite glad to leave the trailer park, it wasn't in the most inspiring of places. It did however have a wonderful range of 'units' on it. Caravans with wooden panelling, some with small huts attached to them and there was even a static caravan with shutters painted to match the small touring caravan parked next to it. But best of all – a stone clad caravan, I think I've seen it all now!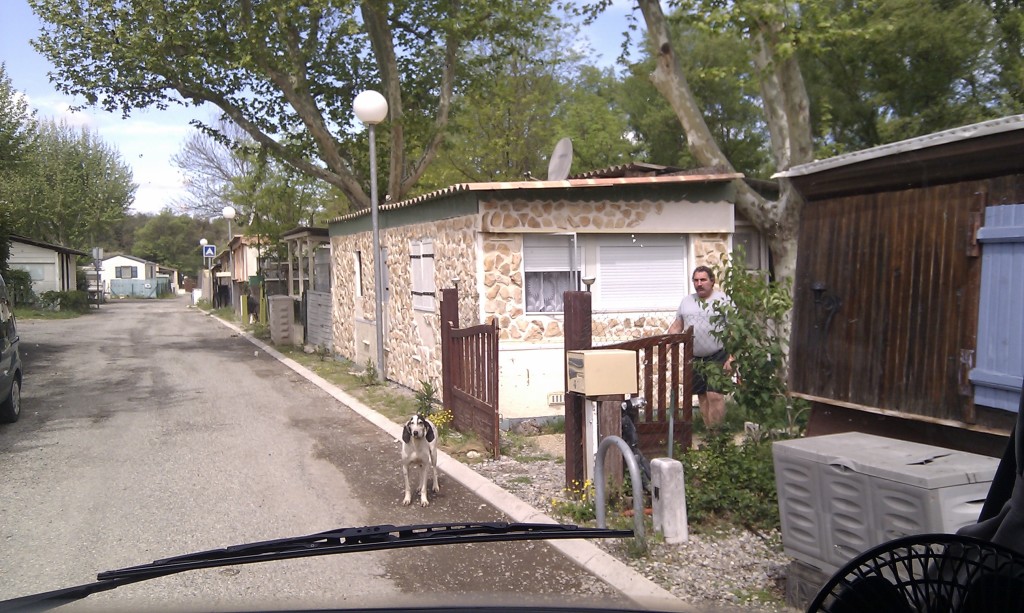 As we drove out of the town we could see the snowy peaks of the Alps on the horizon. Yesterday the rain and mist had obscured them, and now we could see just how close we are to the Italian border. We passed a centre for nuclear studies which was surrounded by serious looking electric fences that would keep a velociraptor in (or out). Peering through the fence as we drove along all I could see was paper strewn offices, no sign of Homer Simpson with a green glowing stick in his back pocket.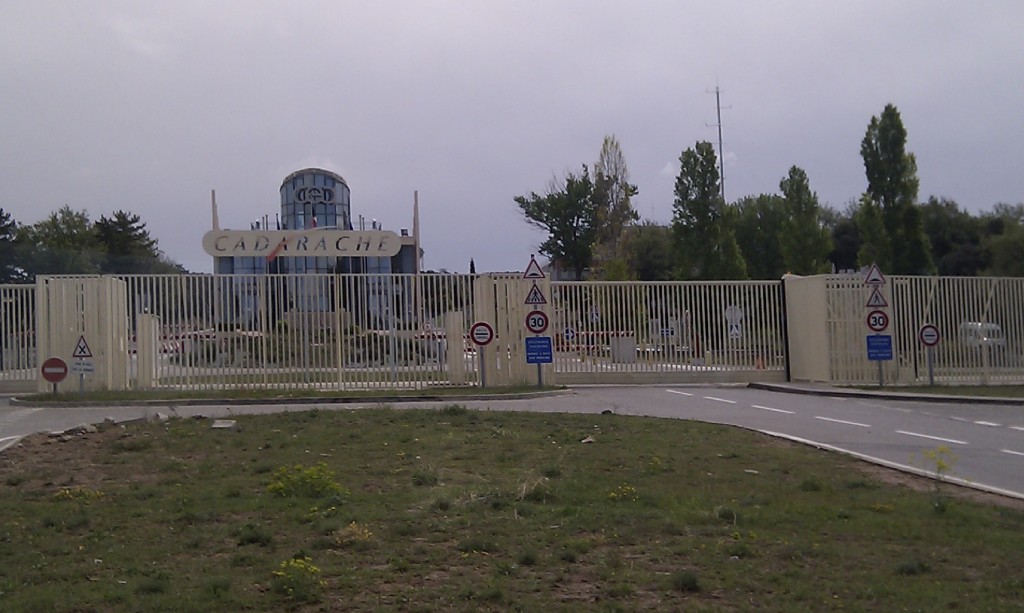 The prices for fuel seem to be going up as we're getting closer to the Italian border, could it be that they are easing us into the shocking high prices we'll see there? Needless to say we didn't stop to fill up, we'll wait for the next big supermarket as the fuel is always cheaper there.
As we made our way through the small towns and villages we spotted a keen musician by the side of the road. How did we know he was keen? Well, he'd got his music stand set up next to his parked car and was playing his trombone out into the woods – we suspect his wife probably isn't as keen on his musical hobby! Dave found himself mixed up in an international convoy of bikers, it seems to be a top area for 'scratching' around here. Jay sensed their frustration at having the group split, so let them pass when it was safe to do so, but it didn't stop one of them heading off down the wrong side of a road barrier to get round us.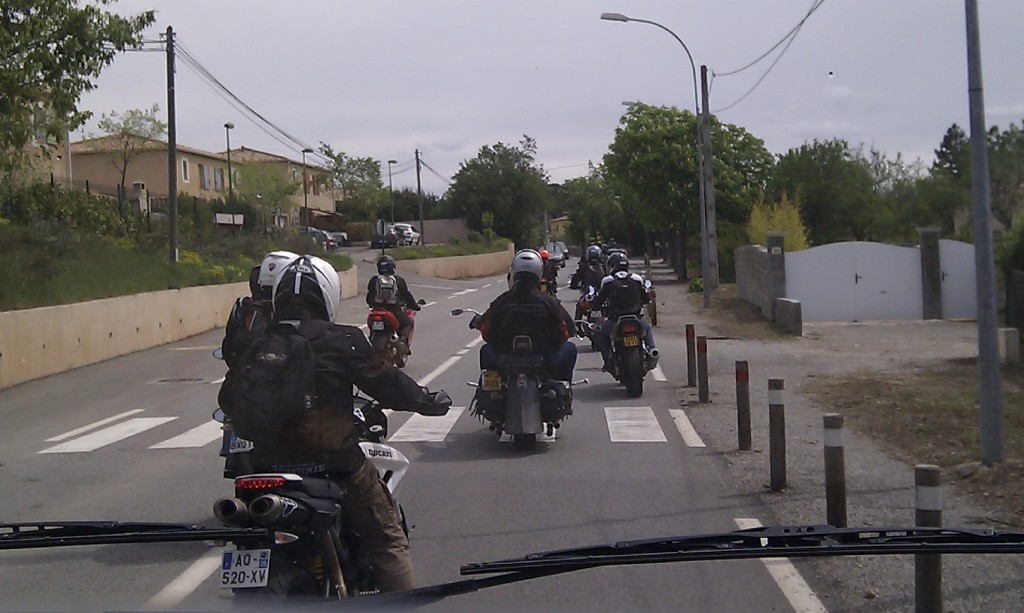 We arrived in Riez and were pleased to find several other camping cars in the car park. We pulled up and while I chilled out in Dave, J took Charlie for a walk up the hill next to the town.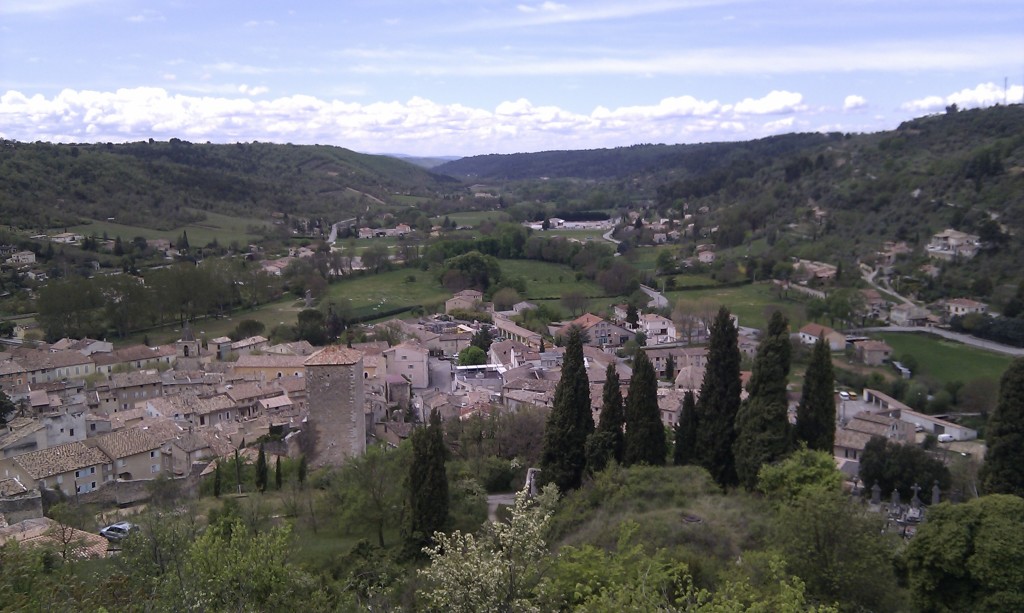 We've also all been for a walk around the little town and to the local Roman ruins – the bizarre set of columns in the middle of a field.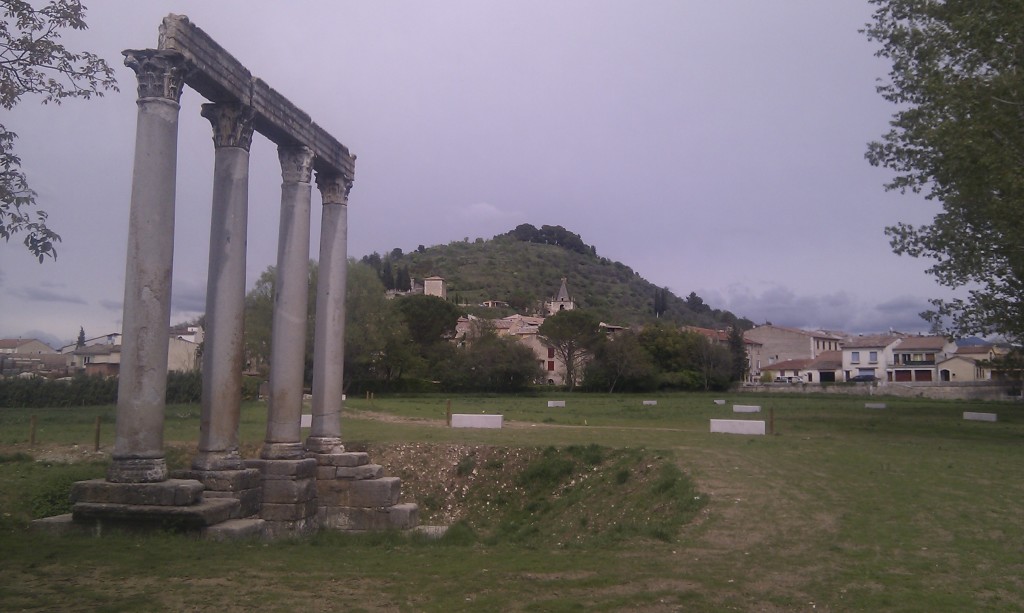 Most places are closed today as it's May Day and unlike us Brits the French don't wait for the nearest Monday to celebrate. The town is full of cafes, but there don't seem to be many people around. It's market day here tomorrow and while we physically can't get anything else into Dave's cupboards, they're always good for a nosey. The signs around the car parks telling you not to park up from 11pm tonight are hand written, so we might be in for an extra special market – we'll wait and see.
For now we're relaxing in another car park, which may sound strange, but it's kind of the done thing here in France. We could pay €20 – 30 for a campsite but we don't need or use any of the facilities. Every other town in France has a service point for motorhomes to fill up with water etc, so we stop for free in designated car parks, usually with many other motorhomes, which are usually close to the town – it suits us just fine.
Jay's turn to cook tonight and he's hitting our beloved camping cookbook again – we're going to try the Easy Pizza Calzone, it's smelling good!  [I can now confirm it was mighty tasty – just like a pizza!]
Ju x