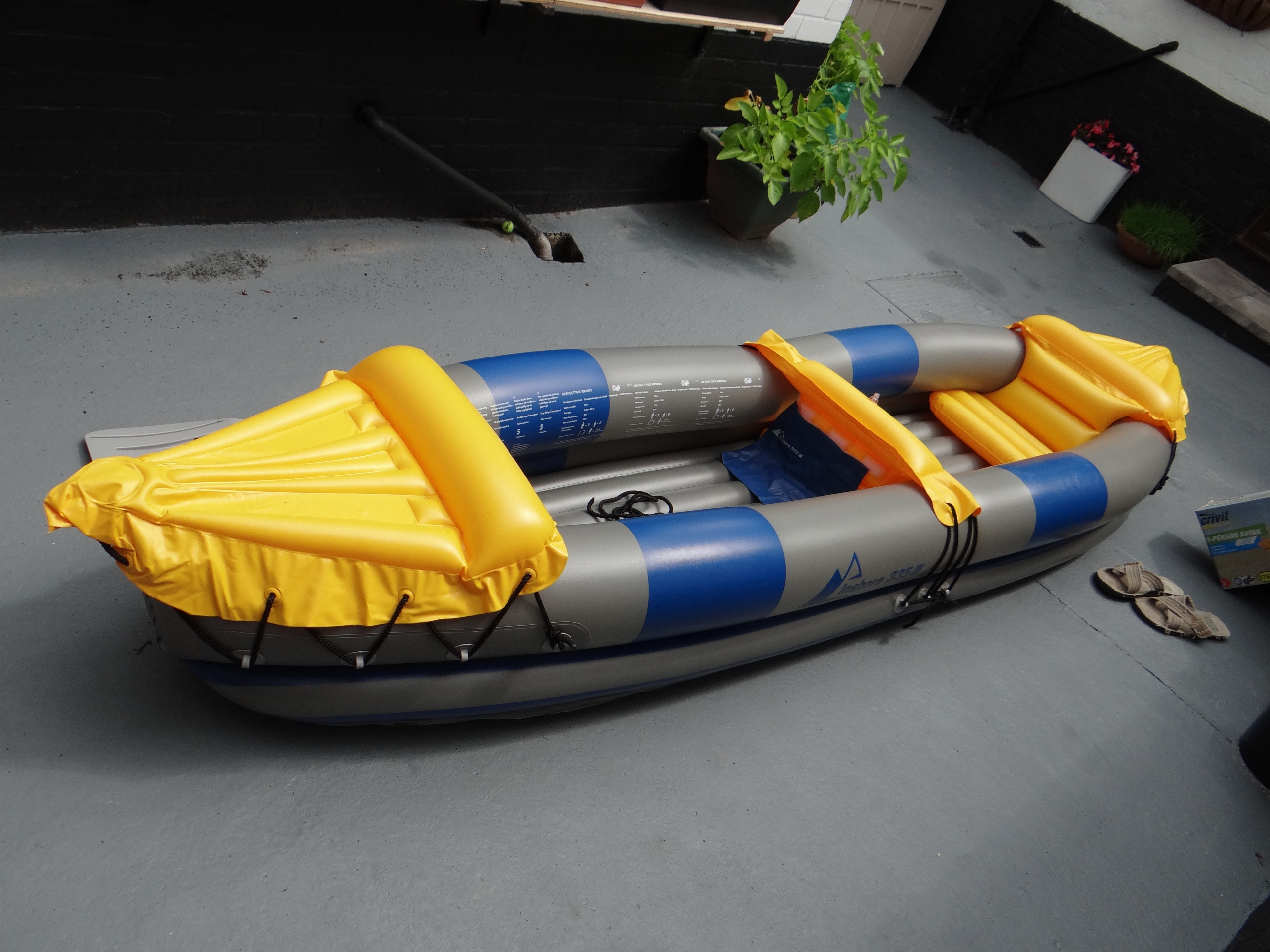 Taunted we were. Taunted! Twice we walked into Lidls in foreign parts, intent on our usual gathering of vittles only to be confronted by the offer of a boat. You know, in the sections of Lidl which sell all manner of stuff, from petrol generators to colouring books. But only for that day… Go back an hour later and the thing you decided you must have in your life will have vanished, not to be seen for another year, if ever again. In among it all, boxes of inflatable kayaks, for about £30 or £40. Given the fact Dave (our previous Hymer B544) had about enough storage space remaining for a stowaway gnat (after having rammed our other gear in there), we hemmed and hawed over the thing, and twice put the box down.
Murphy's law then swung into action as we found ourselves looking out over some of the world's finest and calmest bodies of water, minds cast back to the air-conditioned wonder of the Lidl 'stuff isle'. We sat wishing we'd got the boat, and could employ our idle hours ambling off onto the water for a bit, spying the shore from afar. Well, probably from about 10 meters away. Neither of us fancy being blown offshore, our only hope to flag down a passing fishing boat to bring us back!
Flip forwards a couple of years we're in Lidl Langley Mill (down the road from our Notts home, just over the border to Derbyshire) and up pops the kayak. As it popped up, we swiped at it, flung it in the trolley and covered it with cartons of long life milk to dissuade any potential kayak-snafflers from relieving us of it. Flip forwards a few more days and after a whirlwind of phone calls, insurance sorting, marathon driving, van-inspecting, V5 signing and more driving, we have Zagan the van to put it in.
Our Dave (our previous Hymer who took us around Europe for two years) was a serious trooper, and nothing can top that beast of van in my eyes. He was, and still is, a fabulous adventure wagon – we heard from his owners recently and he's still enjoying life on the road. Zagan though, is hopefully going to carrying us about for a long old time. Depending on which way the gods are looking, the two year Dave trip might turn into a shakedown compared with our future. Who knows, but we are really pleased that Zagan has an al-ko chassis (double floor), so has a bunch more storage than Dave had. Enough to fit in a kayak anyway.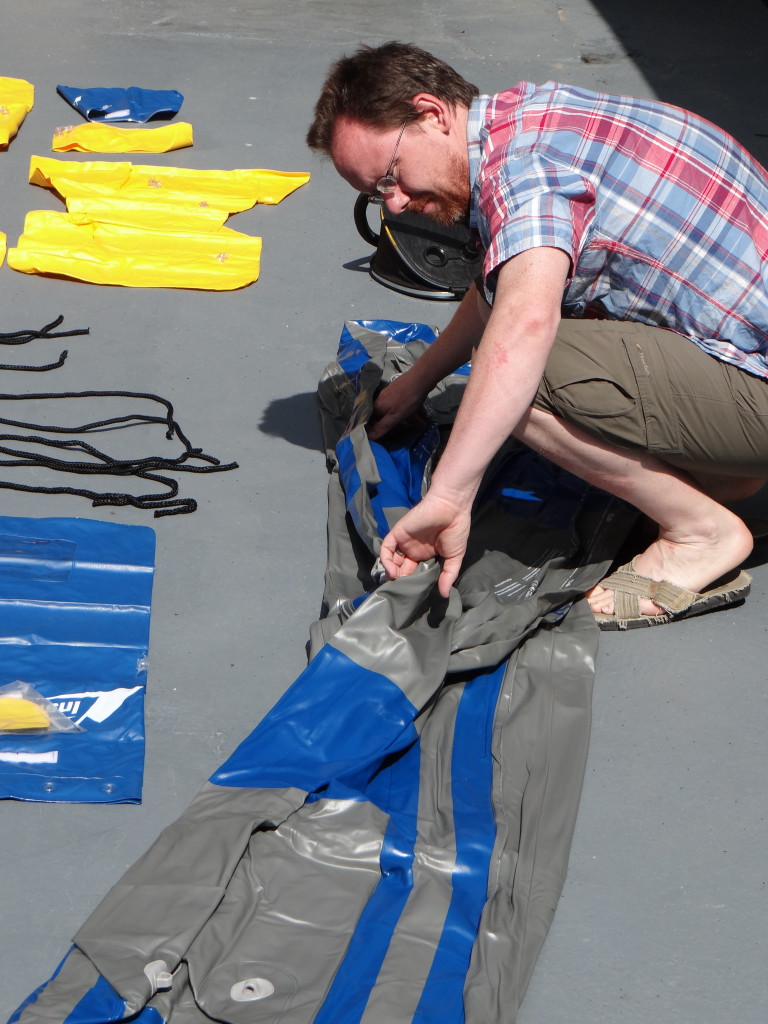 "Ah, but!" I hear you seasoned motorhomers say, "what about the payload?". A very fine question. Dave had a max weight of 3100kg, and Zagan is currently 3500kg. We have tonnes of storage, but do we have enough tonnage to fill it all? Anwser: dunno. A trip to the local weighbridge is required at some point.
So, anyway, we have an inflatable kayak. I just put it together in our yard and it looks fine for what we plan, just a bit of fun, no death-defying paddling across the channel, dodging tankers. I've considered taking it to the local canal for a test, but just can't be bothered. The water's a gravy-grey colour. There are rumours of dead cows just beneath the surface (well, there were 35 years ago while I was at the local school). The test can wait for a more pleasant splash about somewhere.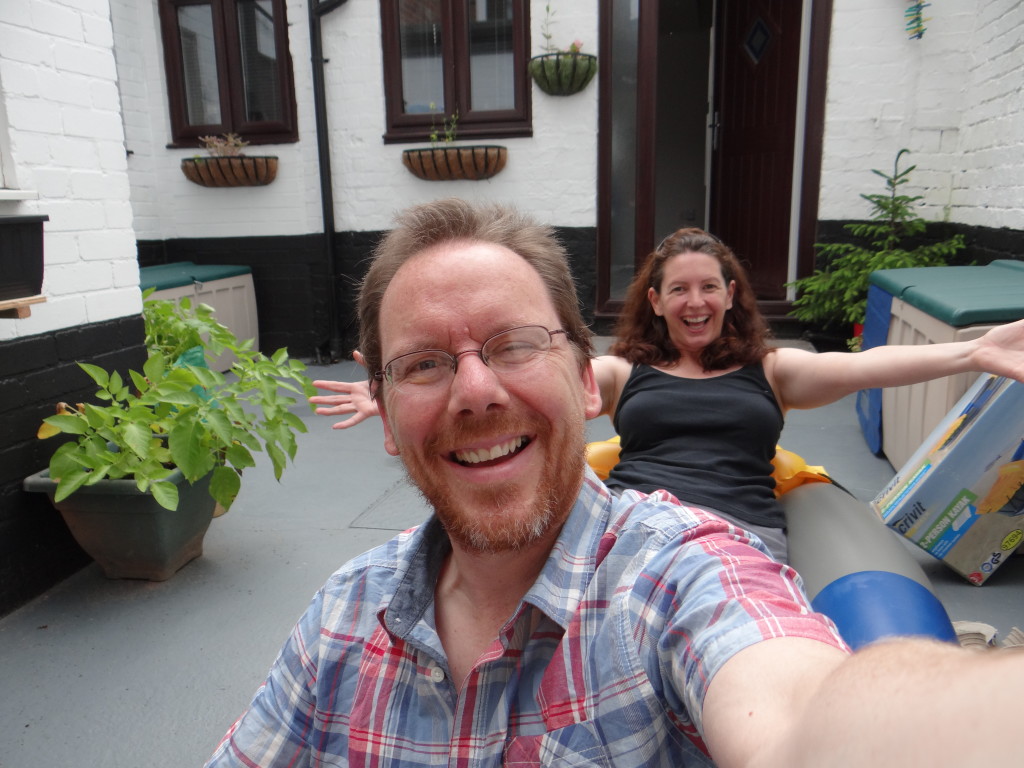 By the way: if you get one, note that you have to use a small plastic see-through sheet to gauge how far to initially pump it up. I managed to miss this until I'd pumped it up, and stretched ours a tiny bit more that I should have. As I'd only pumped it up 'a bit' to photo it, you could easily do the thing a mischief. Read the instructions – how many times do I have to tell me! Some stats on the kayak:
Cost: £39.99 from Lidl UK, June 2015
Payload: carries two people up to 160Kg total weight
Size (inflated): 325cm by 91cm by 46cm
Size: in supplied carry bag: 80cm by 30cm by 25cm
Weight: 8.8Kg (including a plastic foot pump, not supplied with kayak)
Lifejackets: not included
Bring on those fjords folks! Right, time to get a bite to eat then walk back up to Zagan to sit in him and do some dreamin'.
Cheers, Jay