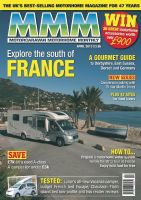 This month we're featured in two publications – you can't say we haven't been busy!
From 7 March you can see us in the April edition of Motorcaravan Motorhome Monthly (MMM) magazine in their 'Living with..' feature. The article tells you the story of how we chose Dave to be our home on wheels, and what it's like living in him.
We're also in their Marketplace section too, on page 222 there's a review of our book 'A Monkey Ate My Breakfast – Motorhome Adventures in Morocco'.
Fellow traveller Lynette, who owns a VW camper, wrote a brilliant article about our first few months on the road last year. She has penned another feature about our travels in Morocco and our book, which will appear in Saturday magazine that comes with the Nottingham Evening Post newspaper on 9 March.
As always, as soon as we can get electronic copies of the articles we'll pop them on the site for you to read, or you can click on the publications title to go to it's website and buy a copy.
Ju x