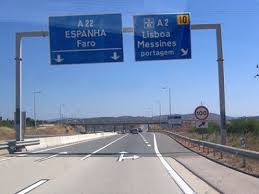 As we started to get closer to Portugal, we started to get the drift something was unnerving British travellers about the toll system here. We'd done little research and just expected Portugal to be like France and Spain, with their two-tier road system where you have to pay in cash or credit card for some of the faster roads. We even heard people on forums saying they would avoid driving their foreign-registered vehicle Portugal because of the 'crazy' toll system.
It does seem the Portuguese have failed the 'keep it simple, stupid', test while making some recent changes to their motorway toll system. In summary, the system works like this:
All motorways are now toll roads (some where not prior to 2011)
All of them are fitted with an electronic remote reader which can scan cars as they pass, identifying them with a small white box fitted to the windscreen. They can also read number plates (although we don't know if they can actually read and process UK plates)
Some (the older ones) still have manned toll booths so you can pay in cash. Some don't have this option
If you drive in Portugal a lot, like all the locals, you buy one of the white boxes and get automatically charged for your time on the motorway. Simples
The complexity from our point of view comes in for vehicles which are not not here often – like our motorhome. We'll only be here for a few weeks, and would quite happily pay any tolls we incur in cash. However, some motorways only have the electronic readers, and if you use them without the box, or another form of payment, you're breaking the law…
Our approach to all of this has been to add our own dose of simplicity:
We got a list of the roads which are electronic only: A25, A28, A29, A42 and 'parts of the A4 and A17' (we got this from: the Caravan Club website)

We then highlighted them in pink on our map

When we program our sat nav to go anywhere, we tell it to avoid tolls (it only knows about the old toll routes). We then manually check the route it's come up with to make sure the new, electronic-only, toll roads are not on it. We do this rather than telling it to just 'avoid motorways' as we're not sure what it thinks a motorway is; we've been down some tiny roads with this option set!
In other words, we're travelling slowly and don't need the hassle of working out how to legally pay the tolls or risking fines (the fine is ten times any toll you don't pay, with a minimum of €25). We end up on some good old bumpy old Portuguese roads, but on the whole the non motorway routes have been quite good, have given us some interesting sights, and we don't do above 80 or 90 kph in our van anyway.
If you're in more of a hurry, then the Tourist Information office in Coimbra gave us a leaflet which appears to say you can either:
Not rent the white electronic box, and instead pay for 3 days (€20, unlimited journeys) or 5 days (pay per distance, minimum of €10, possible to get a refund for unused credit if you pay via the Internet). Note: we've heard this only covers the electronic-only tolls, so even if you pay for this option, if you use a road with a manned toll, you have to pay separately for it…

The leaflet also mentions 'Spain route' as another option. It seems if you're travelling to Oporto airport only via the A28 or A41, or to Faro airport via the A22, you can pay just for those roads, for either a one way or return trip
To buy the above credit, you can go to any of these (as noted above, we've not actually tried and we've heard various stories about the outlets not having a clue about what they're supposed to be selling, or not knowing which options are available to you, or not being able to answer your questions…):
Border points of sale (we didn't see any obvious sale point at the Tui-Valenca border)

CTT at https://www.ctt.pt (I just went there and clicked on the 'ENG' link to read it in English – it says 'Under Construction' as of mid Dec 2011, nice)

Oporto and Faro airports (it doesn't say where exactly)

IKEA Matosinhos (not sure why this single IKEA outlet north of Porto has been singled out as a sales point)

Service stations: A28 – Viana and Modivas, A25 – Celorico de Beira, A23 – Abrantes, A22 – Olhao, A24 – Vidago (these are actually on the tolls roads, so I think you'd have had to pay another way before you can use this option?)

Post offices (seems these are cash-only)
The other alternative is to rent the white electronic box for €6 for week 1 and €1.5 for each subsequent week. There's a refundable deposit of €27.50. Have a look at the
Via Verde website
(scroll down the pages for English bits) for details on where you can rent and return the box.
Seems to me a far simpler option, less likely to put tourists off from a country with a struggling economy, and providing a back-up for when the electronic system inevitably fails, would have been to keep manned booths.
Cheers, Jay