Dave the motorhome has edged closer into a remote corner of the EU, we're in the car park (N47.77982 E25.70978) of the Sucevita Monastery, just a short drive from Romania's north-east borders with the Ukraine and Moldova. After a bit of thought we've made the call to change route. We had planned to head back West across the Carpathian mountains (which are more like big hills around here) to a narrow gauge railway at Viseu de Sus, and on to the 'happy cemetery' at Sapanta. The latter is something unique, a graveyard where people's lives or deaths are depicted in art. Micheal Palin visited the place, and we'd love to go too, but it's on the list for another time. This time we'll head north to territory unknown to us, into the Ukraine. It's probably a good thing we're leaving Romania, as the place is starting to disintegrate, to fragment along a grid-pattern, or at least our cheap map is…

Silence, ahhhhh. Beneath the walls of the monastery at Vatra Moldovitei we slept like the conscience-less, immersed in thick silence. Even Charlie's perpetual snoring was muffled, as we caught up on kip from the Night of Loud Noises in Bistrita. This morning the sun shone, and we brewed up coffee as busloads of fellow tourists arrived to investigate the fortified place of worship. Nuns appeared to enlighten them on the ins-and-outs of the place, and as we slowly drove off, two boys leapt up to brandish trays of painted eggs at us, knocking them together to show they weren't for eating. Waving 'no thanks' we cruised on.
From Vatra Moldovitei the map shows the road twisting back and forth, like a coiled spring. Oddly, I've started to take this as a sign of a pretty easy road. The Transfagarasan Pass showed up on the map as a straightish line you see, the curves too small to show on our 1:600 000 scale map. When the curves show on the map, they're in reality long sections of road with just a few switchbacks, easy stuff for Dave.
This part of the world feels distant, on an edge. Forests of firs cluster on hillsides, folks subsist cutting and drying hay and log cabins are fashioned from logs shaped-on site (rather than coming in a Grand Designs pre-pack shipped in from Sweden). Boys herd goats and cows along high grassy hillsides. Life looks slow, and houses look big, indicating there's probably 3 generations of folks in each of them. Tourism feels like it's making halting progress. In a couple of places (including one right behind us) Tourist Information offices have been set up and subsequently abandoned, sitting empty and unused. The countryside here is idyllic for those that enjoy the greener side of life, but it's an awkward places to get to, so my guess is it'll stay relatively untouched for years to come.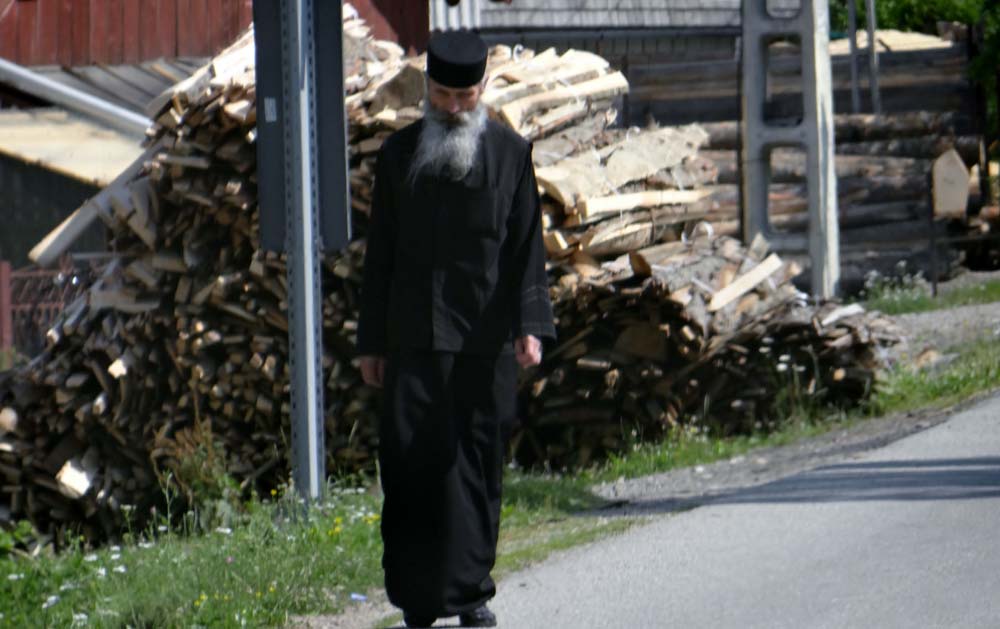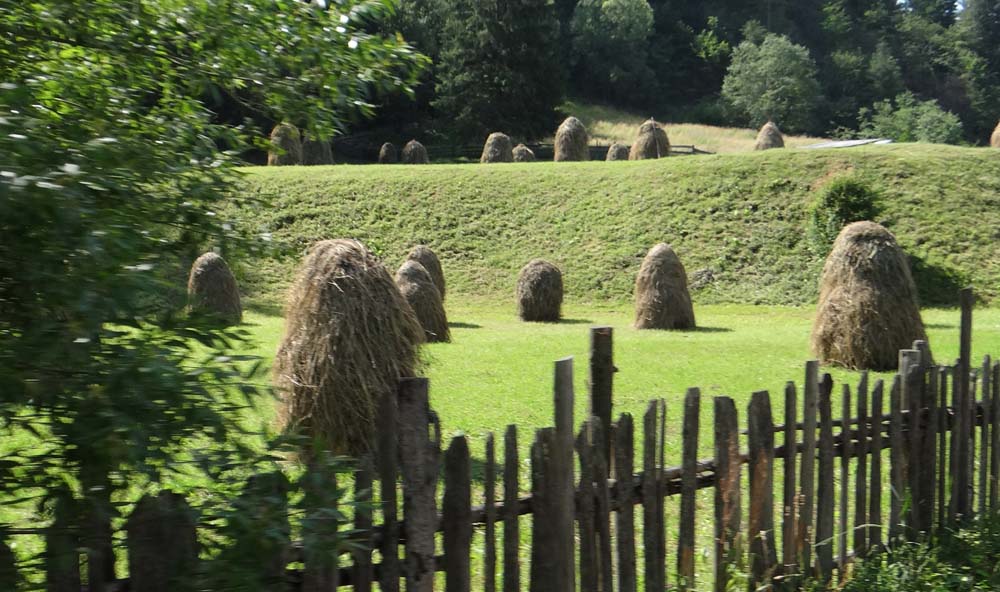 After an hour or two of bouncing along the patched-up road we pulled in to the monastery, taking a couple of runs to find our way into the car park. There are no signs to say the car park is charged, but the locals knew and had squeezed into spaces alongside the road. A lady came over to ask for payment, standing a few meters away from the van and looking bashful. Holding up two fingers, it was obviously 2 lei (40p) and when I asked if we could sleep (hands together and popped under head as a pretend pillow) she shrugged and said yes. We looked at the tiny ticket as she walked away, it says 2 lei an hour, but as the car park's nigh on empty, we're winging it for the night.
Sucevita Monastery is painted, inside and out, like the other monasteries in the cluster included on the UNESCO world heritage list. It's also surrounded by a fortress wall, all of this an indication of the purpose of the place back in 1585 when it was built. Islam was knocking on the Balkan door of Europe, the Ottoman Empire was expanding northwards and the Orthodox Christians were having god's own job keeping them out. The monasteries built around that time served a dual purpose: as strongholds and as, depending on your viewpoint, propaganda machines or centres of Christian spiritual teaching. The churches were painted in comic strip style to show Biblical scenes to inspire the illiterate fighters expected to clash swords with the Muslims. The church here shows non-believers falling from a ladder to heaven being devoured by demons, the saints being killed in the usual array of horrific manner, and folks in turbans chopping off the heads of folks not in turbans. Much like watching the news about Iraq.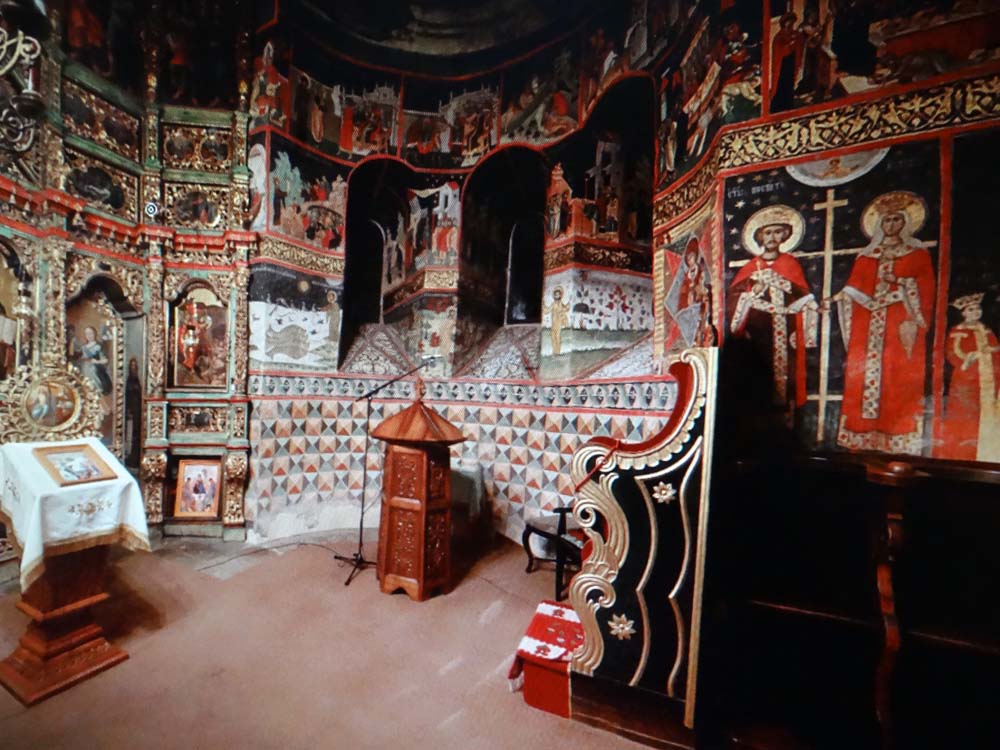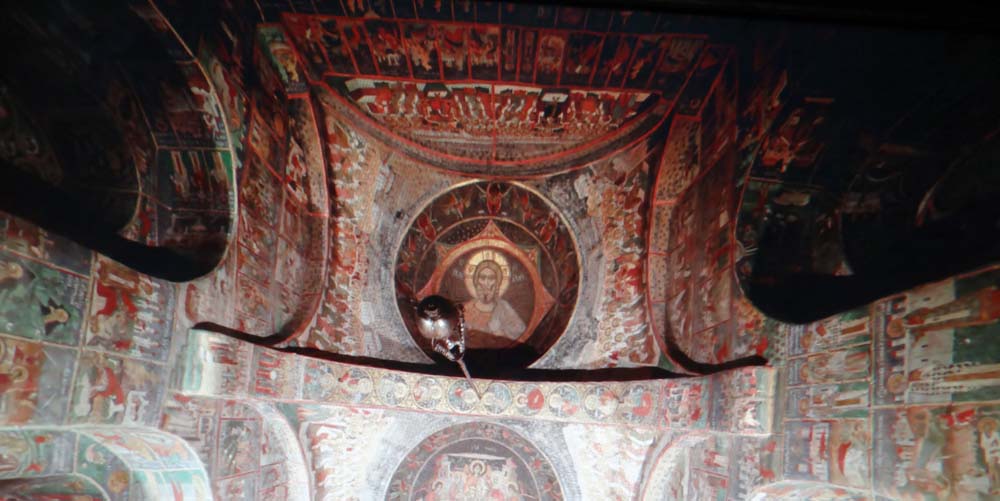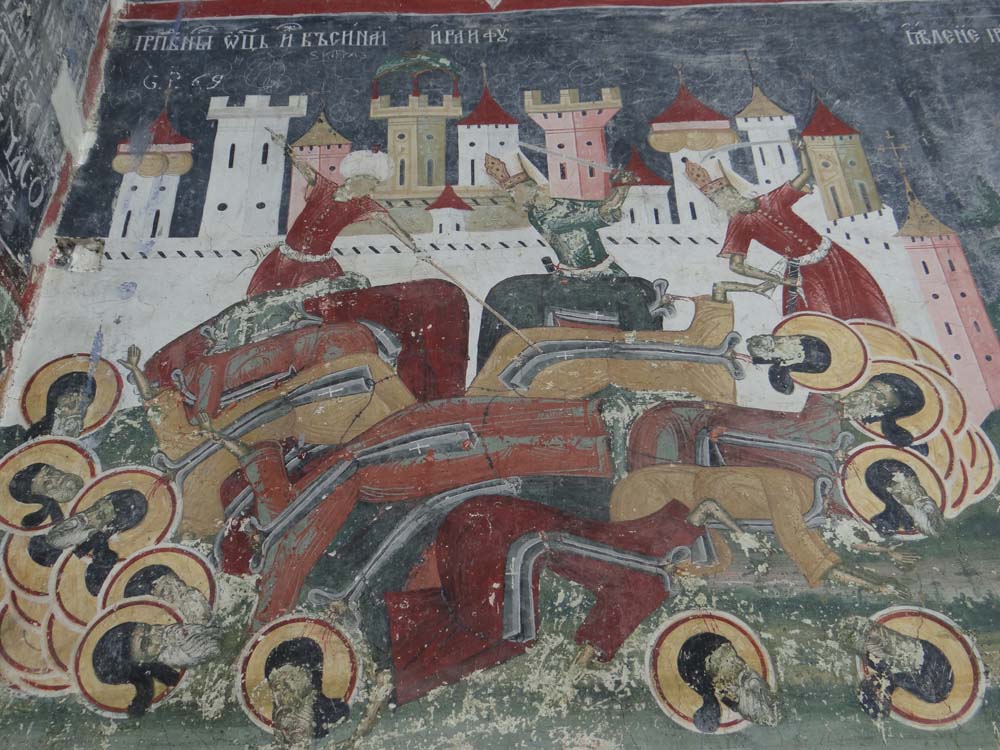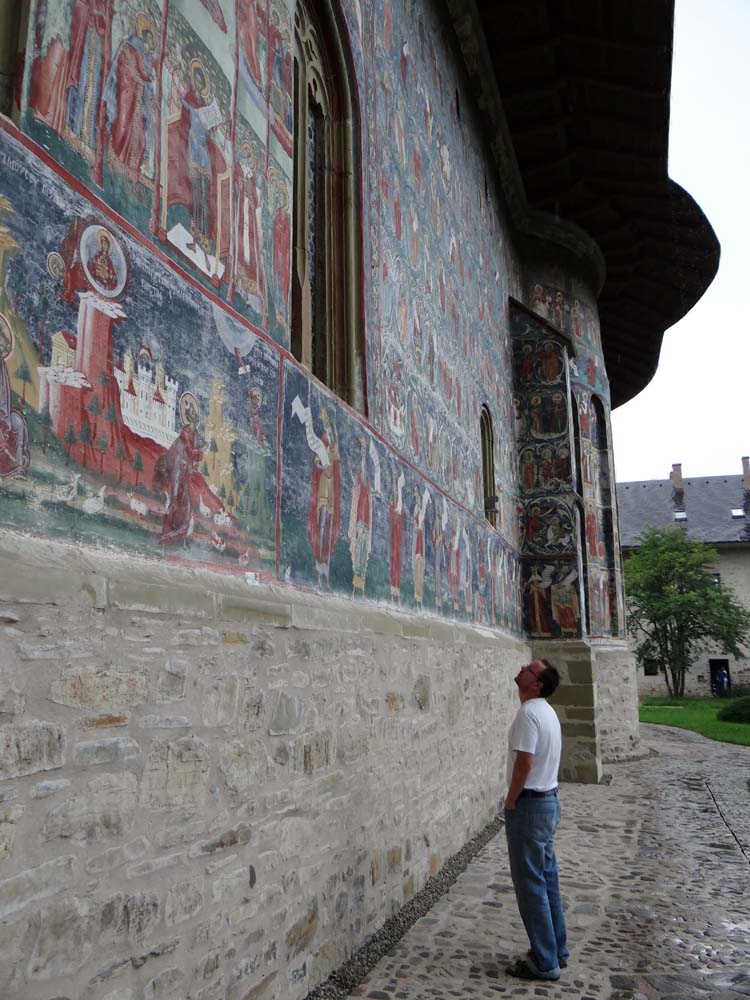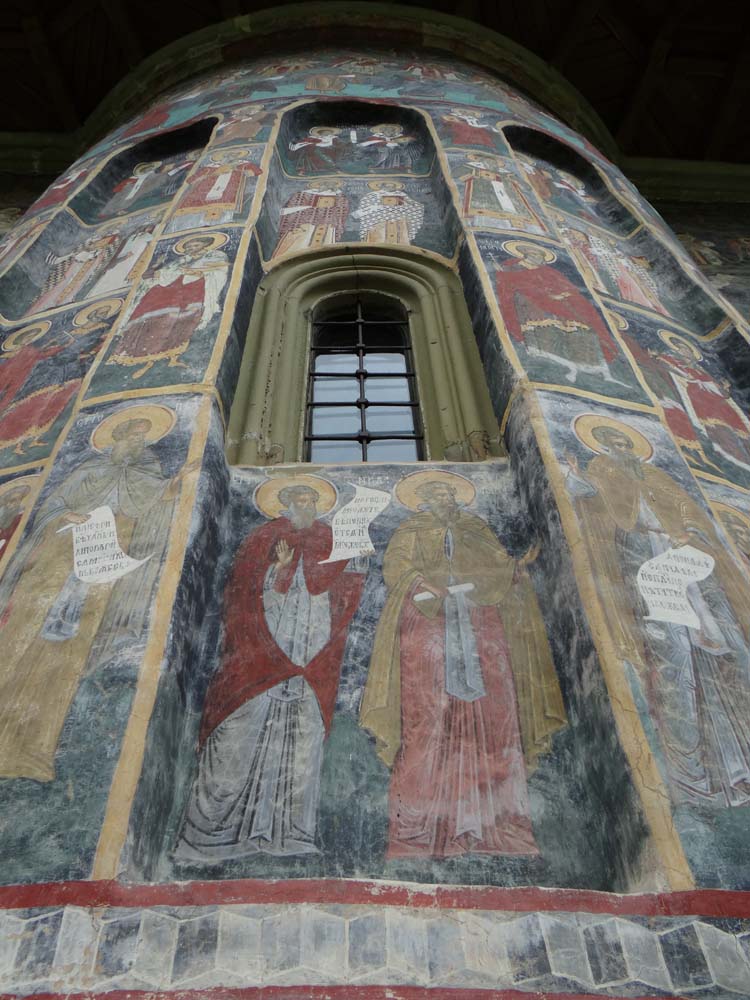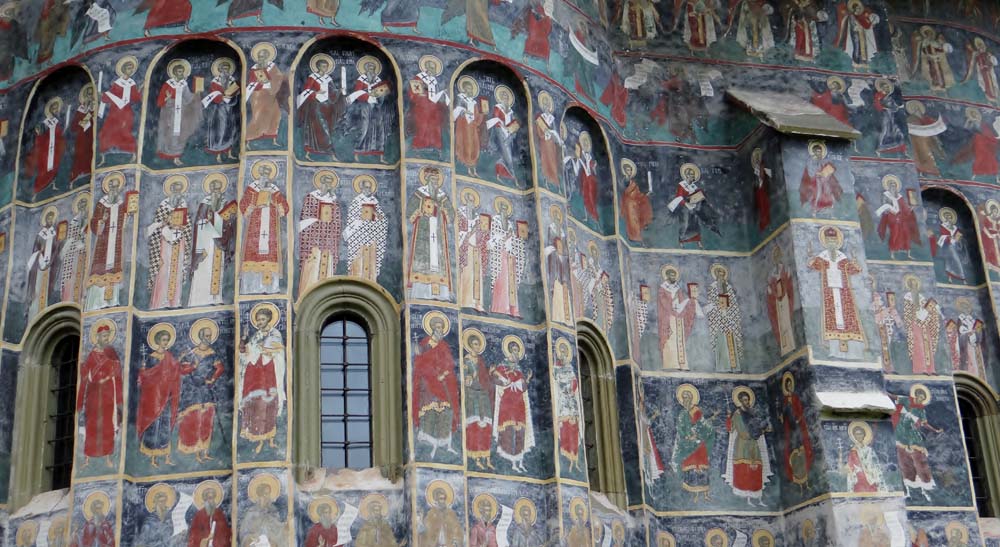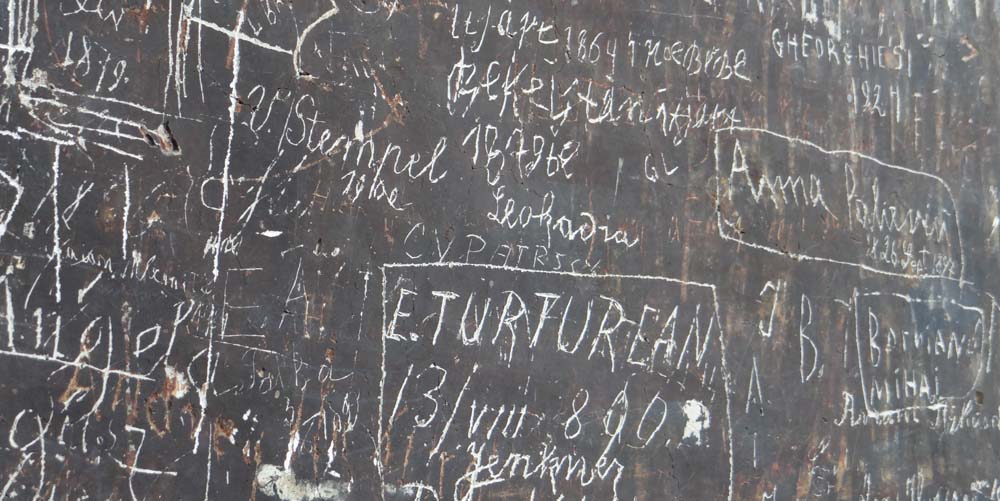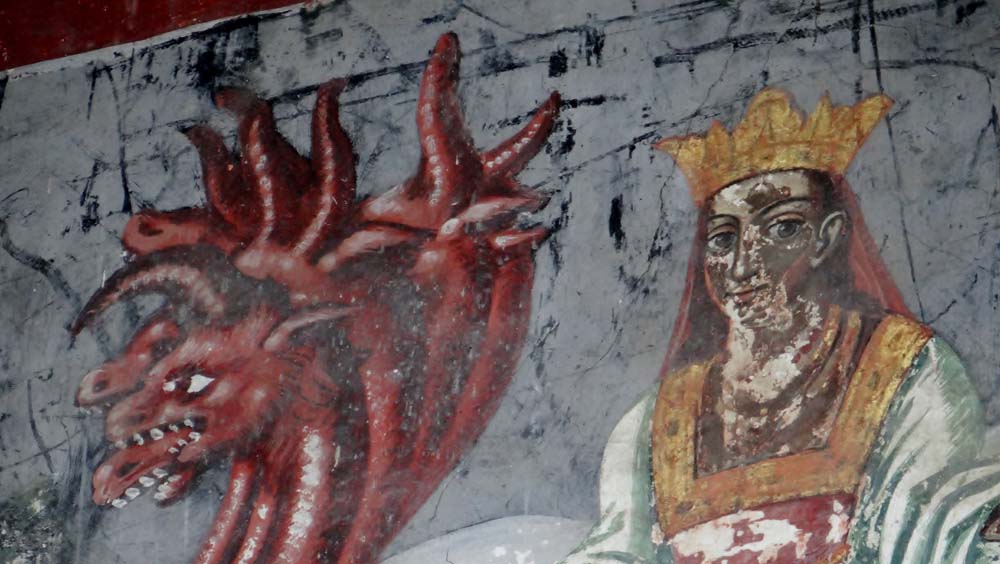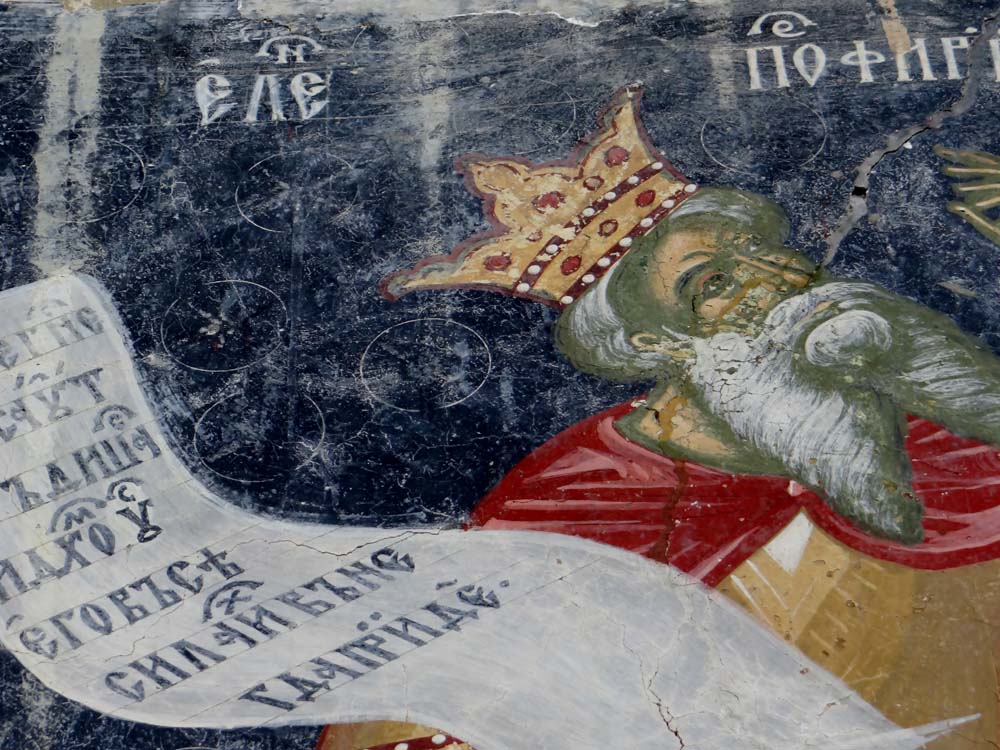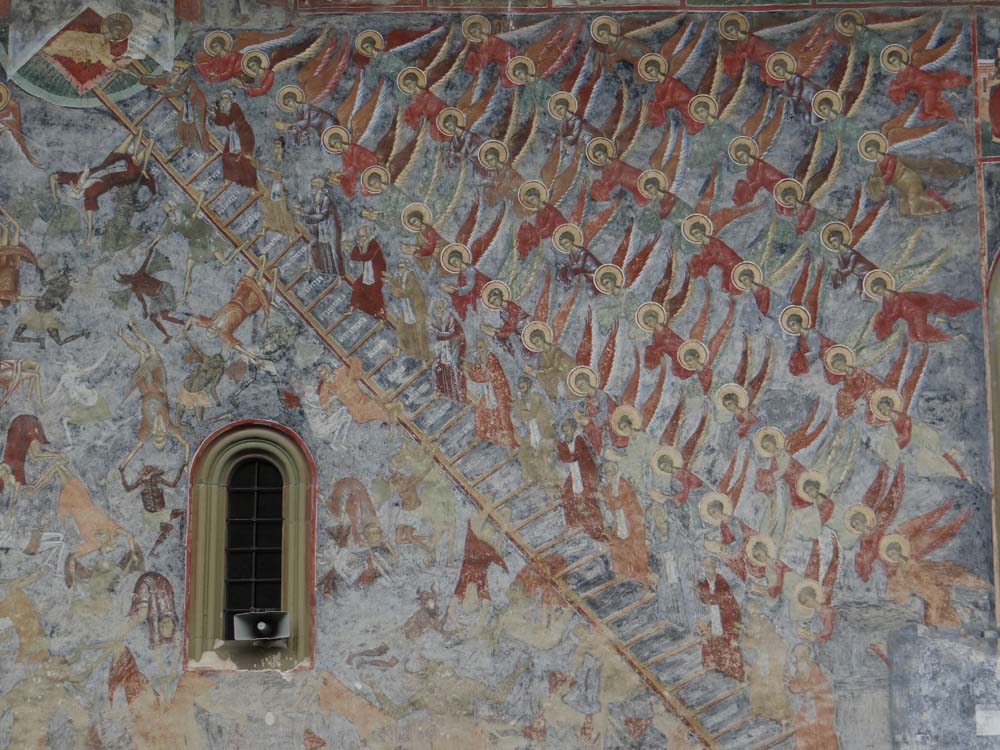 As we walked around the grassy grounds between walls and church, the rain came and we nipped into the museum for shelter. A group of Western-dressed kids (teenagers dress the same pretty much everywhere these days) stood entranced as a nun pointed at a huge gold-threaded figure portrayed on his own death-throw, a long-gone prince of old. Wondering if all the bits and bobs in there were indeed real gold, we didn't last it out too long. No photos are allowed in here, nor inside the church, nor of any of the nuns. As the black-clan lasses are everywhere, this pretty much reduced you to photos of your own feet, for which you have to pay twice the entrance fee for a permit. As the entrance fee is a quid, as an none of the nuns seemed to have the priest's innate ability to detect a pointed camera, we're happy bunnies.
On the subject of nuns, I find 'em a confusing lot. Father Ted was nervous of their Roman Catholic counterparts, and I can see why. For a collective of folks guaranteed paradise in a few short years, they're a surly bunch. Ju claims to have seen one smile once, I think it must have been a grimace. A young Roma lady, braver than me by a long shot, armed with a couple of hungry-looking nippers begged from an icon-flogging and particularly swallowed-a-wasp-looking nun inside the church. Question after question ensued, until the nun flicked her eyes heavenwards in disgust, pulled out a ledger to pen in a few details and handed over a wodge of notes. I stood abashed and stared, I couldn't help it. As they left, walking past me, the Roma nipper who could walk stared up at her Mum's face, trying to glean something. Used and trained for begging before they can walk, these kids stand no chance in life but as expert beggars.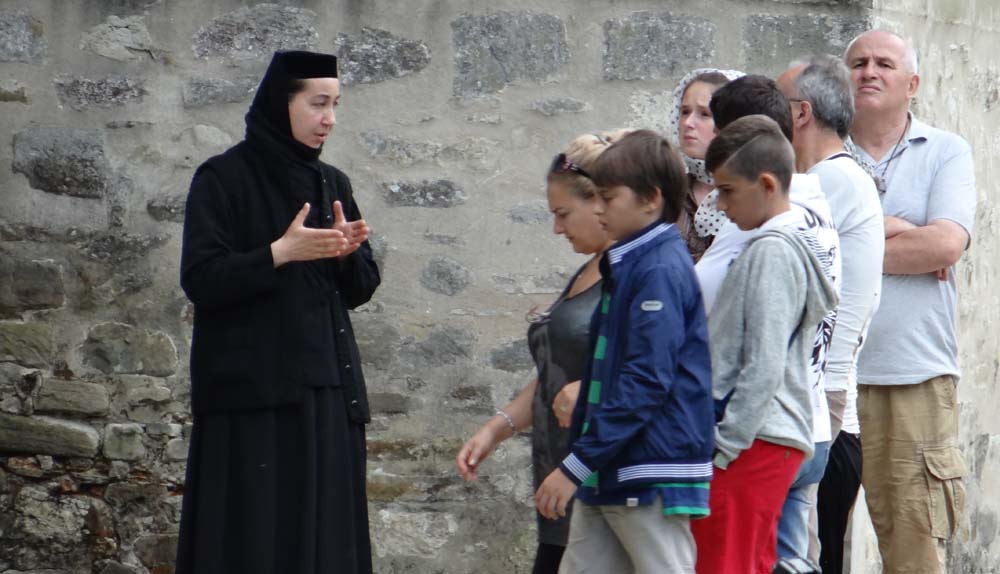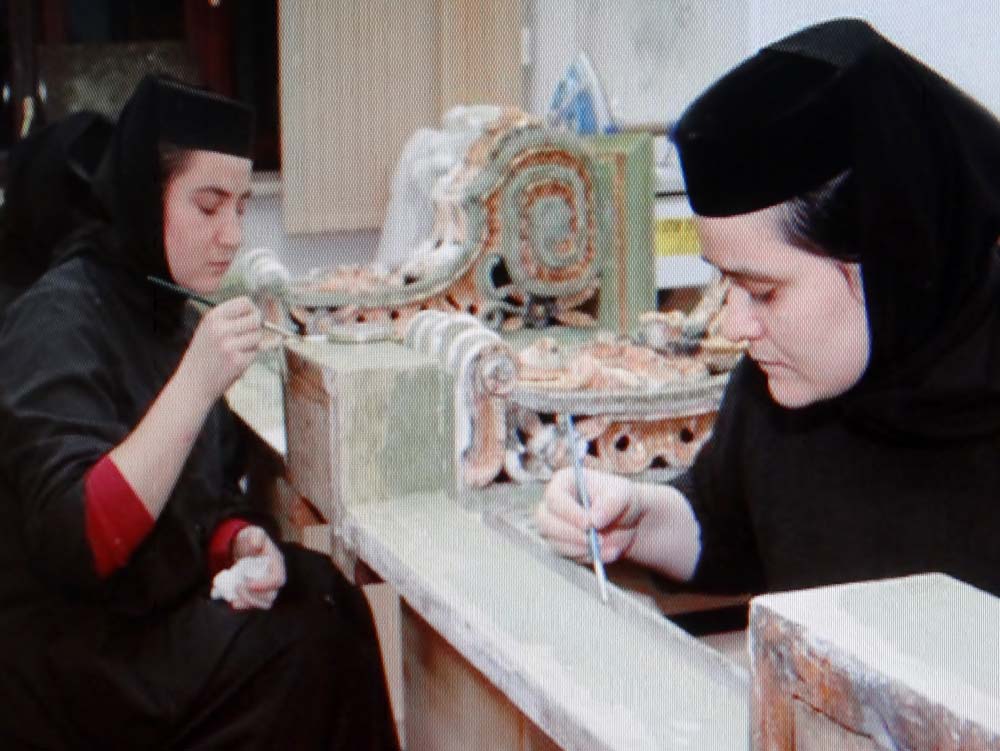 We're nervous about this Ukraine place. It sounds scary, all ex USSR and corrupt police. Ju's just told me an ex-president once sacked the entire traffic police force in disgust after they'd pulled his unmarked car time and again, not realising who he was as they relayed some story of an imagined infringement before holding out their hands for cash. A later Prime Minister re-instated them, perhaps since having no traffic police force is worse than having a thieving one? Having spent the past couple of days parked beside graveyards, today's has a freshly-filled place, I'm feeling fatalistic. I don't much care what goes wrong as long as we're safe, and although there is no 'Go Motorhome Ukraine' book to aid us (at least none that I know of), we've been at this a while now and I'm certain some enterprising restaurant or other will take us in, won't they (Palin never seems to have this trouble)?
Time to go fix that half-working headlight, before the Ukrainian robbing coppers pull us! Update: fiddled for an hour, dropping bits into recesses and cursing etc before finding a burned-out wire. All suitably bodged back together now ready for the Ukrainians. Bring it on. A few pics from today:
Cheers, Jay