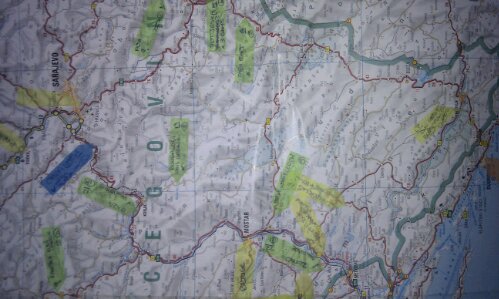 Dave the motorhome is still stationary in Camping Strobec, Split.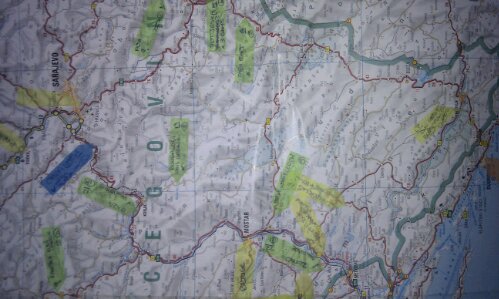 Our mood swings with the breeze. A little waft of it and we sigh in relief, one of us may even stand to retrieve water or a morsel from the fridge, before finding the air still again and being hit by a whumph of repressive heat. Our Blighty-bound compatriots tell us of torrential rain, a typically awful north European grey deluge. Given a choice like that, we'd both opt for the too-bright view across the few meters of campsite before the Adriatic takes over, who wouldn't? The effects of a night out, although far more gentile than would have been the case back home, are enough to hold us steady for another day. Charlie concurs, cleverly taking refuge under the van, saving his effort for occasional, hilarious doomed dashes after a black squirrel or collared dove.
Split proved itself a hit. Not just with us. We wandered the palace (something of a misnomer, it's a living town in itself) eyeing up the collapsing stonework, in places leaning on wooden supports like an overweight, drunk aristocrat. Outside the palace walls, the city feels refreshingly authentic. An alley, too narrow for ubiquitous mopeds, drew us into a few tiny tables, lined up against the stone wall. Charlie took refuge beneath, with the friendly waiter proffering water in an ashtray. 'I like little dogs' he tells us, sounding for all the world like a Russian drug mule, before telling us he only works in Split for a couple of months. Intriguingly, he says he has to work 'somewhere else' the rest of the time, not revealing where. I assume the Kremlin, but avoided the subject, badgering him with a few more questions. He speaks 4 or 5 languages, some better than others.
Bolstered with beer, I later told the cabbie (long distance lorry driver in winter) the story about the British taxi driver who'd gone mad and shot his fellow cabbies and others (he'd taken the fare despite not being first in the haphazard line). 'Really?' he's bemused, not sure if I'm serious. 'We only have bombs here'. He's half joking, Split got off lightly in the '90s it seems, being shelled from the sea and just a couple of unfortunates killed. He spoke good English, it is mandatory to learn it at school he tells us. As the campsite suddenly appears, we realise we're off-meter. '100' he says, maybe a quid over the odds, we pay up. They're a shrewd bunch I think, the Croatians, but not into cheap tourist rip offs.
Split leapt into life after dark. Seafront puppeteers (observed by a crescent of nippers), fire flingers (accidentally or deliberately dropping the odd flaming knife), a small multitude of food and tat stalls, and a blues band (the stage was set up in a long square, one end open and facing the sea, but the stage was empty). Bars were packed, Germany beat Greece 4-2 in a politically charged match. Only German supporters here though, so little atmosphere. All among this we see no police, no drunks, no shouting or angry exchanges. Bliss, albeit an early bath for us, by 10pm exhaustion set in and we headed home.
Ju's plastered the map today, various coloured arrows demarking Bosnian towns, sights and campsites. A read of Bosnia and Herzegovina history in Lonely Planet reveals one thing: another read is needed. The 90's war part is like watching a belligerent chess match between 5 different players, impossible to grasp with a single peruse. We have a rough route worked out, and have checked our health insurance and breakdown cover both apply (they do). Vehicle insurance needs sorting, which we hope an official border payment will resolve, no doubt for plenty of our euro stash. Lonely Planet advises us only to park on tarmac or concrete, filthy coward mines remain, perpetuating danger and ill feeling.
Before Bosnia, we've more Croatian wandering. Trips to Mull and Skye in our old campervan gave us a taste for island life. Hvar lies 35 minutes off the coast from Drvenik, with 12 to 20 crossings a day, so we'll head for the boat, tomorrow, more lazing about reading to do first.
Last but not least: thanks to everyone for the 40th birthday wishes! I might be tempted to indulge in a mid life crisis, if I hadn't already. :)
Cheers, Jay
P.S. Ju found free, fast wifi in Central Split yesterday, so we uploaded some video clips, have a look at the Nin and Zadar posts a few days back.