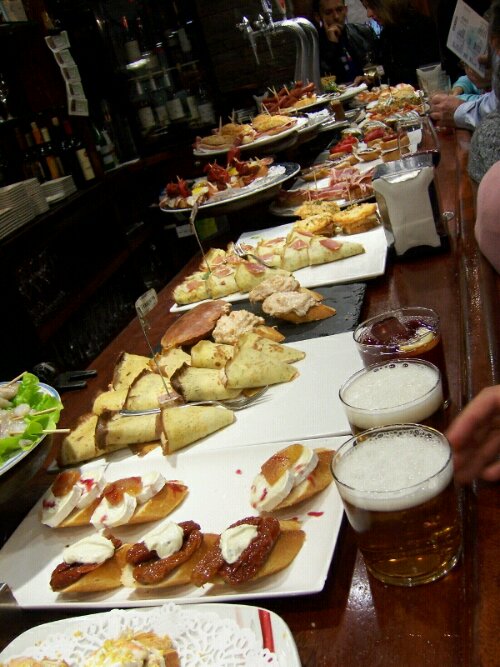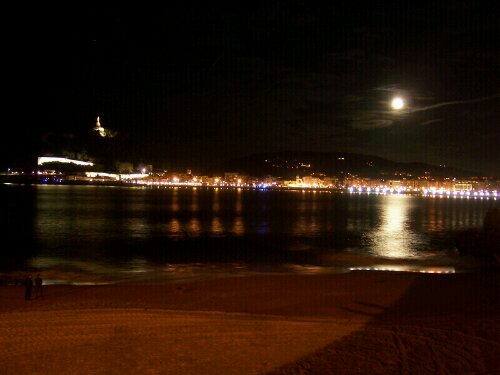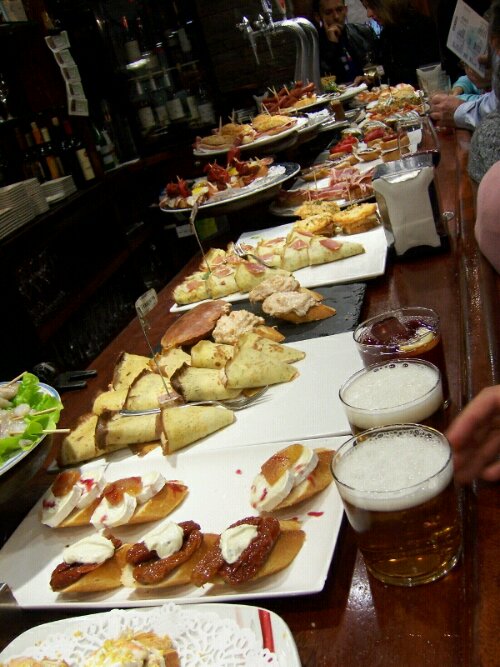 Day 34
Distance – 2588kms
Weather – sunny
There were several things that made it hard to leave San Sebastian this morning, the weather was beautiful and sunny, the Aire was full of Spanish and French vans (was there something kicking off in town?) and we'd met some like minded travellers to while away the nights with talking about our experiences. But, the main reason I didn't want to leave this morning was the monster hangover I had.
It seems that San Sebastian is THE place for Pintxos, and it appears I got the ratio of pintxos to drinks totally wrong last night! If you like bar snacks you'd love it here, no room for resting your drink on the bar, they're laden with food. You order your drinks and snacks (which sometimes disappear to be heated up) and then when you've had enough you tell the barman what you've had, pay up then do it all again at the next bar as each one has their own speciality. They cost between 1 and 4euro each depending on how complex they are. J even managed to find a full English breakfast version!
We'd hit the town with our Aire neighbours Chris and Tina. They're about a month ahead of us in touring days and have already seen quite a bit of Spain. We'd picked their brains on where to go the previous night over a bottle of wine, so now it was chance to put the world to rights, and we did!
Our saviour of the night was Tina, who luckily spoke Spanish so got us through the ordering maze, however unluckily she also knew the Spanish for 'same again'. We found a bar where a glass of wine was around a euro, managed to find a table (everywhere was packed) so settled in. Chris kept tabs on his phone of what we'd drunk – good job as the bill was over by a couple of glasses – and when we were asked to leave as the place was closing I realised just how unsteady I was on my feet. Fortunately the route back to the Aire only took us past one more open bar, and when we got back at around 1.30 I'm pretty sure we weren't the quietest we could have been – vague memories of Tina and I going around the entire Aire announcing the nationalities of the van's, oops!
Once Dave stopped spinning I slept like a log, but woke up with a massive hangover, which the heat didn't really help – yes sunny again today. At around 11 we said our goodbyes to Chris and Tina, pretty sure we'll be meeting up again soon, and summoned up the strength to get back on the road. Thank goodness J is driving.
We stopped off at the local commercial centre for some food shopping and to fill up with diesel, both much cheaper than France – 1.27 for the fuel. We also went to Feu Vert (green light) car shop and got a new battery for Dave – as we got out of Dave we realised all the vehicles around us had pieces of paper in their windows offering them for sale, it must be an unofficial place to flog your motor – we kept our fingers crossed Dave would still be there when we got back. He was, so after a macdonalds to help with the hangover, we headed inland for a change of scenery.
As we drove along all around us looked more and more like Germany or Austria with little hillside villages, then with no warning there were cones in the road diverting us off the motorway as it hadn't been finished, just to remind us that we were still in Spain!
We found an Aire for the night in the small town of Legazpi and I had a much needed snooze while J and Charlie went for a walk. J's been feeling the effects of last night too, but he's looked after me all day so I haven't had to lift a finger – I'm so lucky.
Ju x