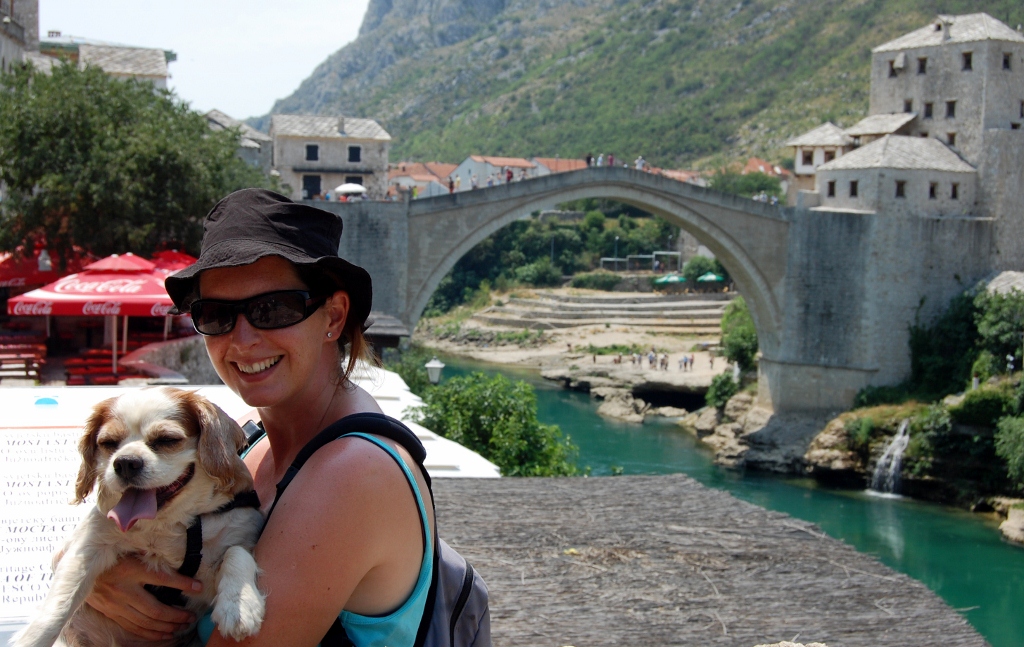 Dave the motorhome is entwined in a cherry tree at Autocamp Paradise in Blagaj near Mostar . Location: N43.26911 E17.86447
Yesterday evening we sat among tree roots watching the Kravice waterfall, as it cooled us with it's spray. Buses honked their horns, summoning their groups and slowly the masses left. Only as the screams and shouts died down did I realise how loud the water was, and how spectacular the waterfall looked. I half expected someone to turn a tap or press a button stopping the water flow now everyone had gone, but it carried on relentlessly hammering at the rocks.
As the sun set the only people left were a few locals and bars owners. Divers took the opportunity to practise from high up on the rocks, while around the waters edge a couple had their wedding photographs taken. The little bars, no bigger than sheds, running water supplied by a hose snaking out the back and into the waterfalls, were now empty. We sat at a table made from a large cable reel and drank in the surroundings, as well as an icy cold beer. As the huge orange moon rose into the sky, we reluctantly made our way back up to Dave, the temperature rising with each step upwards.
Sleep was fitful, even with all the windows open Dave was like an oven. The staff for the bars and cafes started to arrive from 7.30, the first bus spilled it's contents of people out into the sun at 8.30 – another day at the waterfall began. This is what I love about motorhoming, you can selfishly have places all to yourself after the masses have gone, or before they arrive. I'd take that over an air-conditioned coach and hotel any day.
We followed the convoy of tourist buses and road signs, satnav doesn't recognise anything in this country except the name of the capital city, to Medugorje. We'd never heard of it until we started to research our route, but over 30 million people have visited this small town of 4,000 since 24 June 1981. That was the date when the Virgin Mary appeared to six children in the town. People come here to see her, many of them looking at the sun hoping to see something. This small town is now one of the most popular pilgrimage sites for Catholics in the world, and no longer small, as hotels and hostels outnumber houses, with more being built on every scrap of land. Souvenir shops line the streets selling everything from rosary beads, holy water bottles and fake designer goods to huge statues of Mary and bishop outfits.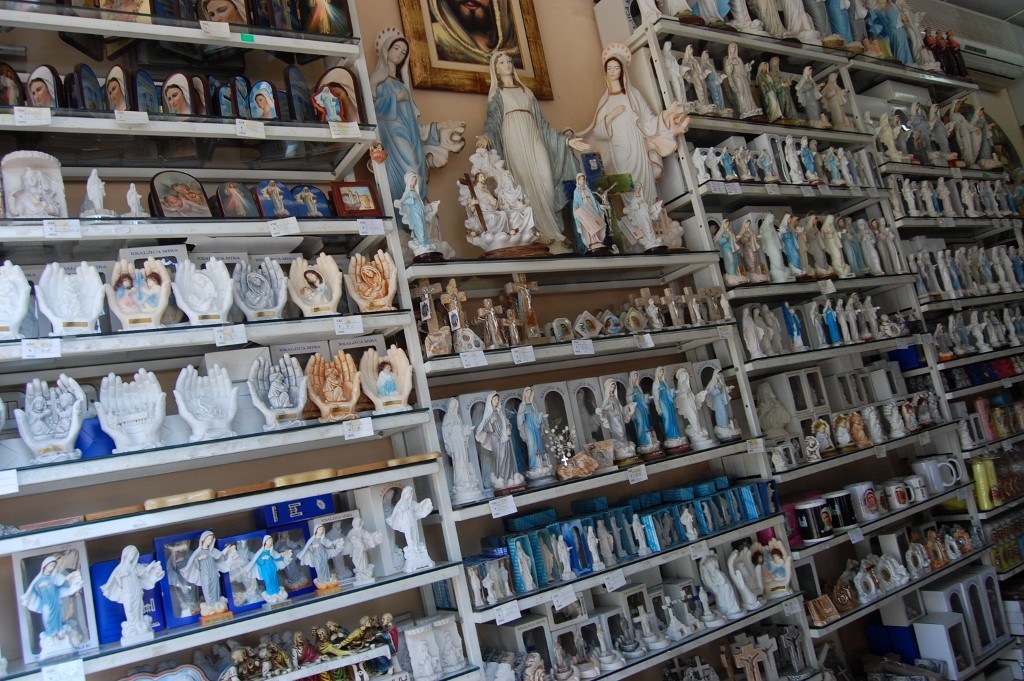 Jay and I have similar views on religion – lets just say we didn't feel compelled to purchase a virgin mary cushion to secure our passage into the afterlife – so we only quickly glimpsed around the church side of things. We were more interested in people watching.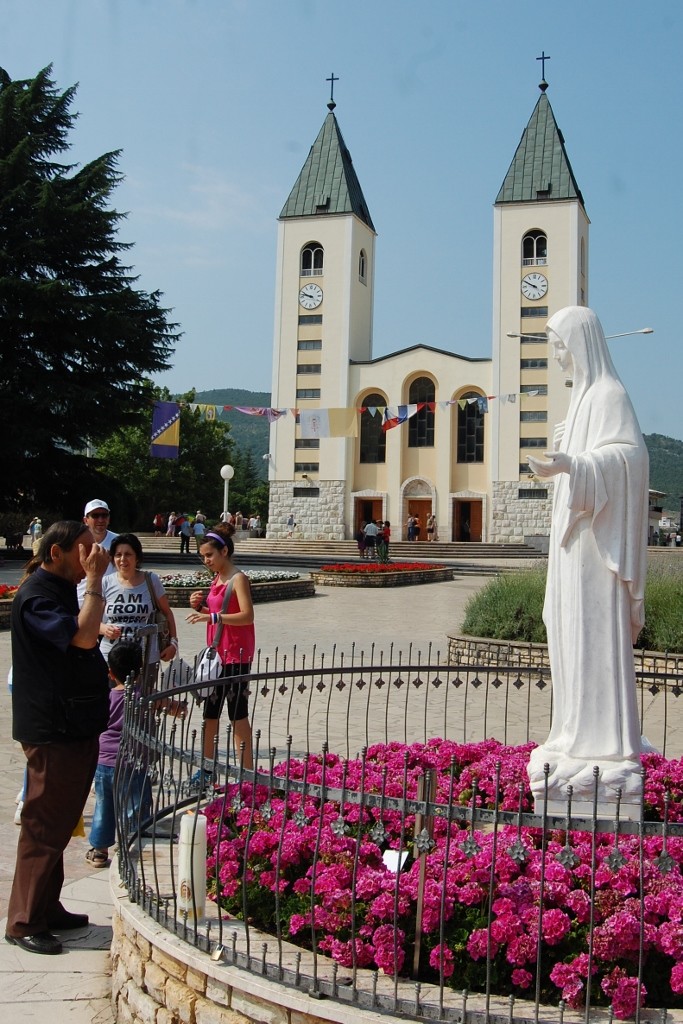 We started to realise why there are so many Italian coaches sightseeing in the area, as we saw their passengers walking around adorned with rosary beads and crossing themselves. Have there really been apparitions here? Who knows, but a huge business has certainly built up around the idea and changed people's lives.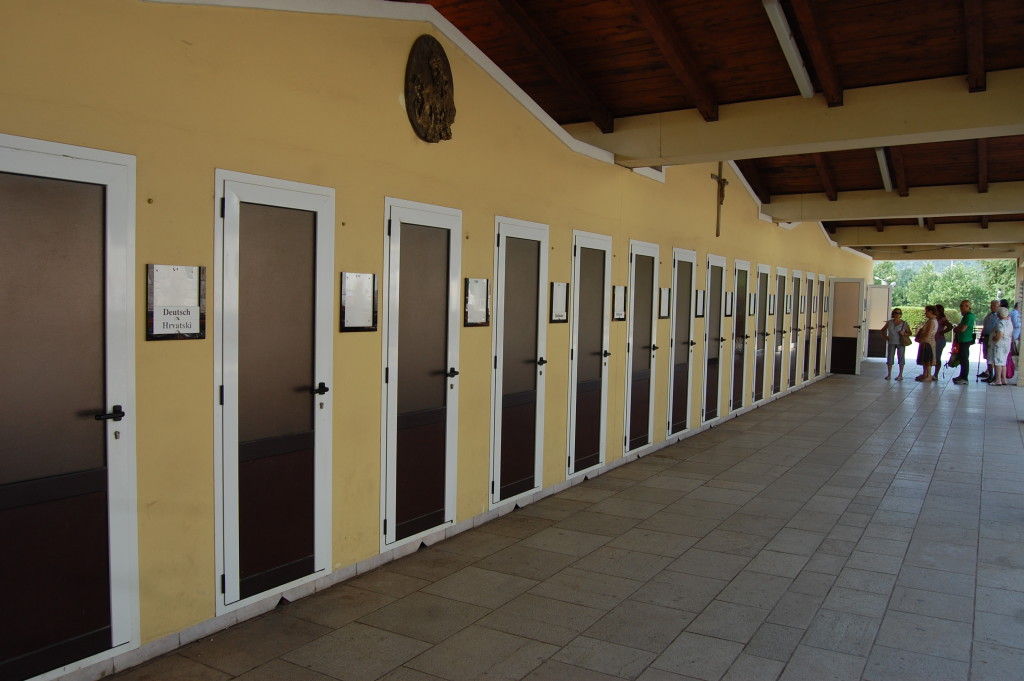 It was now only 10.30am, but so hot that sweat poured off us and Charlie's panting sounded like he was choking at times. We pointed Dave towards Mostar and set off to create a bit of a breeze. After a few miles the road we travelled along was suddenly on the side of a mountain over looking the town, we wound our way down it stopping where we could to view the skyline of high rise blocks and minarets. Our knowledge of Mostar is limited, as was the detail on our map, so we followed signs for the famous Stari Most Bridge. Just when we thought we were about to reach a dead end, we saw a sign for car and motorhome parking. At 5KM (about €2.50) an hour, we were guided in and sought out the most shady spot (GPS – 43.33758, 17.81145)
Stepping out of the car park we were faced with a shell of a building, the scars or war here are still very, very fresh. We followed a tour group who had just got out of a mini bus until we spotted a tourist information. A map would be 5KM – I declined, but did get details of a nearby campsite. A narrow lane lined with tourist shops guided us to the bridge, the items on sale reminded me of those in the souks of Morocco – Fes hats and silver tea sets. Calls of 'hello, you want ice cream?', 'Good restaurant, good view of bridge' followed us as we coerced a reluctant Charlie from shade spot to shade spot.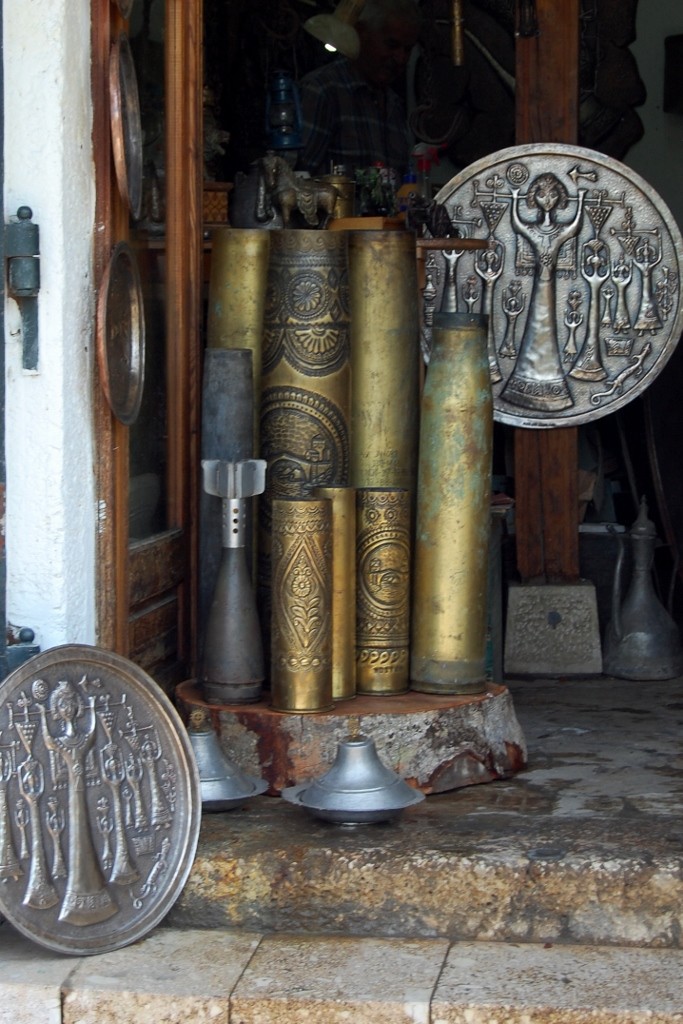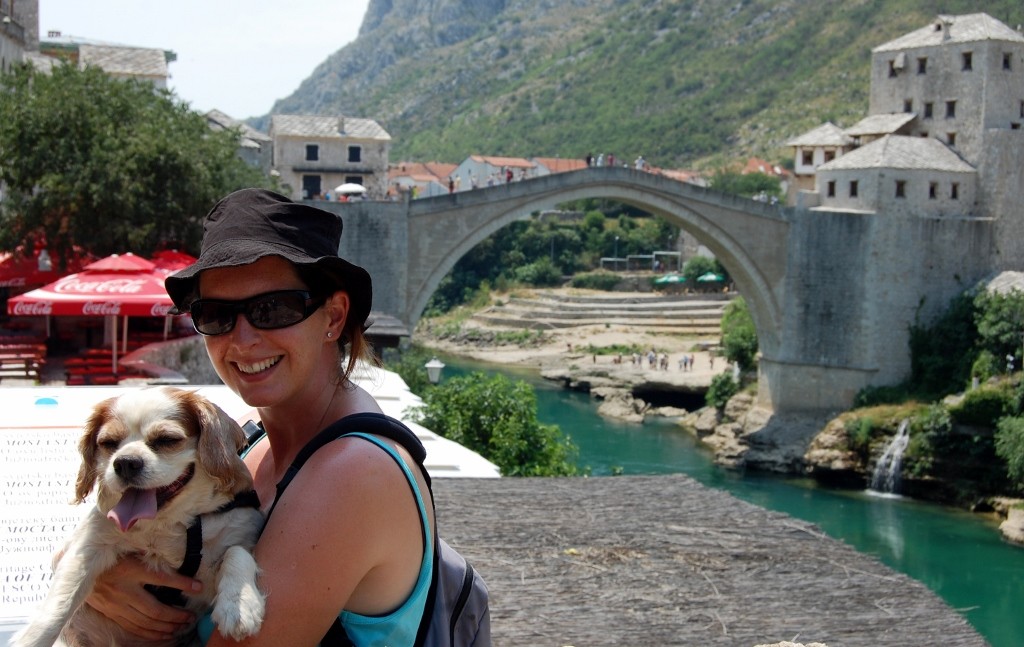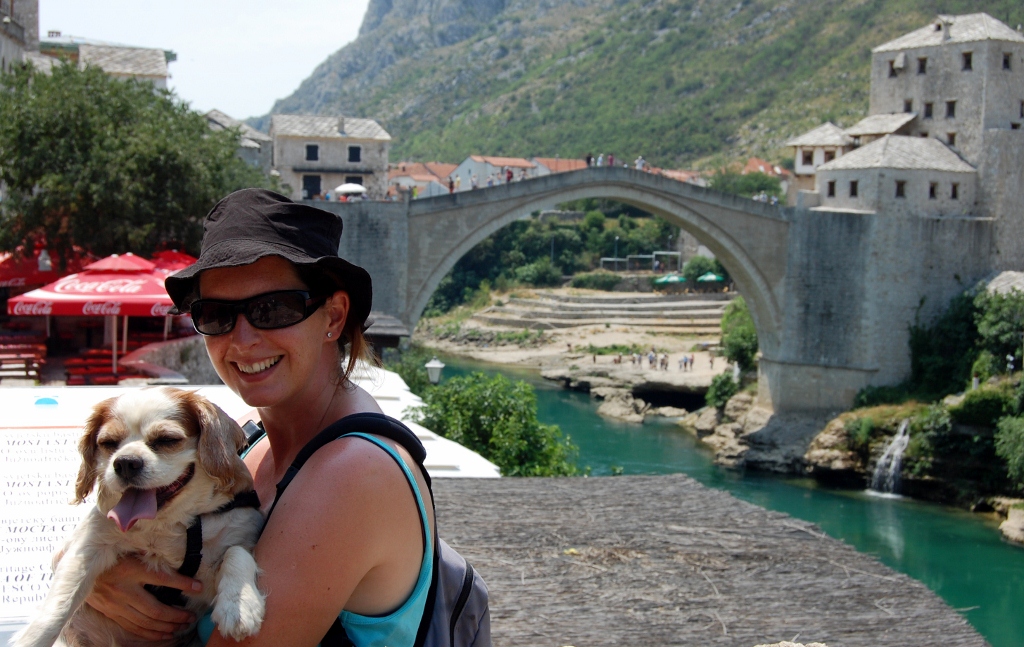 The Stari Most bridge itself was, well a bridge – pretty enough with very slippy well worn stones underfoot – I can't help but be reminded that it's new though, a replacement, a symbol of peace and war. We walked over it into the next gauntlet of tourist shops, but ducked out as soon as we could and headed up some steps to a main road. Here bullet holes could be seen in every wall that had not been re-rendered. Brick skeletons buildings would reveal a hint of their former self – a coat of arms, carving, tiles on a wall. In a Mosque all the graves were from the nineties – and there were a lot of them.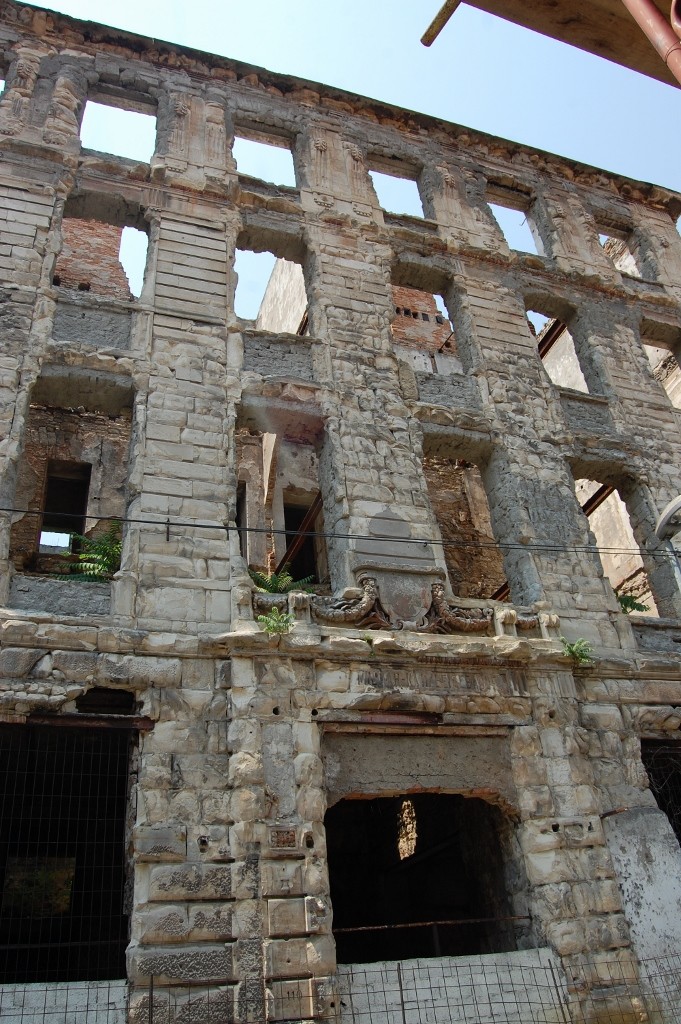 We rested in the shade of a tree next to another Mosque, photographs outside show how it looked before and straight after the war, even now after being repaired, you can still see the bullet and shrapnel wounds.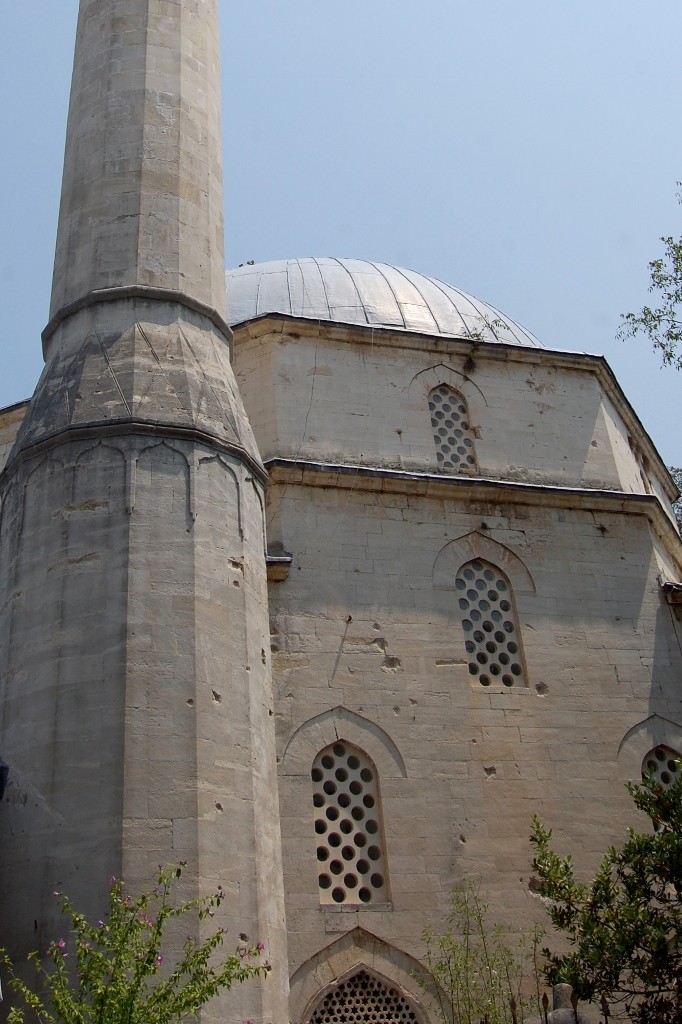 Ice cold drinks and pastries from a nearby bakers fuelled us up to get back to Dave. We've seen enough of the scars of war for one day – Jay commented that Mostar is like a face burned by fire. It really was a beautiful city, but I'm not sure when it will be again.
We drove south to the campsite recommended by the man at tourist information, as we approached a figure appeared at the gate. Sacha had been forwarned that we might be arriving and directs Jay into a space next to his grape vines and in the shade of a cherry tree. So much in the shade that he nips and fetches a saw to hack off a couple of branches so we can get the door open. He invites us over for a drink in the shade, we gulp down a cold radler (shandy) each facing a framed poster of a man working a lathe. Jay inquires if it's his father – he replies it is General Tito. We chat for hours as he tells us how life was much better in Tito's time, free house, schools, hospitals and two weeks holiday a year. Now he has to hold down three jobs – life here is 'shit' now, he tells us. Under the poster on a window ledge sit mortar shells – he found them on his land.
We make him an English tea, but he can't face the thought of us adding milk to it. Just as he's drinking it two men arrive – he explains they are here to fix the roof of the bunker he lives in, a mortar hit it and recently it had started to leak when it rains. Sitting around the table, drinking beer and home made Grappa he points out that we were with a Muslim, Croat and Serb – a few years ago this shouldn't have happened.  One of the men then jokes that he fought for Germany in WWII – just so we wouldn't feel left out.
A another motorhome has turned up followed by a mini housing two Brits from Bristol. They're all being entertained by Sacha – he is very welcoming, just like everyone we have met so far. Jay's headed over there for another cold draft beer and I'm off there too now – Dave is still too warm while there are cold drinks, shade and company.
A few more pics from today:
Ju x