Dave the motorhome is a little on edge, he's free camping in a big smoke, by the river in Bulgaria's second largest city Plovdiv (N42.15279 E24.74210). We tried to find out if we could park in a guarded car park just up the road, but because we don't speak any Bulgarian and we weren't in Dave at the time, we simple confused the car park attendant who pointed to the Novotel across the river and told us we needed to sleep there.
Last night we were lulled to sleep by a strange howling noise, it then became barking so we figured either the dog was trying to get rid of the wolf, or was just doing a really good wolf impression earlier. Either way he soon shut up and we were left in silence – total silence, it was like I had my earplugs in.
This morning I nipped out of bed early and hung our union flag bunting around the inside of Dave as Jay has  reached the grand old age of 41. We were in Split in Croatia for his birthday last year, this year we're in Bulgaria, so I asked him where we wants to spend his next birthday, at home was his answer. I'm sure we can manage that. Happy Birthday Jay – well survived!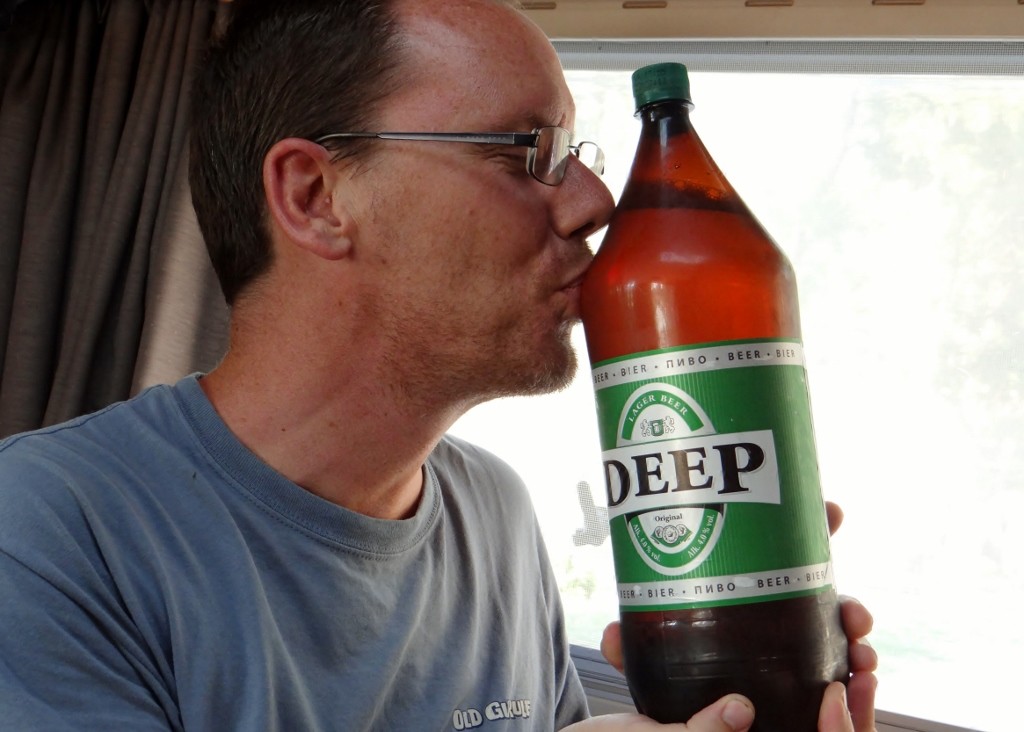 We didn't plan things very well, we should have tried to have a driving-free day to celebrate but alas we were on the side of a mountain in a car park we had to pay for – time to move on. As we made our way back down we realised it was Saturday – a busy day for the chairlift. But while we squeezed past loads of cars and 4×4's we managed to avoid any coaches on the narrow road – phew! Back in Sapareva Banya cars lined the roadside and lots of people were wandering around with baskets and carrier bags, a sure sign of market day!!  We pulled over to join them but fortunately noticed just before we jumped out to start shopping that they weren't all off to the market, everyone was going to the local cemetery and there was a priest there among them blessing things – oops! Maybe this happens every Saturday, maybe it's a special day today, we don't have a clue, but it was nice to see the community all out together doing something.

We'd received an email yesterday from fellow motorhomers Jenny and Ewot (travelbunyip.com) who are travelling across Bulgaria in the opposite direction and looking at their maps they figured our paths might cross today. As we trundled across the country following signs for Пловдив I soon realised that the signs weren't taking us along the roads I would have chosen – we were heading for the motorway. A quick check on the t'interweb confirmed that the motorways aren't toll roads (phew) so we went with the flow, resigning ourselves to the fact that we probably wouldn't pass Jenny and Ewot and their kangaroo-covered motorhome, or if we did, it would be on the opposite carriageway with nowhere to stop and say hello.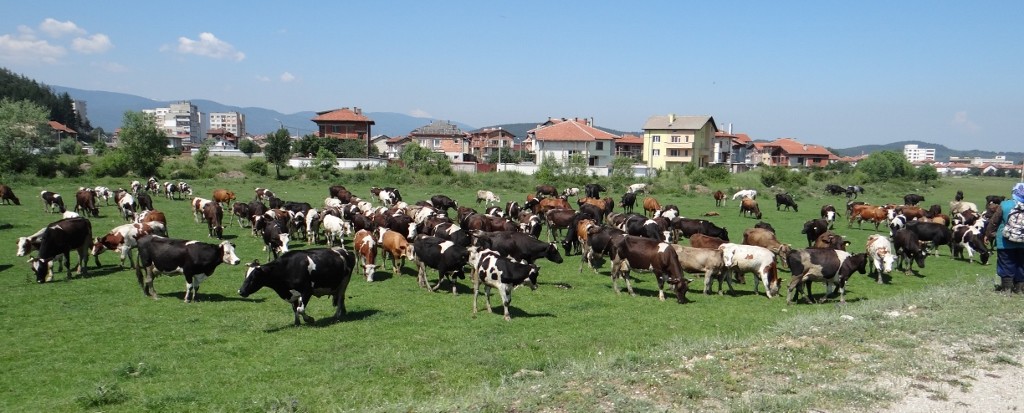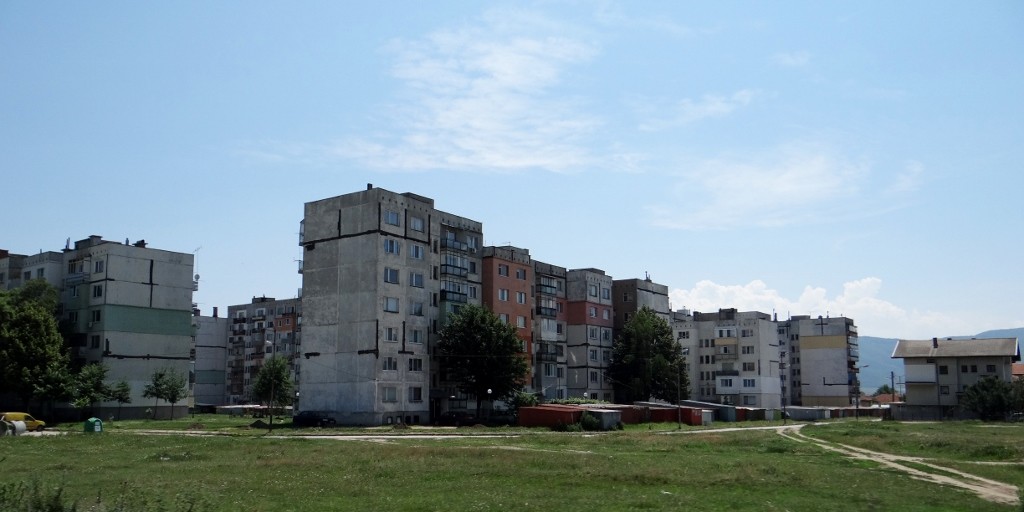 The countryside, dotted with small villages of red brick buildings that look in danger of collapse at any moment, was busy with people working the fields and travelling on horse drawn carriages. Then as we turned a corner we spotted a motorhome in a lay-by, a motorhome with a kangaroo on it. We pulled in and were greeted by Ewout and Jenny, and invited in for a brew (it was a bit early for beers and we still had an hour of driving to do). We joined them in their van and chatted about travel adventures. They've been touring Europe in their Dutch registered motorhome for a few months every year for the last five years. They also told us the helpful hint that you can get free wifi at the OMV petrol stations here – which is how they got their email to us, that could come in very handy!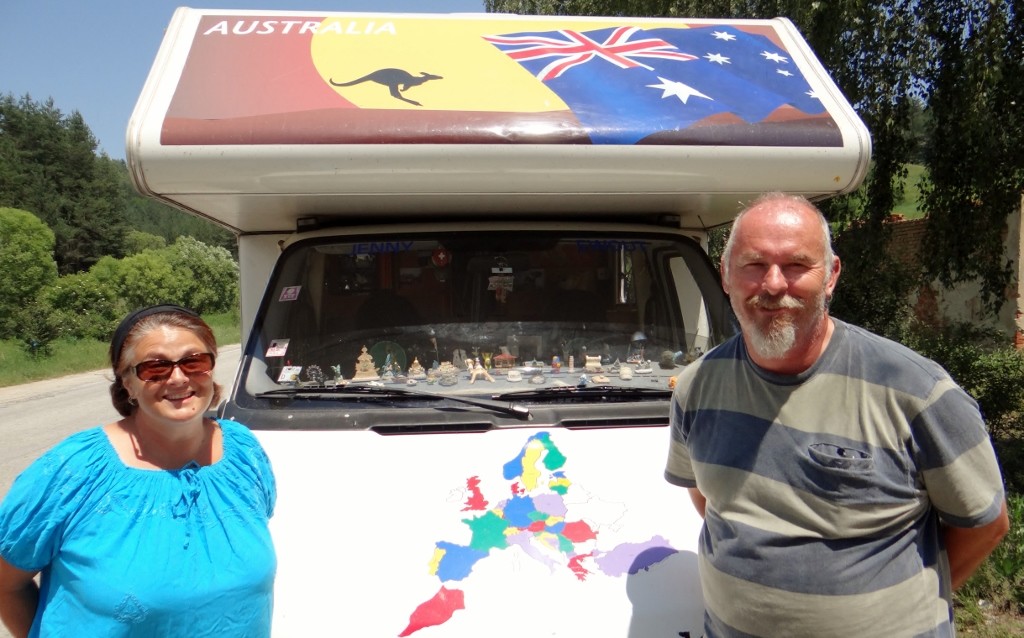 Inside, their van is brilliant, covered with photographs of places they have visited (something I've been meaning to do for ages), including a shot of Ewout dressed as a koala at the Tour de France cheering on Cadel Evans. As the huge lorries rumbled past shaking the van it was clear that we weren't going to be able to stop for the night in the lay-by and talk into the wee small hours. So we said farewell, but really hope to meet up with them again one day for a proper natter.
Ewout had warned us that the next stretch of road had a lot of potholes in it, including one that could swallow the motorhome. We've been on many pot holey roads but apart from the 30 kilometres stretches of roads in Tunisia where the tarmac had been removed, these were the worst. The shade of the trees covered half the road making it difficult to see them, but the road was pitted with deep holes. Jay led Dave like Anton Du Beke on the dance floor, shimmying around the deepest holes, aiming for the shallow ones that made the cupboard contents shift but wouldn't snap off a wheel. Spotted the van killer hole, which was fortunately on the other side of the road, but we surmised that we could have possibly parked our smart car in it.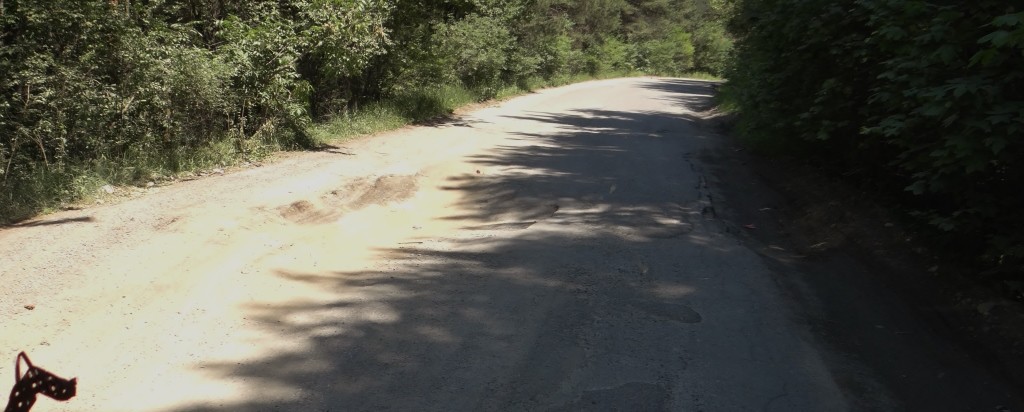 The road skirted around the edge of a lake, its banks lined with tents and families picnicking and fishing, but all the cars parked up meant there was no room for Dave, so we ploughed on. Eventually we reached the motorway, we've never both been so happy to see some smooth black top! Dave's average speed shot up from about 20 kilometres per hour to 80 and we were off.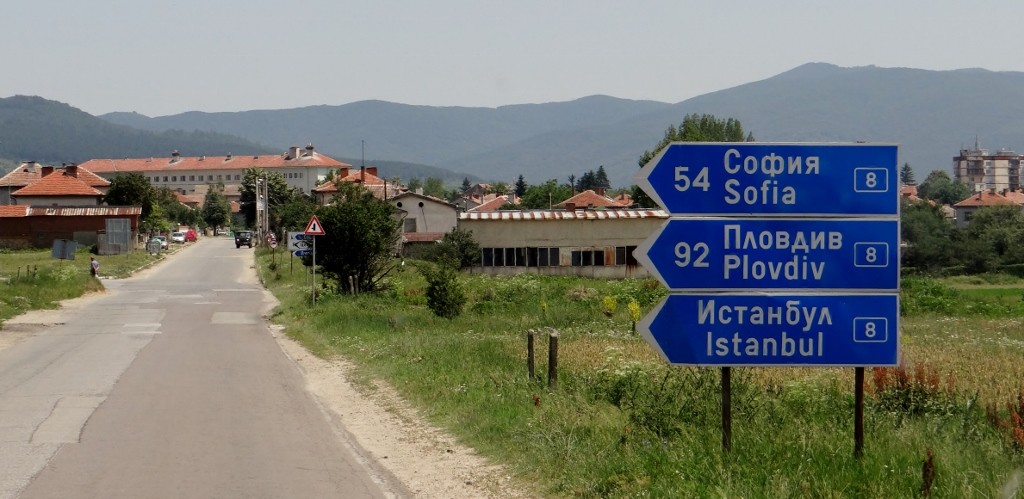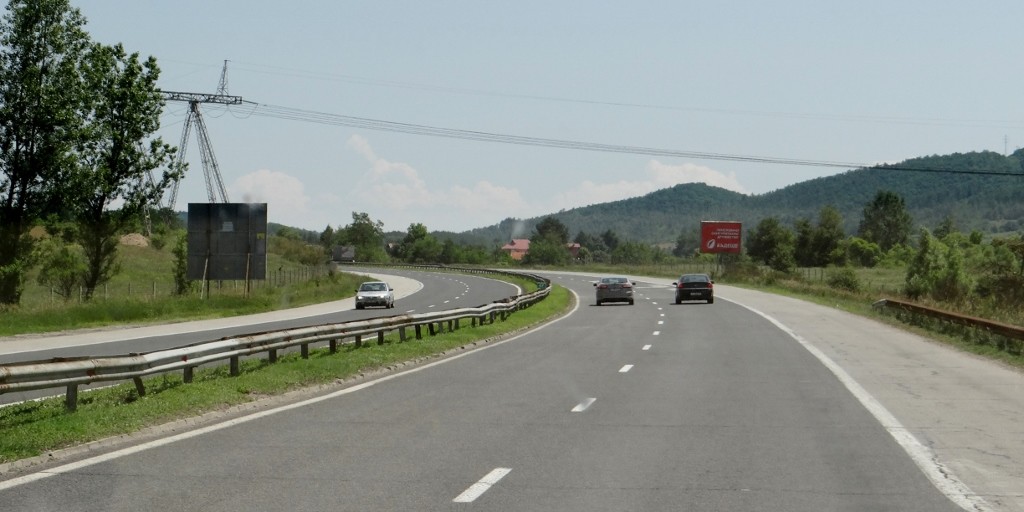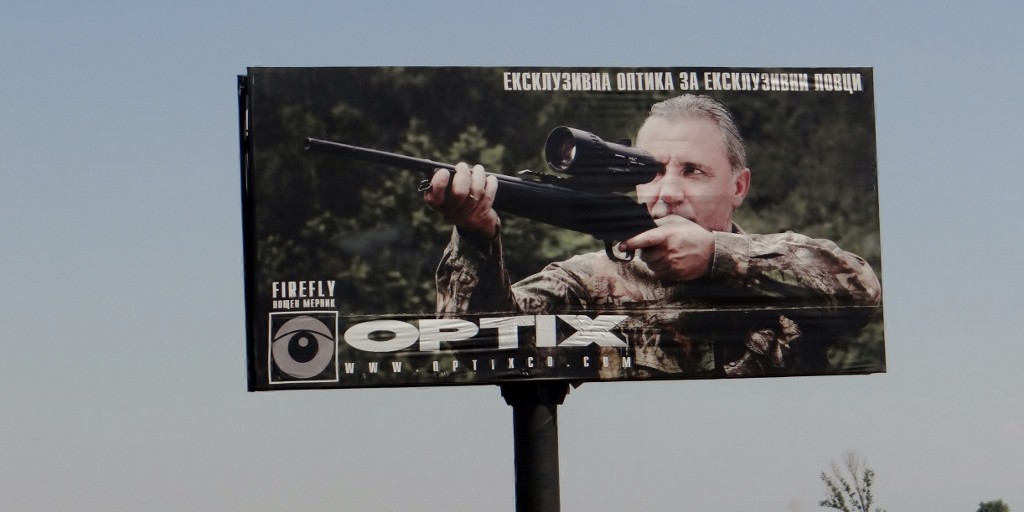 We reached Plovdiv (which has prompted several Miranda moments from me; Plovdiv, that's a nice word, Plov Div!) and made our way to the riverside in search of parking – as we could avoid driving through the majority of the town that way. We spotted a space, pulled in and assessed the area. We'd been talking about break-ins and crime with Jenny and Ewout and suddenly it made us all to aware again at how vulnerable Dave is when we leave him. Around us there was a bit of graffiti and the road was busy, but other than that it looked OK. We set up 'false Dave' (our pull-down bed stuffed with pillows to make it look like someone's asleep in here while we're out) although I did point out to Jay that any sensible criminal might suss that it's not a person as they are all wrapped up in a blanket and the temperature was touching 36ºC. Fingers crossed that the criminals were all stupid around here, we set off for a look around.

Just next to where we parked is the main pedestrianised shopping street, lined with mainly shoe and clothes shops. It's strange how there aren't any clothes with slogans or writing in Bulgarian, for those you need to tourist shops, which charge a small fortune. We could have been in pretty much any city in Europe except for the pizza slice Jay was chomping on only cost 1 Lev (50p).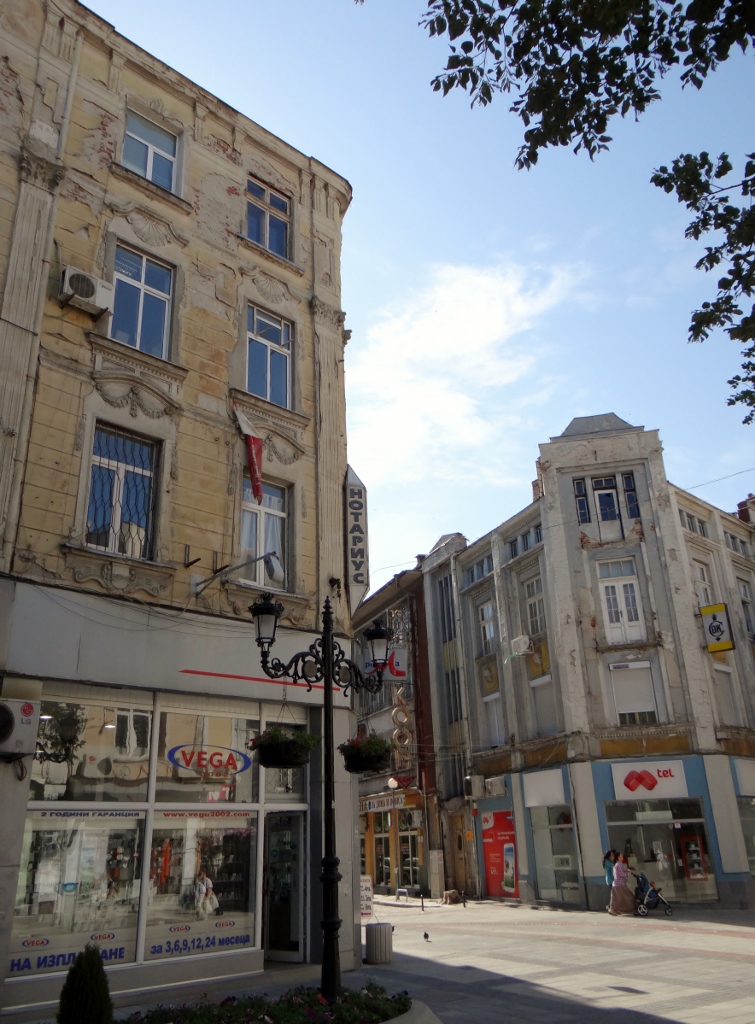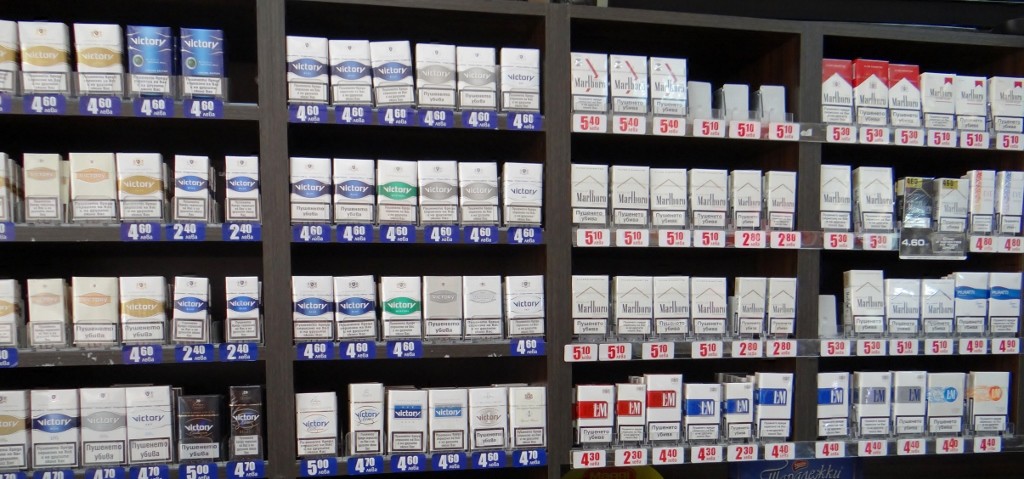 We reached a square with Dzhumaya Mosque, which was built in 1368 making it the first in Balkan Europe. However an earthquake in 1928 caused it to need some work, so it looks a lot newer than it should. Next to the mosque were the partly buried remains of the ancient stadium of Philippopolis (which is what the Romans called Plovdiv – I'm torn as to which name I like the best, they're both brilliant). We gazed down into the stadium seats and at a model which shows that the stadium itself extends under pretty much most of the city.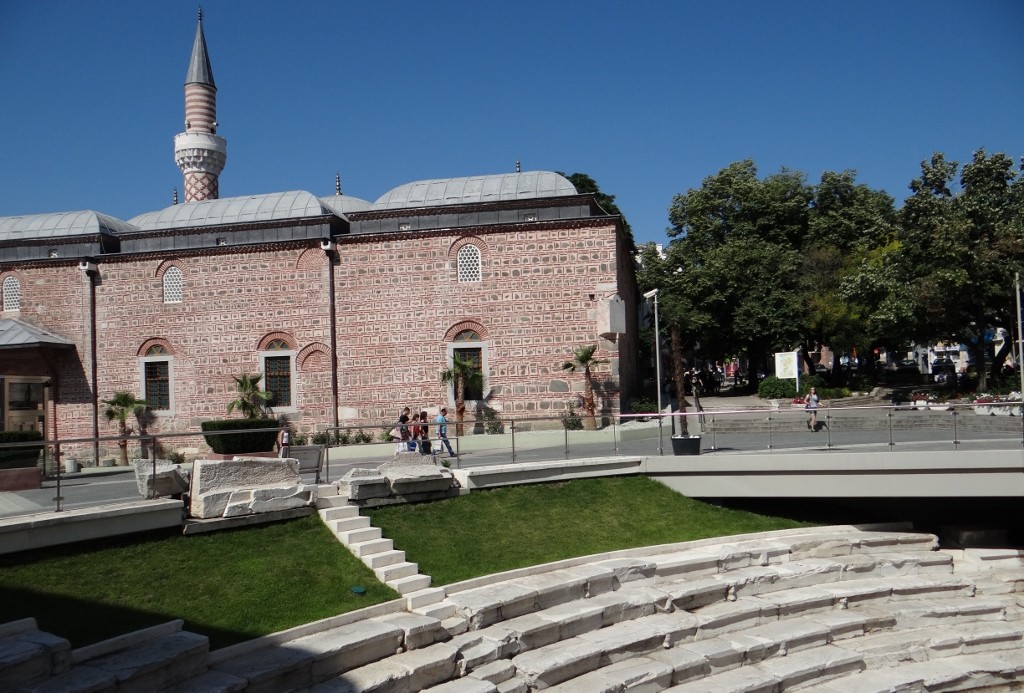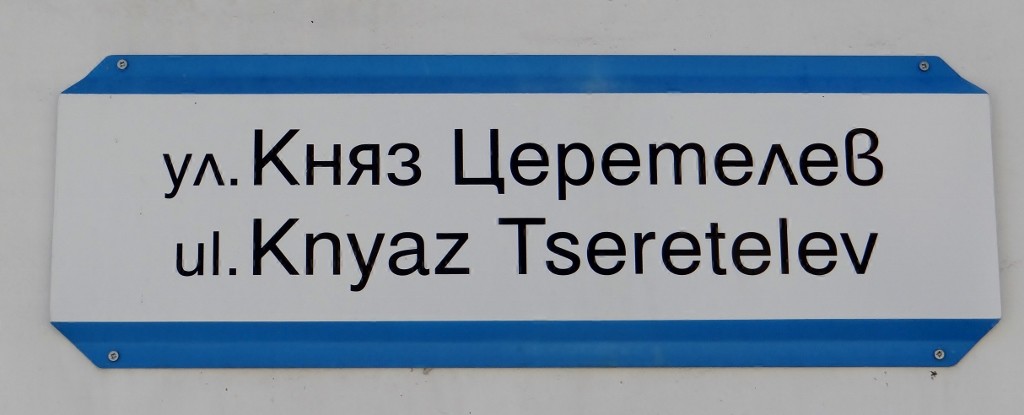 After a cooling drink at a water fountain we headed off towards the old town. A wedding party arrived, car horns blaring, and parked up outside what we think might be the registrar office, as another Bride and Groom emerged a couple of minutes later and headed off for photos up the road. We wandered around for a bit, looking into churches (which are generally cooler than outside) and getting way too hot. Charlie got several soakings, but his tongue was still way too far out of his mouth for comfort.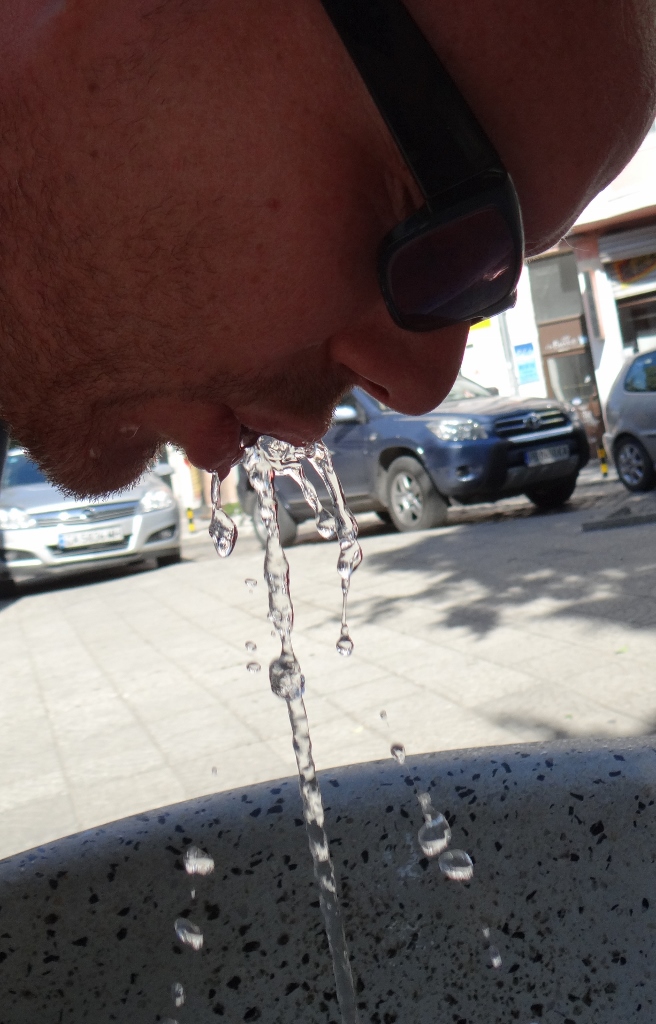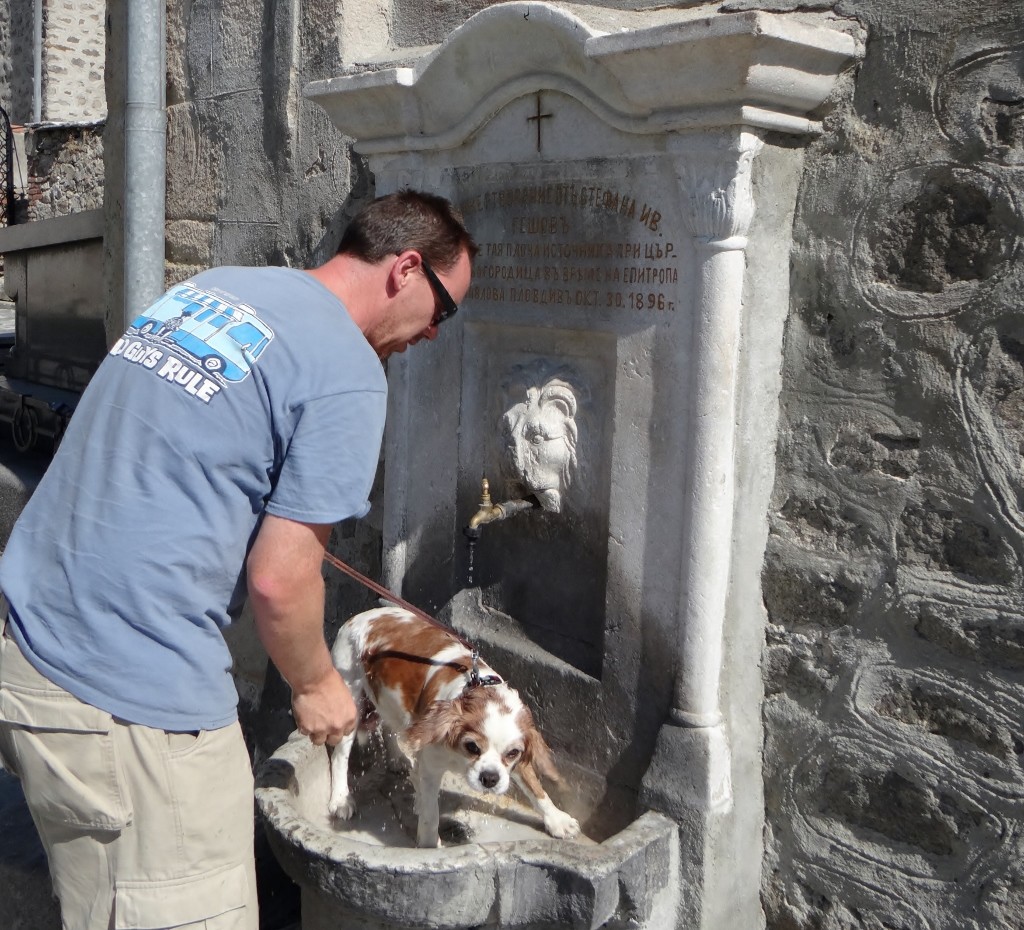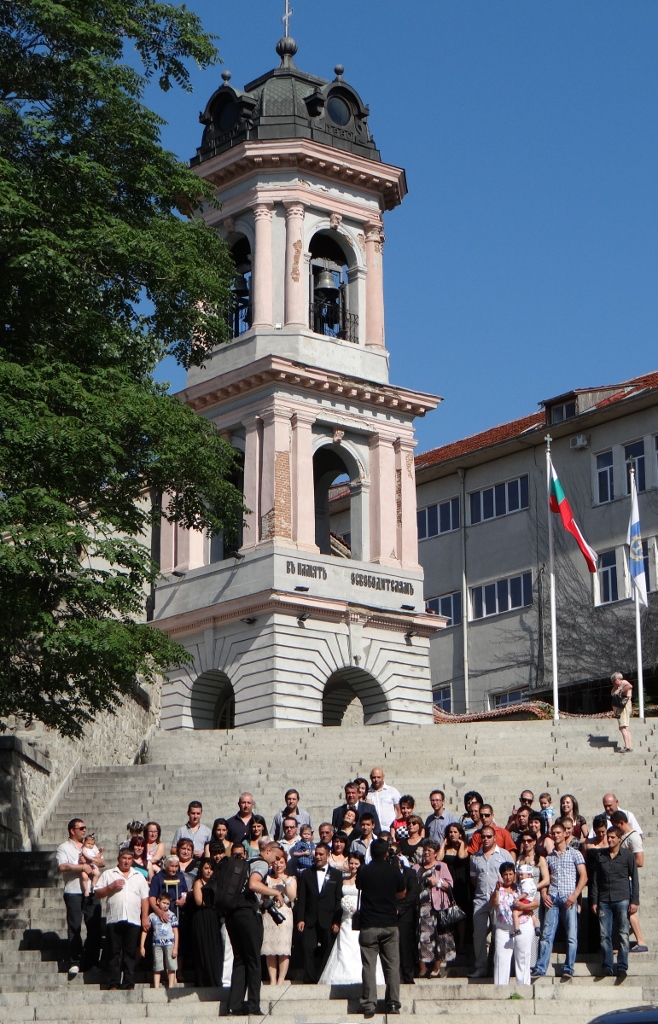 We were all way too hot to be bothered, so after seeing a couple of the Hansel and Gretel style houses and a look through the railings into the closed Roman theatre, we grabbed an ice cream on our way back to Dave. A young man leapt up and started to fuss Charlie, kissing him on his head (it happens!) he was trying to tell us something when one of the police officers standing outside a jewellery shop next door started to have words with him. We could tell by the look in the guy's face that he was explaining to the police man that he wanted to pet the dog, but the policeman obviously thought he had other ideas. We've no idea what either of them said, but as the policeman had a gun we quietly wandered off.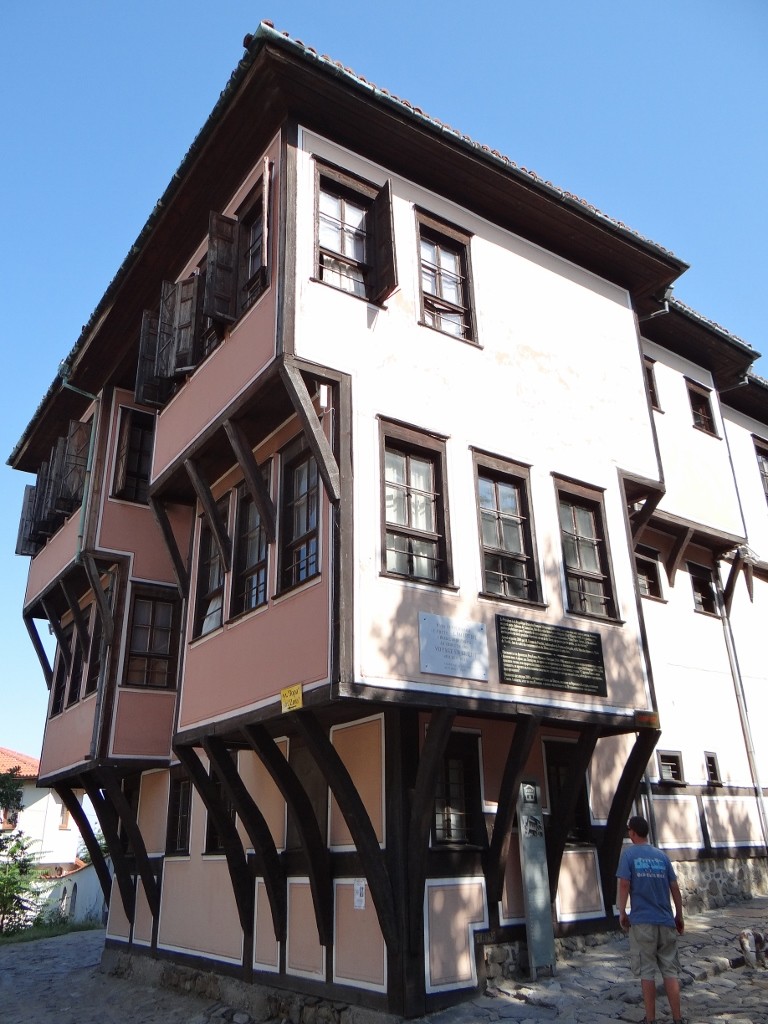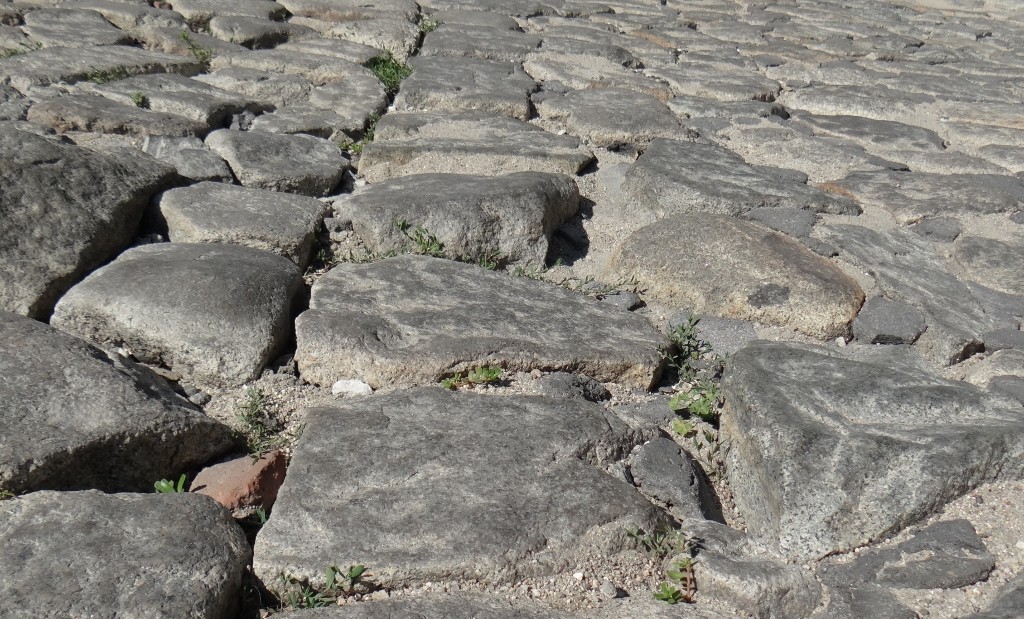 Back by the river we saw Dave's front end first and a wave of relief hit us that he was still there, then his bike rack came into view – his bike still on it, and the door and windows all still intact. Phew. I always have a sinking feeling in the pit of my stomach as we return to him after a walk that he'll have been broken into – fortunately today wasn't that day. Tonight we had planned to eat out to celebrate Jay's birthday, but we've put that on hold as we don't fancy leaving Dave alone in the dark. Having said that a fella has just glided past on a Segway, so perhaps this part of town isn't as poor as we thought!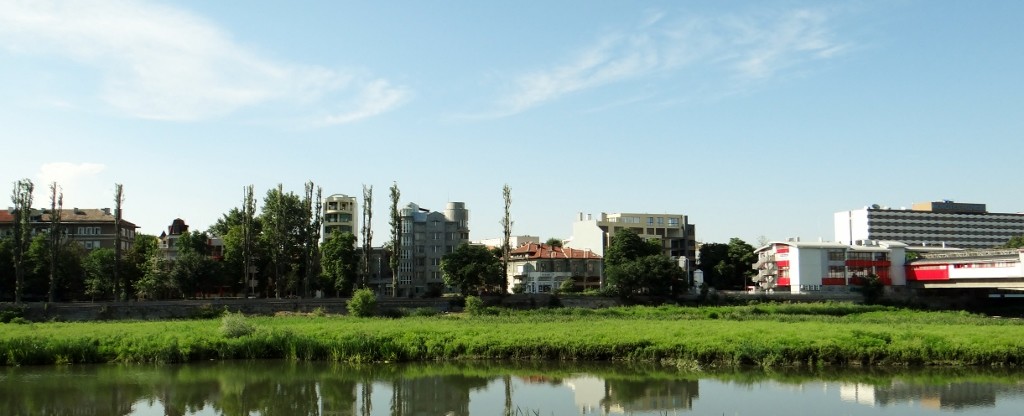 Ju x
More Plovdiv pics as a little bonus for you!