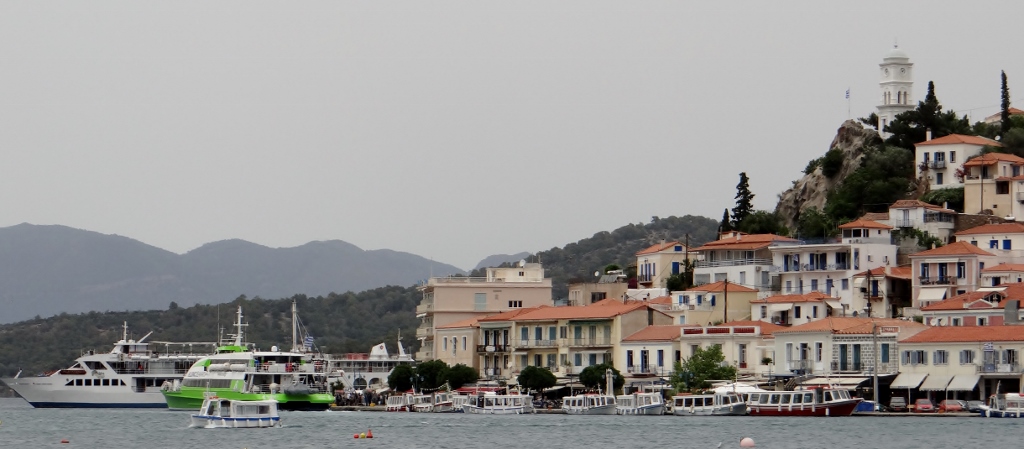 Dave the motorhome might be in a building site, we're not entirely sure. He is parked up in a red and white plastic taped off area of the waterfront in Galatas, surrounded by piles of sand, pavement slabs and a couple of JCB's (N37.49871 E23.44544). We've been here for a while and no work has been done, so we suspect we'll be OK as we're about 250 metres outside of the town (far too far for anyone else to walk) and we have a great view of the island of Poros.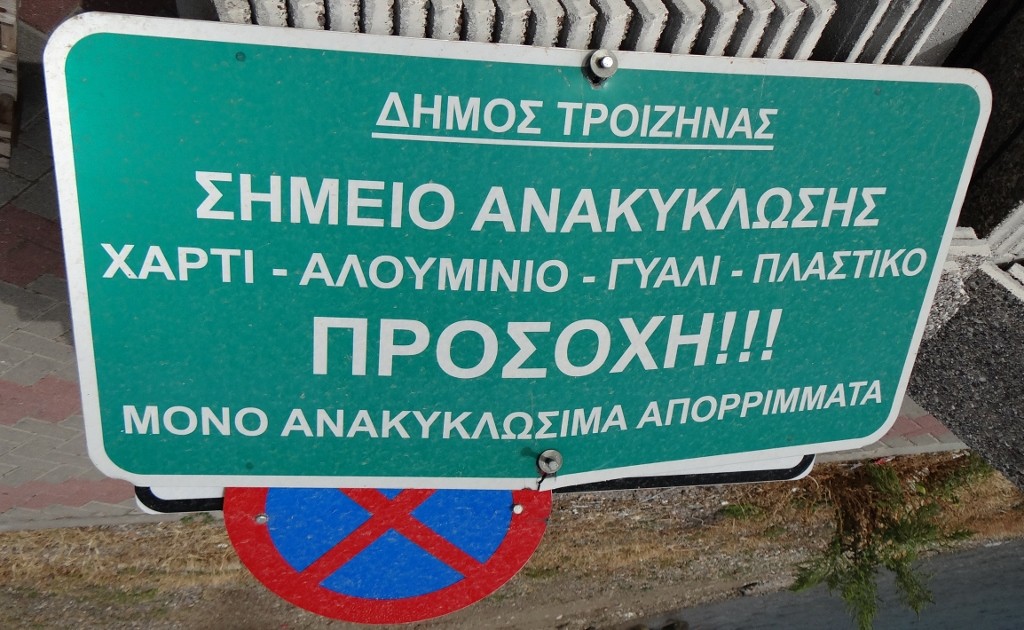 Last night we sat outside with Gerti and Ignaz under their awning, to our right was an orange glow in the sky; the distant light pollution from Athens. The wind picked and had us all rushing around winding awnings in, only for it to drop as soon as we sat down again, but luckily the few spots of rain had passed by then and our washing was almost dry.
This morning we gave Dave a good clean, feeling guilty as Gerti and Ignaz's van is pristine and older than Dave – then it was time to say a sad farewell. Hopefully we'll randomly bump into them again one day, if not we might try and pop in on our way home or see them when they next visit the UK. We fired up Dave and set off, taking the road which runs like a scar around the hill above the campsite.
We'd only just got out of the town when we spotted an AB supermarket, Jay ushered Dave into a space and waited with Charlie while I nipped in. It was one of the strangest supermarkets I've been in, there was fruit and veg, a few chillers with meat and a huge cheese counter and loads of junk food. I looked around for milk and bread but nothing. Then I spotted a fellow shopper collect a trolley and get into a lift, the doors shut before I got over to it, so I quietly made my way up the stairs next to it. As I rounded a corner on the stairwell I spotted shelves of toiletries and a man wheeling a huge cage of goods across the doorway; for a fleeting moment I thought I'd ventured into the stock room, then trolley woman wandered across my view. I stepped out into the second floor of the supermarket, not a mezzanine like we get at home, but a closed in little room stacked full of what I'd expected to see downstairs.

Flummoxed by the two storey approach, and not having my phrase book with me, I left with very little. As I walked back to Dave I peered into the little cafe next to the supermarket, at the back were shelves of fresh bread – no wonder the supermarket only stocked prepacked stuff! Nipping in I was glad the assitant was on the phone, and remained so while he served me, so I only had to deal in sign language to buy a nice fat loaf to smother with Gerti's home made jam.
We carried on along the corniche road, the bare rock face rising up about us was obviously unstable as we saw some of the most comprehensive netting and rock capturing systems we'd seen anywhere in Greece. Light rain fell on Dave which was full of sand, so he is now a similar red/brown and white mottled colour to Charlie. Scribbles on our map from our meeting with Carol and Dave a few weeks pack showed Dolphin Beach, so we followed the extensive instructions; 'Metamorforsia above and drop down'. Surprisingly that was all we needed and we found ourselves on a stretch of beach (GPS N37.53853, E23.34861) looking out across a long bay. Jay took Charlie for a quick walk before the rain started again.

After a bite to eat we decided to move on, after all it was only just after 1pm. We drove for a few more kilometres and as we entered Galatas I spotted boats moored at the end of a side street. We turned down it  and drove along the water front to find an out of the way spot for Dave.

I did our weekly budget and so far we've averaged around €321 a week over the 85 weeks we have been going – this isn't bad as it includes some pretty hefty repair bills! Then with the last of the big cool spots of rain coming down we went for a walk around Galatas.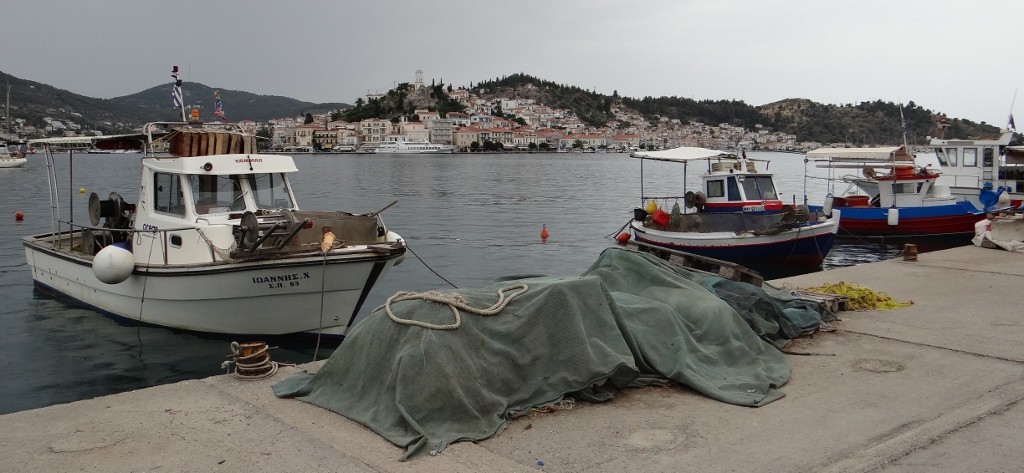 Little blue, white and red hand-painted fishing boats are tied to the rocks on the shore on this side, in Poros the waterfront is lined with big expensive yachts. Two car ferries and a fleet of little shuttle boats constantly cross the water looking as aerodynamic as shuttle craft from Star Trek.  I think we're on the best side of the water as the view of Poros is lovely, it reminds me of St Tropez. I expect that in Poros the view of Galatas isn't quite as good and everything is double the price. We might try and find out in a bit, as we're thinking of taking one of the space shuttle crafts over for a Friday night in Poros!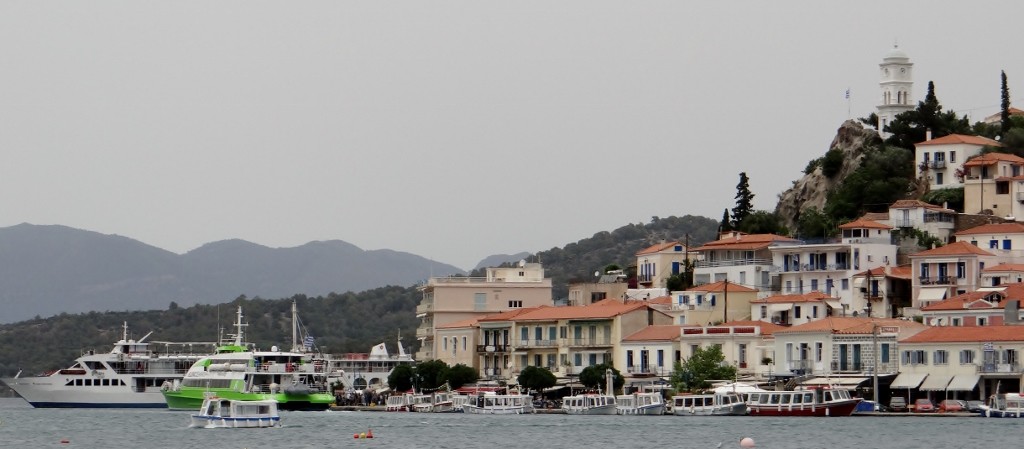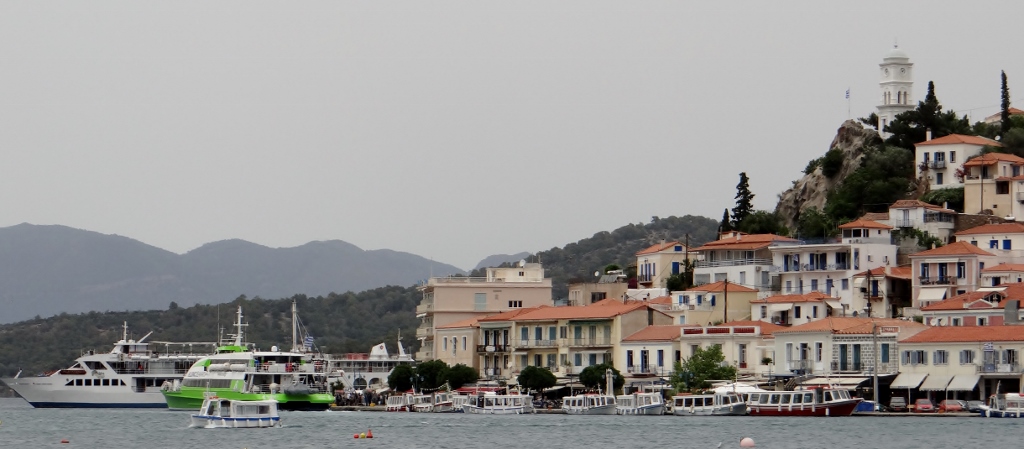 Have a great weekend everyone!
Ju x