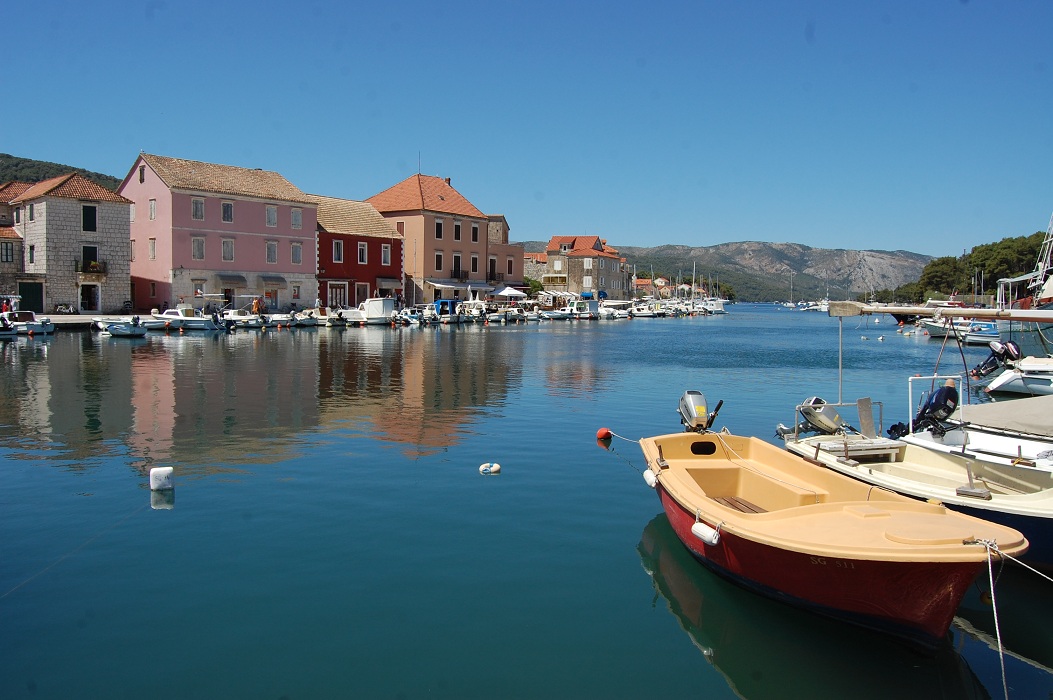 Dave the motorhome has been accompanied by a fellow Hymer at Jurjevac Camping in Stari Grad (N43.18269 E16.59282).
The campsite here has an unsigned stone and metal doorway at one end, along a narrow path which leads you past a long-suffering, but still playable, mini-golf course (bring your own club and ball, no-one is taking money). Passing through this ordinary-looking portal has the unexpected effect of depositing you in an enthralling, ancient, lively, flowery and sea-smelling world. Like stepping through the back of the wardrobe. Stari Grad. If you can't already tell, I'm in love with Stari Grad.
One of many sources tells me the people of Hvar island, in need of a big brother to fend off beligerent, cruel pirates, handed their island, lock stock and smoking barrel to the Venecian empire. A free island, rather handily sat along the sea trade route which made them fabulously wealthy, clearly wasn't enough. The ever-scheming Venice asked for another sea port to be developed by the folks of Hvar in return for protection. Stari Grad's gathered around the rounded end of a fjord-like narrow spike of water you see, perfect for today's resting racing yachts, not quite so good for the mighty Venecian fleet.
Luckily for us, all this history, as it means the port they created is to the north, Hvar Town, with it's winged lions symbolising its past protector. As witnessed yesterday, Hvar Town is now rammed full with cruise-ship bound Brits and Americans, briefly touching ground before being floated off for other Adriatic brief encounters. Stari Grad remains remote, quietly extending it's 2,500 year history. Postcard photos from 100 years ago appear modern portraits, betrayed only by their lack of colour. It's somehow an exclusive place, without excluding anyone. An elderly lady in a faded flower dress and knee-high stockings sits in the shade, crude crutches propped against the wall behind, observing with smiling eyes the meandering aliens on the quayside. A laggard attemping to rouse a song from his fellow troop of stag-do Germans last night floundered quickly, with a good-humoured but withering stare from his nearest compatriot. If Hvar town is the new Ibiza town, Stari Grad is the old one. 'The devil's in the hold' croons out from a Jazz fan's boat as we wander past, looking in we wonder where the fan actually was as his rocking front room was empty. He's perhaps in the bar opposite, using his boat as a personal juke-box, it's that kind of place.
Our evening vittles were taken in the footsteps of a wayward king. After failing magnificiently to choose from any of a myriad of half empty al fesco eateries, we remembered some decision-making advice from our relentlessly cheerful friend, Neil Green. 'Just throw a coin, heads for left and tails for right'. Within the recycled smooth stone walls of the old town, alleys close enough to touch with outstretched arms, the ploy worked a treat. Although I admit we chose left without the coin flipping, which we assume to be optional.
Left immediately proves to be a good way to find a restuarant, and we're sat in a narrow lane, stone on all sides but the sky. Ju has a hunch and consults the Internet tea leaves. She is, of course, correct. This tiny nosh-up spot was where an abdicated King Edward had brought his equally wayward bride Wallis Simpson some 70-odd years back, presumably selecting it with the traditional royal 'Green' technique. Another bit of the Internet tells us they also advanced the naturist nature of this place, skinny dipping in the ocean of another Croatian Isle, an act I cannot forgive them for! The food was, ah, sorry about this, fit for a king. For about £22, two huge plates of meat arrived, too quickly, interrupting us as we sat sipping cool wine and eyeing up the mismash of stones making up the wall we sat against. Piles of hand-cut chips and potato and carrot peppery mash took up the no-mans land between us, to be equally shared. Charlie gratefully lapped at a bowl of water, and we worked slowly through the remaining caraffe of house white, which the waitress had apologised for over-filling.
Love is a complex thing, mine for this place is founded in a desire for peace I think, away from the madding crowds. Away from the officious signs declaring lists of rules which attempt in vain to make life perfect for everyone. Our vacuous camp site appears to have no rules, maybe as there's only us here, so no-one else to offend. The town itself is the epitomy of laid back. You can rent a Beatle (the car, not Ringo) if you wish, they have a selection in vivid colours. Or why not rent a speedboat and, after 5 minutes fast-forgotten instruction, crank open it's throttle in glee, projecting yourself off into the open ocean?
The local firemen have constructed a den for themselves alongside the main fire-house. We peered inside, lured by the incongruous sight and smell of smoke from a chimney in it's ceiling. In the shadows, a fire-fighter is flirting with his some-time foe, building a big wood BBQ while his fellow uniformed friend lays out an array of fatty bacon slabs, waving cheerfully to us.
I don't want to leave. In eight months of travelling, this is the first place I'd consider making a home. Islands often have this effect on me, they seem carefree places, separated by more than a stretch of sea from a frantic, self-important, mainland lunacy. As making a home's not on our agenda though, we will of course have to leave. The question is, do we have to quit this small paradise just yet? A harbour-side cafe has already enticed us with its offer of free wifi, so over a dragged-out drink, dripping with humidity, we'll have a chat tonight and decide.
Cheers, Jay
P.S. If you're interested in camping in Stari Grad, here's a quick video showing the proximity of the campsite to the quayside and town: