Dave the motorhome is tucked away in Idea Vacanze a motorhome sosta in Sicily's capital city, Palermo (N38.14817 E13.35231). Walking around we might have been able to free camp around here, but we wouldn't have dared leave Dave on his own.
This morning we were up early as we knew we had to get Charlie to the vets for 9.30am for his annual jabs. We wandered up the street and were greeted by Raoul the vet who ushered us into a makeshift surgery – the furniture is arriving later this week. On a table covered with lino Charlie was checked over and showed no sign of his intermittent heart murmur, although Raoul did take time to explain to us about what we needed to look out for – seems pooch has a year or so before it should start to cause him to have medication (fingers crossed we get home and get him insured by then!). A quick injection, the paperwork all updated and we were good to go. At only €30 we were sure it was less than we normally pay at home. If you're in need of a vet in Sicily then we can certainly recommend Raoul at Centro Venterinario Solunto. He's in Santa Flavia which is a short walk from a free camping place by the sea in Porticello and some Roman ruins.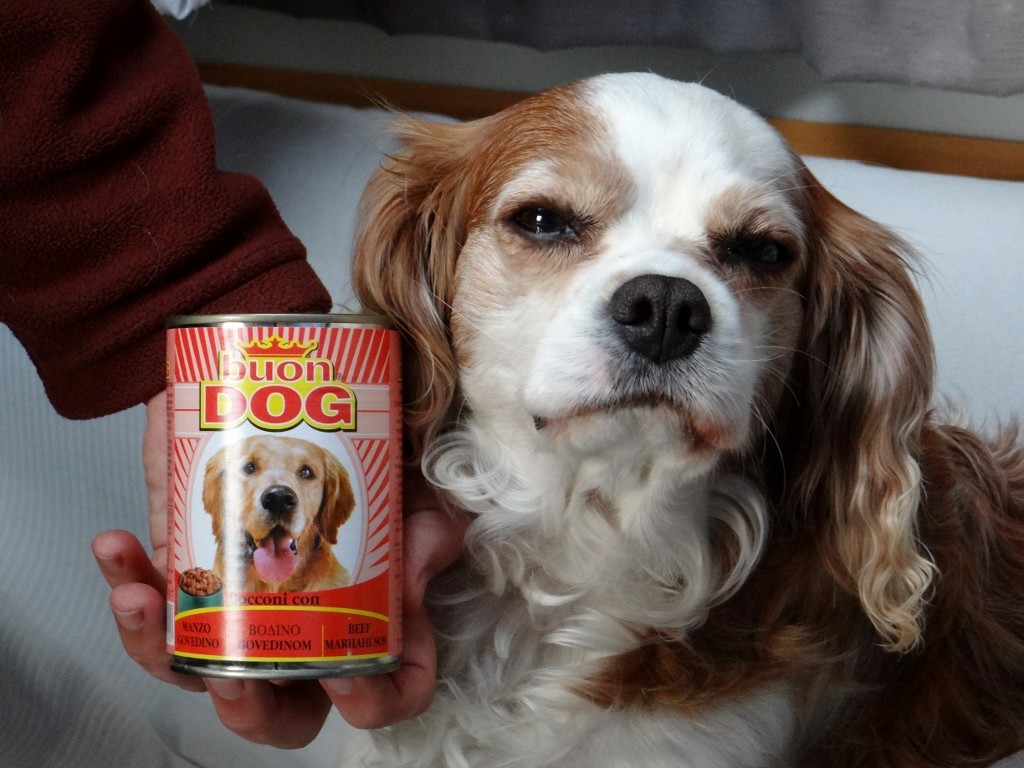 Charlie all sorted we set off for our first destination of the day the depot of SDA express couriers in Villabate, east of Palermo. Fortunately it was located near some nice big roads, unfortunately satnav took us away from it on the narrow roads – grrr! Our mission at SDA? To collect our book – A monkey at my breakfast! We'd ordered a paperback copy from Amazon Italy so we could see the fruits of our labours. It's a very strange sensation to not only see your name on the cover of a book, but to see your words inside it. I'm tempted to read it just one more time now it's a real book.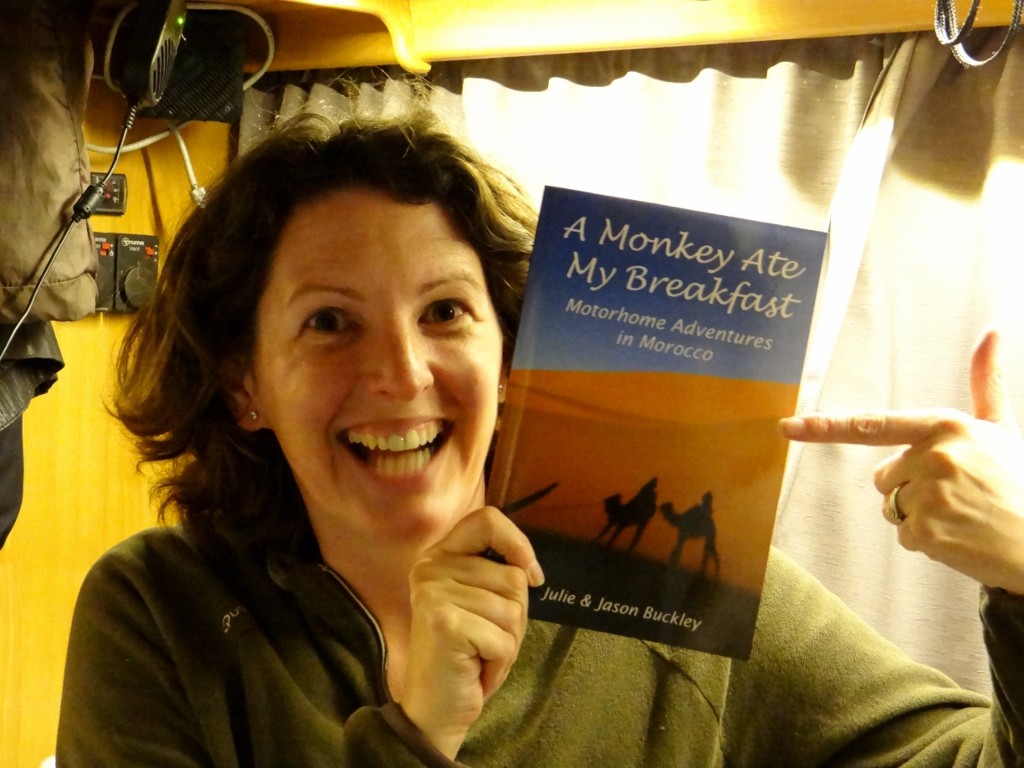 Back on a decent sized road we worked our way across Palermo to Monreale. Jay has been looking up places to visit on tripadvisor.com and this came out as a good one. Set high up in the hills over looking the town the Duomo is the main attraction, followed by the views. We fought our way through the manic traffic where there seem to be no rules (five abreast on a dual carriageway, that's not including the scooters) and finally we entered the swtichbacks to take us up to Monreale. Passing a 'no motorhomes' sign we didn't fancy venturing back into the chaos, besides the road ahead looked OK, so we carried on. Reaching the top we could now see why there was such a sign, as the road flattened out and narrowed. Cars parked down one side of the street and low balconies jutted out over the other side, this was the only street we could go down and we weren't going to make it.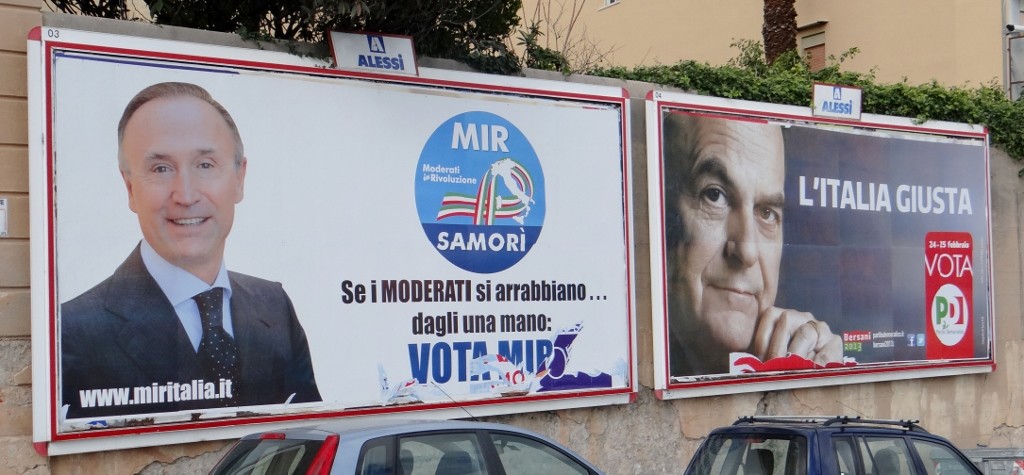 Parking was at a premium (as were double parking spaces) except in the bit we had pulled into. Sure there was a 'no parking or we'll tow you away' sign, but I'd like to see them try and tow Dave back down that hill! So, leaving Charlie in Dave to distract any potential traffic wardens (they would be so busy 'ooooooooooh piccolo, piccolo' and cooing over him we'd never get a ticket), we walked up to the Duomo.


Outside it looked nothing special, but inside was a feast for the eyes. Looking down at us from above the altar were the head and shoulders of Jesus, a 20m high mosaic (which we can't quite believe but the Rough Guide
says so!). He was surrounded by gold and mosaics of saints, in all around 6,500 m² of minute glass mosaics cover the walls in bright colours on a background of gold. Starting from one corner you can pretty much see the entire bible drawn out in mosaic form, from the creation and Adam and Eve, Noah and his arc, the life of Jesus and his death – it's all there. Every square centimetre of the upper walls are covered in tiny tiles. We stared in wonder for about an hour before heading back to Dave (who was still there and had been joined by a couple of other cars!).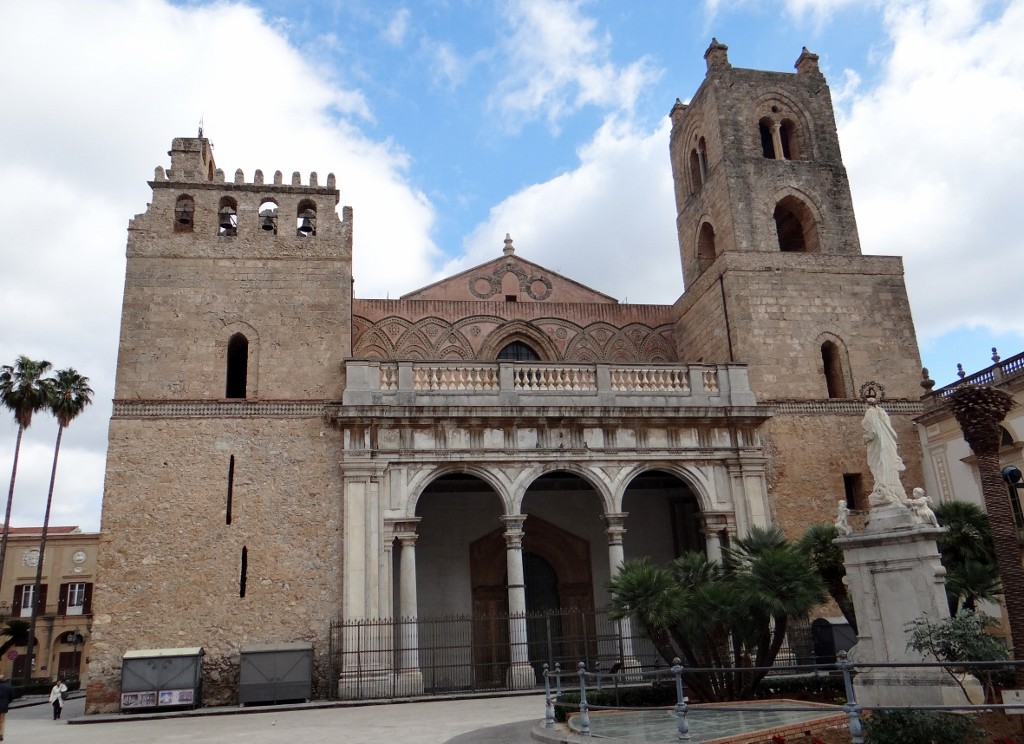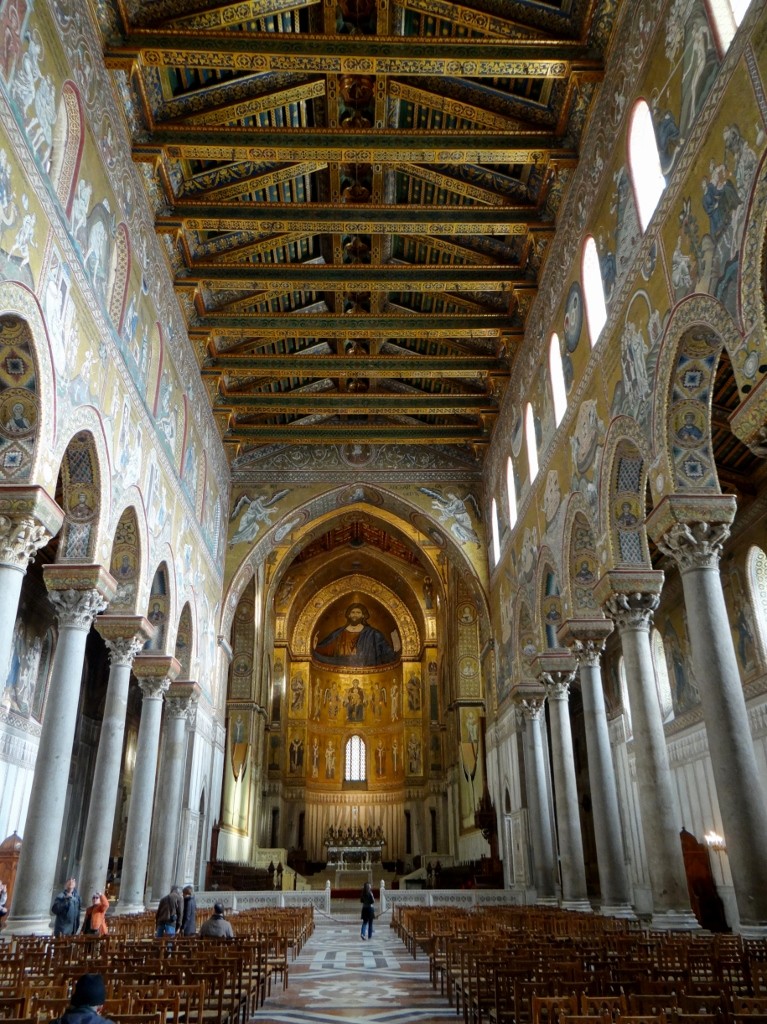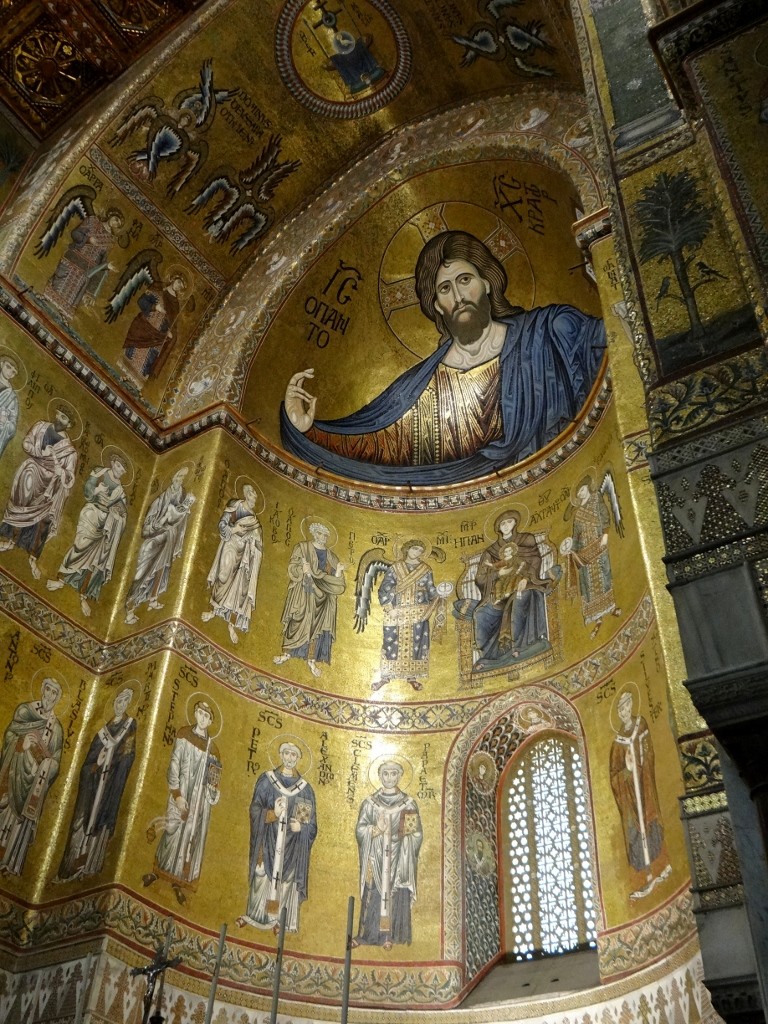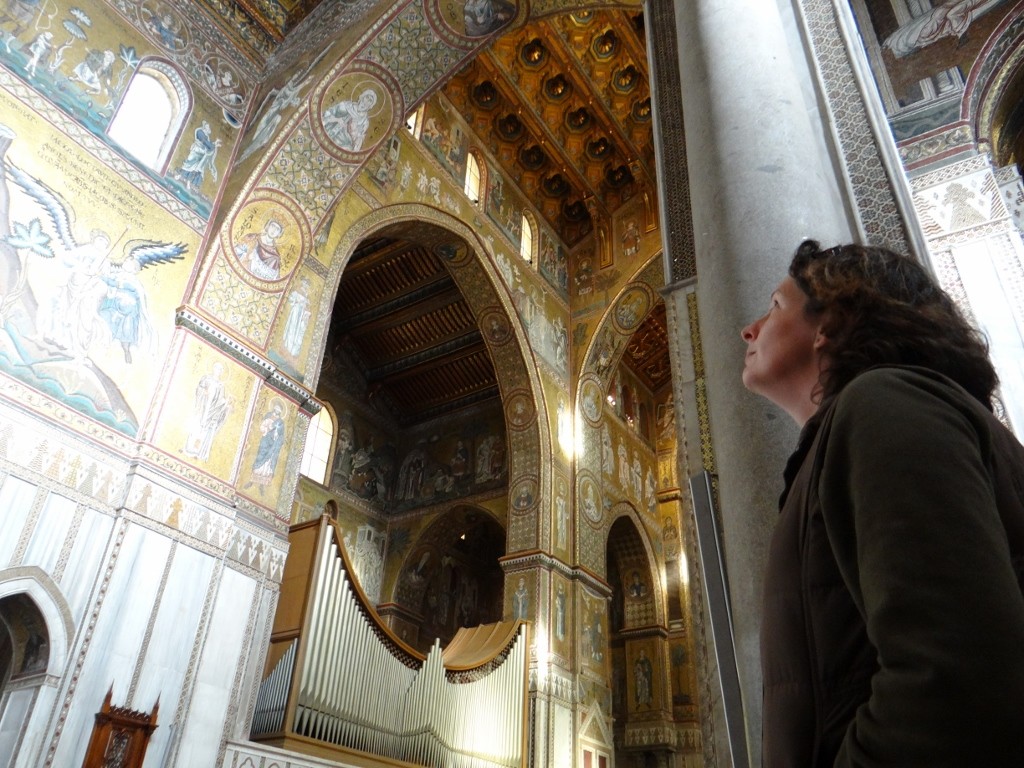 Jay skill-fully manoeuvred Dave back into Palermo as I laughed and sweated at the manic road. Double parking, sticking out parking, reversing into traffic, scooters doing circles around everything and about 90% of these people were on their mobile. I was so proud of how Jay fought his way through it all and still had time to join in with the horn honking!
We reached our next stop around 1pm, just as the schools were emptying – more traffic trouble. Taking refuge in the Lidl car park we embarked on our Big Shop. We won't have a fridge for the crossing to Tunisia as we have to turn the gas off, so we stayed clear of the chillers and went mad throwing everything else in the store into our trolley – chocolate, beer, wine, milk (UHT). Half way around the store it dawned on us that Lidl here don't take any of our cards (it only takes Maestro and another local card), counting up our notes we had €120, normally that would be more than enough but today our trolley was looking particularly full. Reaching the check out we put a few things to one side (I didn't really want their own brand ketchup anyway) and the beer and wine went at the end of our goods on the conveyor belt. We kept an eye on the total as it things were bleeped through, but our assistant was fast. Before we'd got the trolley properly in place we were at €30, then €50, €75 came and went and there was still loads of stuff left, then €100. Jay leapt around to the conveyor belt and removed the crate of beer as the assistant reached for it. The total stood at €114 surely the beer would tip us over the edge? A quick scrabble in my purse and I found three €2 coins – the beer was saved. Our total €123.70. I was shaking with nerves as we left the store – how embarrassing would it have been trying to explain we couldn't afford it all?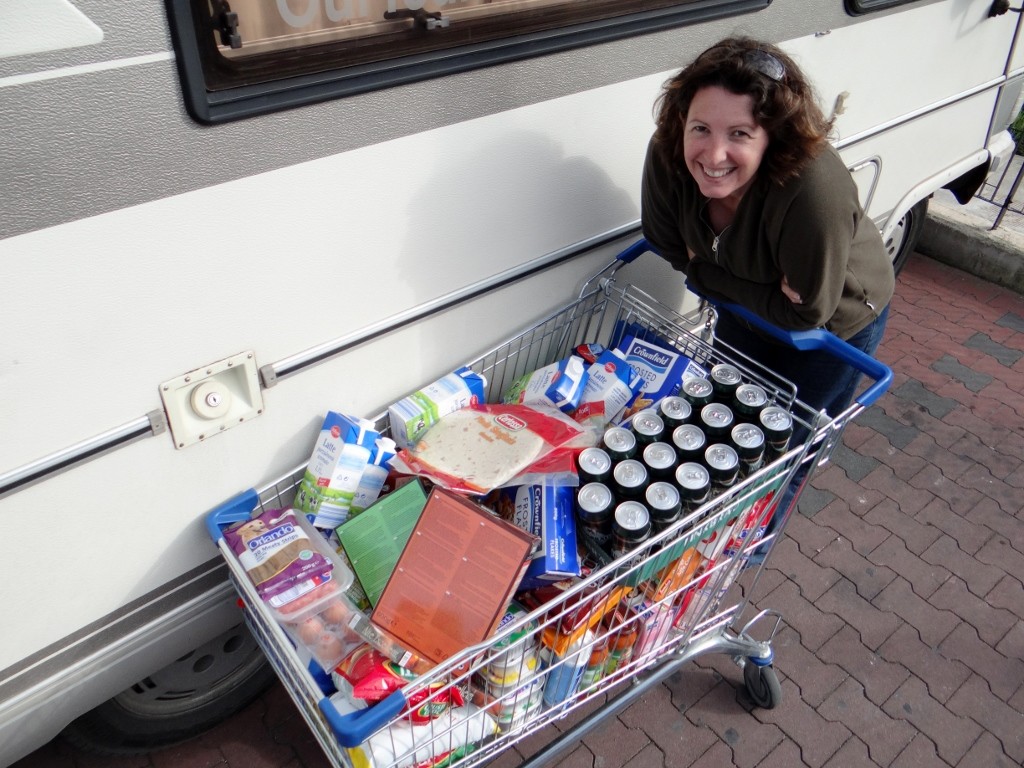 As I stowed our supplied in Dave, Jay headed to the nearest cash point to restock our wallets. The nearby McDonalds wafted its lovely aroma across the car park and we needed an excuse not to go back into the mele out on the roads – so we nipped in for some lunch. Finally the roads eased and we made our way across Palermo to the sosta. We've booked in for two nights so there will be no driving for a couple of days as a reward for Jay. As the sky turned to night and the street lights came on we went for a wander around. It reminds me of New York; busy with people and cars everywhere, brightly lit shops selling a multitude of goods, high rise apartment blocks, small deli's with their goods spilling out onto the pavement. There's a really vibrant feel about the place, I like it.
Tonight we relax. Jay has rustled up Tuscan sausage and chips for tea and we're both enjoying a well deserved mug of mulled wine (possibly followed by a beer for Jay). We're shattered, driving around here takes some getting used to.
Ju x