Thinking of touring Morocco in your motorhome? Are you wondering:
What will it be like driving over there?
Do I need to pay for an organised tour?
How easy is it to get my motorhome in and out?
Can I take my dog?
How do I cope with the language?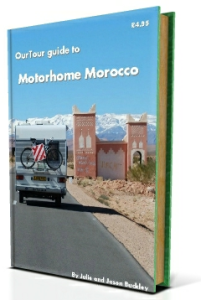 These were all thoughts that went through our heads too. For a country that's closer to Spain than France is to England, it sounds so very different, but also such a great adventure. We want you too to experience this adventure and have put together a practical guide to touring Morocco (winning us a Star Letter in Practical Motorhome – see below); all the information about the book is here:
The site includes a free preview of the book, and information on buying for PC, Mac, Tablet and Kindle!
Thanks! Julie and Jason
An update! Our book gets a Star Letter mention in Practical Motorhome Magazine!