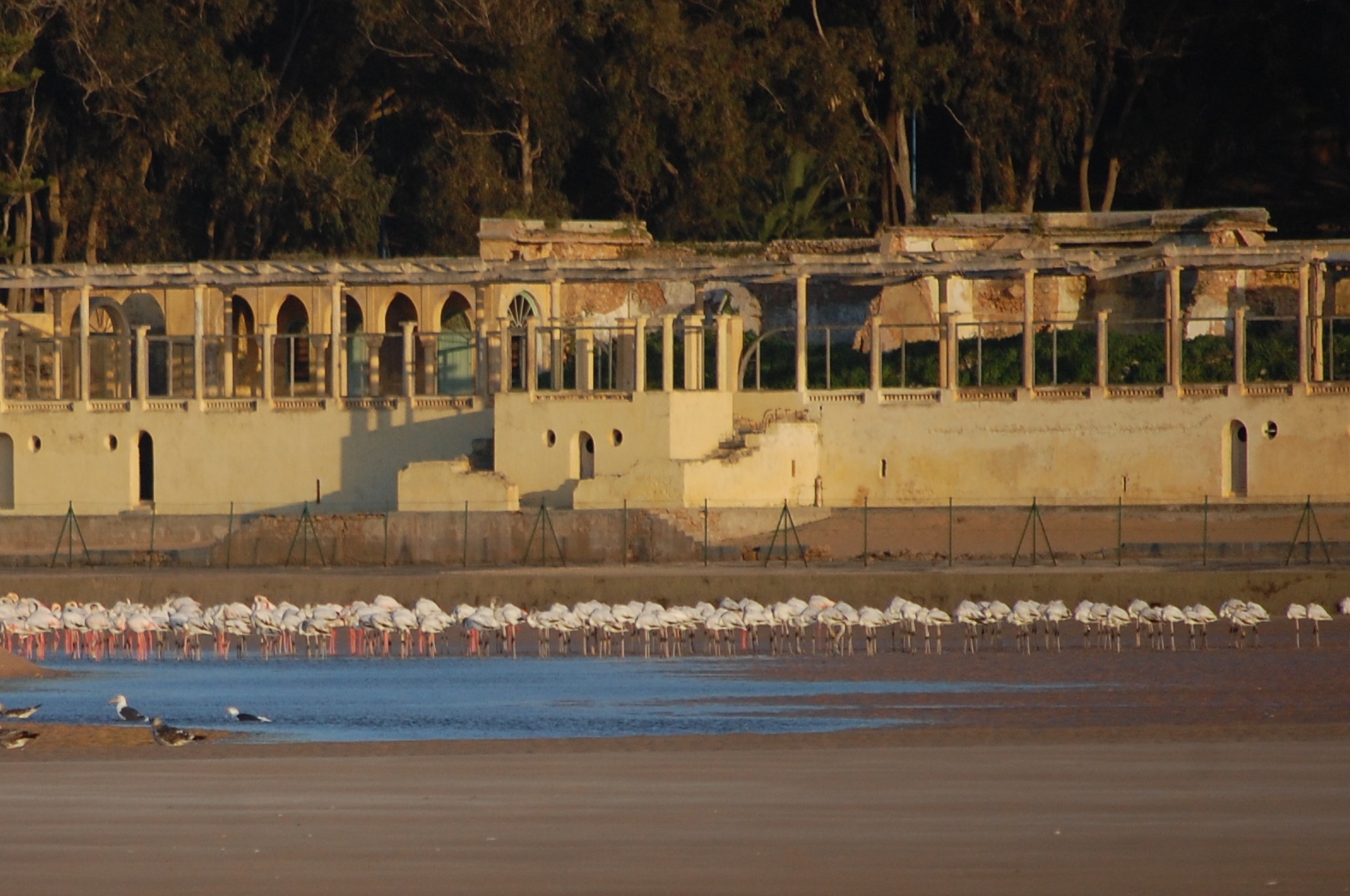 We're here: N32.73229 W9.04387
Weather – sunny (it's 8.30pm and 26c in Dave!)
This morning we said a sad au revoir to Chris and Tina as we're making our way back up to the coast to reach Tanger Med for the 24th. They'd decided to spend a bit more time in Essaouira – and we don't blame them as they don't have to get back for their insurance and it's a really nice place. It was sad, but I know we'll see them again either on the road or when we get back home.
Driving solo, we made our way North through an agricultural area. The fields as far as you could see were ploughed or growing crops, and the odd polytunnel made an appearance. However the people working the land were still doing so with wooden ploughs and animals, and lots of children were working as shepherds watching the sheep, goats and cows, or ferry stuff around on a cart pulled by a donkey. They wave wanting you to stop and give them bon-bons or dirhams – we can only wave back and smile as there are so many of them. At one point we did stop to see if we had run over a chicken (and sneakily open the grey water tap slightly so it dripped out as we went along because the last campsite's drain was full). We were in the middle of nowhere, fields as far as you could see. Then on the horizon three heads appeared over a hill, then arms started waving. They soon worked out that we'd spotted them and were off, so changed direction and headed towards the road to head us off – you have to give the fellas top marks for determination.
As we reached the resort of Safi we were in need of a break from all the waving. Sanctuary was sought in the Acima supermarket car park – the good thing about supermarket car parks is that people don't tend to try to sell you stuff in there, so we had a quiet lunch in the lovely surroundings and filled up with fuel (7.3dh for a litre of diesel and 10.33dh for unleaded to make you all green with envy while we still can).
We stopped on the cliffs overlooking the town to take in the view, and within 30 seconds a young girl was beside us selling sweets, and when we declined she then started to ask for everything you could think of – pens, coca-cola, presents, clothes, shoes, money etc. Then as we drove along the top of the cliffs the children were standing by the road with shells in their hands to sell (at this point we discovered that if you point a camera at them, they turn away and stop bothering you). It's so sad to see them all doing this (and if I'm honest a bit annoying as it's relentless – we'd be far more inclined to stop at places and spend money if we weren't going to be badgered all the time for stuff), but I guess around these parts it's hard for them to get to school as they're needed to work the land for their families.
Finally we reached Oualidia and turned left down a small street which took us to a nice clean "European looking" square with a car park behind it with around 20 motorhomes in it. This guarded parking is only 25dh a night (there's even a sign at the entrance telling you the prices). We went for a walk around only to discover that just the other side of the square is a huge lagoon where you can take a boat trip over to see the flamingos!! We declined and instead walked around the corner onto a huge beach where locals were fishing off the rocks then cooking their catching on BBQs in the sand. Some even had little tables set up under umbrellas – and what was refreshing was it was for themselves, not to sell to us – well only one bloke tried to sell us cockles, but J will only eat them if he's found them himself. Charlie on the other hand will eat anything, and today was no exception. Crab shells and legs were his favourite, and the locals had left plenty of those for him to snaffle.
Back at Dave I had a nap while J fended off quite a few door-to-door sellers touting various foods around the vans, before we headed back out again and sat to watch the sun set. Sitting here now it feels like our Moroccan adventure is coming to an end and things are starting to look and feel much more European – for a start the road has tarmac on it!! I'm not sure what to expect once we get back across the Gibraltar Straight – will it all seem so boring in comparison? So while you're all at work next week, we'll be winding our way up the coast, praying for a decent ferry crossing then it's off to Gibraltar – I've already started a list of stuff to get from Morrisons!
Lots of piccies for you in case Sunday night TV is a bit rubbish (or to brighten your Monday morning) –
Have a good week everyone.
Ju x