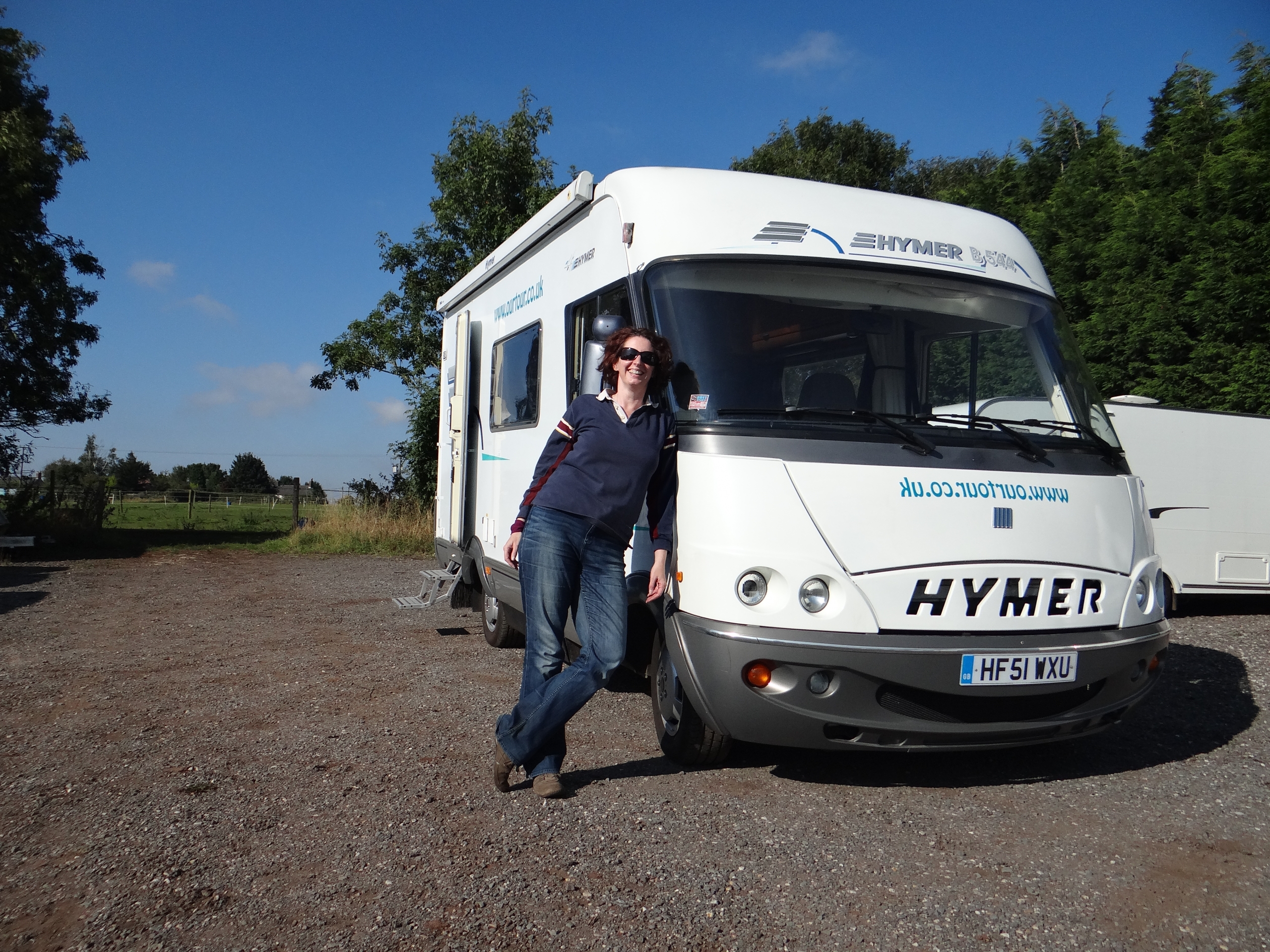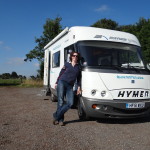 No need to tell you guys how useful and liberating it is to have Internet access when wandering about in your motorhome (or caravan for that matter). Our travels tend to take us out of the UK, where we meander about Europe and North Africa writing blog posts (this one's coming to you from Sant Feliu de Guixols, a pleasant seaside town on the Mediterranean north of Barcelona). Occasionally we pop in a bit of real work, and kick off video chats with friends and family back home or even on t'other side of the world.
The ideal Internet system for us would look something like this:
It would be inexpensive and a fixed price per month (max £20 a month) for unlimited bandwidth
As we intend to travel part-time, we want to use a pay-as-you-go basis, so no contracts
It would be fast – minimum of 2Mbps per second to allow good quality Skype video calls (for comparison: as of Feb 2015, average UK download speed was 23Mbps)
It would work everywhere we're parked, whichever country and regardless of whether we're in a city, on a mountain pass or up against a desert
It would be simple to use, it would 'just work' everywhere
We'd be able to access the Internet both from within (or within a few meters of) the motorhome, plus we'd be able to take it with us when we leave the van during the day or evening
That's the ideal. Having visited about 530 places now, and uploaded blog posts from all but one or two of them, we know this isn't quite possible, just yet! With the help of experts in this field we have come pretty close, although there are better solutions than ours available – see below.
So, the options we've considered over the years for Internet access have been as follows (including combinations of these individual solutions):
| | |
| --- | --- |
| | Satellite internet. This gives pretty much guaranteed connectivity as long as you have line of sight to the satellite, and are in its service area. It's not cheap though – the installation cost alone for a roof-mounted system is currently over £3000. We could reduce this using a tripod-mounted system, or bolt a pole to the back of the van and manually aligning the dish each time we move – which wouldn't be convenient. |
| | WiFi. Everyone knows this one – it's the good old 'pools' of Internet access provided by cafes, campsites, municipal facilities and so on, which your laptop or mobile phone hooks onto. It's often locked down so you need a unique code to get onto it, and if you're any distance from source, your kit might not see the WiFi network at all. WiFi networks are sometimes made available for free, but more likely they're bundled with another service – so if you buy a drink at a cafe you get the code, or if you're a BT broadband customer you can use their FON networks as you travel. They usually give a speed good enough for video calls, and are unlimited in terms of the data you can use. |
| | Cellular Wireless. Most folks know this one now too – it is where your kit has a SIM card in it and connects to the Internet in pretty much the same way as your mobile phone accesses the voice network – seamlessly – you don't even notice it happening. The difference between this and WiFi is it's never free of charge, but as much of the Earth is now covered by a mesh of masts broadcasting these networks far and wide, you're much more likely to be able to easily get access as you move from place to place. |
There's tons more to it than that, but in the interests of not boring you to death (you must be close by now if you've gotten this far), here's the solution we're using now and plan to use in 2016 – It's a combination of WiFi and Cellular Wireless access, similar to what we've used in previous years.
WiFi. When WiFi is available we're using our old motorhomewifi.com uni-directional USB-connected booster antenna. This enables us to access and maintain decent connection speeds on networks which are more than a few meters away. It's not perfect though, as you have to aim the antenna in the direction of the network, which is reasonably simple with the aid of a finder utility, but it's still a bit of a faff especially when after 10 mins you find there's no network you can access. Omni-directional antennas don't need pointing at the network, but can't access distant networks as well with them. Our antenna only lets you access the internet with our USB-connected laptop (for example); we'd need to buy a solution like Connectivity (about £23) to share the Internet access out so both of us could use it at the same time
Cellular Wireless. We mostly rely on this system which we installed ourselves as described here. It is a combined Huawei 4G MiFi and a roof-mounted 4G booster antenna (note: this doesn't boost external WiFi signals), both of which came from motorhomewifi.com. At this point a quick disclaimer: the antenna was given to us for free by motorhomewifi.com. That said, it costs £150, and anyone's reputation is worth far more than that so we're not going to give it a good review if it's no good.
Having now used the Cellular Wireless system for a couple of months in the UK, France and Spain, here are our thoughts on it:
It's very convenient. The MiFi is always connected to the 12V system so is always powered up, unless we manually switch it off, and creates a private WiFi network in our motorhome all the time, so it takes no time at all to get connected. Note: we manually switch the MiFi off when on an external WiFi network to avoid using it by accident.
The roof-mounted antenna has enabled us to get 3G networks everywhere outside the UK, including some remote spots. Speed has always been good enough to upload a few MB of images within a maximum of a few minutes.
On the question of whether I would pay the £150 for the antenna: the answer before setting off would have been no. I'd just use the MiFi and pop it on the roof to get it outside the van's signal-shielding metal bodywork, or more likely just used the hotspot facility on our aged Android smart phone. The answer now though would be yes: the roof-mounted antenna is MUCH bigger than the antenna in the MiFi or any phone, and the consistent high quality network connectivity has been testament to how well it works as a booster. The antenna is weatherproof too, sitting outside without the need to open a window or skylight.
Cellular Networks
We're using Three's Feel at Home package, which consists of a free-to-get PAYG SIM then (for the option we've chosen) £15 a month for 3GB of data. This has worked well for us, although we're getting through the 3GB in about 20 days, mostly as the system works so well!
We track data use both on the MiFi screen, but if we access Three's website through it we can see how much bandwidth we have left, which appears to give a more accurate figure.
Feel at Home isn't the perfect roaming solution though, as Three only intend it to be used by people holidaying, not travelling endlessly for months on end so can kill your SIM if they want to. We have multiple SIMs, just in case. Also it's not as simple as it should be to top up from abroad, and it only works in certain countries. We've also found we had to manually select networks on occasion: all of this is well described on the motorhomewifi.com blog.
In 2016 we'll travel outside the Feel at Home countries (Germany isn't currently covered). From past experience we can easily get a local PAYG SIM for a month at a time as we move through for these countries – with no need for a local address or bank account.
We don't use the Cellular Wireless system for Skype calls or video streaming from YouTube and so on – just to keep bandwidth use and cost down. How well it would work for this type of high bandwidth access is an unknown for us. Our experience of using a simple USB 3G dongle in Morocco (which came with unlimited bandwidth) was that video calls often worked well on it, so my expectation would be this much larger antenna would generally give an acceptable standard of video call much of the time.
As noted above: we could easily improve the system further. Motorhomewifi.com provide a WiFi antenna which is connected to a device called a router inside the van. This takes the external WiFi network and re-broadcasts it as a private network in the van, making it much simple to just hook up a tablet or two to it with having to fire up a laptop, run Connectify etc. We might consider adding this in future. We recently saw how Mark of wheresfrankie.co.uk had attached a unidirectional antenna to his Status TV aerial so could direct it from inside the van – we could do the same on our sat TV dish – clever stuff.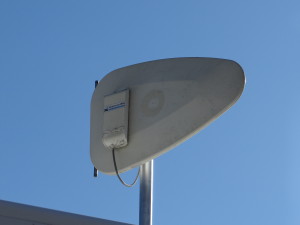 If you've any thoughts or questions, please just pop 'em in a comment below and we'll do our best to answer 'em. Right, the sun's coming out over the town, time to head out for a walk down the beach.
Cheers, Jay