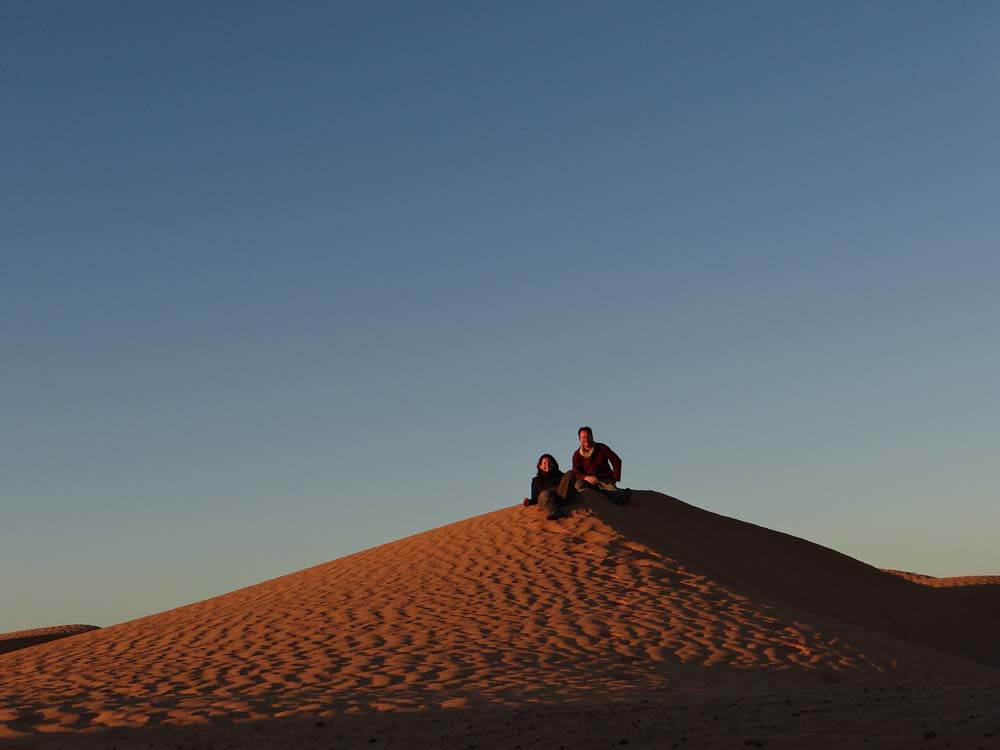 Dave the motorhome is as about as far as he dare venture from the trappings of civilisation, such as tarmac roads, at Campement le Paradis, in the Ksah Ghilane oasis (N32.98693 E9.63822). The 'pipeline' road here runs south about 70km from the main Douz-Matmata route. After here it continues south deep into the desert, passing into a military-only zone about 40km below us, and finally reaching the Algerian and Lybian borders, next to the In Amenas gas facility, scene of the recent Algerian Islamic militant attack. But that's about 200 miles away from us, we're nice and safe and will be heading north again tomorrow.
We'd become comfortable at Douz. The campsite is reputed to be one of the best in the country, unsurprisingly run by a French lady, and was a chilled place to be. When Ju paid this morning, the chap in the office tried to undercharge us, only asking for the right amount when Ju reminded him we'd used electricity and had filled up with (TCP-tasting, but apparently safe to drink) water. He repaid the favour by telling us to get diesel (gasoil around here, pronounced 'gazwal') at the fuel station 1km out of town towards Matmata, as it was cheaper than in town. We said our goodbyes to Janet, Wim, Les and Anne-Marie, the last three are heading north slowly in anticipation of ferries back to Genoa. We might catch them up if the Kerkennah Islands prove to be as relaxing as reputation promises.
As we eased our way through the town, the odd remaining market stall and donkey trap slowing us down. A man stood up from a plastic chair outside a cafe, waving us down. Although I wasn't sure who he was we stopped, Ju recognised him as the night guard at the camp. He'd always come out of the office to talk to us when we returned, although our French wasn't up to conversation and we'd found ourselves sneaking in in the latter days. He wanted to ask where we were going, and to wish us good luck. I shook his hand and we left Douz, filling up at the recommended station. As we pulled in, being waved forwards by the ubiquitous filler-upper guy, a couple of young men were, for some reason, trying to hold a moped upside down to empty fuel tank (the tanks on my motorbikes always came off easily).
After that came a seriously huge amount of nothing, dust and rock. The road towards Matmata was good, although we've learned that 'good' and 'bad' roads can well be the same thing, depending on who's doing the categorisation. It met our 'good' criteria by (a) being wide enough for two vehicles to pass (b) having hardly any other vehicles on it anyway and (c) not having any holes capable of summary wheel-removal. It didn't half rumble though. The sight of a few larger stones on a slight summit in the road had us staring in interest. A bloke with his goat herd has us bending our necks as he stared back at us from the distance.
70km later we saw the building, the Cafe Jelili which acts as the frame of reference for this bit of the dusty earth, the start of the pipeline road. As we'd driven across the desert, old tyres lying alone alongside the road marked out pistes, dirt roads which were deemed better than ploughing straight across the hamada (stony desert) by virtue of someone kicking most of the rocks on them to one side. They're 4×4 territory, or camel. The pipeline road used to be one such piste, requiring anyone coming here from Douz to drive a couple of days across the desert, or suffer the butt-ache of being on a camel for a week. It's surfaced now.
Turning right onto it, we looked about for the expected hulking great pipeline. No luck, they've buried the thing, although from time to time bits of old pipe would stick up from the ground like broken bones. The effort to build the road didn't extend to cutting into the ground. When the contours of the route undulated, so did the road, adding a tiny bit of excitement to a dull old trek. As we sank into a depression and rolled back up over the following crest, the expanse of cracked earth sprang up again anew, the road like a stroke of charcoal into the distance.
This went on. Another 60-odd km of nothing. I grew bored, finding myself doing 100kph at one point, which far surpasses our usual 85kph speed, on a motorway. The remoteness of the place, coupled with the fact we saw hardly a single other person or vehicle, scared me into slowing down. Finally, finally, something appeared. Off to our right a slither of sand-coloured light, the start of the erg, appearing quite enormous even from 20 or 30km away, something elemental.
There's a road block on the pipeline road at the point an offshoot scoots off south west away from the main route. We guessed at the police, hoping it wasn't some random paramilitary. Three guys manned the checkpoint, stood in the absolute middle of nowhere, a tiny ramshackle hut providing little shelter. They looked about 16 years old, in green fatigues, all metal badges and severe looks. It wasn't hard to take them seriously as they all had machine guns strapped across their backs. A passport inspection saw us on our way, not even a request for ciggies or booze, winner.
The offshoot road points roughly in the direction of a green splodge in the orange desert. 12km to go, reading off the white concrete markers along the rough-edged tarmac. Slowly, slowly the oasis and sand grew, until we found ourselves at the end of the road, literally. Among a few buildings, contemptuous camels and a small child legging it towards us being followed by his mother, we sat staring at the point the tarmac turned into dust. Erm. Behind us signs pointed off along pistes. We about-turned, not waiting for the poor nipper to reach us, and headed off along the piste. At this point we were, shall we say, rather nervous. There's a lotta sand here, and a good amount of it was lapping at the rough track.
Parked facing the other way, a German chap in his 4×4 motorhome happily gave us encouragement after Ju recognised him from a mere glance as he reversed from our tiny camp in Tozeur. 'Sure, the road's fine, maybe another km, no need for a 4×4'. As we turned a corner in the track, facing what appeared to be a sea of sand, I cursed his optimism, getting Dave into 2nd and adopting the 'just keep going' approach. Dave floated a time or two, I swung the steering wheel from side to side as recommended in the Rough Guide, and as we floated around a corner, turned into the 'skid'. Spotting signs for the campsites, we eagerly accepted the blokes offer at the very first one of 16TD a night.
If you couldn't be bothered to read all of the above, here's how to relive the journey in photos: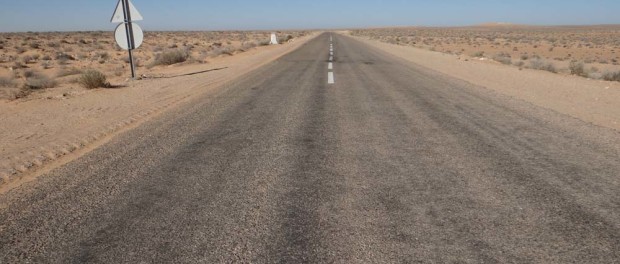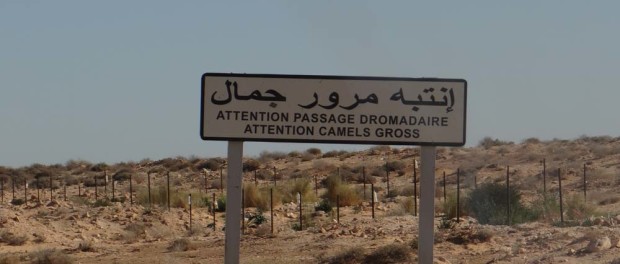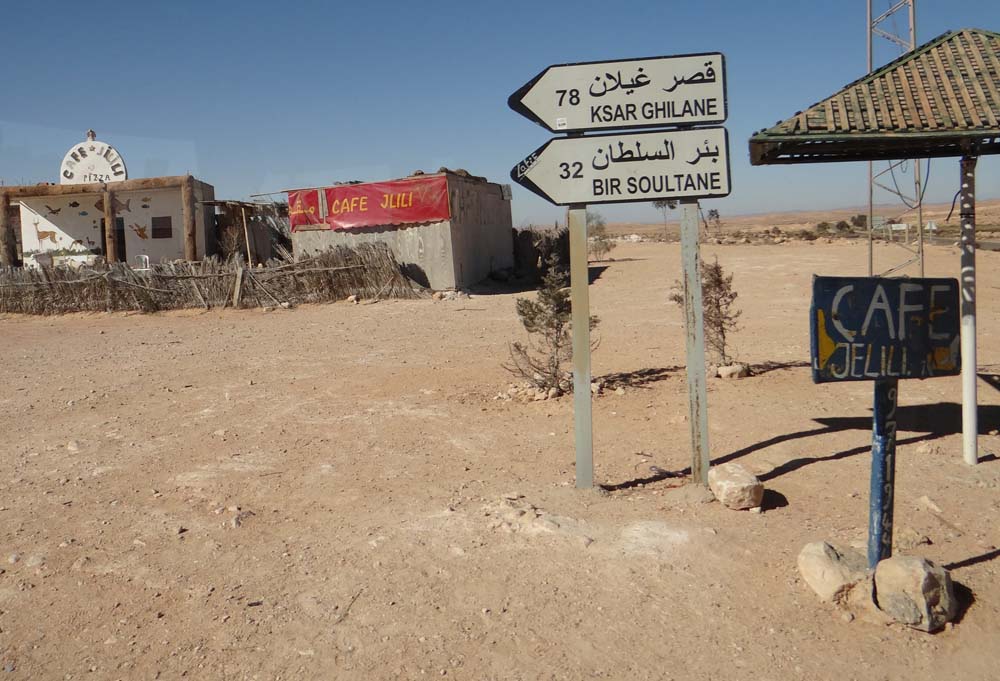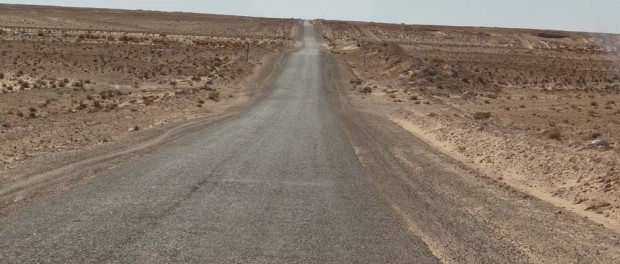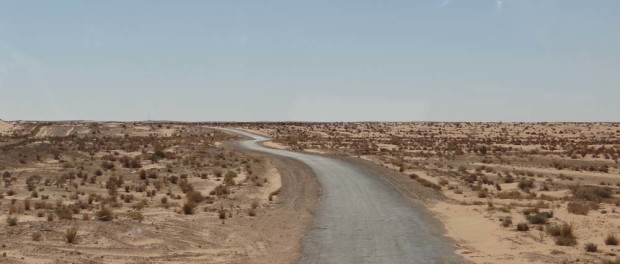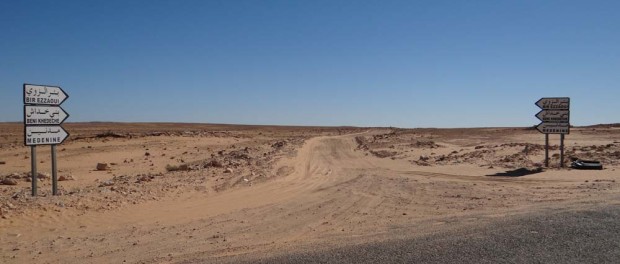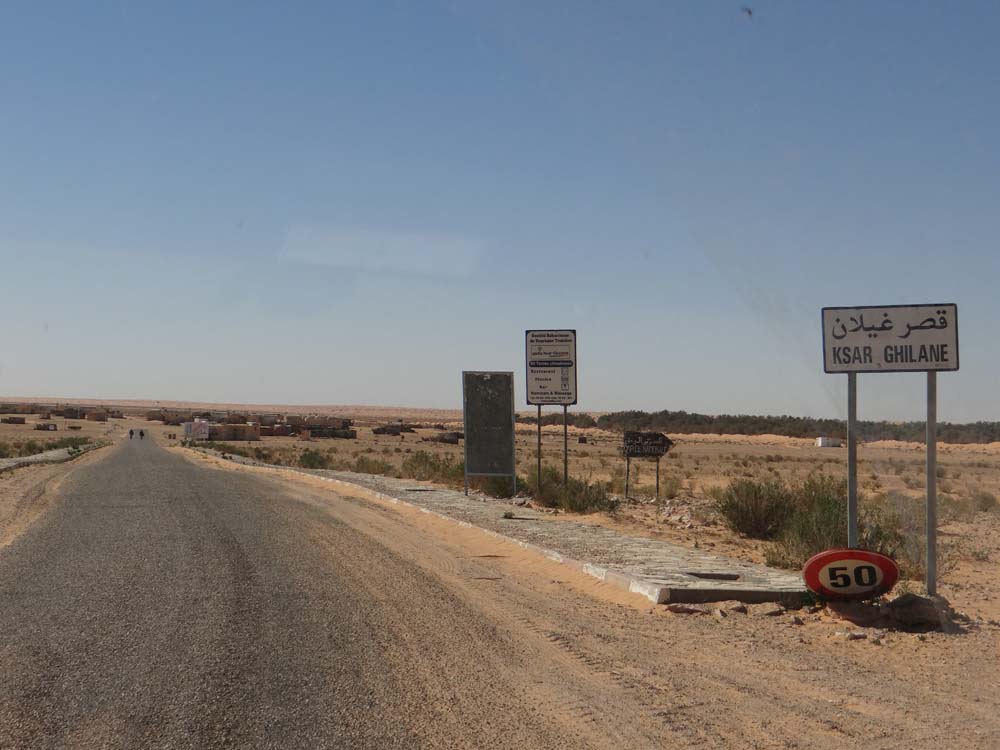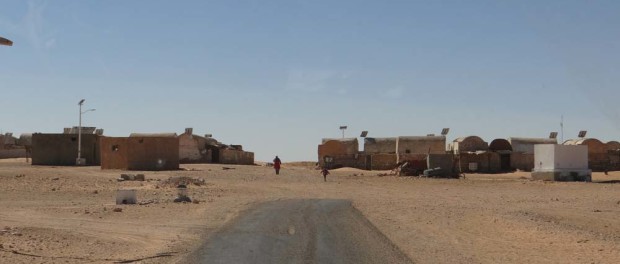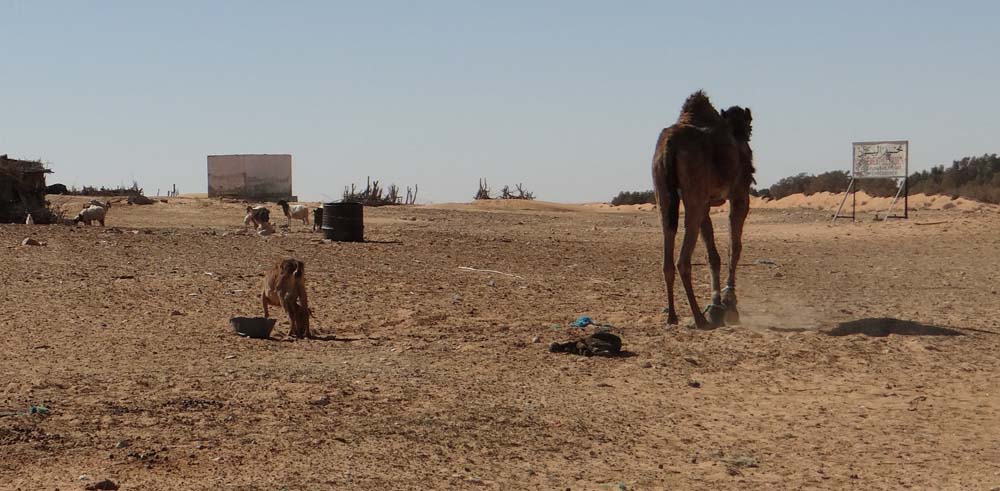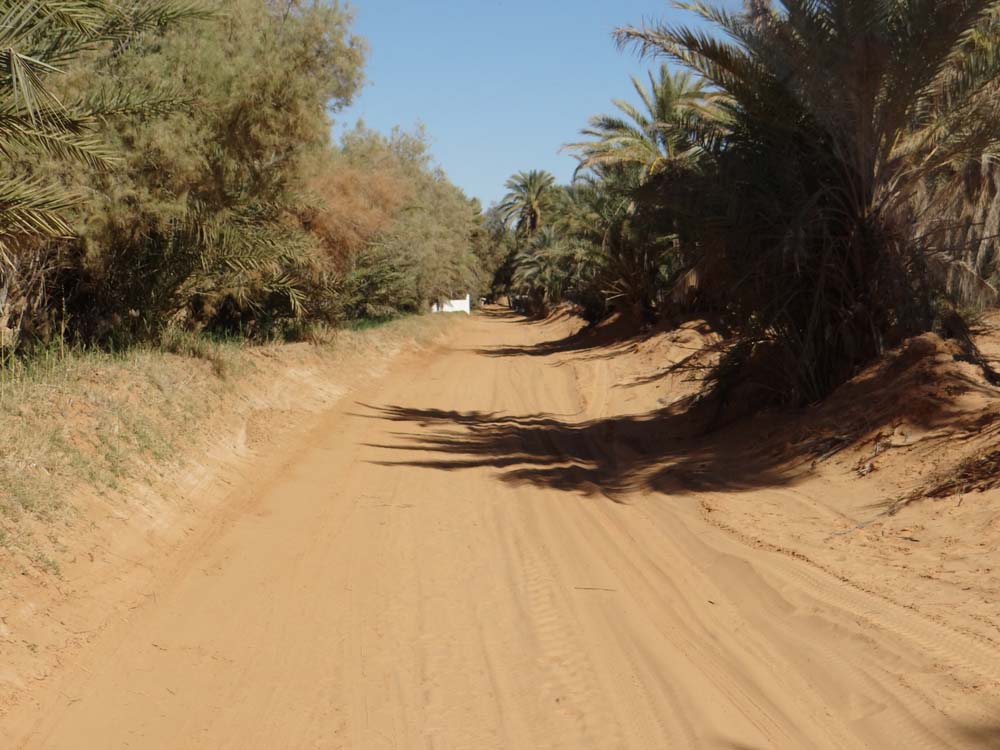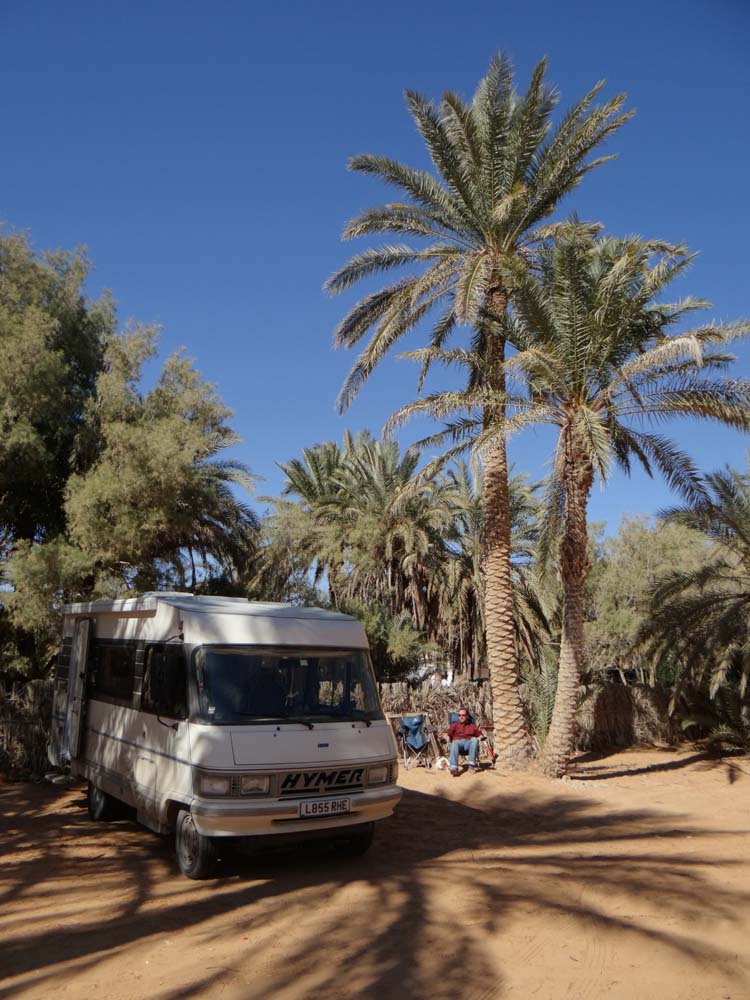 People, as in tourists like us, come here for the erg, the butter-sculptured endless flow of sand which starts right at the edge of the oasis. The Romans had other reasons for building a fort here, along the southern-most frontier of their empire in Africa. Maybe they were protective of the naturally heated pool, with cafes clustering around it these days, where the water pours out from the dead earth and out along channels to feed the trees. Each time we see this miracle of water where there is none, it has us reaching out touch it, maybe to confirm it's real. We've been out into the dunes a couple of times, our camera suffering somewhat from the blowing wisps of talcum powder fine sand. It is an incredible sight, one worth the drive. In Feb 2013, we are almost alone here, the Bedouin tents which might hold 60 people on our site are all empty, there are no other motorhomes now the Swiss guys we met at Douz have left to free-camp in the desert.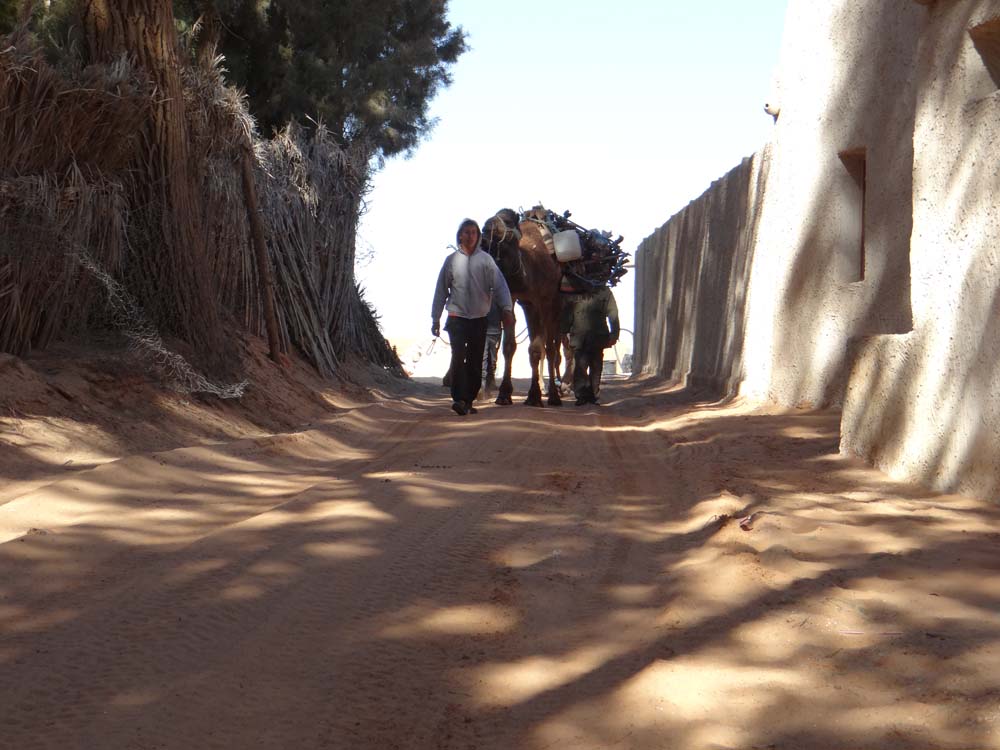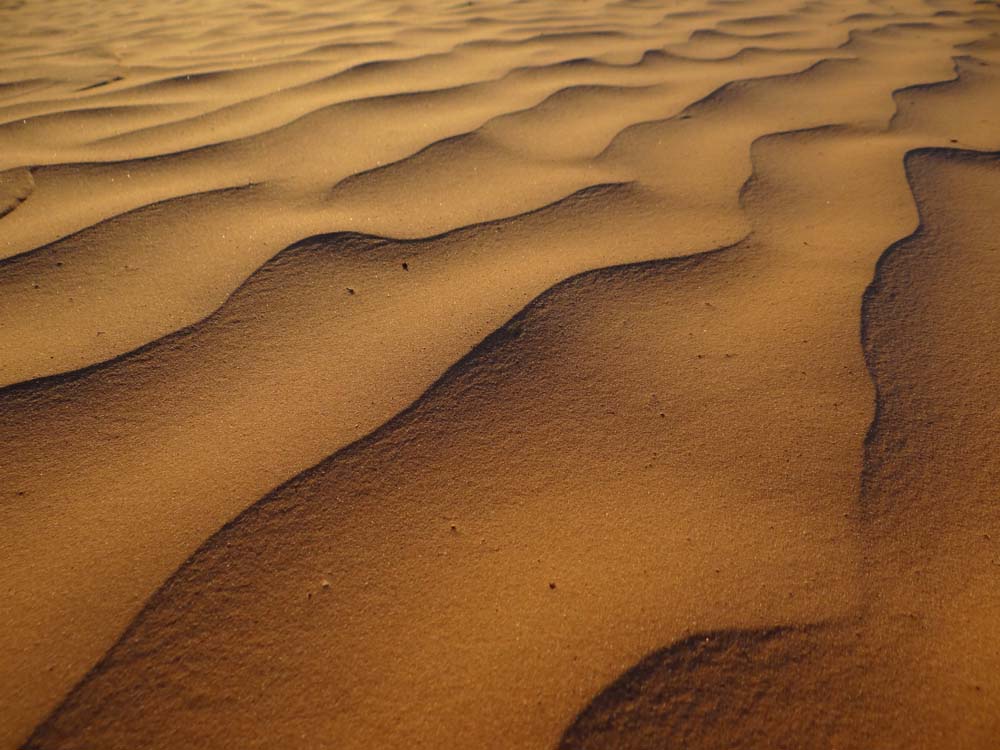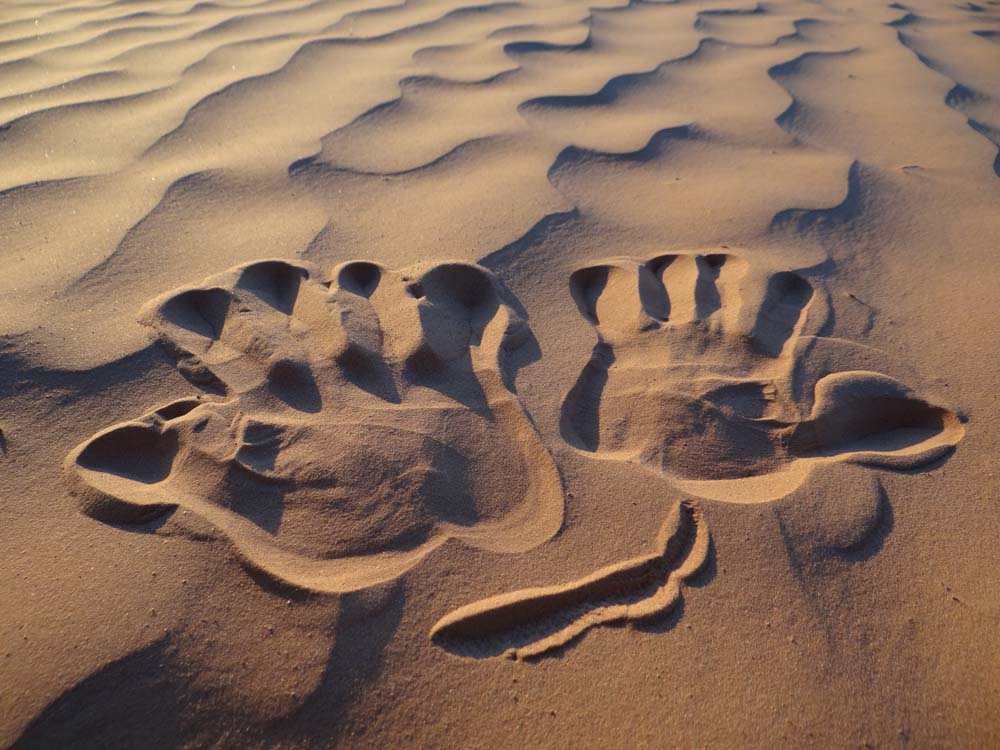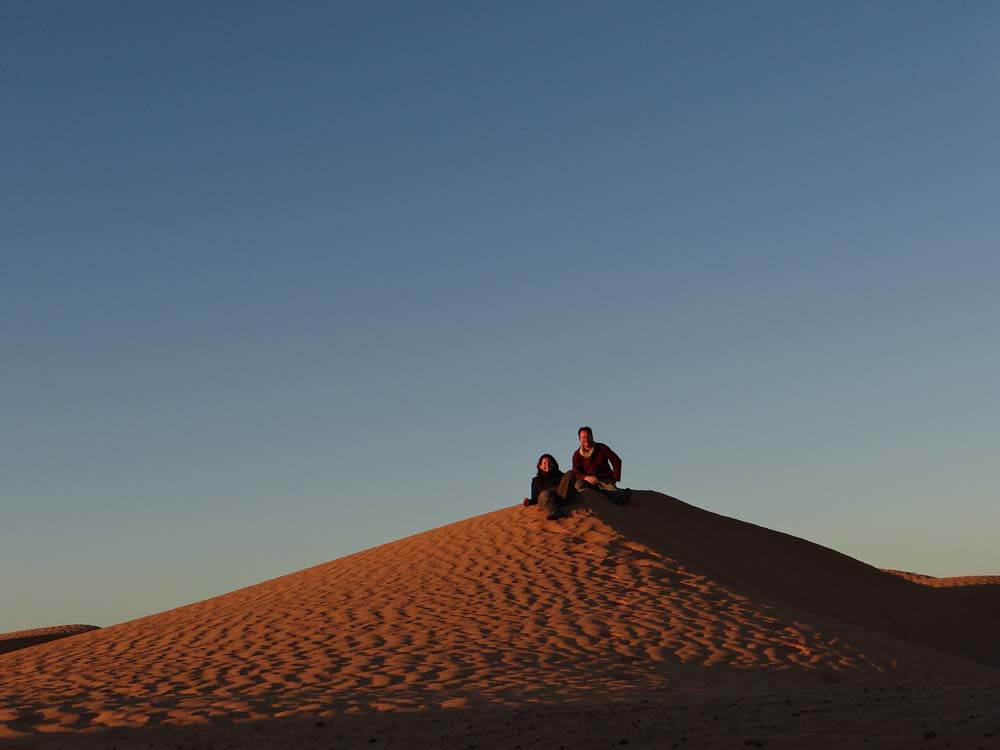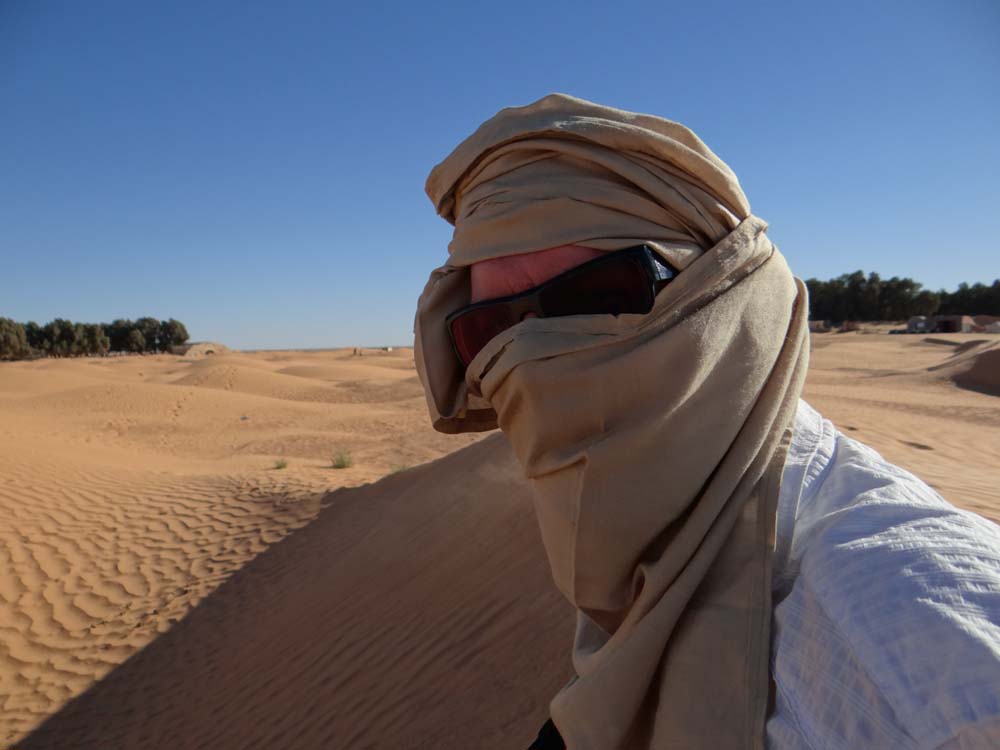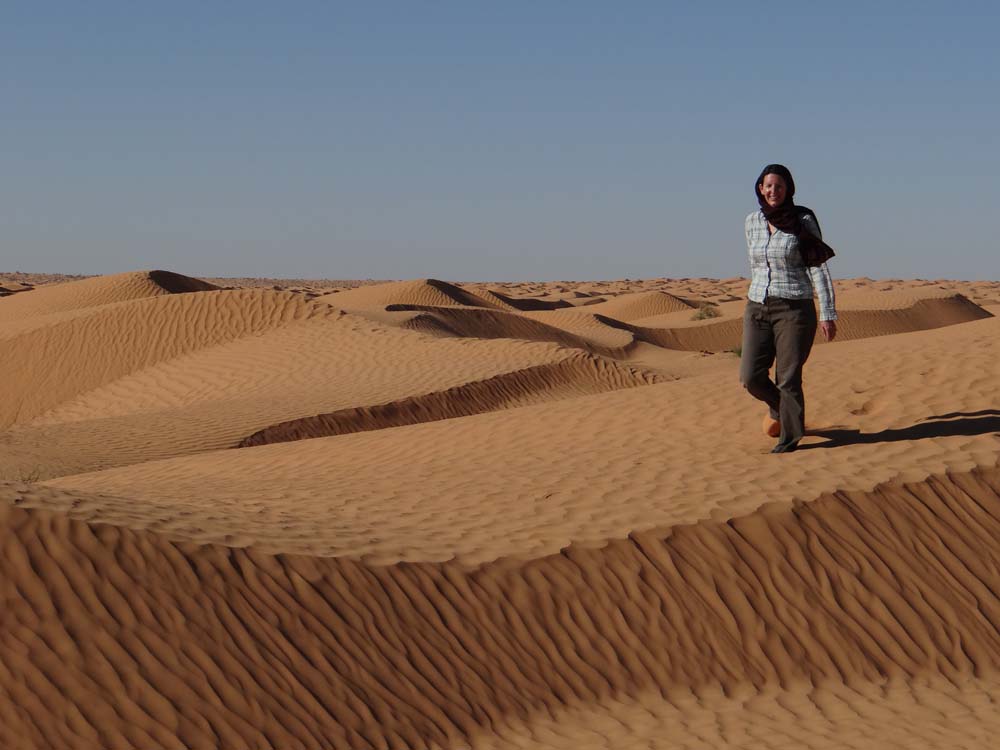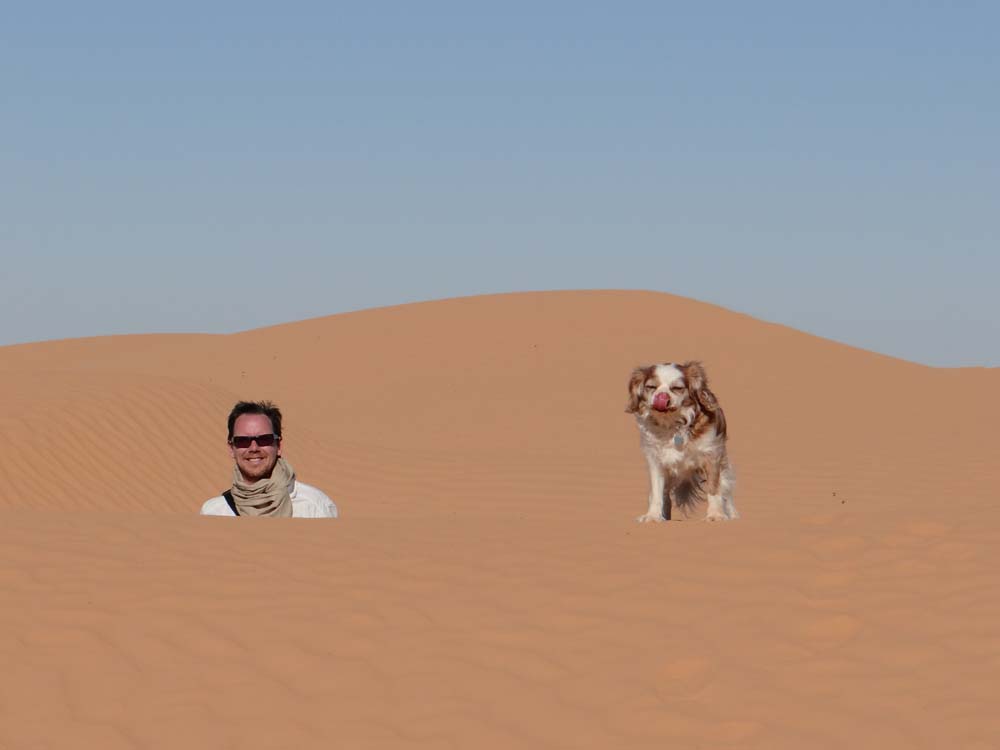 It's now 9:30pm, and some insanely loud music is banging out from the other side of the road. I'd hoped for a peace, but it beats the chap next to us who's got a satellite dish nailed to a piece of wood in his tent, taking power from a generator so he can lounge and watch TV all day. I wonder if they're punishing us for politely refusing all offers of camel rides, quad bike treks, or resturant grub. Time to go take a look at the stars, and find earplugs.
Jay
P.S. There's no Internet here. At least there is no WiFi, and our 'Internet Everywhere' Orange Tunisia 3G dongle is useless. We checked a coverage map yesterday, showing a gaping hole in coverage anywhere south of Tozeur and west of Matmata, to be fair a sparsely inhabited area of maybe 100 miles by 80 miles, but still an impressively sized rural blackspot!