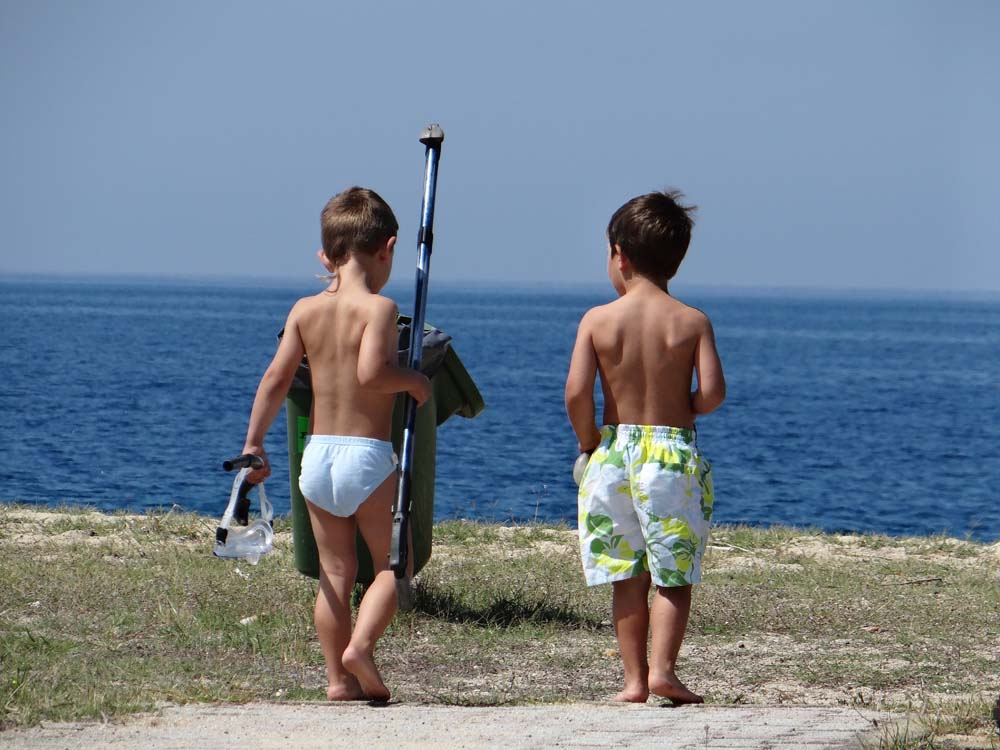 Dave the motorhome's got company, lots of it. Since we've not moved, attached as we are to being in one of the most idyllic little places just outside Toroni (N39.99143 E23.89233), they've come to us. We're now happily sharing our little beach with folks from Bulgaria, Germany, Italy, the Netherlands and the Czech Republic. The Bulgarian vans are seriously cheering Dave up, compared to their weather-worn battered selves he feels in showroom condition.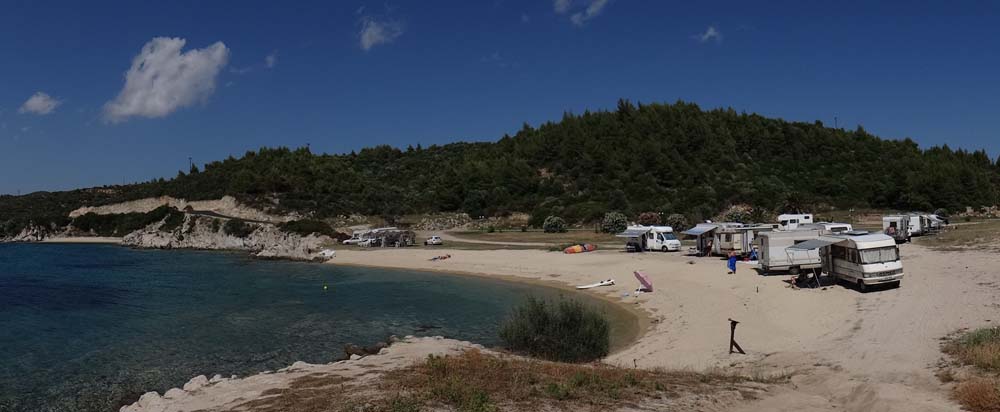 Bulgarian sounds like Russian to me, probably as the baddies in old Bond films and the like always seemed to be 'the Reds', so anything vaguely Russian-sounding will therefore be Russian. Anyway, the people carrier behind Dave belted out a decent amount of Bulgarian/Russian tunes last night, with much guffawing to drown it out from time to time. I imagined the blokes knocking back vodka, having a bit of a fist fight and then making up with a Cossack dance. It's shameful stuff. I should know better after all this time on the road but these clueless stereotypes I have take some defeating; actually being in the country of origin usually does the trick, or enforces them.
With the sun pushing on Dave's eastern wall this morning, we decided to have a wander into Toroni before 'Mad Dogs and Englishmen' o'clock. I'd picked up a few bits of rubbish from the beach, and adding it to our own stash we headed off. Just a quick aside: most everywhere we've been which is organised/rich enough to have some sort of refuse disposal system doesn't use the door-to-door collection system of the UK. The only bins you see are industrial ones, and you have to transport your rubbish to them. Folks usually use their cars, but we've seen some guys using wheel barrows too. Those places which can't afford a system just dump the rubbish on the opposite side of the street for unfortunates and wild dogs to pick over.
The bins aren't usually far away, and we spotted one within a couple of hundred meters, on its side. Huh? They're heavy things, like small skips, how'd that happen? The next set were also on their side? We assumed drunks had lifted them over but (a) there was no spilled rubbish and (b) they were almost all in this position through the town. Weird – we can only guess austerity measures have hit the collection system.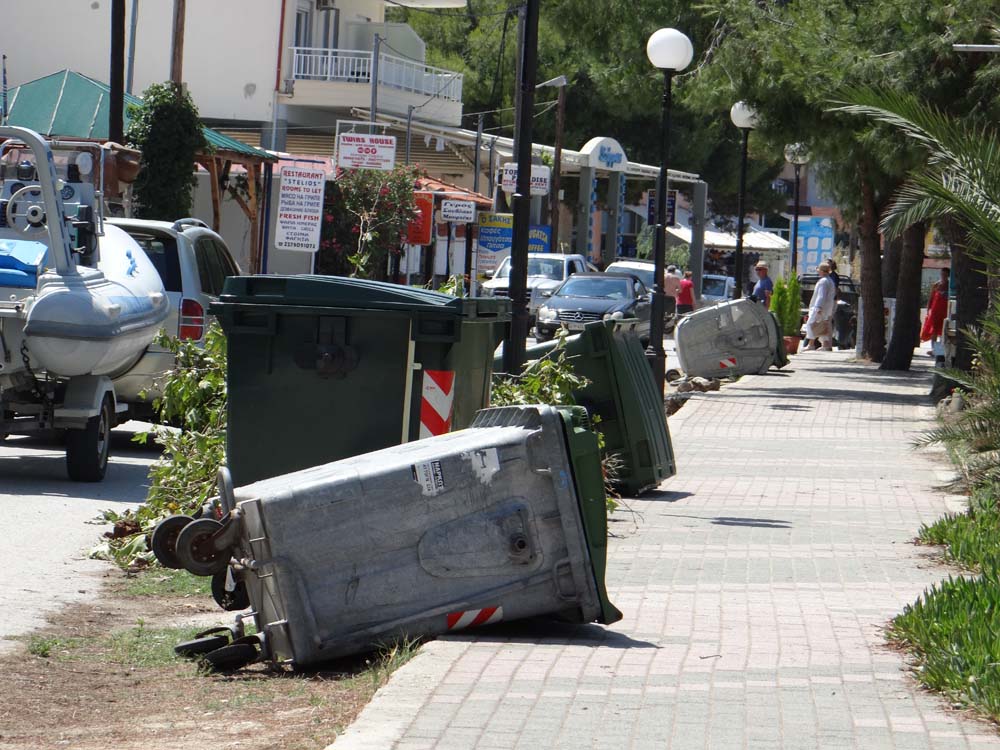 The next thing we noticed was the number of Serbian and Bulgarian cars, about on a par with the number of Greeks, with the odd Czech, Romanian and Russian making up the numbers. Toroni's clearly within budget and range for folks to nip down here, maybe avoiding the Black Sea, which we've been advised is developed to death.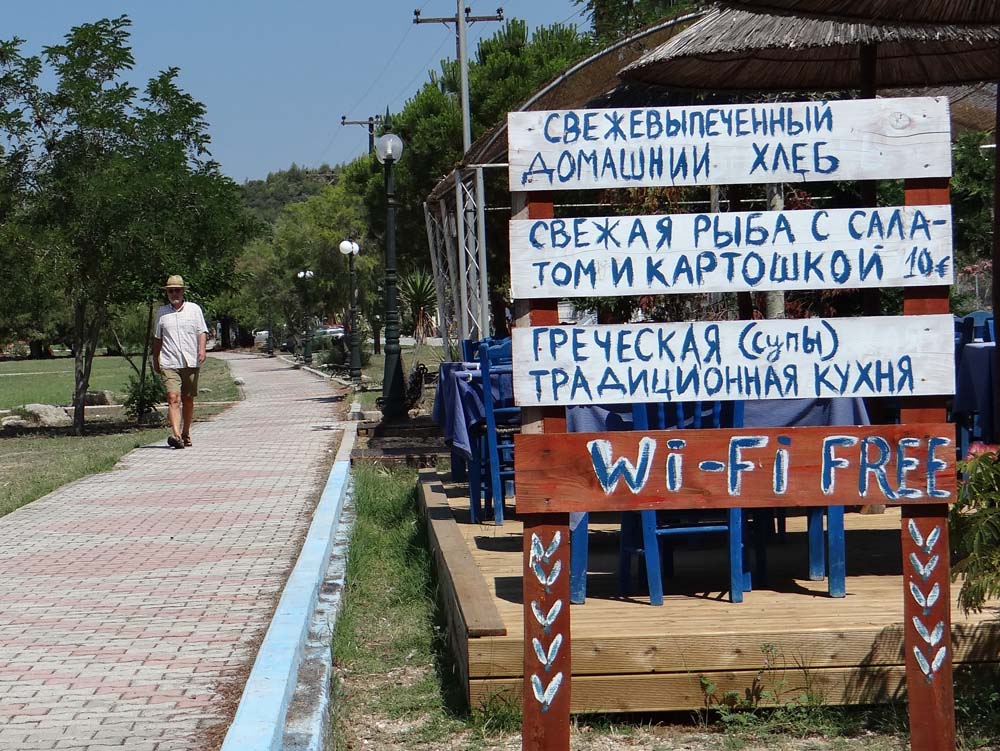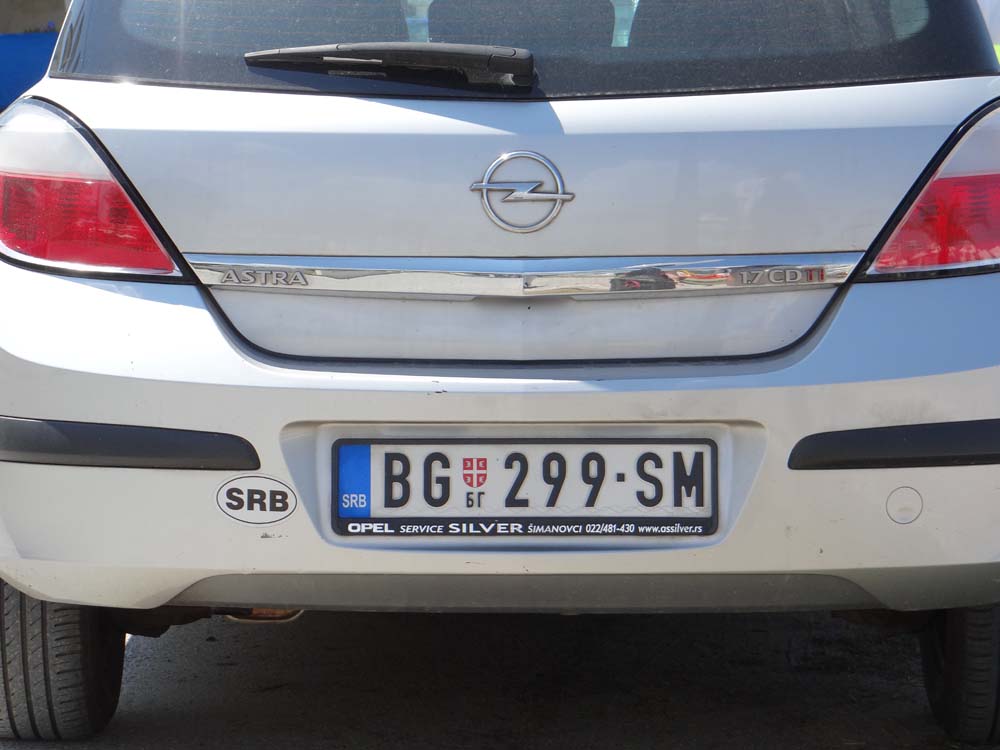 Walking on through the town, the place is hard to describe. With each few meters the scene changes, one minute a shuttered, modern villa in cream with shining metal fittings. The next a derelict campsite. Further on a low-rise apartment complex complete with real, green, lush cut grass. Past supermarkets modelled on the Tardis (extending half a mile back into the hinterland, complete with a chiller full of chocolate), tat shops flogging spear guns alongside beach towels and a pleasant patisserie, and around the corner a shepherd whistles his flock of sheep into a ball as they scuttle along the road. There's no development on the beach side of the road, it's been banned, so overall it's a bit of a dishevelled spot, but hardly spoiled.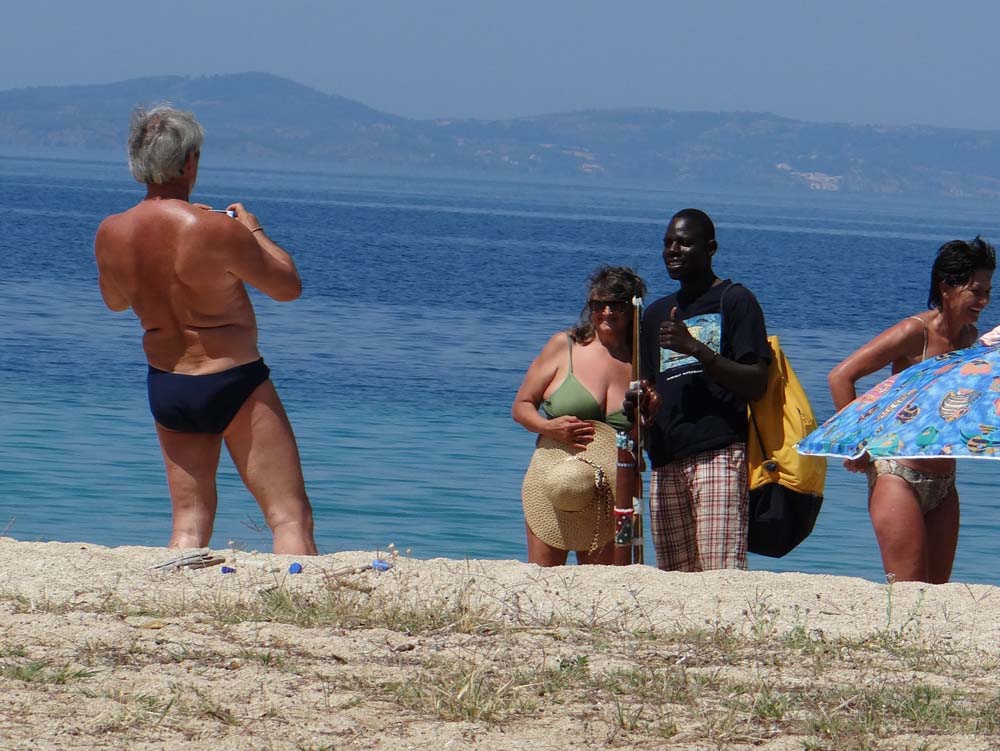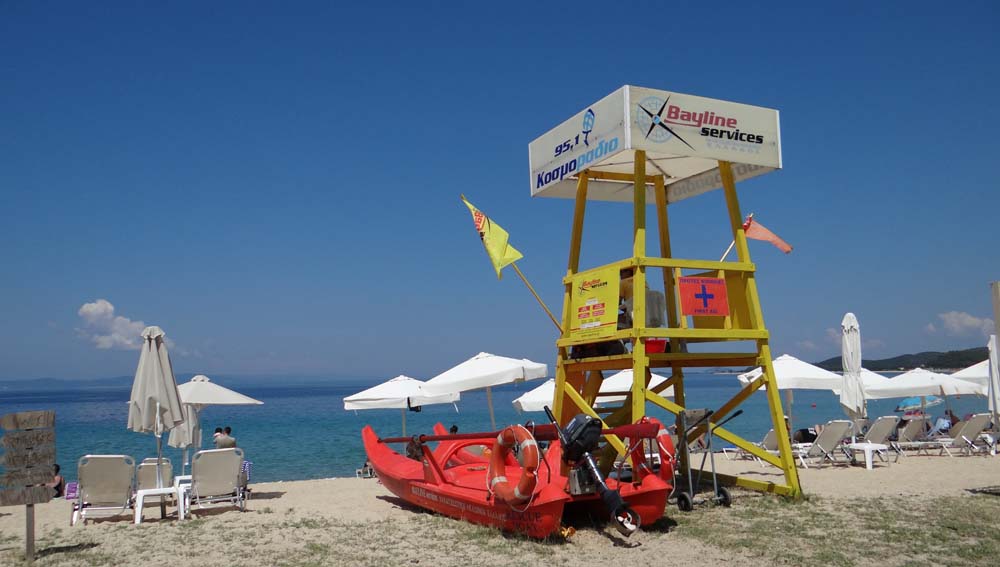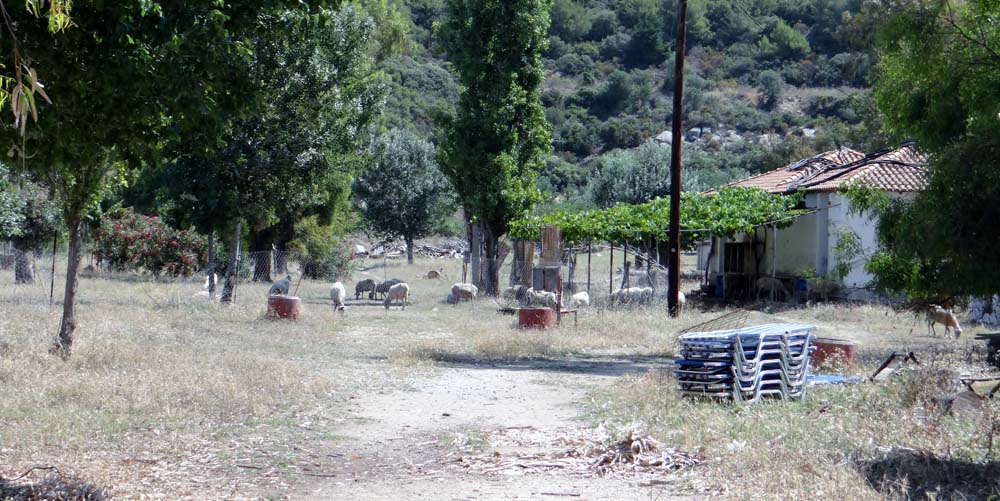 Off down the end of the beach and around the point to where a series of brown signs tempt you along: Byzantine Fortifications, this way. Our couple of months here have taught us not to get excited, even the biggest of Greek archaeological sites is underfunded and has been for years, the smaller ones are mostly locked up, as was this one.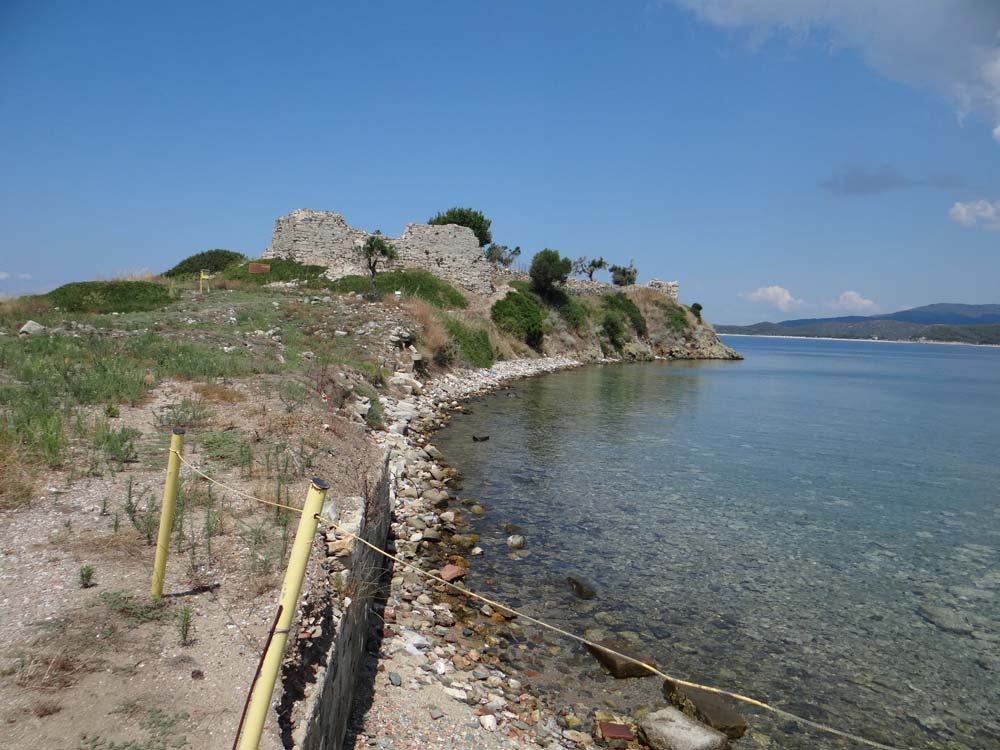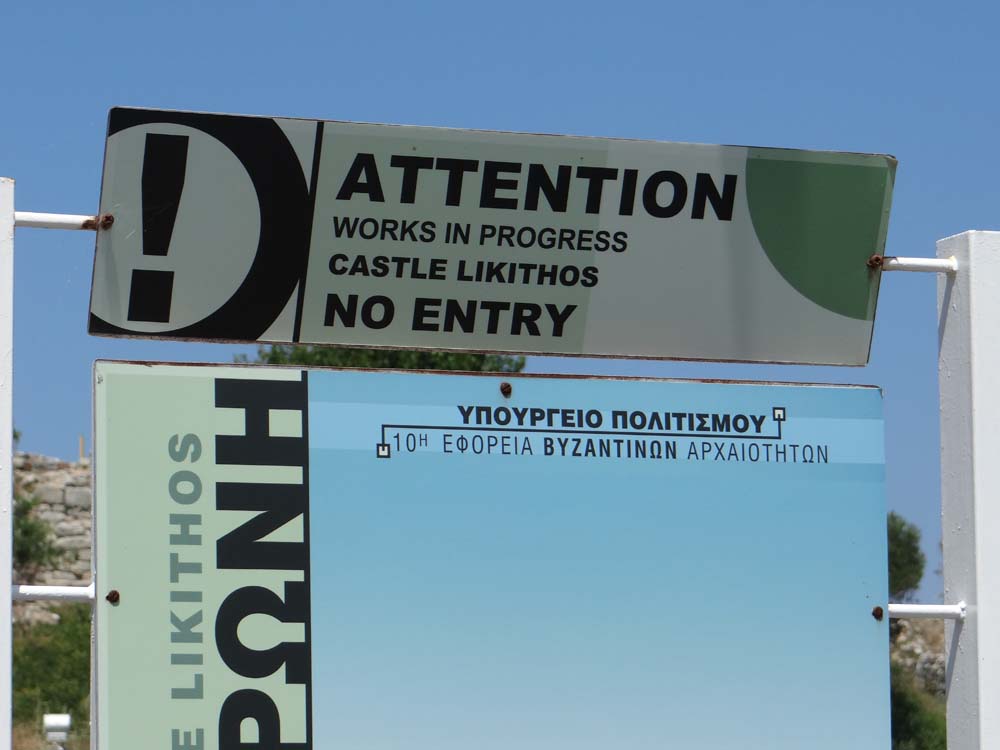 Hotting up, we took a walk back through the town, grabbed some goodies from the shops, soaked Charlie to cool him off after much nipper stroking, and eyeballed the local turtles.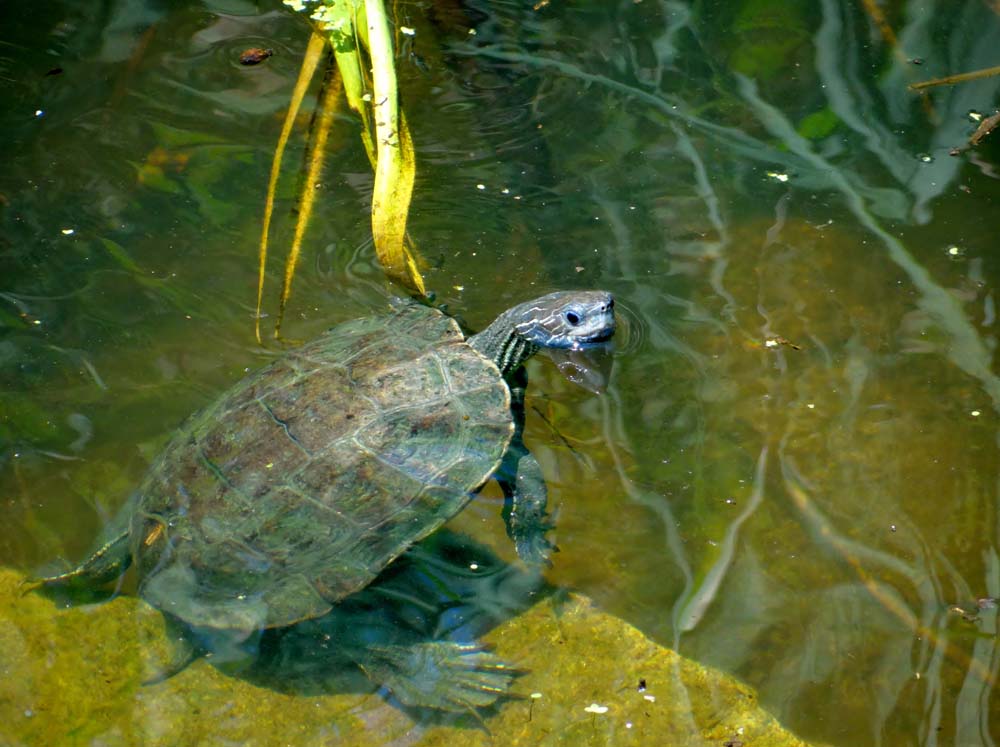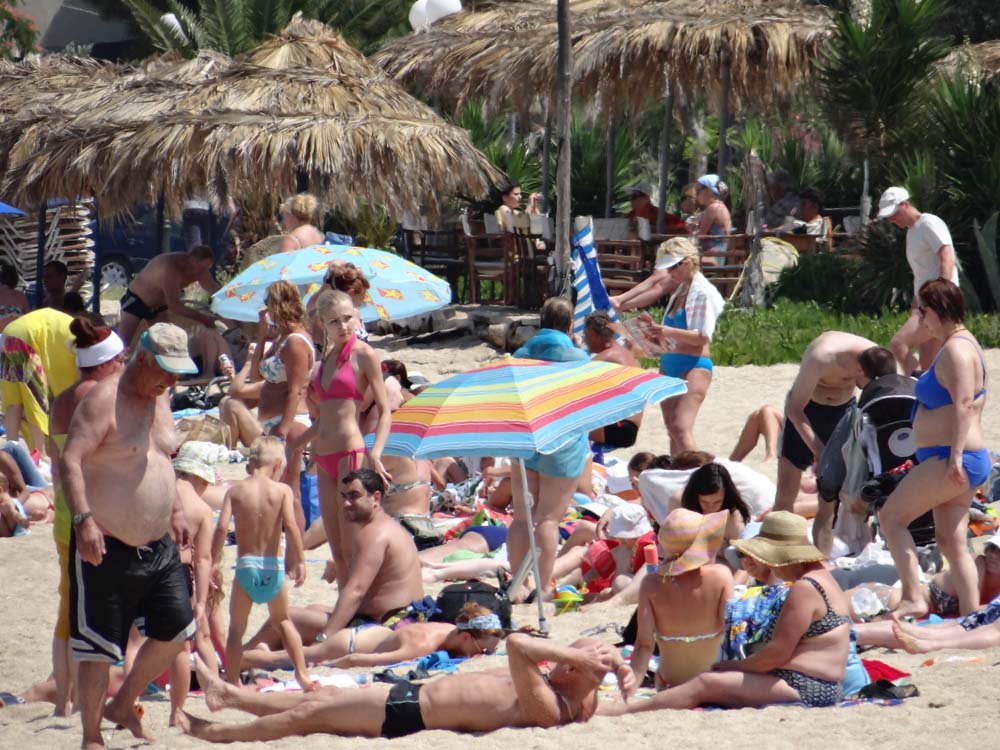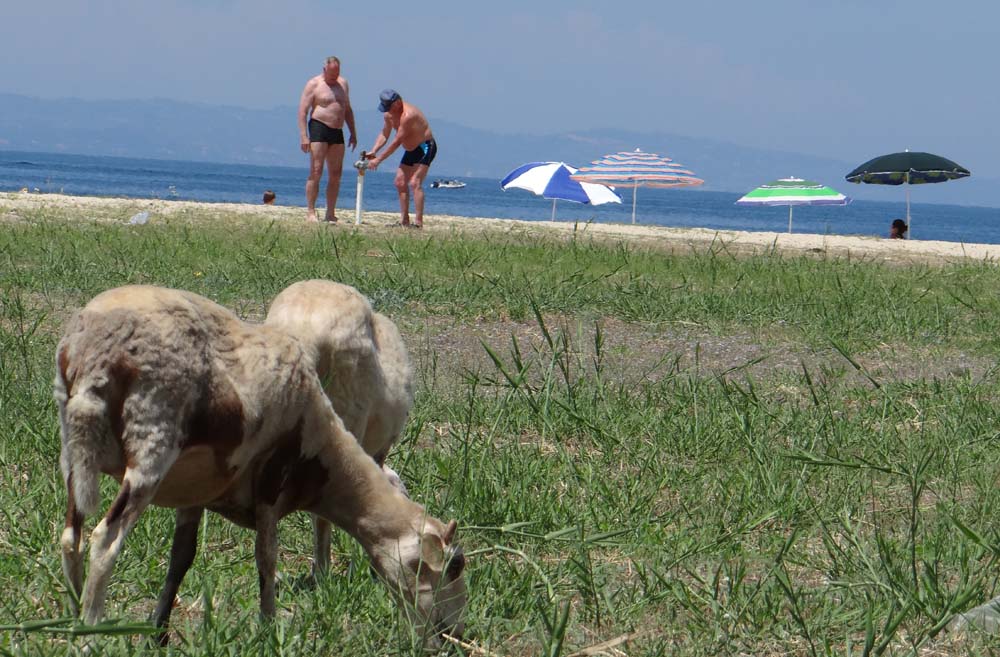 In Dave the awning came out and we cooled down with cold water from the fridge, which is coping admirably with the heat. Last year it struggled in Croatia and Bosnia when we hit the high 30's, but it's working a treat at the mo and means a couple of German-Greek beers in the fridge Ju got me as a pressie should be the perfect temperature when I hit the Publish button on this!
Although there are quite a few other motorhomes here, it's very quiet at the moment, maybe because it's so warm and folks not from Blighty know to get in the shade? Maybe it'll all kick off tonight and I'll get to see some of that Cossack dancing? I'll leave you with a few more pics from today.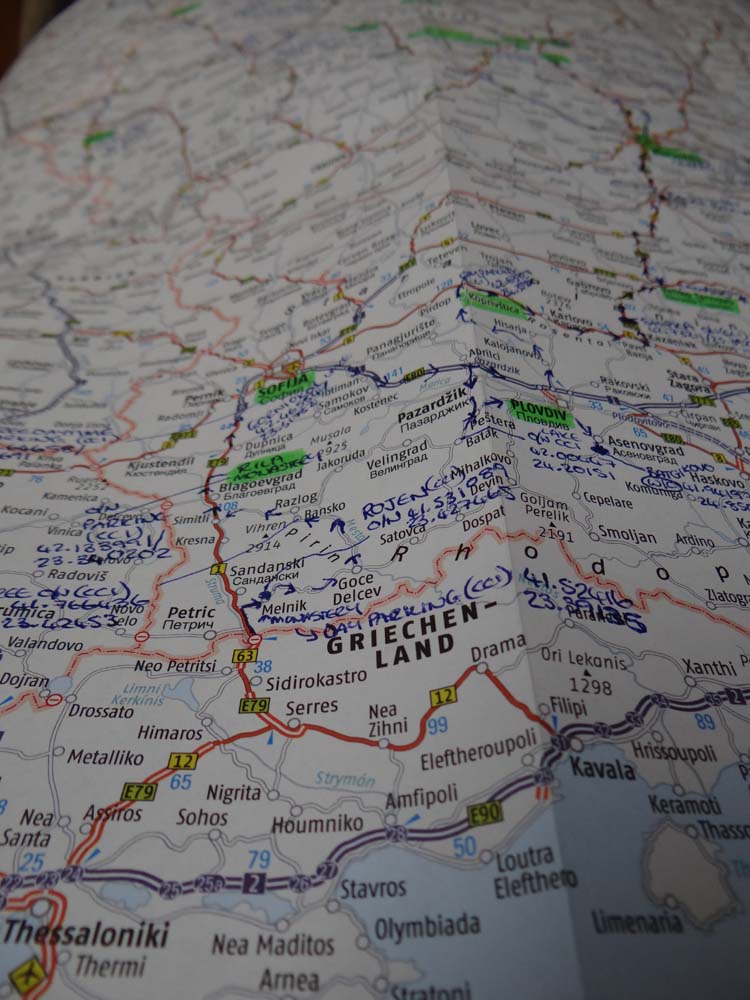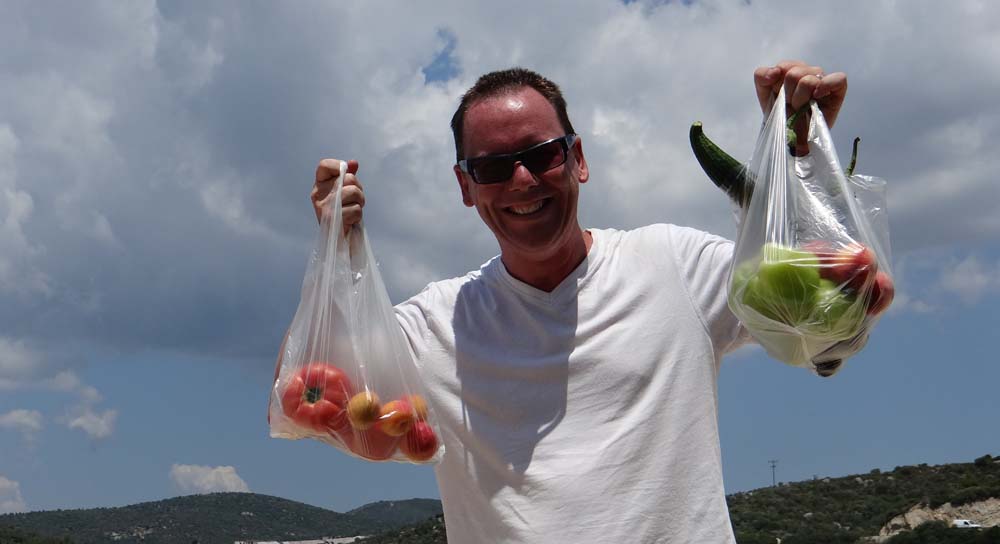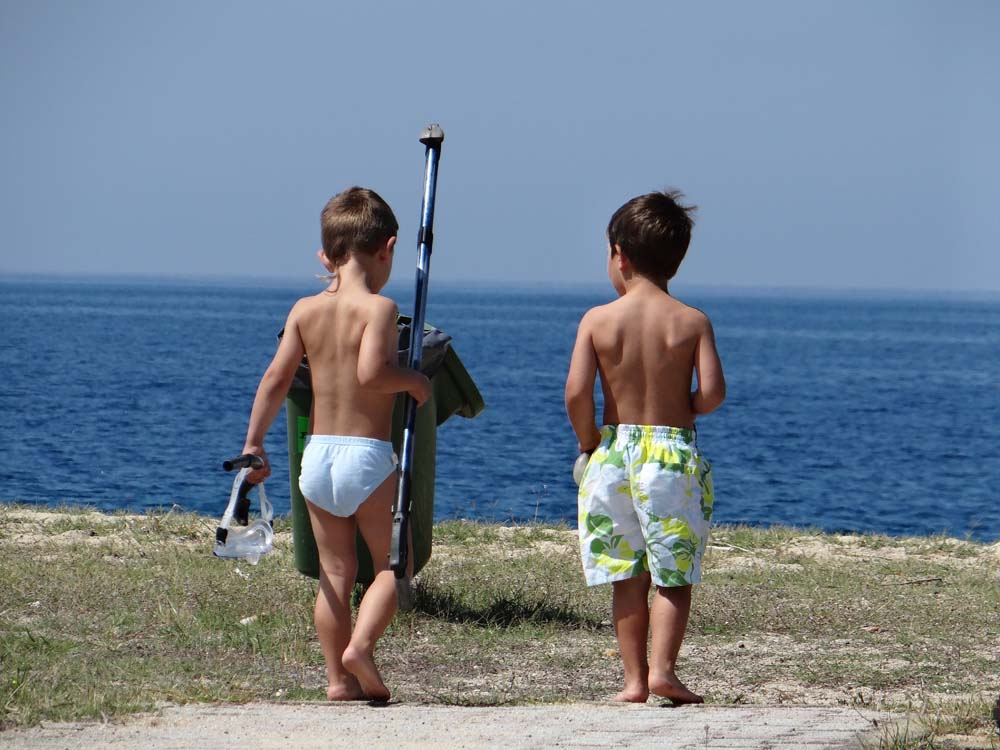 Cheers, Jay