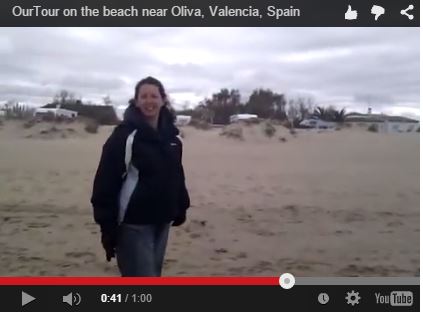 We're still on our campsite in Oliva. Lots of the Spanish guys upped and left this morning, presumably to get home for the Fallas festivals happening tonight and in the wee hours of tomorrow morning.
We sometimes say to people that we're on holiday, but we're not, really. A holiday is a break from the hussle and bussle of daily life, but one in which you go all out to relax in preparation for starting work again in a few days time. We've been travelling now for 5 months. That's not a holiday, it's something else.
So what is it? Good question, one which we ask ourselves most days. Take the campsite we're currently on. It's about 20m from a huge beach, running for miles up the coast. It's perfect for families and kite surfers. There's a little restaurant selling beer and Menu Del Dia with a beach view. What's not to like?
If we were on holiday, I think we'd love this place. We're not though, and we're immediately bored. Maybe we've just had too much time not working, or perhaps we've extended our boundaries to the point staying on a nice safe campsite is just offering us zero challenge. I'm thinking it's the latter. We loved Morocco, me in particular, as every part of every day was a challenge. The driving, fending off beggers and touts, sussing out cons, haggling for food, trying to work out what some of the food was, wondering if really I should be walking Charlie alone in the Sahara. That kind of stuff. Where's the challenge in wandering around Southern Europe? What's to be learned?
There is the language of course. I'm looking forward to getting back into France as I can practice again. We're learning only the odd Spanish word as, I think, we know we'll only be in Spain for a few more weeks, so why bother. A lazy attitude I know, but that's the truth of it. A Brazilian couple emailed me about their trip all the way around South and North America (www.gavioesdoplanalto.com.br). Maybe that's the sort of thing we should be aiming for?
We may be at a tipping point. We even talked, briefly, about cutting our trip short today and heading back to the UK. We agreed we've more to get from our trip, and maybe it's the fact we're missing our families. We've been looking at the map and rethinking our plans to head from here through France and Italy and into the old Eastern Block countries (instead of south to Greece), then north up through Finland and into the Arctic Circle for the summer, coming back down through Norway.
Anyway, we've taken it pretty easy today. Charlie's had three walks on the beach, and the Fallas fireworks have died off quite a bit. Ju found a blog about someone currently on a Spanish campsite in Valencia shouting angrily at locals setting off fireworks. Hello? This is Spain, in their biggest fiesta in the Valencia region, what did you expect? There are some fantastic fellow travellers out here, but also some blinkered ones. We've had the misfortune to meet one or two bigots, xenophobes and downright racists too (I'm not referring to firework lady of course!). A couple of short videos to show you what it's like on the beach.
Wild pooches:
Our personal beach:
Take it easy everyone! Jay