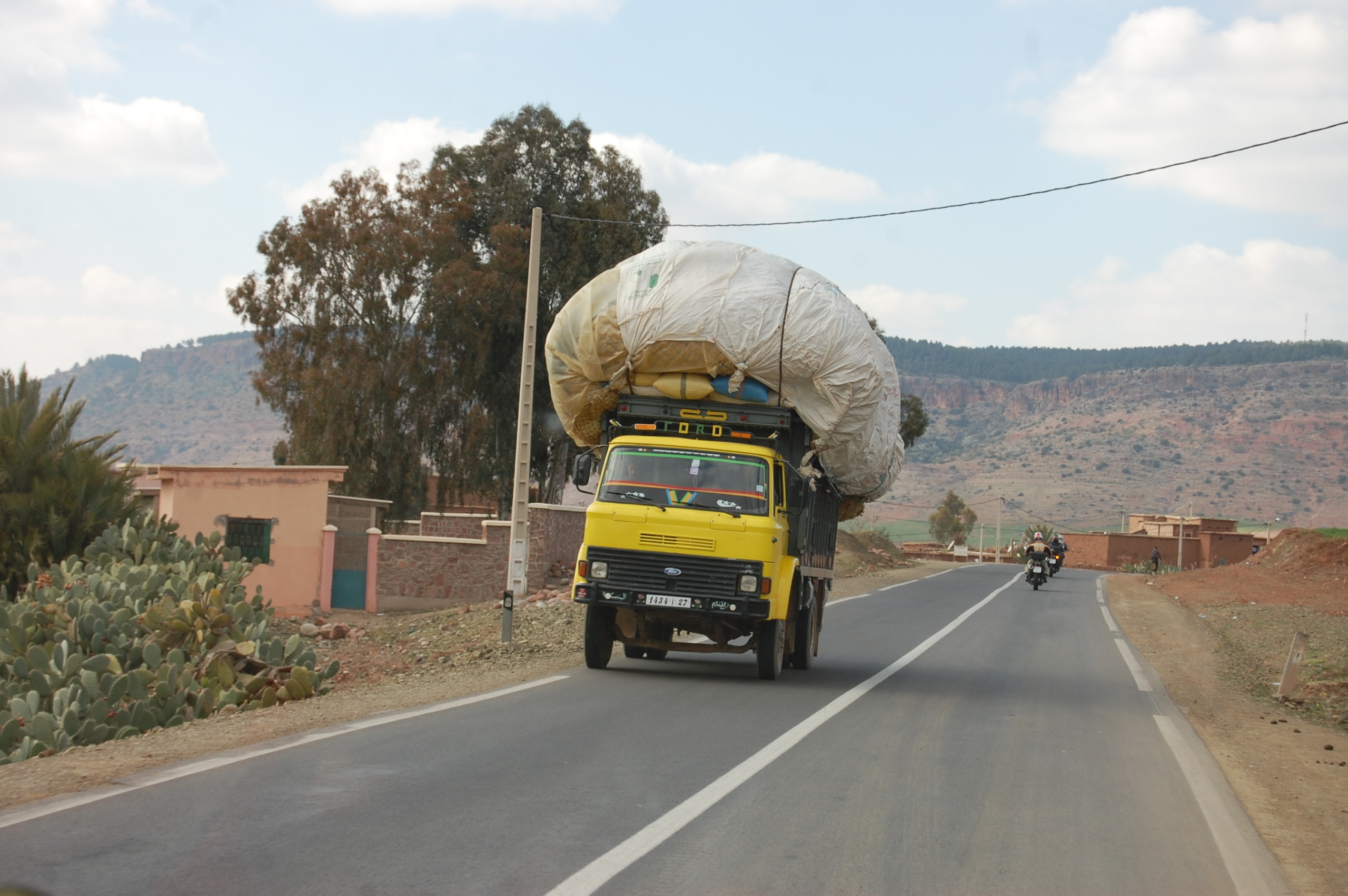 We're here: N31.61473 W7.88949
Weather – sunny with a few clouds
This morning we were up bright and early – well we got on the road around 10am, as we knew it would be a long driving day. When we checked the route last night satnav said it would take 6 1/2 hours! She'd revised her estimate this morning to 3 1/2, but we knew it would be more like 4 1/2. We were heading over the High Atlas Mountains to Marrakech (we've been spelling it with a sh at the end, but map and road signs say it's ch, so we're going native!).
We were on the Tizi-n-Tichka (Tizi-n seems to be the word for a pass as there are quite a few of them) and the views on the drive over the mountains were amazing. The road itself was majorly twisty, so much so that J got really bad pains in his shoulders when we were just over the top of the pass, so we stopped for a bite to eat in the vans in one of the few lay-bys that we could find which weren't occupied by someone trying to sell fossils or general tat.
Photo's don't really do the it justice (although there are a few of the sights we saw on the way below), so I've done a short video for you –
The campsite we're at is 12km from Marrakech and we were more than dubious as we drove down the 2km of dirt track around a village with small children running beside the van asking for bon-bons.
But once we were through the gates and parked up, it was really worth it. We're planning on being here for a while!! Our host Pascale is French and with her husband spotted a gap in the Moroccan campsite market, so they've filled it with a luxury campsite complete with infinity pool, bar, restaurant, wine cellar, piping hot amazing showers – it's got the works! I'm thinking of booking in for an hour long massage as it's only 250dh (about £20). The Hammam won't be ready until next winter, so we might have to come back.
We've handed over two massive bags of laundry (which we'll get back tomorrow), and J has done some oiling of Dave's suspension as it was really creaking – we had to create a device to get the oil in the right place, but a straw, plastic bag and some sellotape solved it.  Tonight we'll be relaxing watching Gladiator – trying to spot where we've been. Tina's got the dinner on and we've ordered breakfast and bread to be delivered to Dave at 8.30 tomorrow morning – I could seriously get used to this!
Ju x