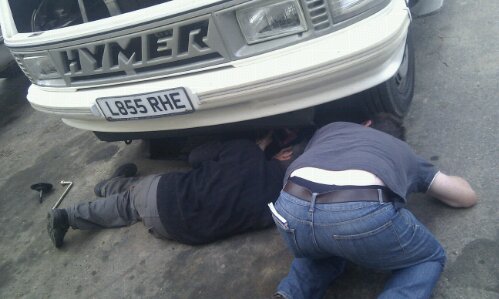 We're here: N43.18025 E3.02371
The weather is: low mist on the surrounding hills this morning, clearing away as we dropped down to the coast leaving a grey blue with a few whisty clouds.
Dave's clutch is not well. Ju posted a question on outandaboutlive.co.uk last night describing the symptoms. This morning we found two excellent and detailed responses, both telling us it's time for a new clutch.
We head into the village and find the Marie (mayor's office) is open. At least the door is, I poke my head instead to be told it's shut, but the post office is open, they can help. Through a door is a tiny PO. The kind of place which was killed off in the UK years ago. The friendly lady, I patient with our French, gives us the location of a trusted garage and off we pop, grinding our way out of town.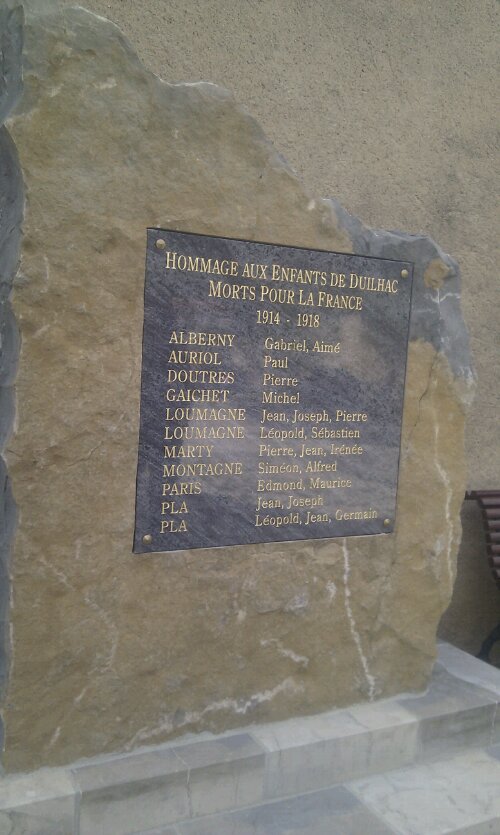 Arriving at the garage, we're enthusiastically waved in by le garagiste. He has a listen to the whine, observes me struggle to get a gear then dives under the van and further tightens the cable. After a couple of goes, et voila, I can easily get a gear. Our hopes raised, Le garagiste then tells us, basically it's had it. There's oil leaking from la boite de vitesses (gear box) and at least a new clutch is needed. We're managing with our dodgy French but made full use of Ben when he fortuitously arrived. Ben looks stereotypically French, but is clearly English, switching between tongues with a laugh as le garagiste keeps giving him huge tracts of dialogue to pass on.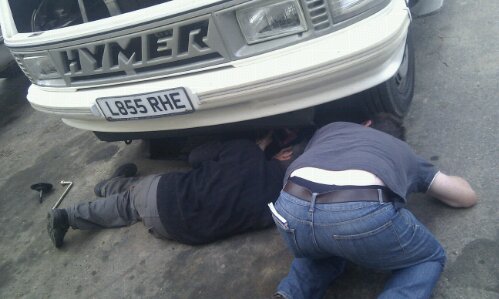 Ah well, we can park up next to his place, amidst the vines and low hills. Off we tootle while he waits for his supplier to open.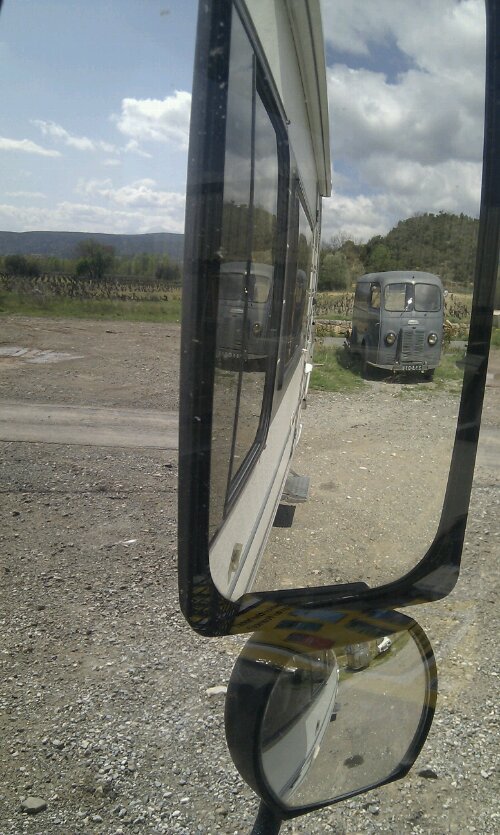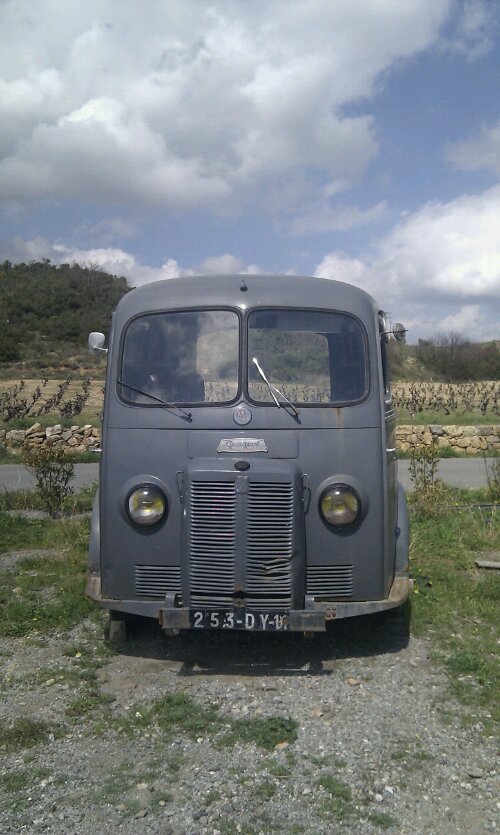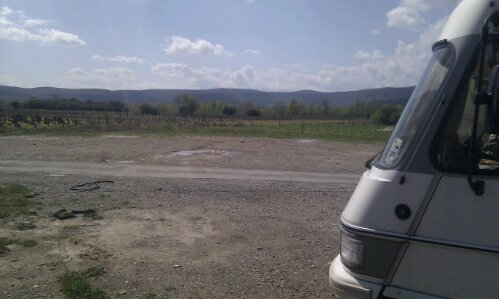 An hour or two later he comes over and apologises. His supplier can't identify Dave from the chassis number. We should go to Fiat garage. We thank him, hand over €20 and head off towards Narbonne where we've found a main dealer. About a km down the road we remember ADAC will source parts for us, but a long call to them and a nip back to le garagiste confirms he's keen to avoid making any errors, a main dealer is needed here. We shake hands and leave. We were sorry not to stay, it was a lively little place. One guy turned up during our chat and in usual French style had to shake le garagiste hand. As it was covered in oil, the guy shook his sleeve instead; Ju and I chuckled and were caught and stared at for a moment of confusion.
On the way to Narbonne we take the toll road to avoid stressing the clutch (and me). All is good until we reach the pay end of the toll. With my tiny driver side window I can't reach the machine. Ju jumps out to sort it when a high viz jacket appears, instructs Ju back into the van and processes the payment. All a bit weird, why not just have her sat in the booth just before the machine? We cruised through, pulling away with a stomp of revs to get Dave moving.
We're now parked up in the official aire at Narbonne. The Fiat dealer over the way has looked at the van. He can fix it, but is busy for 10 days. We're in no hurry, and Dave is driveable, so we can potter around here for a while. We need to go back on Tuesday to fully check him in, so we'll go see the town tomorrow and maybe see if we can get a 3G SIM for some video chats back home and streaming Radio 2 of a morning. We checked for one in Carrefour during a massive shop, but they only do the dongles avec abonnement (with contract).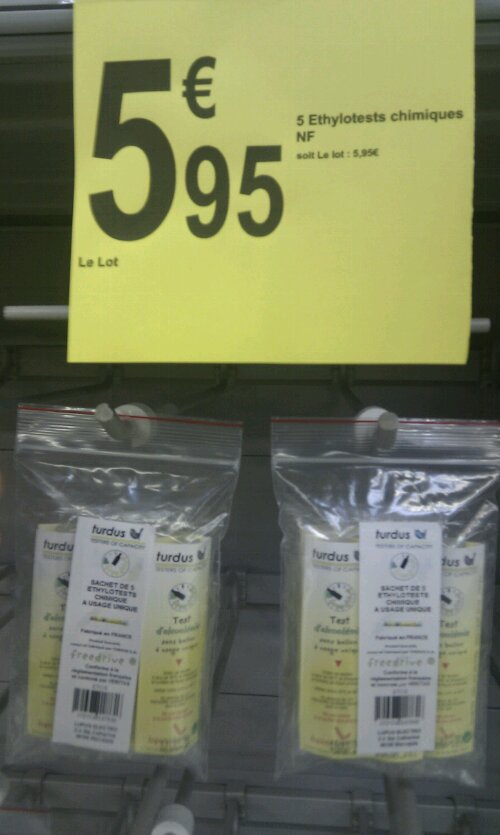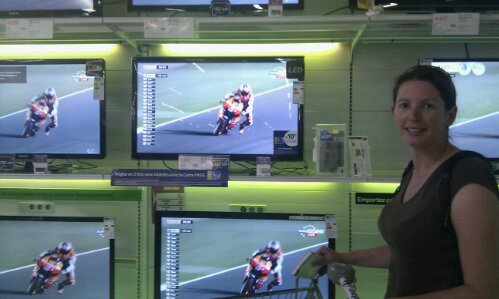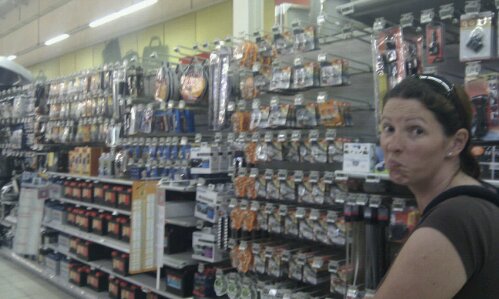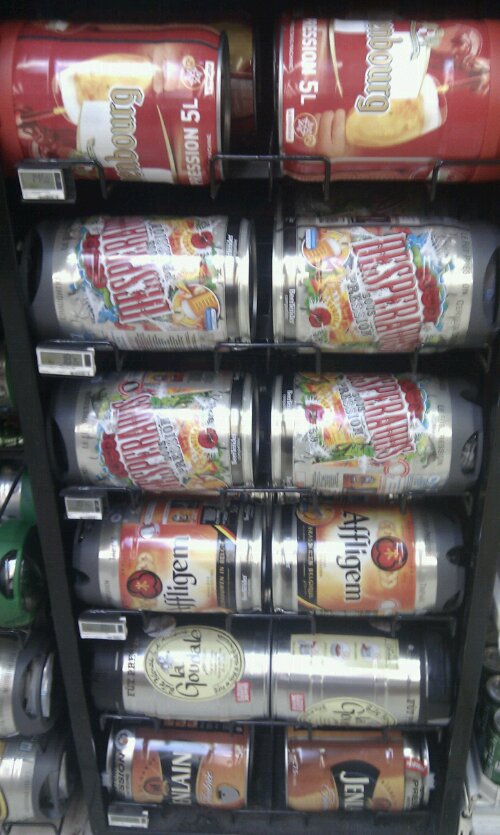 The aire we are at is €9 for 24 hours, and includes electricity. We hooked up but nope, no juice. After some faffing about switching cables, sockets and prodding the high tech payment machine, we realise a can of beer has flipped the main cut off switch in the wardrobe. Doh! Nous sommes bete! The guy next to us popped out of his van to help but as he's from Barcelona, our conversations stunted, mores the pitty. Come on Google, get that universal translator working would you?
Cheers, Jay