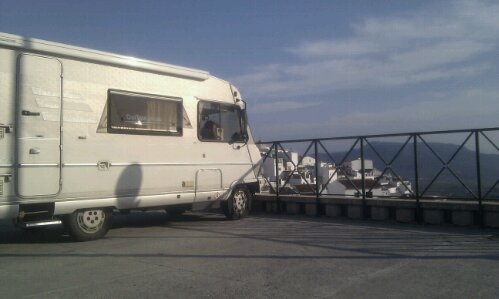 We're here – N36.82312 W4.70858
Weather – sunny and warm with a few high level clouds
We had a fab chicken dinner over in Paul and Liz's van. They have a Hymer B544 like Dave only a few years newer, and theirs has an oven. The roast was washed down with our last bottle of Morocco grey wine, a brick of French red wine bought in Spain, some white wine and a couple of Belgian beers – a top selection. Charlie made a guest appearance but was soon banished back to Dave for constantly trying to get to the chicken bones.
We'd bought a range of cakes from a pastellaria in town for desert, which were tasty despite one of them being mainly an air hole surrounded by puff pastry. We staggered quietly back to Dave as the silence curfew on the site came into effect a couple of hours earlier. However if you've seen the video of J making popcorn when we got back, you'll know we didn't manage to stay silent – if you haven't seen it, check out our Facebook or Twitter feeds.
This morning we woke up and set about prepping Dave for the off (as the rule obsessed campsite charges from 30 – 100% extra depending on how late after midday you leave). While I grabbed a shower J got talking to our Dutch neighbours who publish travel guides for motorhomes – they gave us a copy of the guide for Devon & Cornwall and it looks really good. Unfortunately for us they're in Dutch but if you can read it better than we can check out their website http://www.camperroutes.nl.
Liz came over to say farewell and swap some books, and Paul popped over to say goodbye too. It's a shame we didn't get to spend some more time with them as they were lovely and interesting people. But we needed to make some headway towards a Fiat dealer and no longer needed a campsite, so with only a vague direction to go in and no destination we set off. We soon learned this wasn't a good idea, as we reached what we thought could be an overnight stop only to find it was a petrol station. We stopped off at a garden centre and had some lunch while deciding on our destination for the night – we agreed on a viewpoint over a dam and set off again.
Satnav kindly took us into Alora, a pueblos blanco about 40km north of Malaga, which basically is a small white town or village on the side of a mountain – so very narrow, cobbled, steep streets. We made an about turn and parked up in the towns main car park overlooking the valley below with mountains off in the distance.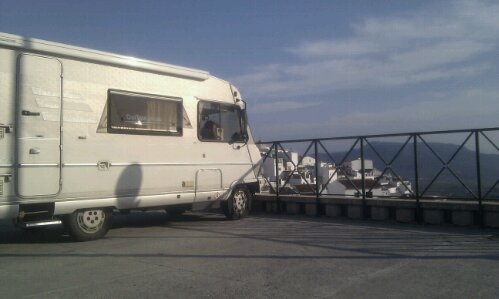 It's lovely, so we got out and went to explore the town walking up to the old castle on top of the hill. On our way back down we nipped into the police station and asked if we were OK to stop the night in the car park – no problemo! So once again we've got an amazing view for the night.
The police car has just driven by to check on us and we've been into town to spend the money we would have spent on a campsite having a meal and few drinks. It's win, win as far as we can see – especially out of tourist season.
Ju x