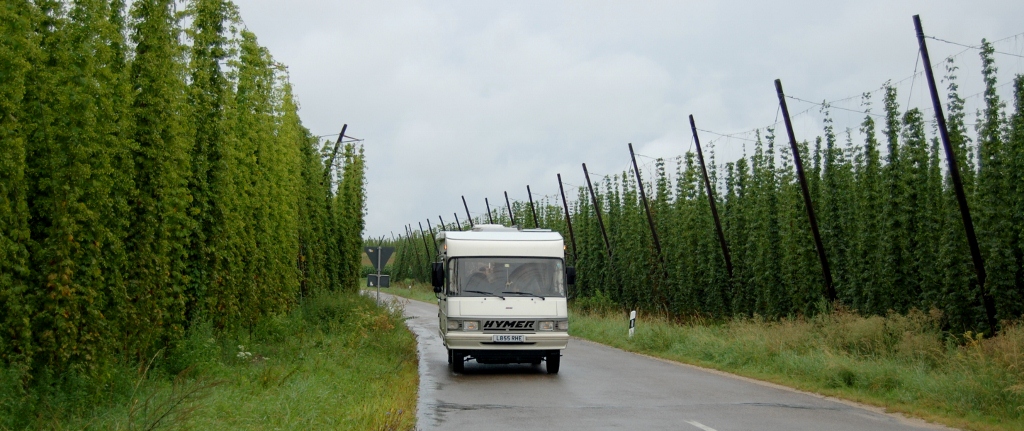 Dave the motorhome is resting with several of his mates at a Stellplatz on the banks of the Danube, in Neuburg (N48.74046 E11.18432).
Last night the Alliance Arena was lit up, alternating its glow between red, white and blue, it was as if it knew we were parked up in the car park for the night and was putting on a special display for us. This morning it wasn't looking so special. The rain lashed down, coachloads arriving to tour the arena donning ponchos and raising umbrellas as they venture out into the car park.
We have a catch up with our good friends Bruce and Andrea next Friday in Paderborn, so we're heading north for a while. The motorway ground to a halt with roadworks, but they'd had the decency to provide a smiley face to let us know how close we are from the end of the misery. It was the first major traffic jam we've seen in a long time, so was a bit of a novelty – for a while.

Soon the countryside around us sprouted tall vines hanging from wires strung across telegraph poles, we had entered hop country. A tourist sign by the motorway announced a Hops Museum and Jay could barely contain himself.

After a visit to a sleepy village nearby thanks to satnav having the wrong address for the place gave us the opportunity to get up close to the crops and have our feet stung by nettles while taking photos.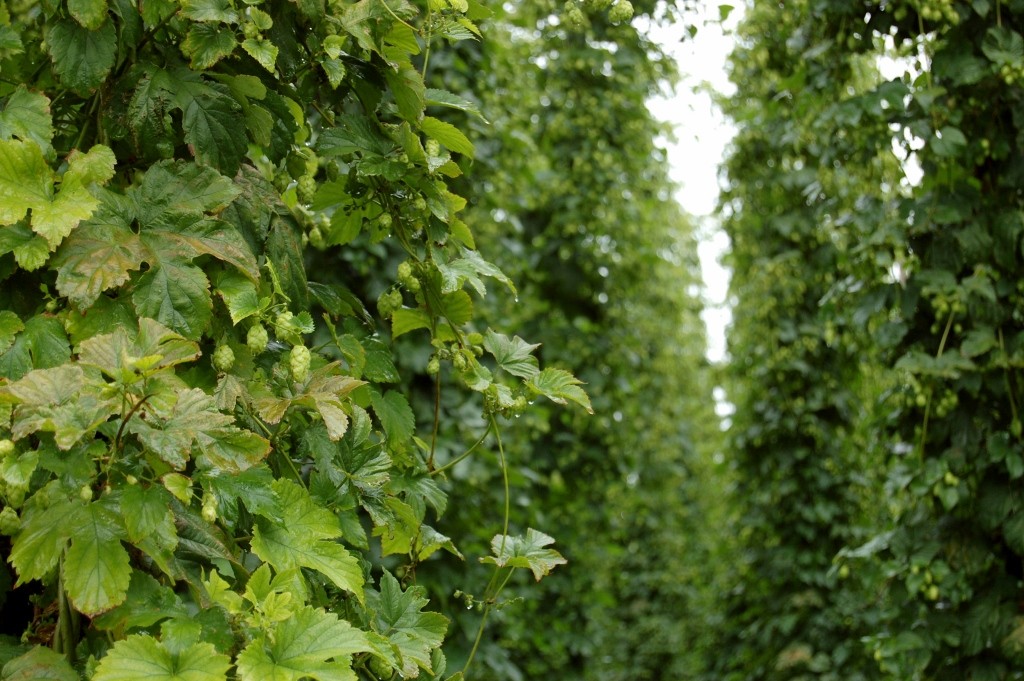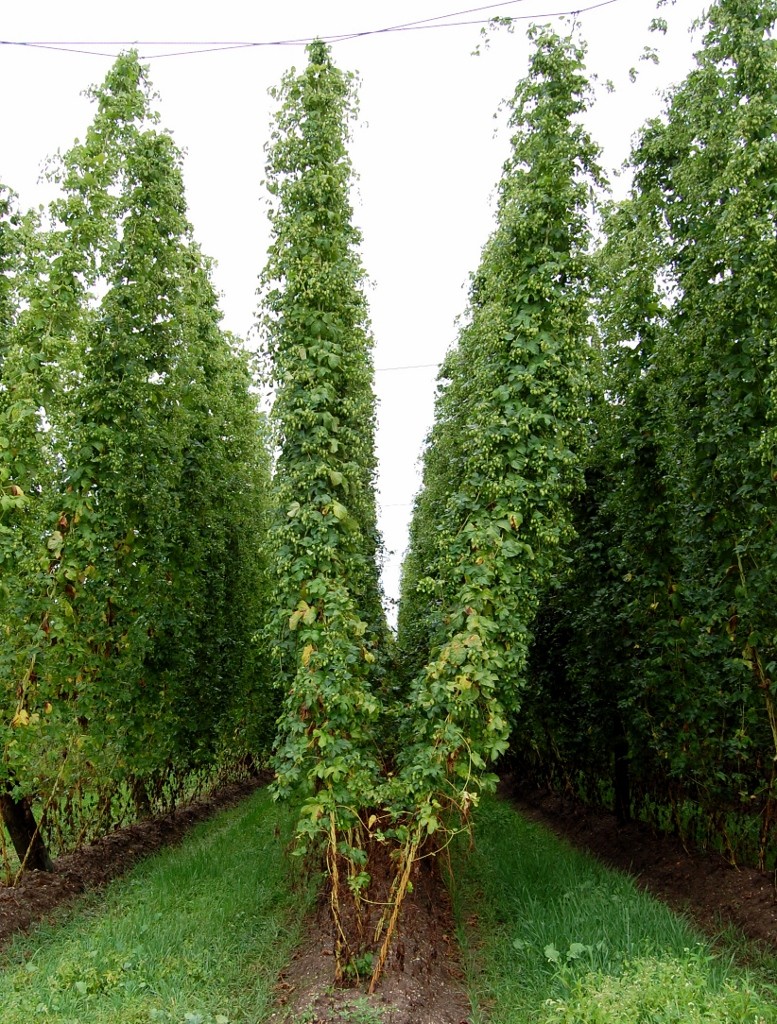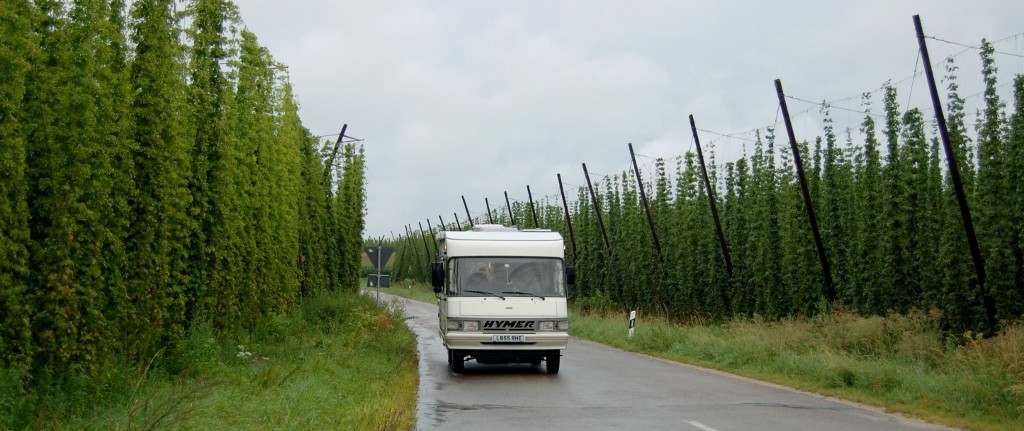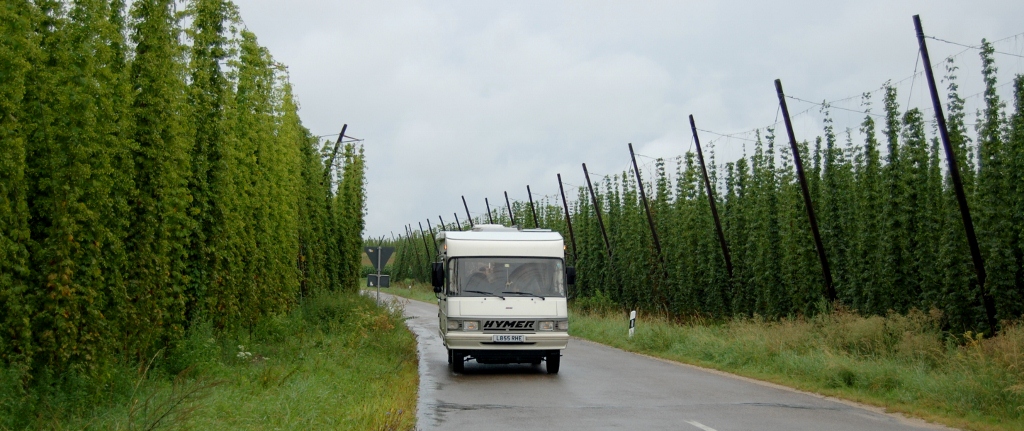 Then it was back in Dave for a short hop (sorry couldn't resist) to the museum. Charlie and I stopped in Dave as neither of us are all that fussed about hops and I'm a bit museum-ed out after yesterday.s epic tour). So Jay got to venture in all on his own and has written a guest piece to let you know about it.
Hops: Leaving a Wonderfully Bitter Taste in the Mouth
Would you take a 20km detour to see a museum on hops (the delightfully named Deutsches Hopfenmuseum Wolnzach)? You know hops, the plant which gives the bitter flavour to beer? We did. Well, strictly speaking, I did, Ju stayed in the van. €6 later and I'm stood inside a giant plastic hop plant listening to a woman softly informing me about the plant of dreams. Hoppy days! Rather than recite the entire contents of the place, a few interesting (you be the judge) facts:
Germany introduced a purity law in 1516 to say that 'beer' can only be brewed with water, malted barley, hops and, erm, the law didn't actually include yeast (or wheat, that was initially only allowed as a special dispensation, but is officially OK now, Hoegaarden breathe a sigh of relief). Since the nature of brewing wasn't understood, and natural yeast luckily floated into the brew of its own accord, no-one knew to include it. The allowed ingredients match up with the British definition of 'real ale' although us crazy Island Monkeys add all kinds of unique ingredients; chocolate and tequila spring to mind. Yum.
Hops prices fluctuate year by year like Dave's fuel gauge. As the off-cuts of plants were thrust into the ground in spring, no-one knew what price they'd get in September. Hops growing was the agricultural equivalent of roulette. Traders regulate prices now, smoothing out the spikes and troughs.
To bag the dried hops up, after every man and his dog helped pick 'em in September (soldiers helped out in WW2), a trusted gentlemen, the Hops Stomper, would climb into a bag larger than him and hung from a wide hole in the ceiling. The dried hops would be poured on him and he'd somehow check the quality (presumable sniffing wildly) as he stamped them down.
Germany produces a quarter of the world's supply of hops. Ethiopia comes in second with almost as much of the stuff. The UK is 9th, after South Korea.
Only female hops plants are used. They grow from trellises, wooden stakes the size of telegraph poles are strung with metal wires and the hops grow up like static-infused dreadlocks. Growers can get insurance against catastrophic hailstorms, but not against wind and storms, which can easily devastate a crop.
Indian Pale Ales and Pils beers are famously hoppy. Wheat or white beer has practically no hops. I love hops, but I also love white beer, go figure. Leatherbritches.co.uk has some spanking gorgeous examples of hoppy beers.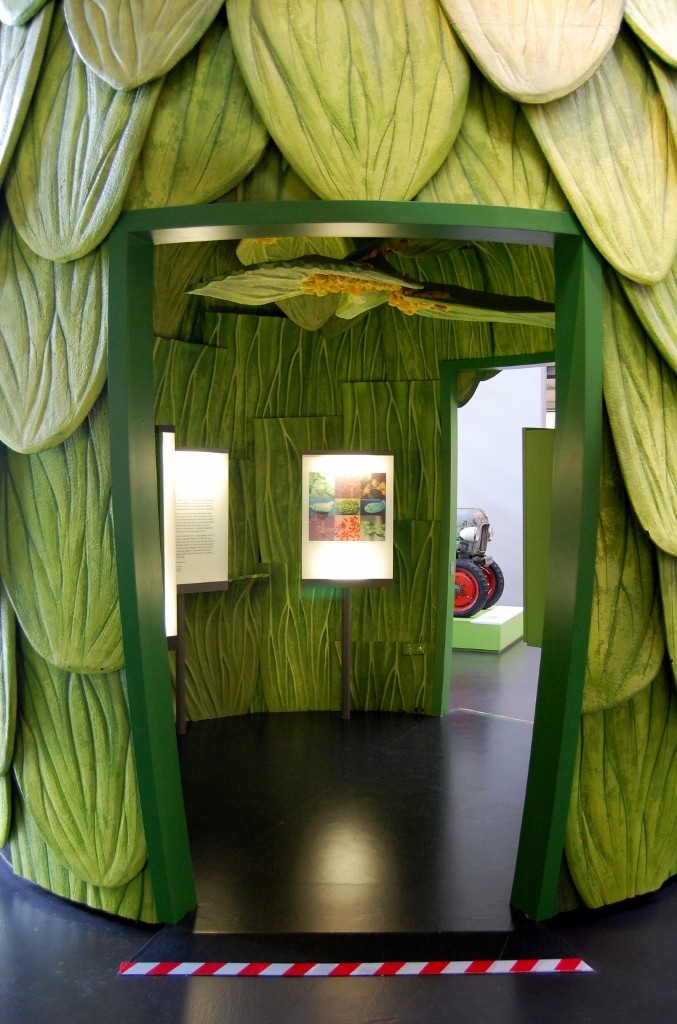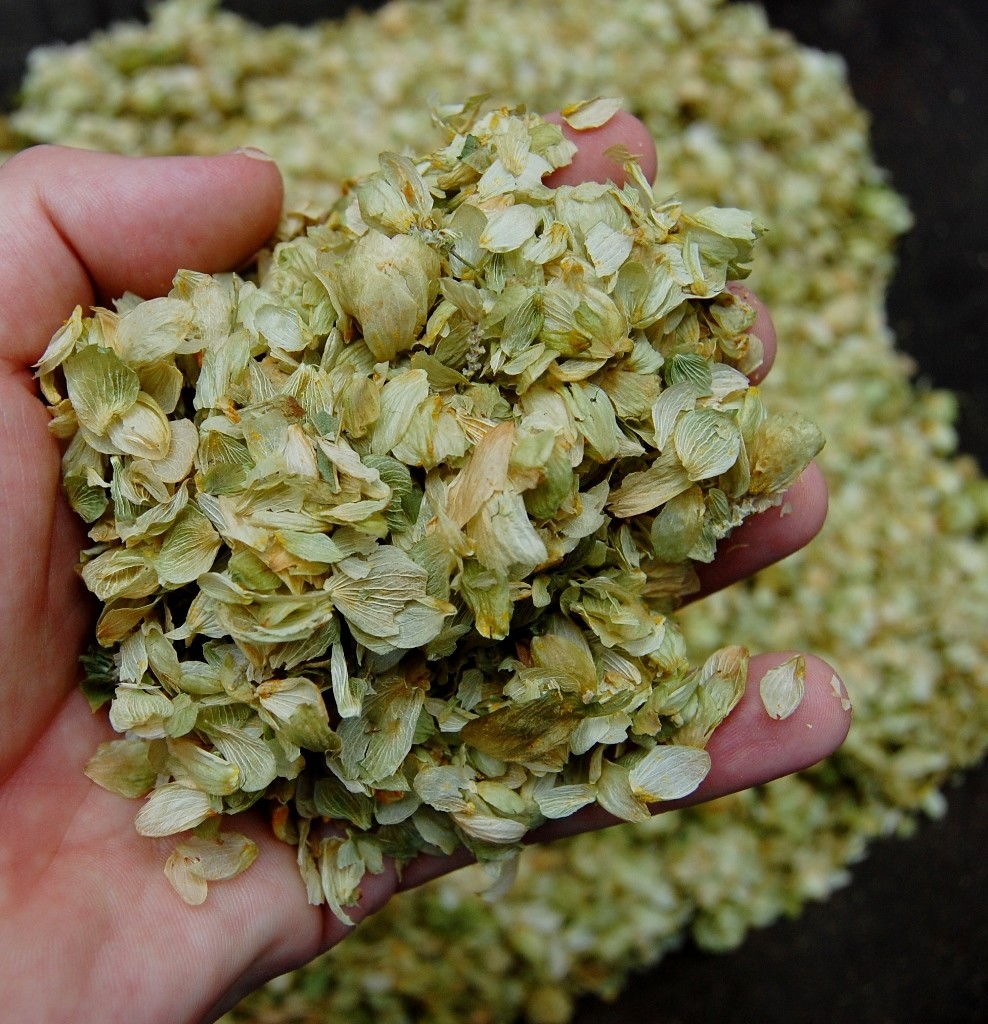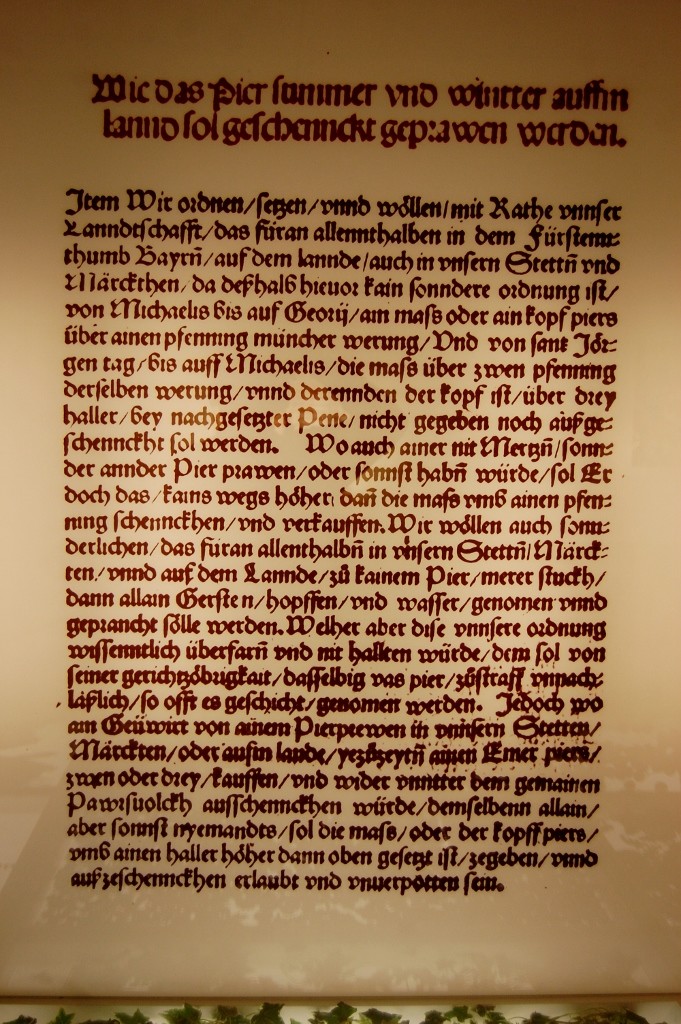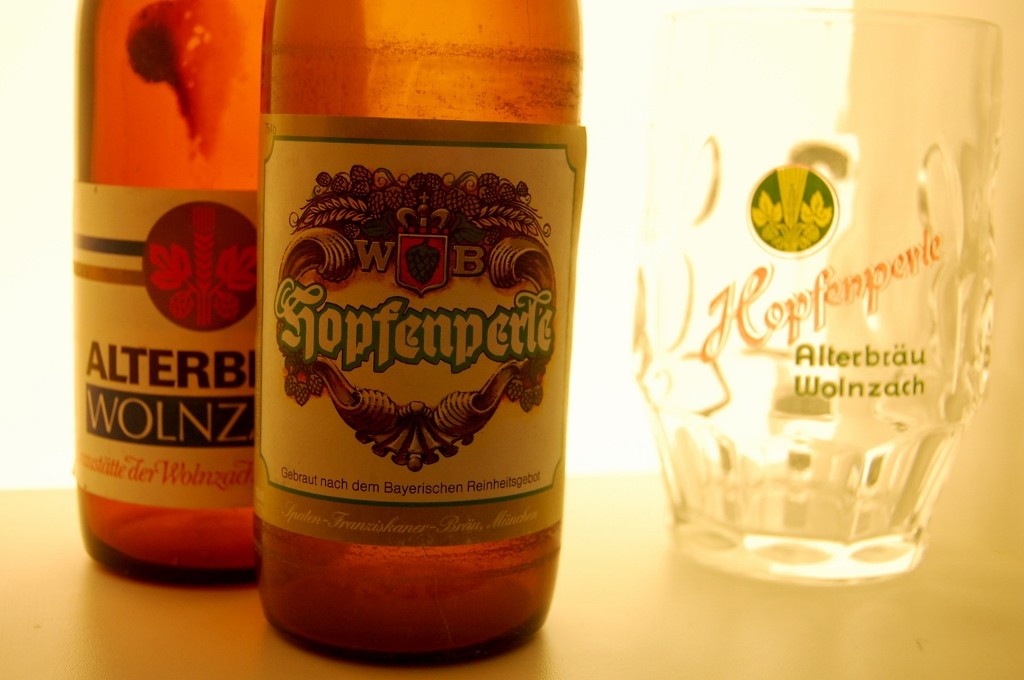 After Jay returned we nipped to Aldi to get some beer, all those hops in one place and so little on sale there, it was a crying shame, then were back on the road heading for Neuburg. We were recommended  this place by some other motorhomers who were parked up next to us in Plattling a week or so ago, but we were heading towards the Eagle's Nest in the other direction. When we were planning our trip north (yes we do sometimes plan a bit) last night I spotted we would be driving past, so felt we should stop off.
The Stellplatz is right on the Danube with a small beach you can swim off, and the town with it's walled Old Town, huge Palace and numerous churches are just a short walk away – and to make it even more perfect, it's free! We strolled along the river into town and had a look around, the palace teasing us with shell lined grottoes and the church full of ornate display cases which look like they contain decorated bones. Then as the sun started to set made our way back to Dave so Jay could enjoy some of his well deserved beer.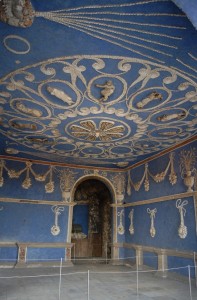 The weekend starts tomorrow, and we'll continue north to see what we find next. I'm really starting to like Germany and it's many hidden treasures.
Ju x
Bonus photo for Charlie fans –