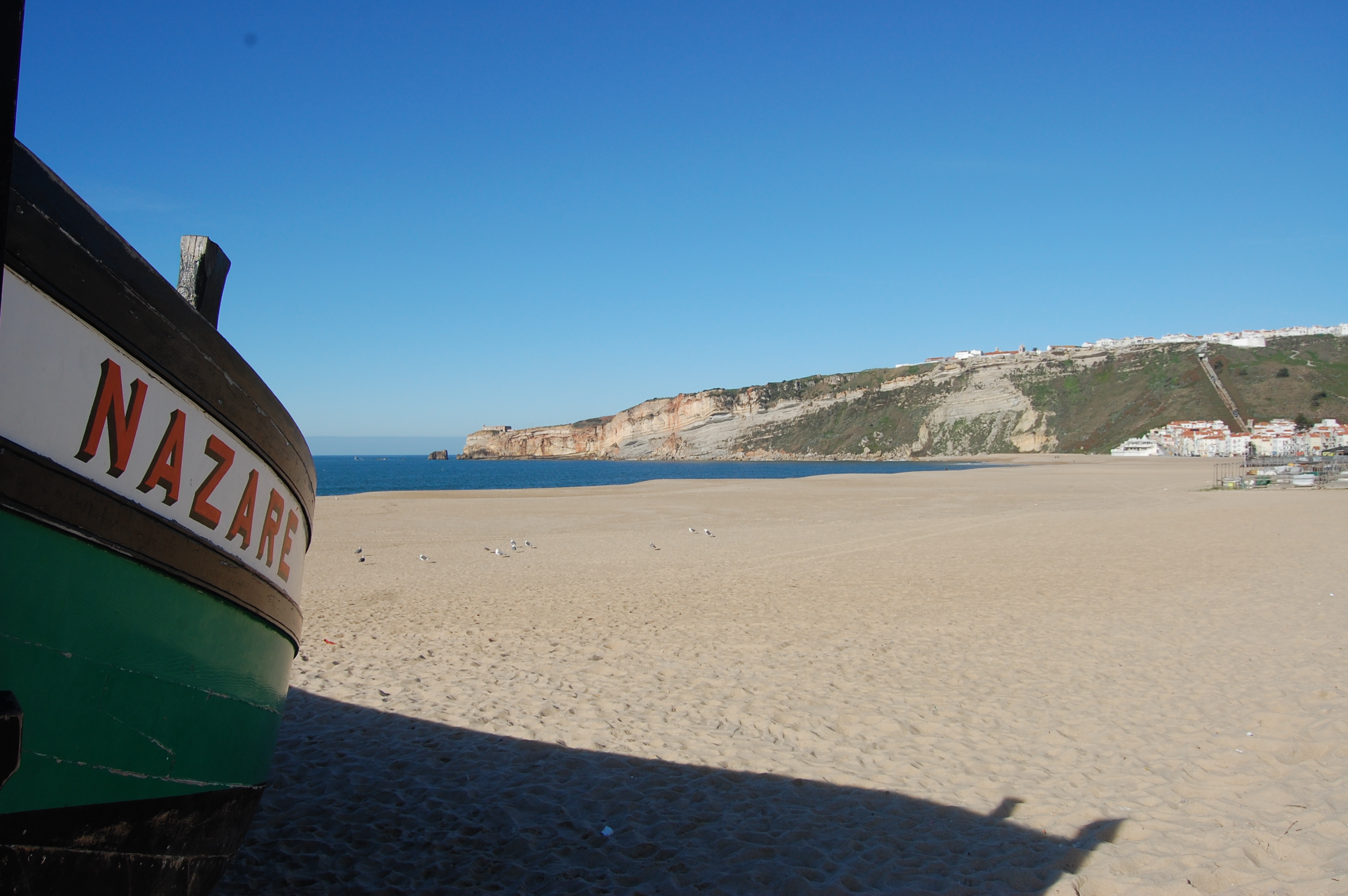 We're here: the same spot as yesterday. Yup, we've stayed still again, for a whole two nights.
Weather: more glorious sunshine. I had to rub sunscreen on my hair-free head for fear of burning it. The sun's gone down now though and it's FREEZING. Jacqui had to wear several coats and a hat in the bar last night; it's really cold. For those of you reading this in the UK: fair enough, it's not as cold as it is there. : )
Today we've been mainly dossing around. Nazare is the kind of place which positively encourages dossing. It feels to me like I expect Greece to feel, a laid back beach resort like Newquay in England used to be before it turned into a Stag/Hen Do mecca and kind of ruined itself.
We spend enough €s last night to knock a couple of days off the duration of our trip, but it was worth it. We started it off with a Chinese with the rest of the gang. I've just about gotten used to people in Chinese/Indian restuarants not speaking English. I don't know why, but somehow a Chinese person speaking English seems more natural than one speaking Portuguese? Anyway, Ju did well to spot we could buy four times the menu for 1 (€4.95), rather than paying €26 for the menu for 4, which was the same thing but including prawn crackers. She's sharp.
Chinese scoffed, we headed to the bar. Ju left at 11. The rest of us at 2am. That's where all the €s went, and explain why we've not managed to get packed up and moved on today. Hangover aside, it's been a lovely day of wandering about in the sun, 'playing' the Uke, running about on the beach with Charlie and generally dossing about. A few things we saw today:
Nazare has a bizarre way of renting apartments or tempting you into shops. All the old women dress up in traditional garb and sit about on plastic chairs in the streets at night mumbling at passers by to come in and buy something, or rent an apartment for €20 (presumably a night)
We saw a bunch of sheep and lambs ambling about the side of the main road with a modern day tracksuited shepherd keeping an eye on them
A man pushing a trolley with two big plastic tubs full of water and freshly gutted fish
An old chap in a 3 wheeled tiny van thing tuk-tukking his way along with a pink high heeled shoe tied to the back of his struggling transport
8 or 9 gun toting jack booted rozzers piling out of a van and into the cafe we were sat outside, presumably for a pre-riot coffee
One awesome sunset
I really like this place, helped by more free WiFi, and could happily stay here for a while. There was a French guy here yesterday in a converted horsebox of a campervan. Tina told us they'd chucked a bucket of urine out the back of the van earlier in the morning. As Chris pointed out, the French are less bothered about urinating in public than the Brits and probably saw it as more efficient than keep getting out of the van in the night. The horsebox had a wood burning stove in it. I kid you not. It had a proper chimney, but how can that be safe? Anyway, the burning wood smelled lovely. 
We have a plan for Xmas to meet up with the other guys at a campsite near Lisbon, and live it up for 2 or 3 days with some good company. It seems surreal that it's xmas, as we're not exposed to anything like the furore you get in the UK. For the next few days, we'll wander down the coast and see what else we can spot on the way. Some photos from today:
Cheers, Jay