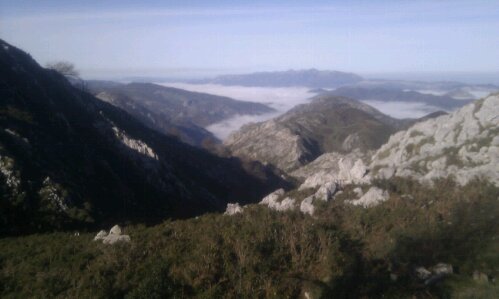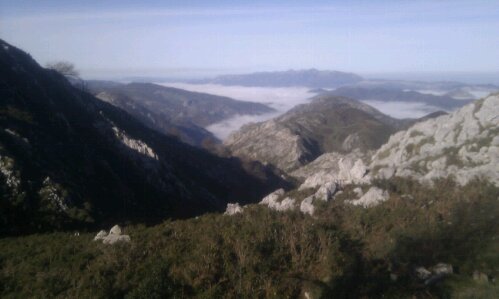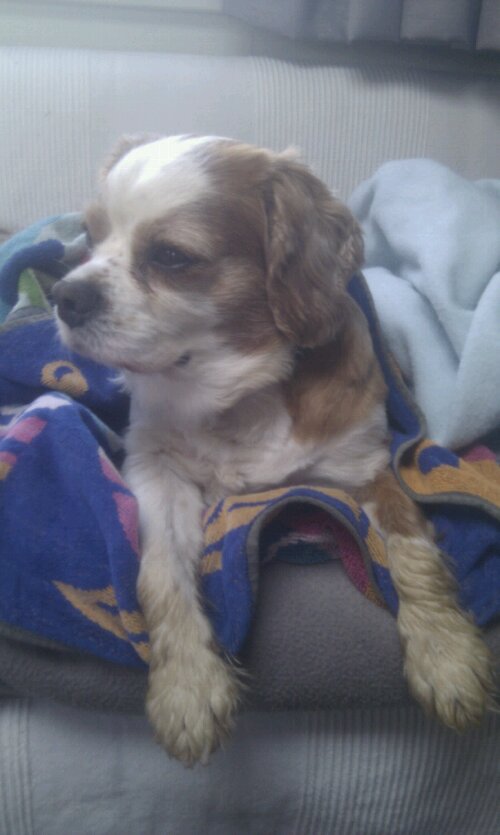 Weather – low cloud in the valley, sun above it
I had a 9.30 appointment with Tina for a supermarket visit to spend some vouchers we had, but when I went round she said to go without her. Loli (her pooch) had thrown up in the night so she was sorting out the aftermath. I stocked up on a few bits and bobs, braving the salad counter where you have to ask for things and they weigh them for you – there was a lot of pointing and bad pronunciation, mainly from me.
Back in the Aire we geared up to head off to a couple of lakes in the mountains. We dumped our waste water to lighten the load and filled up with fuel. We set off in convoy with us in the lead, and as we climbed we broke through the mist and cloud that hung over the town. The views were amazing. Snow covered peaks inland, then smaller jagged peaks with cloud covering the valley, all basking in the sunshine.
The road was very narrow, steep and twisty but J did a brilliant job. I even videoed him in action.

Soon we were at the top and set off on a walk around the two lakes through a magnesium mining area and around the main peak. We had our picnic by the edge of one of the lakes and decided it wasn't a bad way to spend the day. After the rainy walk to the gorge a couple of days ago, it seemed like this was our reward.
We got back to the vans 4 hours and just under 8kms later with several hundred photos on our cameras. Charlie had got himself suitably muddied up, but was tired out and happy.
We agreed it would be best to head back to the Aire in Cangas de Onis for the night as we'd seen quite a few rangers patrolling the park and didn't fancy getting asked to move on in the night – especially not down the roads we took to get up there which didn't have crash barriers in many places, just a drop off.
We're back in the Aire and J's been off to fleece the wifi we used last night outside a closed restaurant. Chris is cooking dinner and we need to plan our next move. The Picos mountains have really surprised me, to see them you'd never think you were in Spain as they're such a far cry from the sun and Sangria on the costas.
Ju x